MyFreeCams Alternatives (2023)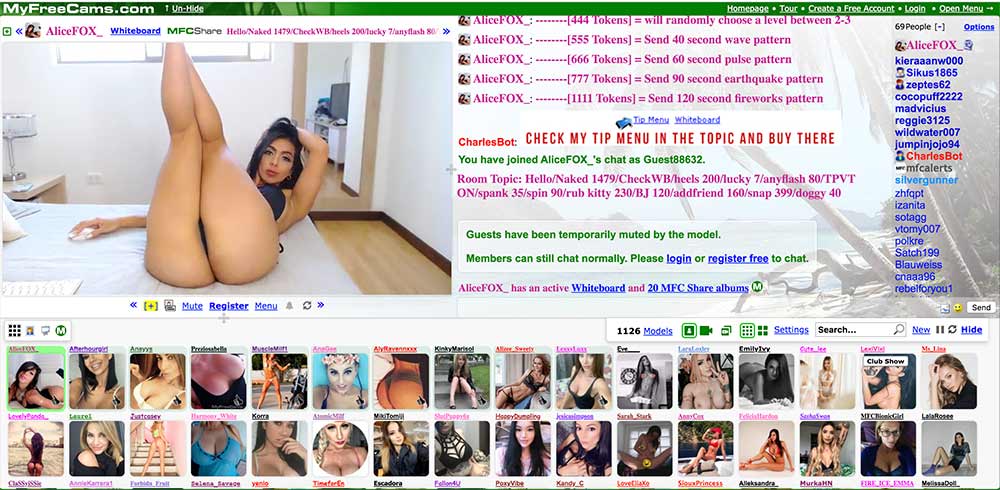 As you may or may not be aware, we love adult cam sites. (Hint: it's in our name). But maybe you don't feel like reading a long series of reviews just to find the best live cam sites. Never fear. We've compiled a shorter list here, so you can get the quick rundown on several sites at the same time.
Myfreecams is one of the most popular cam sites on the internet. When you browse their site for just a few minutes, it's easy to understand why. Whether you're looking for a bevy of hot models, or whether you want a simple, transparent payment system, they have a lot to offer. That said, there are plenty of sites like Myfreecams, and each of them has its own fun, unique features. Want to bust a nut to some hot models, but don't like Myfreecams' offerings? Here are 10 Myfreecam alternatives that might be a better option.
Chaturbate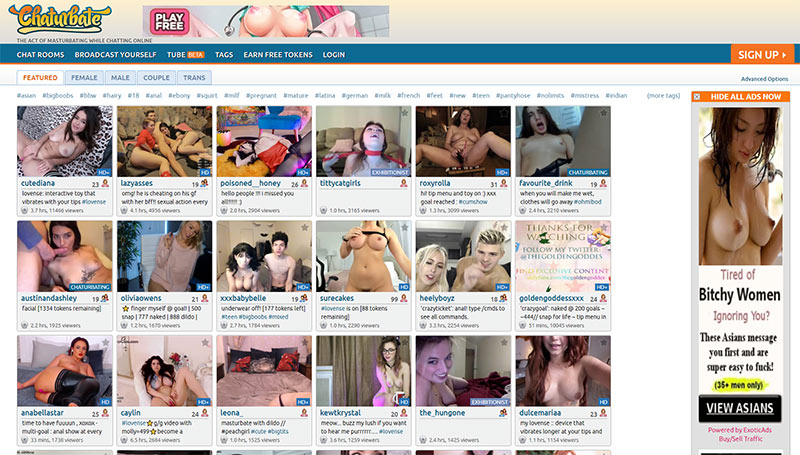 If you're looking for a cam site that's nearly identical to Myfreecams, Chaturbate is a great place to start. It has a similar design, and no membership is required to view most shows. You can watch as a guest and get access to any public show. Alternatively, you can create a free account, which will allow you to save models as favorites for easy access later on.
Of course, without tokens, you'll be subject to the whims of the audience. If the model wants tips before masturbating, you'll either have to wait for others to meet the tip threshold — and hope nobody starts a private show in the meantime — or you'll need to pony up your own cash. Thankfully, Chaturbate's token pricing is very reasonable, comparable to other affordable sites like Myfreecams.
One thing you should be aware of is that Chaturbate's inexpensive service comes with a downside. There's no dedicated customer support team. Now, the vast majority of models are honest. After all, they only make money if they take care of their fans. But if you do end up getting scammed, there's no recourse.
Pros:
No membership required
Reasonable token pricing
Thousands of hot models
LiveJasmin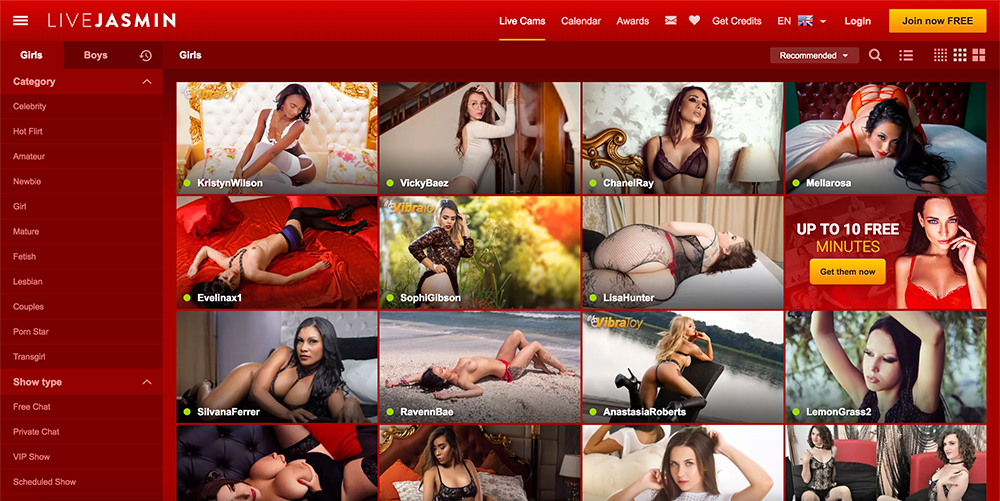 If you've never heard of LiveJasmin, you've probably never watched porn. Okay. That may be a strong statement. But if you've spent any significant amount of time on popular tube sites, you've definitely seen a few of their ads. This is one of the most popular cam sites on the web, with an active user community and thousands of hot models just waiting to get nasty with you.
Joining LiveJasmin is free, as are many of the shows. Most models depend on tips to make their living, so even the "free" shows are usually unlocked after a certain tipping threshold has been met. But that being said, there's usually a heavy tipper or two in the room who's willing to pay the bulk of the money.
Of course, if you want to take a model to a private show, you're going to have to spend some money. And some of the top models charge steep prices, as high as $10 per minute for a private show. Then again, there's plenty of free content, and the mobile site has a slim, easy-to-use design. Unless you're dead set on paying bottom dollar for a private show, LiveJasmin is an excellent choice.
Pros:
Thousands of hot models
Loads of free content
Easy-to-use interface and mobile site
Cons:
Private shows are expensive
Camsoda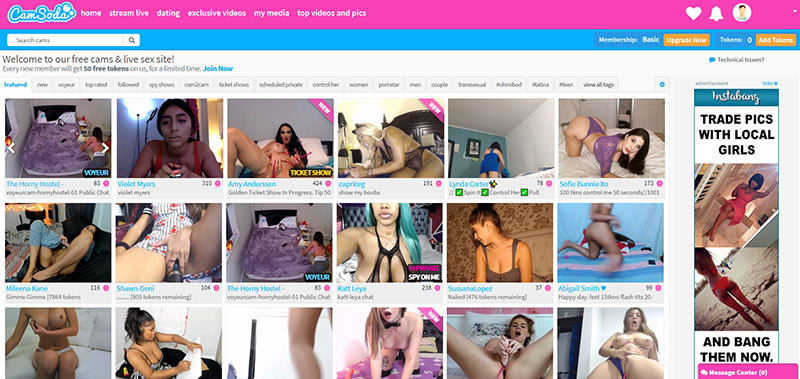 Camsoda is another popular cam site that includes both free and paid service tiers. Whether you're looking for plenty of subscription features, or whether you just want to see a girl dildoing herself for free, you've got plenty of options.
Like many cam sites, simply watching a Camsoda model is free. Girls, guys, and couples are all getting down and dirty in public chat. A fair number of the female models, in particular, enjoy performing with interactive sex toys. You won't be able to buzz them for free — that requires tipping — but you can lurk in the room and enjoy watching the results.
Of course, if you want to spend money, there are plenty of ways to do it. There are several token packages available for one-time purchase. Alternatively, you can buy a recurring monthly membership, which includes enough tokens to get you started. Just be careful. Some of the site's paid private shows will drain your free tokens in 2 or 3 minutes.
Pros:
Basic features are free
Popular site for porn stars
Recurring membership includes "free" tokens
Cons:
Private shows are very expensive
BongaCams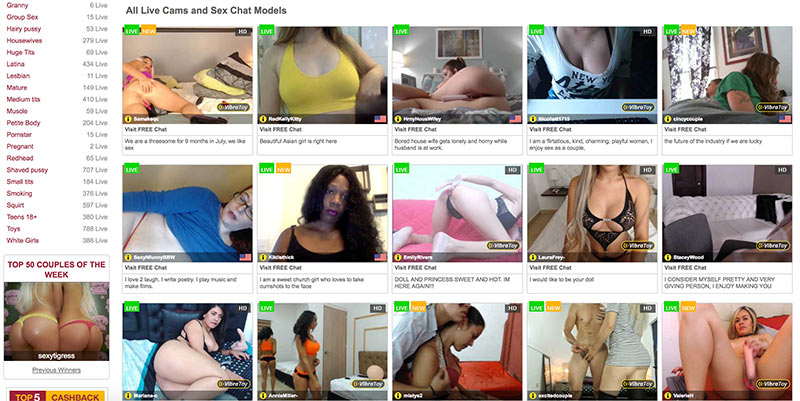 BongaCams is a bit of an unusual animal. On the one hand, their pricing is some of the best you'll find. You're looking at 10-15 tokens per minute to view a show, which works out to about $1.00-$1.50 per minute. That's one of the cheapest rates available. If you want to pay bottom dollar for some of the nastiest cam girls online, you'll find few better alternatives.
On the other hand, there are two reasons for this low pricing. First off, most of the models seem to be Russian and Eastern European. Don't get us wrong. They're hot. But many don't speak English, and many who do don't speak it as their first language. In addition, you won't find a lot of actual sex in free chat. You might see some boobs, but the sex toys don't come out unless you're watching a paid show.
That said, BongaCams offers a lot of search features. In particular, you can search for a variety of fetishes. If your tastes run towards the kinky end of the spectrum, there's a lot to like here.
Pros:
Reasonable pricing
Plenty of search features
Cons:
Many models don't speak English
Limited action in free chat
Flirt4Free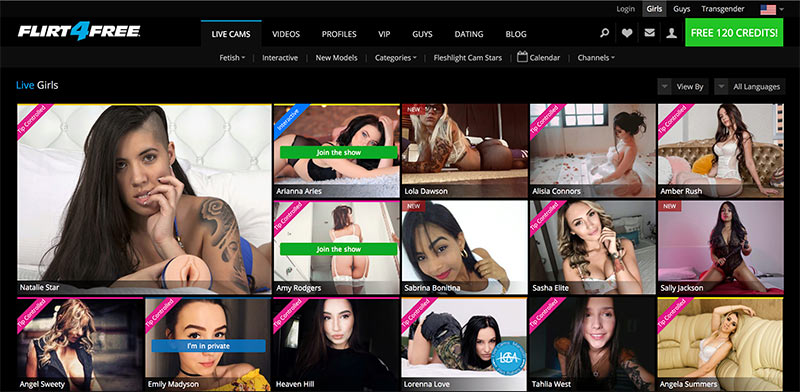 Founded all the way back in 1996, Flirt4Free is one of the longest-standing adult cam sites on the web. Thanks to this longstanding pedigree, it should come as no surprise that they have a large number of models, well over 10,000 of whom are currently active.
As you'd expect from a site this busy, there are a number of show types available. You'll find dildo shows, jerkoff encouragement, interactive sex toy shows, and group/private shows. For the most part, these shows are entirely free. Just click on the show you want and start watching. Of course, you'll need to buy tokens if you actually want to participate. And tokens are mandatory for group and private shows, which bill by the minute.
If you do want to take advantage of any paid content, you'll need to create an account. You can either sign up for a free account and buy your own tokens, or sign up for a paid account that includes a monthly token package. Be careful. The paid account will auto-bill every month unless you cancel it.
Pros:
Thousands of hot models
Plenty of free content
Fully-functional mobile site
Cons:
Paid accounts auto-bill each month
StripChat
StripChat is one of the most inclusive cam sites on the web. It includes models of all different stripes: girls, guys, trans models, and even couples who like to get their freak on in front of an audience. No matter what you're looking for, chances are you'll find it here.
One thing we really liked about StripChat was the ease of running searches. The site includes dozens of different model categories, all of which can be filtered. If you're looking for an English-speaking Eastern European girl with blonde hair and tattoos who also enjoys spanking… Well, you can find her with a few clicks of your mouse.
The downside of StripChat is that it requires tokens for several ordinary functions, such as participating in text chat. Some version of this is common on cam sites. For example, Myfreecams requires you to make a token purchase to participate. But once you've bought tokens a single time, you'll always be able to send text chats. StripChat requires an active monthly membership for the same features. If you use the site every day, it's not a bad deal. But if you're a casual user, it's overpriced.
Pros:
Large selection of models
Girls, guys, trans models, and couples
Easy-to-use search features
Cons:
Paid account required for some basic functions
Jerkmate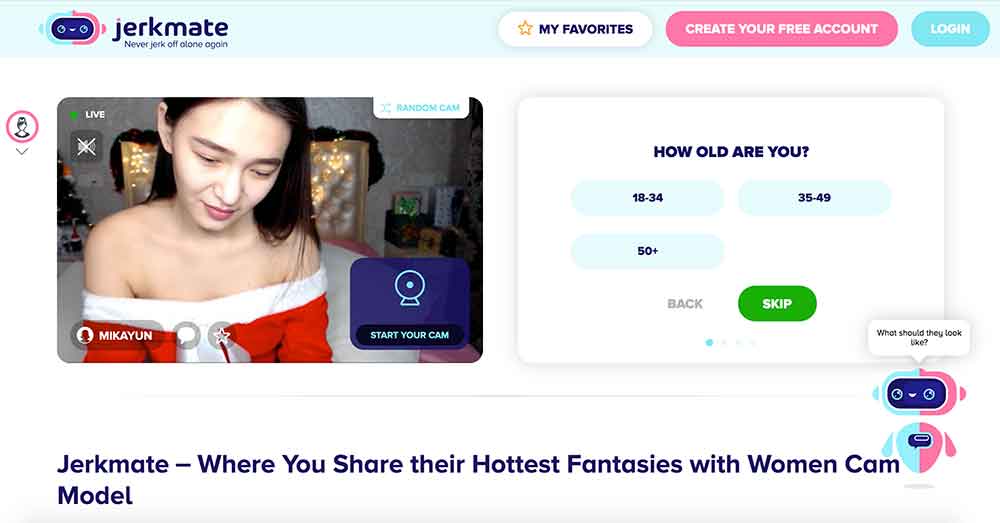 Jerkmate is a free Myfreecams alternative, but with a caveat. You can't watch shows as a guest. When you first visit the site, it will ask you for your preferences — guy or girl, hair color, and so on — and then you'll see about 30 seconds of action. After that, you'll need to create an account to keep watching. On the one hand, this isn't a huge deal. But on the other hand, it's a bit annoying when all you want to do is start streaming and shoot your load.
Once you've created your free account, you'll be able to search for models by more than a dozen criteria. You'll also be able to use Jerkmate's intuitive mobile interface. Cams load in just a few seconds on mobile, and the video will lock to the top half of your screen as you scroll through the model's profile or chat. All in all, it's very easy to navigate and find the models you want.
Pros:
Easy-to-use interface
Great mobile site
Plenty of filtering options
Cons:
Requires registration even for free shows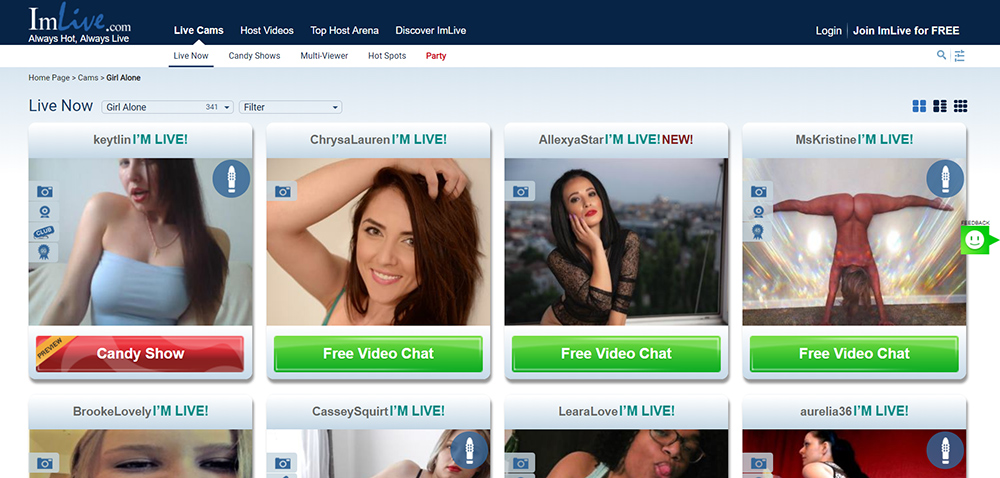 With over 65,000 models, Imlive is one of the busiest — and bustiest — cam sites on the web. They've been around for a long time, so some of these models are inactive. Still, it's tough to argue with this much selection. Whether you're looking for guys, girls, couples, or trans folk, you'll have a wide variety of options. Even better, the search feature has dozens of sorting options. No matter how strict your criteria, you'll find what you're looking for Imlive. There's also a lot of free content. Even with a free membership, you'll get access to a smattering of bonus videos from models who want to drive their traffic.
Of course, Imlive has paid features, too. Most of the models are available for private and group shows. And a large number use interactive teledildonic toys, which means you can watch, but you'll need tokens to play along. If you're looking for a paid site, there are cheaper options. But if you want to sit in on some great free cams, Imlive is a great choice.
Pros:
Tens of thousands of hot models
Easy-to-use search options
Free bonus videos available for free members
Cons:
Pricey teledildonics and other paid features
Streamate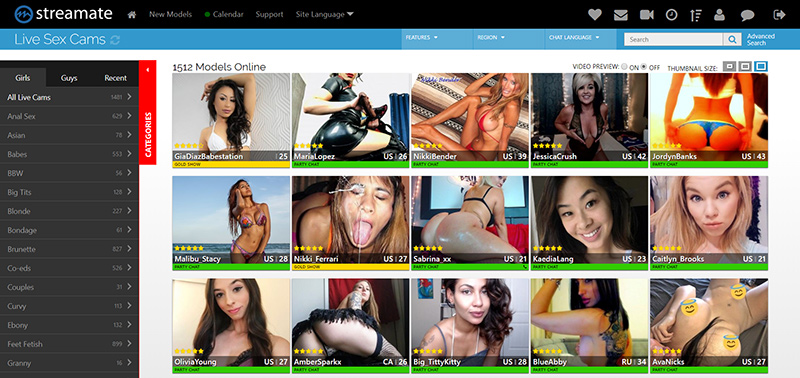 Streamate offers what many cam sites don't: 100 percent free access to a fully functional chat system. Create a free account, and you can instantly chat with however many girls you want. There's no time limit, and you'll have complete access to the two-way text chat. It's also easy to find the types of girls, guys, or couples you want to see. There are 40 categories of model, and all of them can be filtered on the advanced search page.
That said, you'll need a credit card to create even a free account. There won't be any charges unless you authorize them, though. You should also be aware that there's no adult content in the free chat. You can have a conversation with a girl in lingerie, but you're going to need to pay for a private show if you want things to go any further.
Pros:
Fully functional free chat
Over 40 searchable categories
Thousands and thousands of models
Cons:
No adult content in free chat
Xcams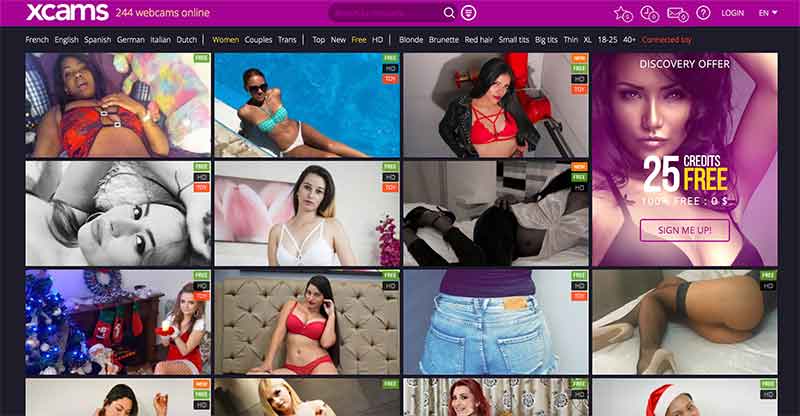 If you're looking for the highest-quality HD video, Xcams is the best there is. All of their models stream in HD, with a bare minimum video quality of 720p, and a majority in 1080p. This is a step up from the grainy webcams that dominate a lot of other cam sites. They also boast a more exclusive selection of models, although you'll still find that there's a wide variety to choose from.
Like Streamate, Xcams offers a fully functional free chat feature. You'll need to create an account, but once you do, you won't be restricted to watching from the sidelines. Age verification requires a credit card, and there's a nominal charge of $1 for signup. Then again, that $1 will get you 25 "free" tokens, which will allow you to get a taste for Xcams' premium features. And to be honest, you'll need to be willing to spend money if you want to see anything of an X-rated nature. There's no sexual activity outside of the premium chats.
Pros:
Hot models
All HD video
Fully functional free chat
Cons:
"Free" account costs $1
No adult content in free chat
Cam Climax
As you can see, there are several Myfreecams alternatives that have a lot to offer. Depending on what you're looking for, any of these options would really hit the spot. For example, LiveJasmin is tough to beat if you're looking for the widest selection possible. Flirt4Free, meanwhile, offers some of the best free features, including unlimited free chats. And Xcams offers the best overall video quality, provided you're willing to pay for it.
Which of them is the best? That's kind of like asking which cam girl is the hottest. And the answer is the same; it depends what turns you on.
Similar Articles