Bongacams Site Review
BongaCams is a leading webcam site which has acquired and incorporated several smaller, amateur webcam sites over time. They offer a full range of cam site features, including models of all genders and sexual orientations. There are several different chat types available, and great searching/browsing/filtering features, too. BongaCams is one of the few sites that offers fully explicit free, tip-based shows, so there's a ton of action going on. What's more, all the paid chats feature fixed prices, rather than prices controlled by the models like some other sites, so it's a lot easier to manage your wallet. It's quite popular, too, with an Alexa ranking globally by traffic of 92, putting it ahead of many other porn, cam, and mainstream websites. By comparison, the New York Times' website is 122nd, fully 30 slots lower in traffic ranking than BongaCams.
BongaCams is the main site operated by Proweb Progressive Development Ltd., out of Cyprus. The company behind the site is believed to be based in the Netherlands. They have acquired other sites including RusCams in December 2016, and CamFuze in March 2017. The model base and features of these sites were rolled into BongaCams, and the other domains now function as white labels of BongaCams. They also operate white label sites including BimboLive, RoyalCams, and several others. These sites share the model catalog and interface technology, though accounts, balances, etc. are unique.
Bongacams Chat Costs
BongaCams offers fully-explicit free shows, where the models perform without an up-front charge, hoping to earn tips from viewers. This is a nice feature that not a lot of cam sites offer. You can see plenty of masturbation, toy action, and even full-on hardcore fucking for free. Of course, as always, if you enjoy, you should tip, but it's nice to have some of that control in the hands of viewers. Private shows and other paid chats require the purchase of tokens, the site's currency. Tokens can be purchased using credit card, bank ACH, or over 40 different cryptocurrencies. Different rates and packages are available for each option. The current options and their conversion rates are listed below. The best option is highlighted in green, and the worst in red.
| | | |
| --- | --- | --- |
| Credit Card | | |
| 17 Tokens | $2.99 | $0.176 |
| 54 Tokens | $7.99 | $0.148 |
| 139 Tokens | $19.99 | $0.144 |
| 247 Tokens | $29.99 | $0.121 |
| 439 Tokens | $49.99 | $0.114 |
| 660 Tokens | $74.99 | $0.114 |
| PayPal | | |
| 17 Tokens | $2.99 | $0.176 |
| 49 Tokens | $7.99 | $0.163 |
| 104 Tokens | $19.99 | $0.192 |
| 193 Tokens | $29.99 | $0.155 |
| 343 Tokens | $49.99 | $0.146 |
| 513 Tokens | $74.99 | $0.146 |
| Cryptocurrencies | | |
| Bitcoin (100 Tokens) | 0.0019 BTC ($12.26) | $0.123 |
| Ethereum (100 Tokens) | 0.0420 ETH ($12.51) | $0.125 |
| And 40+ Other Options | Varies | Varies |
Another awesome thing about BongaCams is that, unlike many sites where the models set the price, here, paid services are all a fixed price. Of course, you can tip the models for excellent service, above and beyond the base cost. But, the base costs are all the same, regardless of which model you may choose. This levels the playing field a bit, and we think gets you more bang for your buck. Below, we highlight the prices for the four main types of paid show services, both in the site's token currency, as well as in dollars. Dollar amounts are based on the average token cost.
| | | | |
| --- | --- | --- | --- |
| Spy/Voyeur Chat | 7 | $1.02 | $5.10 |
| Group Chat | 15 | $2.19 | $10.95 |
| Private Chat | 30 | $4.38 | $21.90 |
| Full Private Chat | 45 | $6.57 | $32.85 |
User accounts are totally free to use the site, and gain premium status (Gold) upon a single purchase. Additional premium status levels are gained based on total accumulated purchase value over time, ascending beyond Gold to Platinum, Unlimited, Diamond, and Exclusive. Each progressive account level adds additional perks. Core features are unlocked at Gold, but Platinum and Unlimited add higher purchase limits, concierge service, and private messaging, while Diamond and Exclusive add discounts on token purchases, boosts to visibility in chats, and some control and ability to kick lesser members from chats.
There is also a paid VIP membership status, for around $20/month (prices vary a bit depending upon package and payment method). VIP status includes access to special daily VIP shows, a VIP shield icon in chats, special VIP chat avatars, VIP support, and invisible mode, which lets you be in chat without your name appearing on the user list or being visible to anyone. As of this writing, they're running a promotion where VIP status is available for what works out to about $5 a month. It still costs $20, but you'll receive gift card credit for tokens on the site worth $5 every 10 days, that are valid to be redeemed for up to 10 days.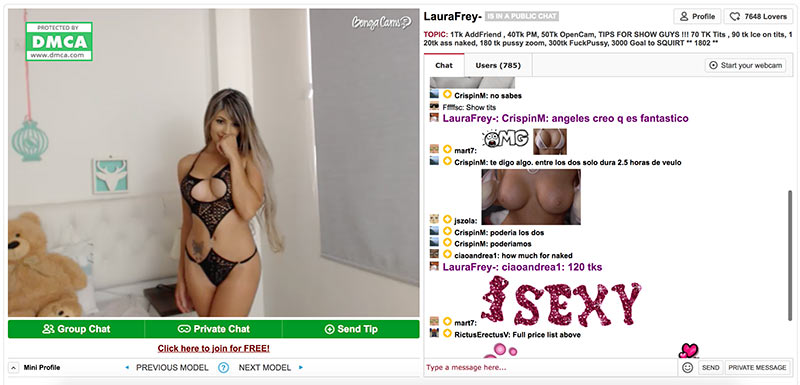 Model Manifest
The models on BongaCams are mostly women (around 75%), though there are also couples of all types, men, and transsexuals as well that make up the other 25% of the catalog. As BongaCams acquired several amateur sites over the last few years, there's a really good mix of true amateurs, studio professionals, and pornstar-quality models. So, whatever body type, ethnicity, or model style you may be looking for, you can find it here.
At any given time, there are usually around 800 models on cam, roughly 600 women, 100 men, 50 couples, and 50 transsexuals. Couples include all combinations of girls, guys, and transsexuals, along with threesomes and groups. The total registered model catalog holds over 110,000 models and continues to grow.
Bongacams' Fucking Features
BongaCams has a rich offering of different features and options for users to enjoy. This includes several different chat styles (and prices), so that no matter what you can afford, you can enjoy some hot cam action. Site features include:
Fully explicit free chats
Model tipping in any chat mode
Private chats
Full private chats (where no one can spy on your chat)
Spy/voyeur mode, where you can hear the model and see the chat, but not interact
Group chat, where two or more users can be in a private chat with a model at the same time
Fully-functional mobile version of the site
Interactive toys are fully supported
For Gold accounts or better, Cam2Cam functionality is available, which lets you show the model your webcam feed, for an interesting two-way sexual experience
For Platinum accounts or better, private messaging to any model is available
Additionally, Gold accounts or better can be in multiple chats at once, and have access to full-screen video
The site also offers contests and the escalating account quality based on total purchases
Model profiles include the model's info, approximate working schedule, exclusive clips or pre-recorded shows available for token purchase, free videos for Gold members or better, and much more
Sexy Systems
As one of the leading providers of web cam services in Europe and the US, BongaCams runs on reliable, high-quality technology to make the site experience quite pleasant and lag-free. The servers are run out of Massachusetts in the US in recent years, rather than the Netherlands where they were originally based, which is a plus for US residents. The site overall, as well as the video chat streams, don't appear to have any kind of hiccups, lag, or connection issues. Webcam quality varies by model, with around a 50/50 split between HD and sub-HD/SD quality within the model catalog. Full screen video unlocks with any token purchase, and is capped around 1/3 screen size for free members.
The user interface is equally high-quality and easy to navigate. The chat interface is also easy to use and understand all the features available. In terms of finding or browsing models to chat with, there are multiple options, including a direct search by name, browsing high-level divisions such as gender, browsing by category from a series of descriptive terms (Anal, Bondage, Brunette, Lesbian, and Pregnant, just to name a few), and more. You can also filter results quite comprehensively via the "Search" link at the top of the page. This opens up a whole other set of filters and pre-defined tags, including gender, orientation, age, height, cam quality, and much more.
The category list for each division ranges from around 34 for the women, to somewhat shorter lists for couples, men, and transsexuals. The filtering options include 14 different sections, and over 80 tags that models can use to tag their chat type, with topics like anal, toys, cock sucking, squirting, interactive toys such as Lovense or OhMiBod, and lots of other sex acts, kinks, and descriptors.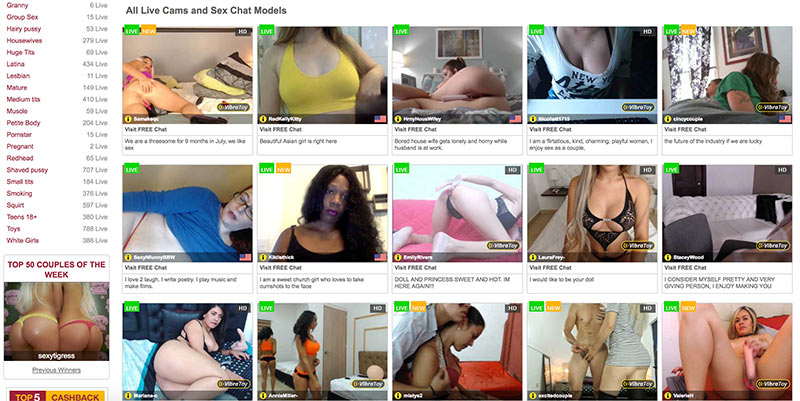 Cam Climax
Pros:
Good number of diverse models on at any given time
Full range of site features consistent with the top cam sites
Fixed-price shows help with budgeting and money management
Various show type options to fit different budgets
Multiple payment options to buy tokens
Rewards program for loyalty based on token purchases over time
Fully explicit free/tip-based shows
Cons:
Private show costs can add up quickly
Only around half of the models use HD cams (but it is a filtering option)
BongaCams is unquestionably a leader in the webcam category. They have a load of awesome features, coupled with reliable technology that makes the site easy to navigate, use, and enjoy. The fixed price for premium shows is a nice feature that you don't see everywhere – it doesn't mean the shows are necessarily cheaper or more expensive than other sites, but it makes it a bit easier to manage your token balance and know what you're spending. Token costs are fair, with several purchasing options, including cryptocurrency, which not every site has embraced, and is another nice perk at BongaCams. With a diverse and large model catalog, contests, a regular blog, revamping and improvement to VIP and rewards programs, and a clear commitment to the community of users, BongaCams is a great choice. Check out a free account, grab some tokens, and have yourself a good time!
Visit Bongacam