Flirt4Free Site Review
With sex cams content is usually king, which means everything else takes a backseat. As long as you have insane numbers of attractive performers, then the site can be awful in every other respect and still turn a profit. Flirt4Free instead doubles down on the quality of its site. From a technical perspective this site is probably the absolute best. It runs well, has a modern design, and amazing cam quality. The model count is low, but the quality of the experience is so high that Flirt4Free is still easy to recommend to paying customers.
Pros
Technically proficient site
Free Credits on signup
Excellent user experience
Almost all HD feeds
Cons
Very high prices
Low model count and diversity
How much does Flirt4Free cost?
Unfortunately you have to pay high prices for quality. Despite its name, and the fact that it includes free signup, you don't get much without paying well on this site. Flirt4Free has some of the highest prices I've seen, up to $8 a minute for private chat, which is pretty crazy. Even the cheaper end of the price spectrum on Flirt4Free is the high end for other well-known sites. The site has a relatively poor reputation with cam models due to the high cuts it demands for their work. It's possible the higher costs for private chat are a response to this.
Despite the high cost of private chat I did come across some free shows where couples were working just for tips. This is far less common on Flirt4Free than other popular cam sites like MyFreeCams or Chaturbate, but it does happen. Flirt4Free also eases the cost for repeat customers with a very robust rewards program which can earn you permanent discounts on Tokens and access to premium videos. But make no mistake - even for the savvy user, this is one of the more expensive cam sites out there.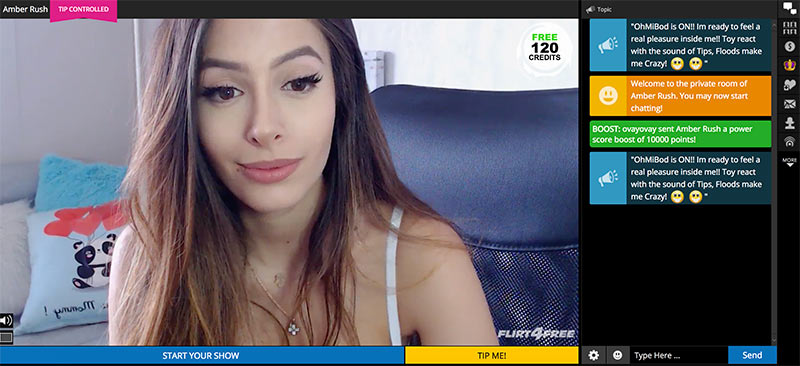 How are the models?
Really excellent, but the selection is very small. Flirt4Free has around 5000 registered performers and about 200 online at any given time. Because this site has a reputation for lower payouts most of the girls you'll see are from eastern Europe, broadcasting from studios. Consequently they may not be very talkative, as they may not know english well. But they're all very attractive and give great performances. And the picture quality is excellent across all streams. It's just a shame there isn't more diversity in the model selection.
Flirt4Free used to be known as the place to see Adult Stars perform cam shows. They still have well-known performers give shows, but it's more a once-per-month event. For the most part the site is populated with European or south American models.
Technically impressive
Of all the cam site's I've reviewed this one wins for technical competence. The site has a beautiful, modern design. The user experience is phenomenal. Navigation is simple and intuitive. Flirt4Free also goes the extra mile with some technical tricks that make it a lot of fun to browse. The home page has a "tiled" design where you see pictures of different live models. But if you hover your cursor over the image, that model's feed will load in real time and start playing. So you get a preview of the action before you click and move away from the selection page. If you don't like the preview you can just load another until you find what you're looking for. Another huge bonus is that the model's private chat cost per minute is actually displayed on her tile.
Once you do click into a show you'll be pleased with the simple layout that clearly features the performer. Unlike some other sites, Flirt4Free's feeds aren't crowded with ads or distracting buttons. Everything is clear and functional. Even the chat is nicely formatted. All of this enables you to keep your attention where you want it - on the performer.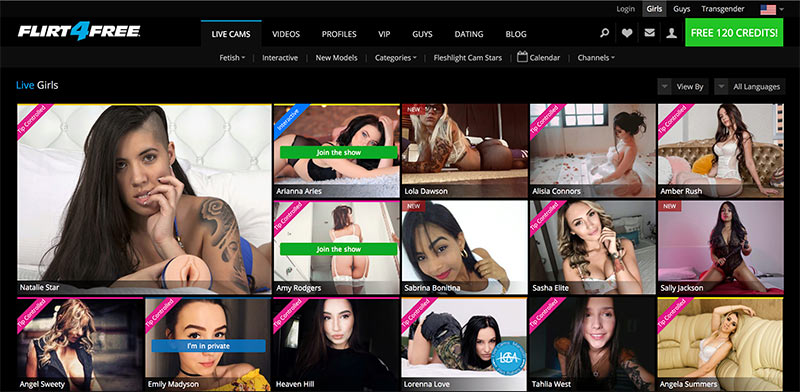 Rewarding Loyalty
It should be said that Flirt4Free has one of the largest and most intricate rewards programs around. If you're willing to spend the cash it takes to make this site your main stop then you can earn impressive benefits. Regular use of the site can allow for permanent purchase discounts of up to 30% which in the long run could ease the high costs.