MyFreeCams Site Review
Luckily the largest sex cam site on the internet is also the best choice for free viewing. While other popular sites have doubled down on studio sets and professional models, MyFreeCams has gone the other direction. This is less like studio porn and more like adult social networking. The site works hard to facilitate discussion between users and models. The promise of sex cam sites is a more personal connection, and on that end MyFreeCams absolutely delivers.
Pros
Friendly, happy models
Pre-recorded clips
Nice community
User profiles
Cons
How much does MyFreeCams cost?
Many sites allow for free signup, but usually this gets you very little because models jump into private chats as soon as they can. They also tend to keep from being naked at all before getting into some sort of private show. But the payment model on MyFreeCams encourages large chatrooms of users via the tipping system. Because the site has so many users, it's possible for one model to get hundreds of guests in her group chat. If even 10% of those users are tipping with tokens then the model makes way more than she could in a private show. The other 90% of the chat room enjoys the feed for free. These public gold shows are the centerpiece of MyFreeCams. In fact, the site is so focussed around these group shows that it can be difficult and very expensive to get a model to go into private chat. As always the individual rates are up to the models, but on average you should expect to pay $5-$7 per minute on private chat on MyFreeCams. That is crazy high compared with some other sites that specialize in private chat.
While the private chat rates are very high, paying users still get major bonuses by buying tokens for tipping. This is how most transactions work in MyFreeCams. The model will often set a goal like "cum show" and then the collective tips of the chat room work to reach the target. Models often offer "tip menus" where you can pick an item and get it for a one-time tip - things like a quick flash or a spank are common. Models also offer "orders" for one-time tips. These include things like personalized photoshoots, snapchat account info, a video, or panties, which are sold in exchange for a set amount of tokens.
Free members will be muted in chat before their first purchase, so if you plan to stick around MyFreeCams for a while it's a good idea to buy at least once, if only so you can join in with the community. Tokens are sold in packages for $20, $50, or $75, which works out to $0.10, $0.09, and $0.08 per token. Everything you can use those tokens on is up to the discretion of the models. Billing is handled by your choice of Epoch or CCbill - two of the trusted standards in online purchasing. Both bill discreetly and reliably. Right now only credit cards are accepted for payment on MyFreeCams.
What are the models like on MyFreeCams?
This is the real selling point of MyFreeCams: it attracts the best talent. The girls on MyFreeCams are fantastic, and it goes way beyond looks. The most popular models are smart, charming, and generally fun to hang out with. This is probably due to the freedom they have on MyFreeCams. Most cam sites provide models with what they need to stream to an audience and not much else. But on MyFreeCams models are given tools to build a community also. They're encouraged to build a brand and a business. Consequently a lot of the girls on MyFreeCams take their jobs seriously. For these girls camming is something more than a 3-times-per-week obligation. They regularly engage with their fans and try to provide not only sexy shows, but a fun space to spend time.
We've used the word "community" a lot so far. MyFreeCams does provide live sex cams, but it's also a social space. Because nearly all the content is public group shows, models and their fans regularly hang out and chat together. People get to know each other, become friends, and generally just have a good time. In this way MyFreeCams is sort of like an adult social networking site. Both models and users have profiles, and everyone sits in a group chat with each other. It sort of feels like a cross between early MySpace, AOL messenger, and a modern cam site.
The models themselves are all very amateur. These are actual girls, many in the U.S., who stream from home. Despite the huge number of models we've never seen a stream that looks like a studio shoot. MyFreeCams boasts the largest model count of any adult cam site with over 100,000 registered models. Of course, many of these have become inactive, but you will still see between 1000 and 2000 models online at any time during the day - an incredible number.
MyFreeCams only hosts solo female models, so if you're looking for couples, men, or trans girls you'll have to look elsewhere. There's a good variety of ethnicities and body types, but by far the most popular models are young, fit girls.
What are MyFreeCam's features?
Remember MySpace? The customizable social media profile is still alive and well on MyFreeCams. Both regular users and models can personalize their profile with photos, fonts, and text. Despite the dated look of the site, the profile options are pretty impressive. Profiles can be really varied. Other sex cam sites can feel very impersonal, but the profiles on MyFreeCams give you the chance to actually learn about a model and get a feel for her personality. You may be surprised how different this makes the sex cam experience. The profiles have some functional benefits also. Models can display their performance schedules, announce special events, and even sell pre-recorded clips for tokens.
The main event here is the public group chats where the model controls what happens. This can vary wildly across the site. We saw one model who was just streaming herself playing Overwatch topless, another who was stripping clothes for tokens, and one more who was just squatting on a webcam. So regardless of what you're into, something like it should be on offer.
MyFreeCams also offers spy shows and smaller group shows for much more reasonable rates than full private chat - about $1-$2 per minute. But aside from different chat options the features available will depend largely on what the individual model is willing to provide. Many of these extend outside the site. Some mail you personal letters, make a video with your input, or give you social media info.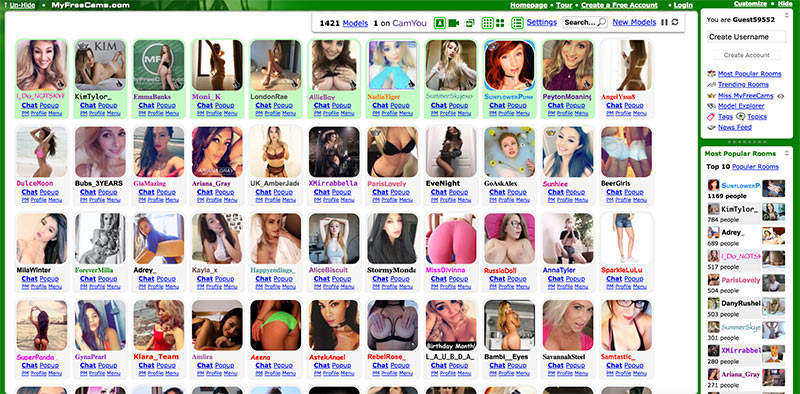 How well does MyFreeCams function as a website?
When I first came to MyFreeCams I found the design very off-putting. The site looks like something made in the early 2000's - inconsistent fonts, a strange visual design, and tons of text cluttering the page. Despite the rough design, you'll find that the critical features of the site work very well. The cams are high-quality, the chat functions well, and the profiles provide lots of options. The drawback is really in the visual design of the site. But don't let that throw you too much, because once you get past the dated look you'll find one of the best free sex cam sites around.
Unfortunately there are some problems with the navigation. As mentioned earlier MyFreeCams has the largest number of registered models of any site. With all this variety you need a robust search function to sort through them. Unfortunately the site lacks good search tools. There is a tag system (implemented recently) but not all the models are good about using tags consistently, so it's unreliable at best. This is a problem for both guests and aspiring models, since newer performers are harder to find. The good news is that models are picking up the tag system as time goes on, so it's getting more usable.
While the design and navigation can be wonky, the core tech running the cams is superb. Images come in fast, sharp, and smooth. Even the live stream previews load impressively quickly. This in combination with the ancient site design is sort of a weird experience. But the important thing is its highly functional. When it comes to its core offering, MyFreeCams delivers on the technical front.
The final word on MyFreeCams
MyFreeCams is all about the community experience. It's a site for people who want to really get to know their favorite models and interact with them regularly. It also provides the absolute best value to free users that we've seen. Despite the dated design MyFreeCams is easy to recommend to new and experienced sex cam users.