LiveJasmin Review
LiveJasmin is one of the dominant webcam players in the industry today. With their distinctive red branding, it's a fair bet that most people who have visited a porn site or two have seen an ad for LiveJasmin. They offer a wide range of cam site features, and one of the more upscale catalogs of models available – that's also quite large, at over 200,000 registered models and counting.
Founded in 2001 as a separate site, and 2008 as LiveJasmin, they've grown by leaps and bounds, attracting over 35 million users, and winning many industry awards. LiveJasmin currently sits as the 4th most-visited site by traffic in the adult category, 62nd overall globally by traffic, and 35th in the US by traffic, making it one of the most popular sites on the Internet, with over 2 million unique visitors a day.
LiveJasmin is currently owned by Docler Holding Group, and run by Duodecad IT Services of Luxembourg. They also maintain a transsexual-focused site directly (not as a white label), mytrannycams.com.
LiveJasmin Chat Costs
Chat costs are set by the models, and range from 0.98 credits per minute to 9.99 credits per minute for private chats. Additional fees may apply for two-way audio and Cam2Cam functions (all of which are spelled out prior to engaging in a private show). VIP shows, on the other hand, have a set entry fee, usually of a few credits, to get into the show, and that's all you end up paying for as long as it lasts (which is at the model's discretion). This is disclosed up-front as well – X credits for Y minutes.
We've compiled a chart that approximately shows the distribution of private chat costs across the service (which is obviously subject to change based on which models are online, time of day, etc. – this was just one snapshot).
| | |
| --- | --- |
| < 1 Credits/Minute | 2% |
| 1 - 1.99 Credits/Minute | 13% |
| 2 - 2.99 Credits/Minute | 68% |
| 3 - 3.99 Credits/Minute | 13% |
| 4 - 4.99 Credits/Minute | 3% |
| 5 - 9.99 Credits/Minute | 1% |
There is also model tipping available through the gifting of virtual items/icons in chat. However, the free chats are merely teaser chats, so tipping is not "expected" like it is on sites that offer explicit, tip-based chats for free.
Below, you'll find a listing of the credit packages and payment options. There are several ways to pay, including credit/debit card, PayPal, Bitcoin, Litecoin, and over 50 other types of cryptocurrencies, as well as gift card trade-in options. Each of these payment options has a different redemption rate on average, and different packages offered within each method. In general, credit/debit card options are the least expensive, with cryptocurrencies being the most expensive. Gift card redemptions are variable based on the third-party processor (PayGarden) and their market rates, but usually represent the worst conversion of dollar value to credits. On the other hand, if you already have unused gift cards, it's not a new expense, so to many people, this is a great option.
As always, the best option and/or package is highlighted in the green, while the most expensive is highlighted in red.
| | | |
| --- | --- | --- |
| Credit Card | | |
| 27.99 Credits | $33.99 | $1.214 |
| 67.99 Credits | $75.99 | $1.118 |
| 97.99 Credits | $106.99 | $1.092 |
| 157.99 Credits | $169.99 | $1.076 |
| PayPal | | |
| 17.99 Credits | $23.99 | $1.334 |
| 27.99 Credits | $35.99 | $1.286 |
| 67.99 Credits | $79.99 | $1.176 |
| 97.99 Credits | $112.99 | $1.153 |
| 157.99 Credits | $178.99 | $1.133 |
| Bitcoin/Litecoin/Altcoins | | |
| 17.99 Credits | $24.99 | $1.389 |
| 27.99 Credits | $37.99 | $1.357 |
| 67.99 Credits | $83.99 | $1.235 |
| 97.99 Credits | $118.99 | $1.214 |
| 157.99 Credits | $187.99 | $1.190 |
| Gift Cards | | |
| Variable | Variable | Variable |
Since the range of costs for private chats can vary, we've provided a reference below for what these costs work out to on a per minute basis.
| | | | |
| --- | --- | --- | --- |
| Private Chat | 0.98 - 9.99 | $1.19 - $12.11 | $5.95 - $60.55 |
| Group Chat (VIP) | Variable | Variable | Variable |
With the most common private rate being in the 2-2.99 credits/minute range, this translates into $2.42-$3.62/minute pricing, or about $12.10-$18.10 for the average 5 minute private show.
There are no paid membership or subscription programs on LiveJasmin. All users are either guests/unregistered, basic members (free/no credit purchase made), or premium members (made a credit purchase at least once).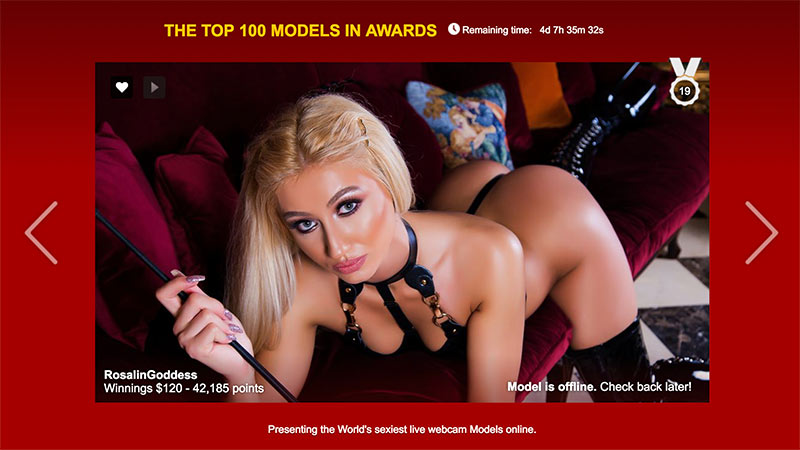 Model Manifest
With a model catalog of over 200,000 registered performers, LiveJasmin offers a great variety to choose from. This is especially true in the female category, which makes up around 70% of the models online at any particular time, with a good mix of ethnicities, ages, body types, and so on. In particular, there are a lot of girls here who appear to be much more up-scale, looking a lot more like professional models and a lot more glamorous than some other sites that are filled with more amateur talent. This is largely due to the studios that partner with LiveJasmin, that tend to attract more upscale talent – much of it based out of Eastern Europe and South America – though there are plenty of individual models on there as well, that aren't part of a studio affiliate.
There are typically around 900 models on at an average time, with numbers in the 1,200 to 1,500 range during peak hours being quite typical. This breaks down as roughly 650 solo females, a dozen or so lesbian couples, one to two dozen heterosexual couples, a few threesome/groups, a dozen or so gay couples, a few transsexual mixed couples, 100 or so solo males, and 100 or so solo transsexuals. In fact, LiveJasmin has one of the larger bases of transsexual performers of all the sites we've reviewed, as well as the most lesbian couples on as compared to many of the sites we've reviewed.
LiveJasmin's Fucking Features
Despite its popularity and traffic, LiveJasmin doesn't offer a ton of advanced features on their site. It's actually fairly basic for a cam site. This appears to work for them though, given the number of users, models, and visitors – they've kept it simple and straightforward. The main features include:
Teaser chats with no explicit content
Private chats, with pay-per-minute pricing and semi-privacy (viewers can pay 1 credit to peek on a private show, but only see the model, not the private chat, Cam2Cam, or audio)
Cam2Cam feature available in some private chats (model discrection)
Two-way audio feature available in some private chats (model discretion)
Group chats, called VIP Shows, where a group private show lasting a set period of time, with a set credit fee up-front, is offered
Mobile version of the site with a free app for iOS and Android to enhance the mobile experience
Interactive toys (filter by the Vibra Toy show type) used by around 10% of performers
Awards section, where the most popular models can be voted on
Virtual gifting to the models in chats (effectively a digital icon of varying types that has a credit fee associated with it)
Private messaging with models
Favorite models/bookmarking section
Sexy Systems
With the kind of traffic that LiveJasmin gets on a daily basis, it's no surprise that their web servers are top notch. The site loads quickly, and even browsing dozens of models at once, things only take a fraction of a second to fully load. When you mouse over one of the model's, it switches from a glamour shot to a preview of their current stream (when they are in free chat), or the option to peek in on a private stream for 1 credit if they are in private.
The chat interface is robust, with a number of features conveniently located on the left side of the video stream. The chat is on the right, with a few options below the main screen. Scrolling down from there, you can review the model's profile and other information, as well as access exclusive photos and other content (for credits, of course). While no information on HD vs. SD is provided, it seems most of the streams are HD based on an unscientific survey of popping into a dozen or so chats. There are no hiccups or lag with the video streams that we've observed.
LiveJasmin also offers a good interface to browse, sort, search, and filter the model catalog to get at your ideal performer. Like most sites, you can search for a performer by their username directly in the search box. You can also sort between girls and guys from the main page, and use the dozen or so categories for each gender to refine your browsing. There are also 8 filter sections, to let you further refine the results, based on private show price, model age, appearance, hair style, and what they are willing to do in private. You can also sort the browsing experience alphabetically, by popularity, top performers, your own rating scores for performers, newest performers, and so on.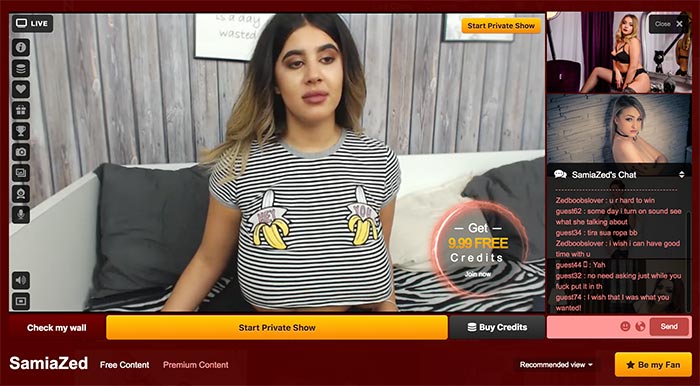 Cam Climax
Pros:
Massive catalog of models, with a lot on at any given time
Basic cam site features that work well
Two different show types (private and group/VIP)
Interface is clear and easy-to-use, with lots of options to find models you want to chat with
Credit costs, and the resulting show costs, work out to be mostly on par with other major cam sites
Cons:
Private show costs can add up quickly
Private show pricing is variable per model
Variable pricing on credits and show costs make it hard to budget and keep a handle on your expenses
LiveJasmin ranks so highly in global traffic for a reason! The site is easy-to-use, reliable, and performs well. There are many, many models to choose from, and a lot of them are far more up-scale professionals than you'll find on other sites. While there aren't a ton of features, all the basics are covered and work well. There's no shortage of sexy ladies, hot guys, exotic transsexuals, or couples of all types to keep you interested, and with all of the filter and search options, you can easily find models that turn you on. There are also several payment options, including cryptocurrencies and gift cards. Downsides are few and far between, mostly the fact that there is no explicit content in the free chat, and that both show pricing and credit costs are variable, making it a bit hard to know how much "real world" money things are going to cost you. On average, the show costs work out to be comparable to most other cam sites, and you can even score some good deals (almost always a small percentage of models offering chats for around $1/minute, and the VIP shows are a great way to control spending, too). LiveJasmin remains a powerhouse of the webcam world, and is well worth an account and a credit purchase. But be warned, with such high-quality models, this site can become very addictive!
Visit LiveJasmin