Chaturbate Site Review
While other sex cam sites strive to offer all HD studio shoots Chaturbate goes completely in the other direction. This is the low-budget wild west of sex cams. Almost anyone can broadcast anything, which is both fun and sometimes frustrating. You can get some incredible content for free, but you will have to wade through some shaky cams broadcasting unappealing people. However, some people love the candid, amateur feel of the website. More than any other site out there your mileage may vary wildly with Chaturbate.
Pros
Large, diverse selection of models
Great value for free
Ability to broadcast easily
Good premium service
Cons
Some very unattractive models
Variable cam quality
How much does Chaturbate cost?
If you're willing to put in the work of filtering through some strange, low-quality feeds, then you can strike gold for free on Chaturbate. Like MyFreeCams, Chaturbate has such a large user base that models make more cash from broadcasting to giant groups and collecting tips, so you can easily hang out in chat while other people tip and enjoy a free show. If you do decide to spend money you can purchase Token packages for a reasonable price. You can use these for tipping or for private shows, but we recommend you stay away from the private shows on chaturbate. You have better options for private shows on other sex cam sites, and your money can go further just with tips. Private shows on Chaturbate can be crazy expensive since models stand to make so much more in free shows.
Token packages cost between $11 and $80 dollars. At the high end your discount gets up to 37%, so if you're a regular user then a large one-time purchase may be worth it. There is also a monthly premium subscription for $20 that provides another $20 worth of free tokens on signup. The premium service is actually a great deal if you're a regular user. You get an ad-free layout, private messaging, full-screen feeds, and $20 worth of tokens. If you're a regular you'll probably be spending that cash anyway, so you may as well enjoy an ad-free layout to boot. Chaturbate accepts credit cards, paysafecards, wire transfers, and bitcoin.
An alternative method of payment is to sign up with chaturbate as a broadcaster and start streaming. The tokens you're given can be used on the site or exchanged for real money. But if you're reading this review you're probably not so interested in being a performer yourself. A better method may be to take advantage of Chaturbate's referral program. Referring a friend who signs up gets you 10 free tokens. And if you refer a performer who makes a $20 minimum you receive a staggering 500 tokens - a 45$ value on the site.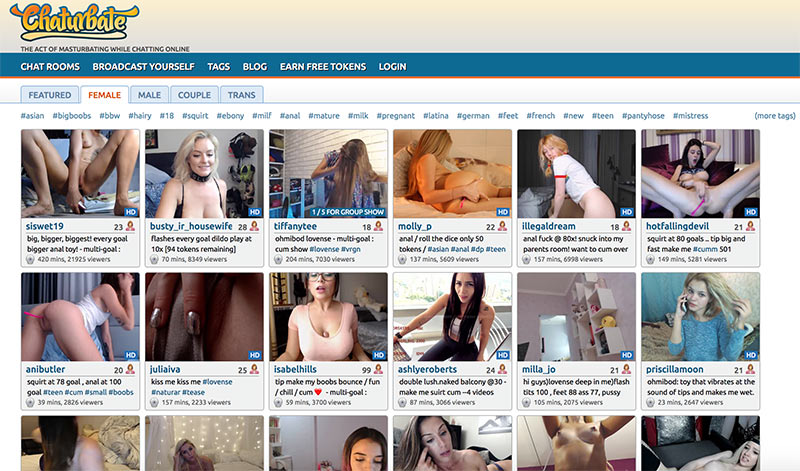 What are the models like on Chaturbate?
They range from amazing to terrifying. If you stick to the "featured" cams on the front page then it's mostly very attractive people. But if you go too far into the site you'll see some very unattractive people. But in the end it's all relative, and maybe we should be praising Chaturbate for offering such a wide variety of performers. It can also be tough to tell exactly how a model looks because the feed quality varies as much as the models do. It is nice that Chaturbate seems to have users from all over the world. The offering is diverse in the best and worse ways. One downside is the lack of fluent english speakers. Performers will often not understand the conversation going on in their own chats.
There are many premium sites on which it's hard to see any nudity at all for free. On these sites performers generally wait for a private show to really let things go. But on chaturbate you can stumble on an orgy in a free cam feed easily. This site holds very little back. Chaturbate is the kind of place where you can find four Venezuelans having group sex through a grainy webcam in someone's apartment. Some people love this about Chaturbate. For those who do, Chaturbate is an exciting and unpredictable place where you can find anything. But people dislike the site for the same reason. The experience is very inconsistent. More than most adult cam sites, your enjoyment of Chaturbate will be down to your personal preference.
People who like couples and trans performers will find a lot to like on chaturbate. On many popular sites these categories seem like afterthoughts with just a couple sad streams next to thousands of solo girl feeds. But on Chaturbate there are always couples and trans performers streaming. The couples in particular seem to be really popular on the site.
What are Chaturbate's features?
Like many other freemium cam sites Chaturbate puts a heavy emphasis on public chats. This is the "default" view you get when you go to the site as a free user and click on a feed. You'll see the performer(s) on the left and a busy chat window on the right where users occasionally drop tips. Most models on these sites have a "tip menu", so users know that a flash costs 10 tokens, or whatever price the model has set. These group shows can be fun, but if you're not a paying customer you have no control over what happens. It's always possible that no other users might tip, or the model will go into private chat. On the other hand a big tipper could come into the group and start throwing money around to everyone's benefit. It's another example of the inherent randomness of this site.
Chaturbate also includes the obligatory private show, but as mentioned earlier these are expensive, and probably not the best bang for your tokens. Spy shows are more affordable - where you watch a private performance without interacting with the model. But even with the lower cost you should look to other sites for private shows. Chaturbate is based around tipping and that's where your money will go the furthest.
On Chaturbate you can also be a model yourself very easily. Chaturbate blurs the line between viewer and performer. Once you sign up on the site you can watch feeds, but you can also broadcast yourself and collect Tokens. You can then turn these Tokens in to Chaturbate for a payout in cash. So virtually anyone can sign up and start broadcasting. This is why you see such crazy variety in model and cam quality. It should be mentioned here that Chaturbate does do thorough age verification.
How well does Chaturbate function as a website?
The site isn't anything fantastic, but it's easy to navigate and quick to load. Ads around the perimeter of the video feed can be a bit distracting, especially when they're animated. But if you're not a premium user this is the cost of free content. The main categories are female, male, couple, and trans. You can search within those using a "tag" system. This is nice if you're looking to find some specific kink or preference, but unfortunately not all models are great about using the right tags, so you can miss performers who are great matches for what you want. Chaturbate has so many broadcasters online at any given time that this isn't a huge problem. There is always someone you'll be into online.
Like other free sites Chaturbate has a busy chat window next to feeds which is always full of emotes, animations, garish text, and occasionally spam. It can be a distracting mess at times. We recommend going into the chat settings right away and muting the "tip" sound effect so you don't hear a loud bell every few seconds.
Technically everything is on point, but there is no oversight as to the quality of the camera equipment, so you will see a lot of low-rez cams and bad lighting. Some people don't mind this so much a it lends an amateur, candid feel to some of the feeds.
The final word on Chaturbate
This is the low-budget gonzo porn of livecams. It's true you will see a ton of action for free, but the quality will probably be lacking. That said, if you're patient and determined, you can find some excellent performers. And if you're willing to stream yourself then this is probably the easiest site to get started on. As a free offer it's a major success - just don't expect the experience to change dramatically even after you start spending money. This is one of the most divisive sites out there, so take our opinion with a grain of salt and give Chaturbate a shot yourself. It's completely free so there's nothing to lose.