Chaturbate.com Site Review
Chaturbate is one of the pre-eminent cam sites around today. By far, it has the largest catalog of online and active performers at any given time, typically in excess of 3,000. What's more, a lot of the content is free – explicit nude masturbation and sex shows are plentiful, including lots of variety and fetish content in the mix. Tip-based shows, with viewers pooling tokens to reach a specific goal for a specific sex act, make up the majority of the streams on Chaturbate, with private shows or spying on private shows a relative minority of streams. There's always hot action going on any time of the day, with all orientations, groupings, genders, ages, body types, and more well-represented.
The site is owned and operated by Multi Media, LLC of California, USA. They don't have any other top-level sites or sister sites, but do provide white label functionality for a number of other cam sites built on the Chaturbate interface and catalog. At present, Chaturbate ranks in the top 200 sites globally across all categories by traffic, with higher ranking in several countries, including in the top 100 in the US, UK, Germany, and Canada.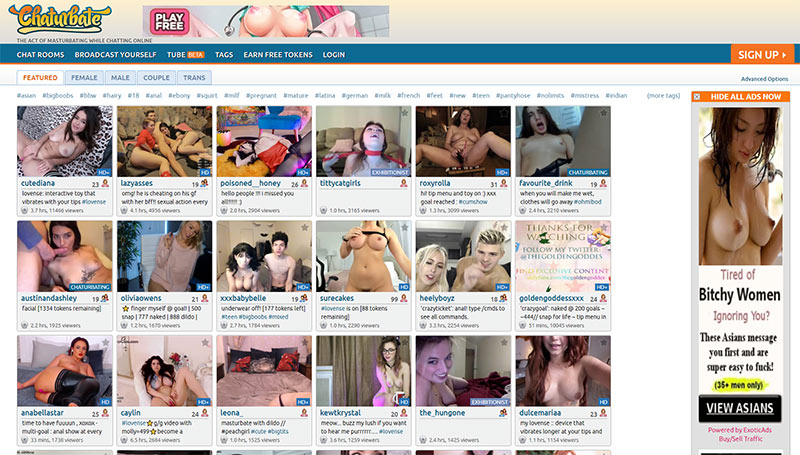 Chaturbate Chat Costs
The vast, vast majority of action on Chaturbate takes the form of tip-based free shows. The models will strip and tease, and many will engage in full hardcore or solo sex. A lot of them request certain token goals be reached in order to do certain things during their show. While you can see a lot of action for free, it's not polite to lurk forever – tip some tokens if you're enjoying the show or want to see more action.
At the same time, there are paid private shows available. They typically take 3 forms – a normal private show that's 1 on 1, just you and model, where you can use Cam2Cam as well as all the other normal site features. It's not true private, inasmuch as the show can be spied on with the second type of show, a spy show. Spy shows, or spy/voyeur mode as some other sites call it, allow you to watch a private show, without interacting, for a fraction of the cost. Both of these kinds of shows require a tokens per minute price, similar to many other sites. The third and final kind of show is a ticket show, which is like a group private show. Anyone who buys a ticket can participate. Ticket prices are paid in advance by donating a certain, pre-arranged amount of tokens, then an access code is provided via private message.
In all cases, show prices, token goals, and any other payment amounts are variable and set by the models individually. This means you can find a wide range of price options. While writing this, I found a Girl/Girl/Guy threesome you could spy on for only 6 tokens per minute, while at the same time private 1 on 1 shows available costing close to 100 tokens per minute. So depending on who you like, what you're after, and what you have to spend, you can find some great deals and try different kinds of shows without breaking the bank.
Tokens are available for purchase via credit card, wire transfer, or one of 9 different cryptocurrencies. Below, the current token packages and their respective costs, and what that works out to in terms of cost per token, are listed. As always, the worst deal is highlighted in red, and the best option (in this case, 2 options) are highlighted in green.
| | | |
| --- | --- | --- |
| Credit Card | | |
| 100 tokens | $10.99 | $0.1099 |
| 200 tokens | $20.99 | $0.1050 |
| 400 tokens | $39.99 | $0.1000 |
| 550 tokens | $49.99 | $0.0909 |
| 750 tokens | $62.99 | $0.0840 |
| 1000 tokens | $79.99 | $0.0800 |
| Wire Transfer | | |
| Minimum 3,125 tokens | Minimum $250.00 | $0.08 |
| Cryptocurrencies | | |
| Variable | Variable | $0.08-$0.10 Average |
Since show prices are variable, it's hard to give an exact cost. On the low end, the default bottom charge is 6 tokens per minute. On the high end, the highest listed bracket is 90 tokens per minute – but models can charge more, up to whatever they like. As such, we've listed the prices for each type of "per minute" show below as a range. The group chat ticket prices are also variable per model, and can be as low as 25 tokens, and the sky is the limit – usually commensurate with interest in the model, the intended length of show, number of participants, and so on.
| | | | |
| --- | --- | --- | --- |
| Private Chat | 6 to 90+ | $0.54 to $8.10+ | $2.70-$40.50+ |
| Spy/Voyeur Mode | 6 to 90+ | $0.54 to $2.70+ | $2.70-$13.50+ |
| Group Chat (Tickets) | Fixed Upfront Cost | N/A | N/A |
These ranges are hard to quantify in terms of value. On the low end, prices are much lower than the vast majority of other cam sites today. On the high end, the prices are comparable to higher-end options on the more expensive cam sites. So you can definitely get a good deal, with prices much lower than average, to average or higher than average for some select models.
Membership is free, and just requires an e-mail address. You can also pay for a "Supporter" membership, which is billed at a $19.95/month rate. This removes all ads from the interface, provides custom chat colors and options, enables private messaging (outside of messaging within a given chat). It also provides a one-time bonus of 200 free tokens. For the vast majority of normal users, the membership is probably not worth it – we recommend you save your money and buy more tokens instead for more sexy action.
And there's one more paid subscription available, and that is a model's fan club. You can subscribe to as many fan clubs as you'd like – the price is set by each model individually. Membership provides access to free or discounted recorded shows from that model, as well as other perks like show discounts or access to special shows. These can all be easily managed through your account interface on the site, and you can join or cancel at any time.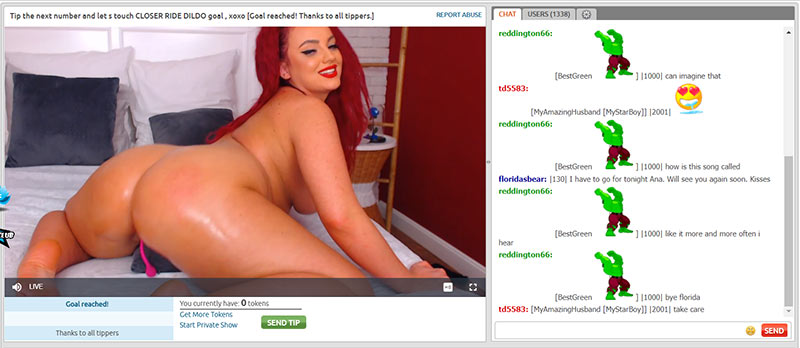 Model Manifest
Chaturbate is, without a doubt, the largest cam site operating today in terms of model manifest. At any given time, there are 3,700 or more streams available – sometimes reaching close to 5,000. Many other top cam sites have 10% of this or less. And quantity doesn't mean quality suffers – there's such a great range of options here. Of course, the biggest block of models is solo females, pretty much like every cam site. But there's a good representation of all the other orientations, couples/groups, and more on the site.
Specifically, of the average 3,700 models/streams available at any given time, around 2,100 are solo females, 15 lesbian couples, 75 hetero couples, 5 groups/threesomes/foursomes, 1,225 solo males, 20 gay male couples, 250 solo transsexuals, and around 10 transsexual mixed couples. All ages, shapes, body types, hair colors, styles, looks, and so on are represented. If you want a solo female BBW with dark hair and massive tits – no problem! If you're looking for two twinks sucking each other off – also no problem! Sexy T-girls sucking their own cocks? They've got it. With over 100 custom tags available to classify shows, you can find a little bit of everything in Chaturbate's catalog.
Chaturbate's Fucking Features
Chaturbate has pretty much all the features you look for in a cam site. While there are only 3 paid show options, these are more than enough to provide the different budget options most users require. Everything else, from the interface to the features you can use in the chat, are top-quality and comparable or better than most other sites. The site's list of features includes:
Free explicit chats, usually tip-based shows
Private shows, for 1 on 1 sexy fun with the model(s) of your choice, including the option for Cam2Cam functionality
Spy shows, where you can watch a private show in action, without interacting, for a discounted price
Group chat shows with an up-front purchase price in the form of a set amount of tokens, called Ticket Shows, that some models choose to run, usually starting out from a free chat
Model bios, that also include recorded private shows and images available for purchase
Supporter membership option for a paid subscription, enabling private messaging with your favorite models from anywhere on the site at any time
Model fan clubs you can subscribe to (for a price), that provide discounts on purchases or free video recordings, access to special members-only shows, and more
Lots of tag options to find just the kind of shows you are looking for
Interactive, remote-control sex toys, many used in tip-based mode, used by around 50% of the model base
Fully-functional mobile version of the site
Sexy Systems
There's no question that the tech behind Chaturbate is high-quality. The site runs really well, and streaming (though dependent on a model's cam and connection, like any cam site) rarely has any kind of lag, connection hiccups, or problems. A good portion of models broadcast in HD or better, and you can filter the results to show the HD cams first. Usually, around 1/3 of the total streams active and online are in HD. The rest are variations of sub-HD, with some at 720p or lower. Still, there's a good mix, and the rate of HD cam use (considering the size of the model base) is on par with what you'd get at most other sites.
In terms of the interface, it does look a bit dated at first. But Chaturbate has kept it simple, focusing on making their product available cross-browser and cross-platform. It's kept lean so you can view multiple cams and streams at a time, even on the go from your smart phone. You can find our separate review of Chaturbate Mobile to find out more about the mobile site specifically.
Searching, filtering, and sorting could be a bit better – there aren't the same kind of detailed age, bust size, hair color, and similar filter options like there are on many other sites. However, there are several top-level categories – featured, female, male, transsexual, and the ability to just jump straight to spy shows. You can also search directly by name, and filter results by region of the streamer, prioritizing HD streams, showing broadcaster locations, and disabling recommendations. There is also a robust tag system available, with around 100 tags that can be used by streamers to describe their show, making it easy to find exactly what you're looking for. At the bottom of the page, in the footer section, there are also some handy quick-sort and filter functions, including age, region, show status, and private show/spy show costs.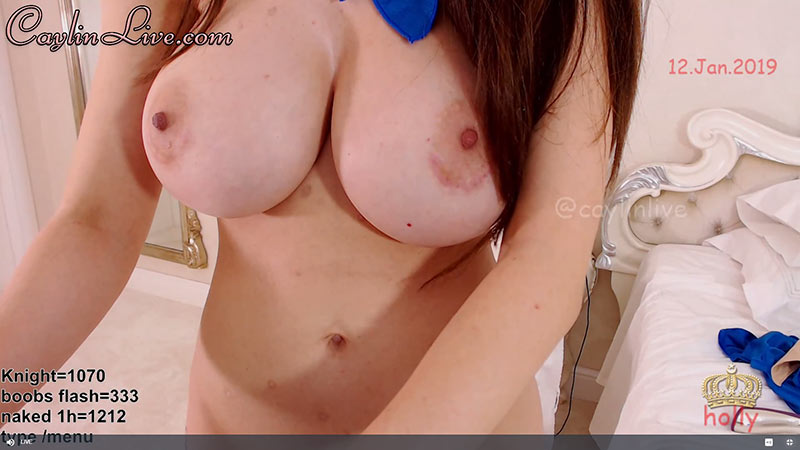 Cam Climax
Pros:
The largest number of models online at any given time of any cam site we can find today.
A ton of variety amongst the models on the site, with more couples, groups, and transsexuals than you'll find on almost any site.
Good technology behind the scenes keeps the site loading and running fast, with no issues or interruptions in streaming, even in HD.
A crazy amount of free, tip-based shows compared to most other sites – you can see a lot more here for a lot less.
Tokens for tipping, private shows, spy shows, and ticket shows are an average of just under 10 cents each. This translates to easy math to calculate prices. While show prices are variable, you can find some very good deals given the number of models available.
A lot of options to purchase tokens, including cryptocurrencies.
Cons:
Model pricing is variable and set by the models, so private shows, spy shows, and ticket shows can be expensive – but there are also many that are well below average cost compared to other cam sites.
Not the most modern interface or easy filtering options compared to some other sites.
Around 70% of cams are broadcast in something below HD quality.
We're really struggling to find cons with Chaturbate, to be honest. Yes, model pricing is variable and controlled by the model, so you can run into some very expensive private show options. And they do use a token system, which makes it a bit harder to keep track of your spending. However, tokens are roughly 10 cents, so it's not super hard math like on some sites. A majority of cams aren't in HD, but given the size of the model catalog…there are more people on here broadcasting in HD than most sites have in total. The catalog is truly massive, with 3-5,000 streams usually available even during the slowest period of the day. And there's simply a ton of free, tip-based explicit masturbation and sex action, from vanilla to fetish content. With several private show options, you can definitely go that route, too, if that's what you're into. But you get a lot more in tip-based shows for your tokens here at Chaturbate than most of the other sites we've reviewed. No question – you should, at the very least, sign up for an account – it's free, and just needs an e-mail address. Good times with your hands in your pants await!
Visit Chaturbate