Stripchat - stripchat.com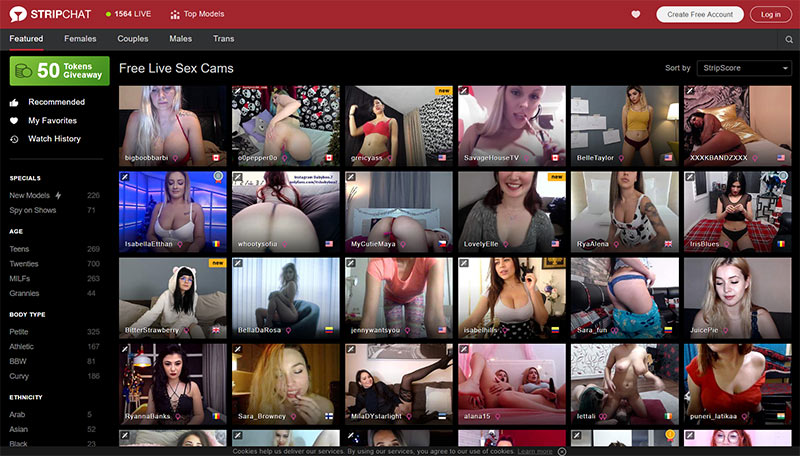 Stripchat is a full-featured cam site that plays host to models of all genders and orientations. They offer free, fully nude and explicit shows for tips, as well as various types of private pay shows. The site includes many of the features typical of top cam sites today, including Cam2Cam functionality, interactive toys, a large catalog of models, and, recently, the addition of VR cams, for a crazy new and different experience.
Stripchat is the flagship site of Technius Ltd., which also runs the XhamsterLive white label cam site. Technius itself appears to be owned by Xhamster Holdings, though Stripchat is their primary site, for whatever reason. The site's Alexa ranking is quite impressive, just shy of the top 1,000 sites globally by traffic across all categories. In India, Italy, and Germany, it's firmly in the top 1,000, with the majority of traffic coming from India and the US.
Stripchat Chat Costs
Stripchat is among the small group of cam sites that offer fully nude chats, even for unregistered/guest members, totally for free. Most of these chats allow the models to earn tips for their performance, rather than requiring a pay-per-minute system like the private shows use. However, your ability to request certain acts or direct the action is limited, and for that, you really need to engage in one of the private chat options. The site offers spy/voyeur chats, private chats (that can be watched via spy/voyeur mode by other people), and true private chats via Cam2Cam chats, where it's only you and the model and no one can spy. For tipping or paying for any of these private chat options, you need to buy tokens on the site.
Below, you'll find a listing of the different token packages currently available for each payment method. As ever, the best deal is highlighted in green, and the worst in red. Stripchat offers a number of different payment options, including retailer gift cards and cryptocurrencies, in addition to the more typical credit and debit card or Paypal options. With regards to gift cards, the amount of tokens offered in exchange depends on the brand, current demand, and outstanding balance, so it's nearly impossible to compare the token costs for that payment method to the others.
| | | |
| --- | --- | --- |
| Credit Card | | |
| 90 tokens | $9.99 | $0.111 |
| 200 Tokens | $19.99 | $0.100 |
| 520 Tokens | $49.99 | $0.096 |
| 1085 Tokens | $99.99 | $0.092 |
| 2255 Tokens | $199.99 | $0.089 |
| PayPal | | |
| 80 tokens | $9.99 | $0.125 |
| 180 Tokens | $19.99 | $0.1111 |
| 465 Tokens | $49.99 | $0.108 |
| 965 Tokens | $99.99 | $0.104 |
| 2005 Tokens | $199.99 | $0.100 |
| Gift Cards | | |
| Variable Amount Per Brand | | |
| Cryptocurrency | | |
| 520 tokens | $49.99 | $0.096 |
| 2300 tokens | $199.99 | $0.087 |
| 12000 | $999.99 | $0.083 |
Like many cam sites, Stripchat has variable pricing for the different types of shows that are available. While there are default values baked into the system, the models can adjust them upwards as much as they wish. Based on the typical population of models that are online, and the associated show costs they list, we've compiled the typical price ranges for the three private show types, and summarized them in the table below.
| | | | |
| --- | --- | --- | --- |
| Spy/Voyeur Chat | 8-12 | $0.83-$1.25 | $4.15-$6.25 |
| Private Chat | 24-120 | $2.50-$12.48 | $12.50-$62.40 |
| Cam2Cam Chat | 32-120 | $3.33-$12.48 | $16.65-$62.40 |
How does this stack up against other cam sites? On the low end, the prices are generally lower than many other sites. Around 80% of models tend to be priced slightly higher than the low end or default rates, making the costs comparable to most other sites. Some models price their shows extremely high, and on the high end you can spend a lot really fast – but that is true of most sites with variable pricing. Fortunately, only a tiny fraction of the models charge in the upper echelons of the price range – the majority are in the low to low-middle of the ranges described above.
In addition to token purchases, there's also a top-tier membership, known as Gold, which is available only by subscription, costing $19.99/month (or $21.99/month if you use PayPal). There are actually 4 membership levels on the site – guests (anyone on the site), grey (registered account with a confirmed e-mail), green (registered account that has purchased tokens at least once, with no minimum amount required), and gold, which is subscription only. The main perks or restrictions at each of these membership levels are as follows:
Guests have limited access to public chats, no fullscreen mode, no private messaging, no emoticons in chat, and no invisible mode access.
Grey users have limited access to public chats, but do enjoy fullscreen mode, and limited access to private messaging. They do not, however, get emoticons in chat, and do not have invisible mode access.
Green users have the same privileges as grey users, but also gain full access to public chats. If your account balance goes to 0, you will lose green status.
Gold users have full access to all of the above features.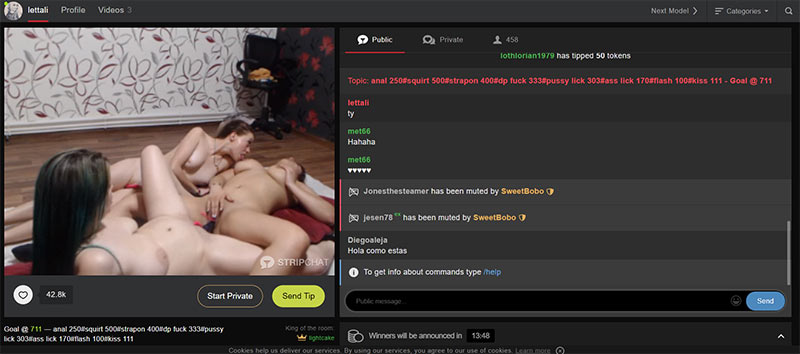 Model Manifest
Stripchat has a really good mix of models as compared to most other sites. Naturally, the majority are women (around 80%), with the balance being couples, groups, men, and transsexuals. There's a great variety of looks, ages, ethnicities, and other characteristics that describe the model catalog on Stripchat. Most models are in their 20s, and are either Latinx or White, but the site has everything from grannies to teens, BBWs to petite girls, jocks to twinks, traps to passable transgirls, and everything in between.
Compared to many other sites, there are usually a much larger number of couples and groups of all types online at any given time on Stripchat. In particular, there are a large number of lesbian and all-girl group streams, trans couples, and groups – entries that are usually lacking in quantity and quality at many other sites. While the exact amount of models on the site is not publicly revealed, it is estimated that the total model catalog is around 50,000. Most often, there are around 1300 models on at a time, with around 1,050 being women, 75 men, 100 couples of various types, and 75 transsexuals.
Stripchat's Fucking Features
Stripchat covers most of the standard cam site features, though does forego some of the common "frills" found at other sites, including group chat-style shows and pre-recorded videos for purchase. For most users, however, these features aren't really missed, and all of the other positives – the model catalog, multiple show choices, large and varied model mix, and so on – make up for any "missing" features. The site's list of features includes:
Fully nude and explicit free chats
Tipping models in any chat mode
Private chats
Full private chats (where no one can spy on your chat), in the form of Cam2Cam chats only
Spy/voyeur mode, where you can head the model and see the chat, but not interact
Fully-functional mobile version of the site
Interactive toys are fully supported and used by around 60% of the model base, which is a fairly high rate compared to many competitor sites
Private messaging to any model is available for gold members (and lesser members can respond, just not initiate, private messages)
All registered users can use full-screen video in chats
Multi-tiered membership option, with more features reserved for gold members who pay a monthly subscription fee
Model profiles that often feature working schedules and other information about the models
Sexy Systems
Stripchat's site runs pretty well, comparable to many other cam sites. There are occasional excessive load times of model stream thumbnails, that seem to be less about bandwidth and more about a web coding issue that pops up from time to time. Still, on the whole, we don't have any serious complaints about the way the site responds, the time it takes to load a chat stream once selected, or the response time on searches, filtering, and so on.
One area that does come up, time and time again, with cam sites that dings them a bit on the quality meter is the lack of filtering options to limit streams to only those with HD cams. It's impossible to say how many models are using true 1080p HD cams, and how many are on lesser quality setups, and there's no way to segregate your browsing to just HD streams. It's also hard to tell the exact quality for guest users, because of the limitations on fullscreen mode. A quick and totally free registration bypasses this restriction, and provides a better sense of the video quality available.
The chat interface and overall site layout are pretty similar to most competitor sites, with navigational elements at the top and left sidebar, and the majority of the page being taken up by thumbnails of model streams based on your filter or search selection criteria. You can search for models directly via a search box, browse by type (female, male, couples, and transsexuals), and filter by multiple criteria, such as age, body type, hair color, and so on. They also include filters for private show prices, allowing you to restrict your results to certain pre-defined ranges of private show costs in tokens per minute. On top of all of that, there is a decent tagging system, with over 100 pre-defined descriptive tags that models can use to tag their streams and shows. Like most cam sites, you can add models to your personal favorites list, browse the newest models, and sort the results based on ratings, trending, how recently the model came online, and so on.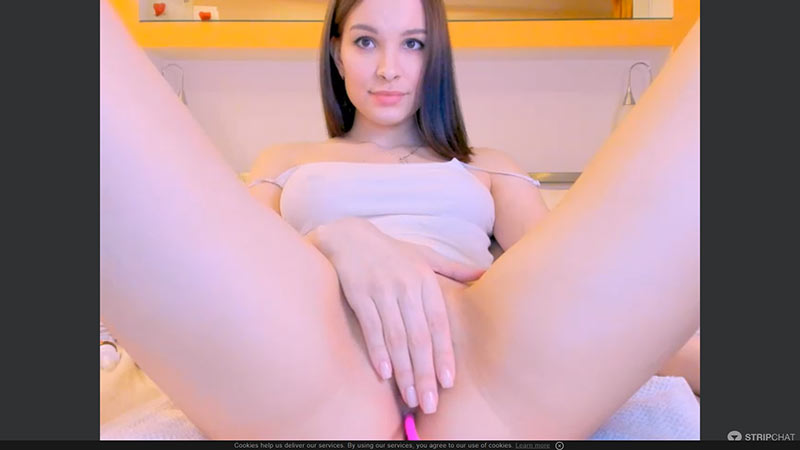 Cam Climax
Pros:
Good size model catalog with a lot of variety
Significant number of couples, groups, lesbians, and transsexuals compared to other sites
Most standard cam site features are present
Various show type options to fit different budgets
Several payment options, including gift cards (which you don't see at a lot of cam sites)
Credit costs are reasonable, and below average to average for the majority of models as compared to other sites
Cons:
Private show costs can add up quickly
Private show pricing is variable per model, and the range is quite large, with models on the higher end costing well more than sites with fixed pricing
Access to all features requires gold membership, which is only available via a costly monthly subscription (in addition to token costs)
Occasional site glitches loading model stream thumbnails that can leave many empty/with a generic icon rather than a stream preview
First, the bad news – with variable model pricing, some higher-end models on the site can be expensive to enjoy private time with. And the site can occasionally have some glitches, though it's not a constant thing. Full feature access requires a gold membership subscription, which will set you back around $20 per month. On the flip side, there are a lot of positives here. The model catalog is great, with a wide variety of models, and an abundance of hard-to-find types, including lesbians, threesome/groups, and transsexuals. With a large number of models online at any time of day, and such a variety of looks, body types, ages, genders/orientations, and fetishes, there's something for everyone at Stripchat. The site covers all of the usual cam site features, offering multiple shows at different price points. And, the site gets major points for having the fully nude and explicit free, tip-based shows as the kind of default, go-to option to get things started before going private with a model. There are lots of options to find your ideal chat partners, and an easy-to-use interface to make it happen. Pricing for tokens, and the cost of shows, are generally fair, and comparable to other sites for the vast majority of models. In short, Stripchat is a solid, up-and-cumming cam site that earns its high traffic rating, and justifies the ever-growing model catalog and number of users who enjoy getting off on the site every hour of every day.
Visit Stripchat