ImLive Review
For a limited time get $50 FREE CREDITS with any purchase
The site is owned by IML SLU, and has several white label sister sites run by other companies, including Shemale.com and Supermen. As always, we remind you that though the model catalog, technology, and features for white labels are the same as the main site, the accounts, credits, customer service, and related elements are not shared between them.
ImLive Chat Costs
Chat costs are variable on ImLive, set by the models. There are some specific criteria depending on the type of chat, however, and averages that we can reveal here to help you.
Private Chat costs range from 0.98 credits to 5.80 credits per minute.

Around 60% are priced at 1.98 per minute.
Another 30% are priced at 2.80 per miunute.
Hosts are filterable based on price.
Group Chats, known as Candy Shows, are a fixed ticket entry price for a set period of time.

The ticket price and length of time of the show are both noted in advance and set by the host.
Typically, these work out to around 1 credit per minute on average.
Group Cams, where two or more host feeds can be joined like a video conference call.

Prices are based on the individual host prices for each host, added together.
A discount of 0.70 credits per minute applies to the 2nd and each additional host added.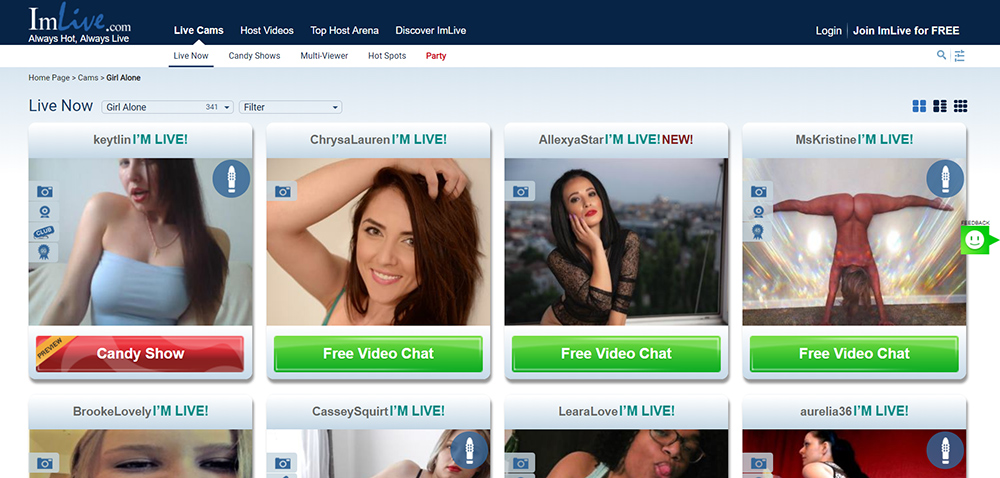 Below, you'll find a listing of the credit packages and payment options. Fortunately, there are only 2 categories in terms of credit costs – PumaPay (cryptocurrencies) and everything else. Everything other than PumaPay uses a simple $1 = 1 credit conversion, regardless of how large a package is purchased. This may decrease somewhat at higher reward membership levels as there are discounts, but we base our data on new member prices. PumaPay uses PumaPay tokens (PMA cryptocurrency), purchased with either Bitcoin or Ethereum. There is also a 15% additional credit program for PumaPay purchases, meaning in most cases, they are the cheapest option. The conversion updates every 2 minutes, but again, no matter what size package you purchase (or have in your pants), the cost per credit is the same.
As always, the best option and/or package is highlighted in the green, while the most expensive is highlighted in red.
| | | |
| --- | --- | --- |
| All Except PumaPay | | |
| 10 Credits | $10.00 | $1.00 |
| 25 Tokens | $25.00 | $1.00 |
| 50 Tokens | $50.00 | $1.00 |
| 100 Tokens | $100.00 | $1.00 |
| PumaPay | | |
| 10 (11.5) Credits | $10.29 (approx.) | $0.87 |
| 25 (28.75) Credits | $25.10 (approx.) | $0.87 |
| 50 (57.5) Credits | $50.22 (approx.) | $0.87 |
| 100 (115) Credits | $100.44 (approx.) | $0.87 |
The cost of the three main chat types of ImLive can vary a lot, because the hosts are allowed to set their prices. Private chats have a standard range, which we've listed below. Candy Shows are a fixed price ticket for a set show length, e.g. 7 credits for a 10 minute show. Both the credit amount and length are up to the host. We've used the range of prices we've observed for our calculations on that one. Group Cams involve the cost of the original host, plus any added host, minus a discount of 0.70 credits/minute for the 2nd and each additional host. We've calculated the range based on 2 hosts in our table below (see the note below the table for specifics).
| | | | |
| --- | --- | --- | --- |
| Private Chat | 0.98-5.80 | $0.98-$5.80 | $4.90-$29.00 |
| Candy Show (Group)* | 0.25-1.00 | $0.25-$1.00 | $1.25-$5.00 |
| Group Cams (2 Hosts) | 1.26-10.90 | $1.26-$10.90 | $6.30-$54.50 |
*We used average prices of 5 credits/20 minutes on the low end, and 10 credits/10 minutes on the high end for these calculations.
The ImLive costs are about in-line with most other cam sites. The majority of models for Private Chat or Group Cams have their individual rates in the $2-3 per minute range. The Candy Shows are a steal compared to group chats at many other sites, however, so they are definitely worth checking out (the only downside being you have to commit upfront with the ticket purchase, it's not pay-per-minute).
There are no paid memberships or subscriptions at ImLive. Instead, there is a rewards program, with different levels (beyond the new membership/default level) awarded based on cumulative credit purchases (though the exact amounts required for each level are not clearly listed). Rewards levels progressively offer better discounts, perks, and more freebies. The rewards levels are Bronze, Silver, Gold, and VIP.

Model Manifest
ImLive is like many progressive cam sites, in that it offers hosts/models of all types, genders, orientations, size, shape, age – whatever you please. The quality of the hosts runs from average-looking to genuine, verified pornstars, and everything in between. ImLive seems to attract a good proportion of more genuine amateur-type girls (compared to the high professional-looking model types on some other sites). This is one of the reasons, we believe, that the prices are quite competitive here.
While they have 63,000+ models in their catalog, the online availability only averages 550 or so most of the time, with the majority being women (75-80%). Solo women, lesbian couples, hetero couples, solo men, gay couples, threesomes/groups of all varieties, solo transsexuals, and transsexual couples of all varieties are all available.
Some of the most recent pornstars that have done featured shows for the site, or have upcoming scheduled shows, include the likes of Kagney Linn Karter, Anissa Kate, Sofi Ryan, Adriana Chechik, Aaliyah Love, Ryan Keely, Teagan Presley, Jake Ashford, Jimmy Durano and Talon Reed together, Lana Rhoades, Elsa Jean, and many others (about one a month, on average). There are also a few stars who aren't super-active in the business who tend to cam quite regularly, rather than only at feature appearances, so be sure to check those filters!
ImLive's Fucking Features
ImLive has a lot of the typical cam site features, along with many special perks and little touches that you don't find everywhere. One of the nice things here is that there are no spy modes for private chats. Private is truly private, between you and the model. The community of users and hosts is also quite, with fan clubs, contests, and raffles, weekly events, and much more. The full list of site features includes:
Teaser chats that may have some nudity (usually only tits), and little or no explicit sexual content
Private chats, which are truly private – there are no spy features on ImLive
Cam2Cam feature available in all private chats
Group chats, called Candy Shows, where many viewers can watch at the same time
Group cams, where you can video conference 2 or more hosts together
Fully-functional mobile version of the site
Interactive toys (though the number of users lags well behind most other sites, since they are usually tip-activated and there's no tipping on ImLive)
Multi-viewer, that lets you watch multiple chat feeds at the same time
Hot spots, essentially the current trending/popular hosts
Virtual gifting to the models (basically digital swag)
Top host arena, a roundup of the most highly voted hosts
Monthly themed video contests, where the hosts submit videos and the community votes for the sexiest and best
Parties all weekend, which usually take the form of a particular theme, style, fetish, costume, etc., with many hosts participating each weekend
Pornstar shows, with a large catalog of verified porn stars who occasionally cam on the site – some are far more active than others, with 1-2 on during any given time, though some bigger name stars only make periodic feature appearances
Model fan clubs, which offer discounts on that model's private chat options, as well as past recorded video purchases
Recorded videos are available for credit purchase, including past live shows, pornstar shows, and special series, along with contest videos from hosts
Private messaging with hosts through the site's email interface
Fulfill your fantasy, where you can post your fantasy chat experiences and hosts come to you to offer their services and pricing to fulfill your fantasy
Sexy Systems
The site runs fairly well, with no excessive load or search times, and no noticeable lag, latency, or drop in video quality during even the free chats. This is to be expected – you don't have a webcam site running for 15+ years and stay in business with crappy hardware powered by a hamster in a wheel, after all!
That said, the site style/interface can be a bit deceptive, as it seems a bit plain and old-fashioned. However, it's fully responsive, customizable based on your preferences, and provides easy access to all the menu options, features, and important things you need. The chat interface is likewise fairly basic compared to many other sites, though it gets the job done. All things considered, the chat interface could use a bit of an upgrade, while the site interface, though simple, is far more polished.
The camera qualities aren't disclosed or filterable, so it's not clear what percentages run HD vs. SD – though most of the hosts we've checked out were rocking full HD setups based on the full-screen streaming quality. Interactive toys are supported, though few models use them compared to other sites – normally on other sites they're tip-triggered, and there's no tipping here. You can pay credits to make them run, but in many cases that's like $1/1 credit for a 4 second buzz, which is incredibly steep in comparison to everything else (and other sites).
In terms of finding your hosts or models, there are lots and lots of options. Direct search by name is always available, as is browsing by the top-level divisions like girl alone, girl girl, group/threesome, guy alone, etc. Within each division, you can drill down further, with a number of filters including special hosts, show type, price, sexual orientation, fetishes, chat features, age, ethnicity, and more. You can also accomplish this through the advanced search, which includes offline models as well as language options. The Top Host Arena, featuring the highest-voted/rated hosts as chosen by the users, is another option for finding great models to chat with. While no tagging system for models is present, there are more than enough options to find someone, or two, or three to fulfill your fantasies and chat desires. And of course, there's a feature to add your favorites to your list, and automatic tracking history of who you've visited, so you never lose out on a great new find based on something like your cat stepping on your keyboard…yea, we'll go with that, it was the pussy's fault!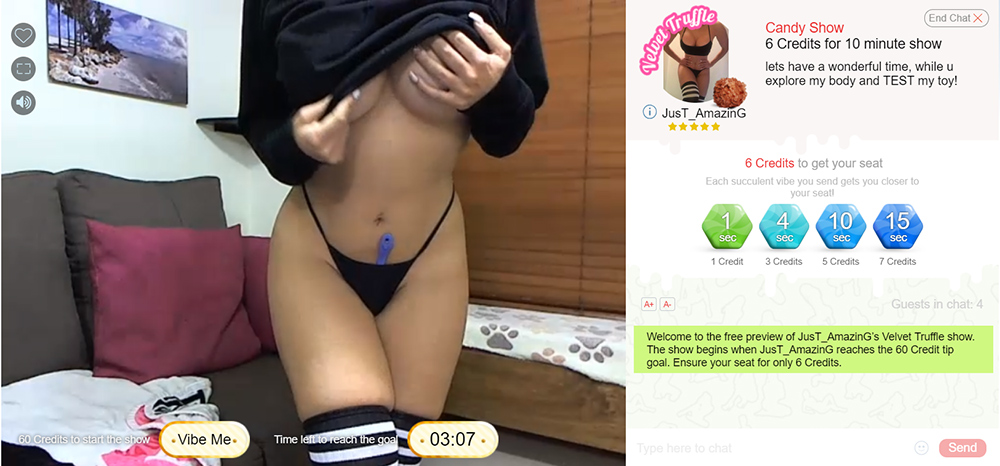 Cam Climax
Pros:
Good number of models online at any given time, with a large catalog in total and many millions of registered users
All the typical cam site features, along with nice perks like a rewards program, contests, raffles, themed weekend parties, and more
A few different show types to meet different budgets
Site interface is simple and clean, pages load quickly, video streaming is reliable and lag-free
Credit costs are about average to a little below average, and Candy Shows (group chats) are a steal at twice the price
Cons:
Private show costs can add up quickly
Private show pricing is variable per model
Interactive toy features are limited due to no tipping, and expensive default credit costs for toy activation
Chat interface could be updated and more feature-robust
No real discounts for buying larger packages of credits
ImLive is one of the OGs of internet cam sites, having been around for 15+ years now. Their catalog of models is solid, with lots of choices, including a good number of amateurs with different, fresh looks. It's fetish and alternative friendly, with lots of filters catering to everyone's unique tastes. The site covers most of the usual cam site features, with lots of extras. The site's servers and streams are reliable and responsive. Perhaps most importantly, the cost of credits is average to a bit below average, and the Candy Shows are a great way to enjoy the semi-privacy of cam shows without the hefty price tag. Add in featured pornstar shows, write-your-own-fantasy requests, and a large and active community of users, and you've got magic. Yea, there are a few areas that could be improved here and there, but they aren't major detractors from most users' experiences. And speaking of user experiences, I've got a hot curvy brunette I've had my eye on for awhile now….
Visit Imlive