Streamate - streamate.com
If you've ever watched late-night cable TV, especially Comedy Central, you've surely seen an ad for Streamate. The site has a flashy teaser page and interface, which ultimately points to streamate.com. Streamate.com uses the normal interface of ICF Technology's webcam sites, which is pretty straightforward and offers very reliable streaming video chats. They've got a very large selection of models in their catalog (about 90% female), several different types of paid chat shows, and all the typical webcam site features, including Cam2Cam, private messaging, tipping, interactive toys, and much more.
This site is one of the premiere/most promoted of the many white label sites produced by ICF Technology, Inc. of Seattle, Washington, USA. They have literally thousands of white label sites with a similar interface and the same base of models, features, etc. Like most white labels, however, accounts, credits, and similar do not transfer between one site and the others.
Streamate Chat Costs
Streamate models set their own chat costs, on a range of $0.99 to $8.99 for private and exclusive chats. Gold Shows, a group show type, is often a cheaper option. For Gold Shows, there is no price per minute. Rather, all viewers in the group party chat (free) are asked to contribute towards a total goal the model sets, prior to the end of a countdown time. If the requested goal is raised from tips/donations, all members of the chat who donated gain access to a private group show, the length of which is at the model's discretion (usually 10-20 minutes). If sufficient funds aren't raised, all donations are refunded.
In terms of the private and exclusive shows, it's important to understand the difference. Private shows can have multiple viewers, unlike on other sites. All it means is it's a pay chat, that can have 1 or more viewers paying per minute. For a true, 1-on-1 private experience, users can choose an exclusive chat. This means it will be just them and the model, and no one else. Because only a single user can be in an exclusive chat, the price per minute is usually substantially higher – these are typically the highest cost shows available on Streamate. There are no spy or voyeur modes on Streamate.
All ICF sites, including Streamate, have a really nice feature when it comes to paying for private chats – they use real world currency. There are no tokens or credit systems used here. This means the cost per minute for private shows, or the cost to purchase a pre-recorded video, is completely transparent. There's no need to do lots of mental math converting dollars to credits and tokens to guess the chat prices. We applaud this simplicity and clarity. They do have a sort-of currency system, "gold", that is used for tipping and Gold Show donations, but it's really just equivalent to $1, and is drawn from the same, real currency funds that you deposit on the site.
| | | |
| --- | --- | --- |
| Private Chat | $0.99-$8.99 | $1.00 |
| Exclusive Chat | $4.95-$44.95 | $4.95-$44.95 |
| Gold Show | See Discussion Above | See Discussion Above |
All of this means Streamate prices compared to other webcam site prices range from below average on the low end, to most being about the same on average, to well above most other sites on the high end. The average cost of private chats tends to be $3/minute or less, which is comparable to many other sites. Gold Shows can work out to be much, much less overall, as you only need to tip a few dollars for a lengthy show in many cases.
Regarding membership, unlike some sites that charge for a VIP or premium membership, there's none of that here. The account types available are free (unregistered guest), free premium (registered, with a credit card on file, but never made a purchase or deposit), and premium (made a deposit of at least $25 once). The free premium option can use gift card Visa/Mastercards, even with just a few dollars in balance on them, so there's really no risk. We put together a more in-depth article on Streamate pricing here.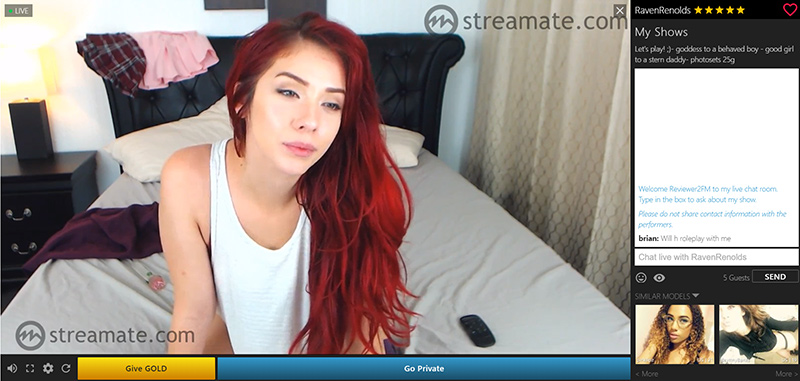 Model Manifest
Streamate draws on the ICF catalog of models, visible on all of their many white label webcam sites. It's a huge catalog, about 90% female, with a good variety of models from many countries. Different genders, orientations, fetishes, body types, ages, and more are all represented in the catalog. Both girls and guys categories can be accessed via the sidebar on the site, and all the transsexual and couples content can be found through the advanced search. While ICF doesn't disclose their total model catalog publicly, it is estimated to be around 130,000 or more.
At any particular time, there are usually at least 1,250 people online, which can increase to 1,600 or 1,800 or more during peak times. The average mix of models online at any particular time includes about 1125 solo females, a few lesbian couples, about 40 solo male models, a few gay couples, 20-30 hetero couples or groups, about 60 solo transsexual models, and a few mixed transsexual couples. Within these groups, there are many categories to choose from, too – lots of fetishes, ages, body types, looks, and so on. There's definitely something for everyone's tastes.
Streamate, and all the other ICF sites, also have a large catalog of pornstars who make regular appearances. Rather than occasional featured performances, we're talking about regular, multiple-times-per-week shows, like any other cam model. This is something that few other sites can claim. There are nearly 300 registered pornstars in the catalog, and you'll usually find 4 to 6 online at most times of the day. For example, as of writing this review, Tegan James, Luscious Lopez, Zariah June, Nora Noir, Whitney Wonders, and Zoey Andrews were all online for chats.
Streamate's Fucking Features
Almost all of the usual cam site features are available on Streamate. While we'd like to see the interactive toys being more prominently filterable/sortable or noted via some kind of icon, that's really a minor complaint. Pretty much everything else you look for in a cam site can be found here. Features include:
Free teaser chats, with some nudity occasionally but nothing explicit (pussy and cock are generally banned by rules in free chats)
Private Chats, fully explicit, with 1 or more viewers paying a set per minute price
Exclusive Chats, which are truly private, 1 on 1 experiences with the model for a set per minute price
Cam2Cam feature available in all exclusive chats
Gold Shows, which are group shows where all members in the chat pitch in to reach a set dollar goal, then the model performs a private show for all who contributed
Fully-functional mobile version of the site
Interactive toys supported, most often used in tip mode by models
Model tipping is available in all chats
Confidential phone-based audio service is also offered by some models
Model profile pages, which feature their basic information, pre-recorded videos for sale, and often list out their schedules for camming as well
Models can be bookmarked/added to your favorites, and also private messaged through the site's email messaging system
There are events and featured shows several times a day most days
Sexy Systems
ICF's sites, including Streamate, make up a huge portion of Internet cam sites, so they've definitely got the technology side of things figured out. The site loads quickly and is very responsible, when browsing, searching, filtering, or chatting. Inside the chats themselves, video quality is excellent, with no real buffering, lag, or hiccups, even when models are broadcasting in HD.
There are many, many ways to find models to suit your fancy. You can use a direct search by name, the sidebar navigation (with 3 dozen or so category filters), the advanced search (with 10 different categories of criteria to drill down), or view your favorites or recently viewed models. The advanced search categories cover things like hair color, age, body type, pubic hair type, and similar attributes for each of the four main gender groups – female, male, transsexual, and couples/groups. There are some other filter and sort options, too, which are more reliable for premium members, such as sorting to only HD streams, chat language, and similar.
The chat interface is pretty straightforward, with features clearly labeled and easy to use. Options to go private, message the models directly, use emoticons, tip, and other actions in the chat are quite obvious and work well. Interactive toys are supported, and most models who use them use them in tip-activated mode within chats. As we mentioned earlier, this isn't a filter or sort feature, and we'd like to see that added, but that's about the only negative we can find in terms of interface and systems on Streamate.
Cam Climax
Pros:
Large model catalog with great variety in looks, body types, fetishes and kinks, and more
Most typical webcam site features are present
Three show types offering different experiences and costs
Easy-to-use interface and high quality performance
Use of real world currency for pricing and payments is really nice
Cons:
Private show costs can add up quickly
Private show pricing is variable per model
No real free explicit content, all behind a pay wall
Streamate offers great models to chat with, and a good selection of site features. With three chat types to choose from, there's something to meet any budget for sexy fun. The site works well and is easy to navigate. Shows are about average in cost, with some being quite affordable, and others being above average in cost (though usually so because the associated models are out-of-this-world hot). The majority are comparable in cost to other webcam sites. Video streams work really well with no buffering or issues, so you can have a good, consistent adult chat experience. Overall, Streamate is great for when you want to masturbate, to something more interactive and real than plain old porn – though it will cost a bit more.
Visit Streamate