Tgirlscams Site Review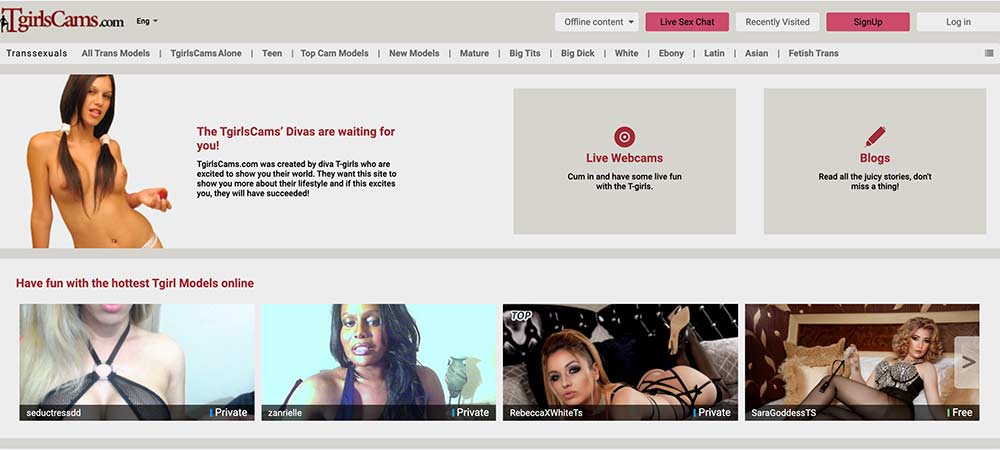 Tgirlscams.com is a white label of ImLive , encompassing the transsexual hosts from that platform. As always, we remind you that though the model catalog, technology, and features for white labels are the same as the main site, the accounts, credits, customer service, and related elements are not shared between them.
Tgirlscams's Fees for Femmes
If you want to see those hard girlcocks in action, you have to pony up the dough for a private show. The chat costs are variable, set by the models.
Private Chat costs range from 0.98 credits to 5.80 credits per minute.

The vast majority are around 3 credits or less per minute.
Hosts are filterable based on price.
Group Chats, known as Candy Shows, are a fixed ticket entry price for a set period of time.

The ticket price and length of time of the show are both noted in advance and set by the host.
Typically, these work out to around 1 credit per minute on average.
All the credit packages on the site provide the same cost/credit of $1.00. You can use credit cards, e-check/ACH, or PayPal. New users get a one-time promotional bonus of 10 free credits (a $10 value) on their first purchase, regardless of how much they spend.
| | | |
| --- | --- | --- |
| 25 Tokens | $25.00 | $1.00 |
| 50 Tokens | $50.00 | $1.00 |
| 100 Tokens | $100.00 | $1.00 |
Both private chats and candy shows have variable pricing, which is set by the model or host based on their own criteria and perceived value/popularity/rating. Since candy shows don't have a pre-set price range the way private chats do, we've used the data we observed on the site in order to provide an average and range below.
| | | | |
| --- | --- | --- | --- |
| Private Chat | 0.98-5.80 | $0.98-$5.80 | $4.90-$29.00 |
| Candy Show (Group)* | 0.25-1.00 | $0.25-$1.00 | $1.25-$5.00 |
*We used average prices of 5 credits/20 minutes on the low end, and 10 credits/10 minutes on the high end for these calculations.
These costs are pretty competitive with most other cam sites, offering $2-3 per minute for private chats with the majority of the models. Those are really the only costs on the site, with no paid memberships or subscriptions. However, there is a reward program, which gives you different perks and bonuses depending on your level. You level up by making credit purchases (but it doesn't tell you how much you need for each level anywhere on the site). The rewards levels are Bronze, Silver, Gold, and VIP.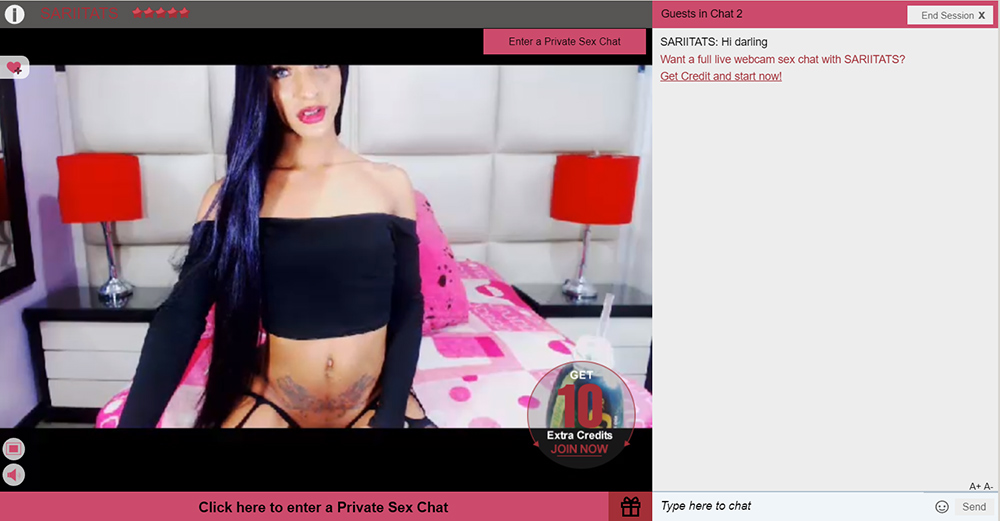 Transtastic Talent
Transgirls are fairly rare in general, so it's quite impressive that the site has a catalog of hosts numbering in excess of 2,500. At any given time, there are usually around 50-55 lovely ladies on, with most being solo, and 1 or 2 couples. Trans talent here ranges from true crossdressing/transvestite types to fully passable, glamorous model types. Many ethnicities, body types, cock and tit sizes, and ages are represented, with a good selection to satisfy almost anyone's taboo trans tastes.
Occasionally, some well-known trans pornstars will also be featured on the site. These chats tend to be group shows and more expensive than the normal models. Past Tgirlscams performers who have appeared on the site include Michelle Austin, Khloe Dash, Sunshyne Monroe, Wendy Williams, Honey FoXXX, and two of the most well-known T-girls, Mia Isabella and Bailey Jay.
Tgirlscams's Fully Functional Features
Most of the site's features are pretty standard for webcam sites of this size and quality. One of the nice things here is that there are no spy modes for private chats. Private is truly private, between you and the model. The full list of site features includes:
Teaser chats that may have some nudity (usually only tits, occasionally cock or ass), and little or no explicit sexual content
Private chats, which are truly private – there are no spy features on Tgirlscams.com
Cam2Cam feature available in all private chats
Group chats, called Candy Shows, where many viewers can watch at the same time
Fully-functional mobile version of the site
Interactive toys (though few of the T-girls use them)
Virtual gifting to the models (basically digital swag)
Top cam models area, where the highest rated models are featured
Pornstar shows, with about 2 dozen pornstars who occasionally make featured appearances
Recorded videos are available for credit purchase, including past live shows
Passing Performance and Naughty Navigation
Really there are no complaints about the loading speed of the site. Video quality varies by model, as does performance of the video stream. There's no data on how many streams are HD vs. SD, and that's not a filter option, either. However, in most cases, there is no unexpected lag or freezing going on, so that's a plus.
The interface is a bit old-fashioned and plain, but that just lets the stunning and taboo transgirls shine even brighter. And, it gets the job done, whether it looks fancy or not. All the features you need are there, and pretty easy to find. The chat interface itself is pretty much the same, and could use some of the glitz and glam that the girls know so well, but is still fully functional…just like the models.
There are a lot of options available to find the perfect exotic and erotic models for you. Like most sites, you can directly search by name, or browse via high-level divisions such as Tgirlscamss alone, teen, top models, new models, big tits, big dick, and more. You can also use the filters, featuring several refinements to categories such as age, dick size/style, ethnicity, body type, kinks, and fetishes. There's also an advanced search, which lets you filter by price, show type, features, and other criteria. And once you find your favorite femmes, be sure to add them to your "My Models" favorite list, so you can easily find them again, when you cum back for more…
Erotic Essence
Pros:
Fairly large catalog of Tgirlscams performers with a good amount on at any time
Basic cam site features are present and all work well, plus a few extras that add value
Simplistic interface, but it loads quickly and is easy to find what you want
Credit costs are about average to a little below average
Cons:
Private show costs can add up quickly
Private show pricing is variable per model
Chat interface could be updated and offer more options/features
No discounts for buying larger packages of credits
Tgirlscams.com is a solid site, with a good amount to offer. The models have different looks and specialties, and the features are fairly comprehensive. We'd like to see some work put into the site layout and chat interface, and perhaps more show type options as areas for improvement. The added perks from the rewards program, model videos and picture galleries, and articles/blog content are nice touches. The tech behind the site works well, with no noticeable issues with video streams or lag. In terms of costs, it's about average or a bit below average compared to other cam sites. If you're into t-girls (and let's be honest, who isn't these days?) then this is definitely a video chat site that you should check out.
Visit Tgirlscams