Cams.com Site Review
With an address like "cams.com" you know this site is major. It's been in operation since the late 90s and has been a consistent industry leader since it's inception. Today it's no different. Cams.com offers the latest interactive toy features, tons of stunning models, and the best web design of any cams site on the market.
Pros
Great selection
Free Credits on first purchase
Fantastic web design
Great Interactive toy support
Cons
Some models can charge a lot
How much does Cams.com cost?
One of the best things about Cams.com is the number of options it gives users. If you're into premium content and you want great one-on-one private chat, then Cams.com has you covered. On the other hand if you want to dip your toe in as a free user and maybe throw around some tips, then you can do that also. The site clearly marks which shows are free to watch (funded with group tipping) and which girls are waiting for private chat. So it's completely possible (and enjoyable) to use this site with just an email signup. But, as always, paid content is better and delivered faster.
Cams.com uses a very familiar Token system. You buy packages of their currency (Tokens) and get additional discounts for buying in bulk. The discounts for large purchases are pretty steep (about 28% discount at the high end), so regular users will want to take advantage. New users get a very generous 100 tokens on their first purchase (a $15 value), so your first purchase of any size will go a long way. As usual, models set their own prices for private chat individually, and we saw prices ranging from $2 to $6 per minute. The average is probably about $3-$4 per minute, a fairly average price for private cam sessions.
Cams.com is big on community. It wants you to find performers you like and really foster relationships with them. To this end they offer "Fan Club" purchases. Once you find a model you really enjoy, you can buy time in their "Fan Club" which gets you discounts, free videos and picture sets, and more contact with the model. This runs about $13 for one month. If this model is your go-to, you can quickly get your money's worth through the discount on chat time.
There is also a more general "Premier" status you can buy for $16 which gets you a 10% reduction for all chat on the site as well as priority support. This could be worth the purchase for very regular users or for people who like to switch models a lot and don't want to stick with one or two they have Fan Club passes for. You can also pay to unlock individual videos and photo sets, but I would recommend starting with a Fan Club pass and going from there, as these unlock videos and photos.
All charges are made securely on their site, and billed discretely. Cams.com takes all major credit cards. It also accepts checks, money orders, and even Bitcoin! Be aware that the free $15 in Tokens are only redeemable with your first purchase via Credit Card and not with other payment options.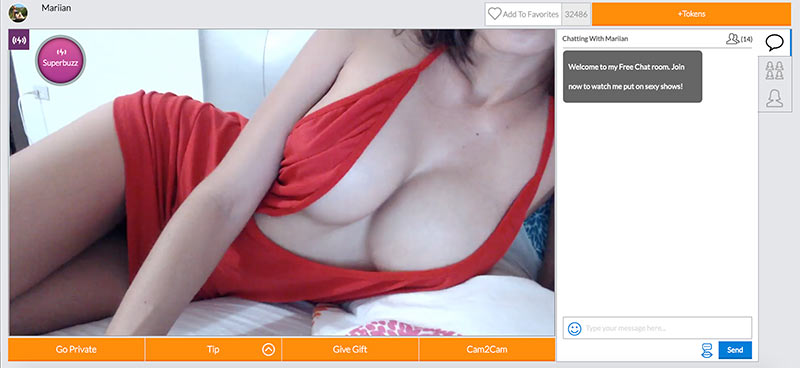 What are the models like on Cams.com?
It's our belief that cam sites are at their best when they allow for performers and their fans to interact regularly and get to know one another. This is what sets cam sites apart from traditional porn - a personal connection which makes the sexual stuff so much more exciting. Cams.com gets this. They want you to search out the models that are right for you and get to know them. This what the Fan Club Passes are all about, and why the site lets you search by so many specific factors. They want you to find the right people for the experience YOU want. Luckily the quality and quantity of models is very high. Most of the performers are studio models, though if you search you can find some amateur ones also. While the vast majority are white european girls there is also a good number of latina and asian models as well. In short, there's a performer for everyone's tastes. And the model count is consistently strong, between 600 and 1000 at any hour.
The models have a lot of control over their personal pages and bio. They list their preferences, personal details, and rates. They can also post picture sets and pre-recorded videos. This is great for users, as it gives you a preview of the models personality and an idea of how a chat session might go. One of my favorite features on Cams.com is the clear display of nationality. You can tell at a glance what country a model comes from. This lets you know how proficient she might be in english. And if you're a polyglot, it tells you if you share a language in common.
Our experiences with the performers on Cams.com have been generally very good. The girls seem eager to give a great show and show extra care when you have a fan club pass. Performers remembered us, were polite, and oh yeah - they were extremely hot also.
What are Cams.com's features?
Cams.com is an industry leader and includes all the major features you'd expect from a site in that position: free chat, tons of HD streams, private chat, group chat, pre-recorded videos, and performer bios. In short, it has everything you'd expect a big cam site to have. But it's non-standard features elevate it above the competition.
One notable feature we touched on earlier is the option to use the site as a freemium or premium service. You can choose to drop into free group shows supported with tips, or get into a private chat. Most sites prioritize one of these offers over the other, but Cams.com is unique in that it provides high-quality free and premium feeds. This means you can use the site exactly how you want and still enjoy a quality experience.
At this point everyone agrees that teledildonics (smart sex toys) are going to play a big part in the future of the sex cam industry. At Cams.com that future has already arrived. The "Buzzmode" feature may be familiar if you've used other cam sites. It allows tips to affect a performer's vibrator relative to the size of the tip. The "Connexion" feature is something new. This uses paired Lovesense toys which provide feedback to one another. Essentially, you feel what the model does, and she feels what you do. This requires some investment in the smart toys and their setup, but the end result is pretty incredible, especially with a model who you're already familiar with.
Currently about a third of the Cams.com performers have Buzzmode vibrators, and maybe a tenth offer the Connexion setup. Cams.com is very committed to this tech, so the number of models offering these features is increasing all the time. While other sites lag behind in their adoption of this new tech, it's nice to see a big site like Cams.com embrace the change instead of dragging their feet.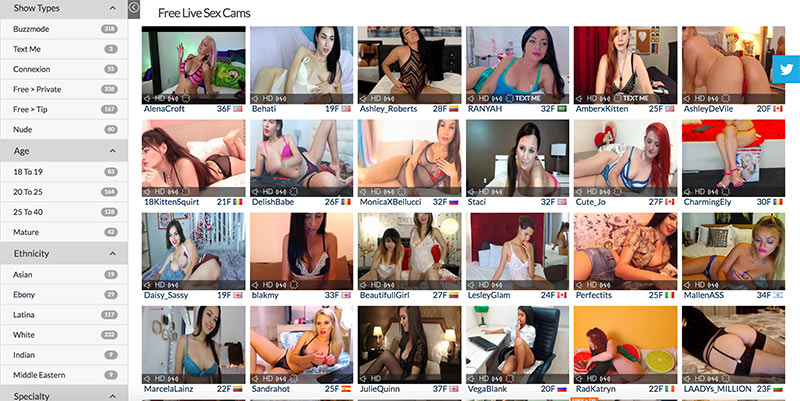 How well does Cams.com function as a website?
This is another area where Cams.com really stands apart. Right now the live cam industry is flooded with poorly designed, ugly websites. The modern and sleek interface on Cams.com is a refreshing change of pace. The main page features models listed with photos and icons that tell you if they're using an HD cam, if they have Buzzmode, their age and nationality. On the left is a series of links which allow you to narrow down your selection of models by age, action, appearance, and more. Good design is about showing the user what they need and nothing else - Cams.com nails this.
It's notable that despite offering quality free content, the site has NO ADS - not even for free users. I'm not sure how the site manages this, but it may be best not to question it and just enjoy the uncluttered action.
Technically everything is as on-point as the great design implies. Feeds load lightning quick and every page is responsive. As mentioned, the site lists whether a feed is HD or not, but we had trouble finding streams that were NOT in HD.
The final word on Cams.com
Cams.com is a mainstay of the industry for good reason. While other older sites sit on the internet with sub-par design and services Cams.com keeps pushing the quality higher. We appreciate it's eager embrace of smart toy tech, top-tier web design, and the large selection of stunning performers. This is a safe recommendation for just about everyone.