RealLifeCam - reallifecam.com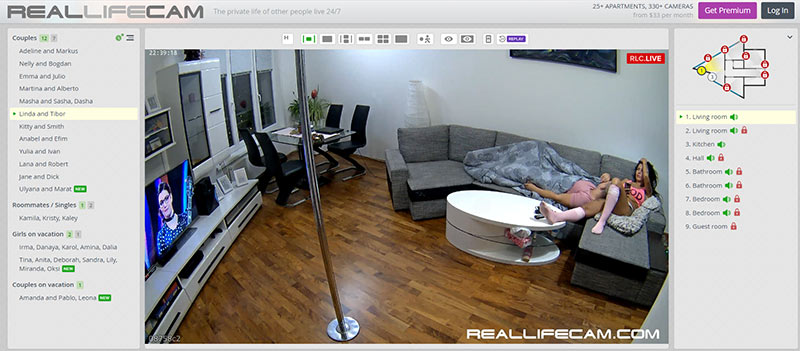 RealLifeCam is one of a growing number of highly-popular live stream voyeur sites. It allows users to watch real people in their homes or apartments as they go about their day – including all the intimate moments that may occur. Users can access multiple cams in each home or apartment and follow the action 24/7. There's also a replay feature, that allows playback of all cams in the streamed homes from the past 24 hours, so you never have to miss a thing!
This style of site is becoming increasingly popular, as is evidenced by the site's Alexa rank. At present, RealLifeCam is in the top 1,500 sites globally across all categories based on traffic – that's over 4 times higher in the rankings than the Associated Press, and a bit ahead of video game site Kotaku, by way of reference. The company behind RealLifeCam isn't immediately clear, though the site is hosted in the Netherlands, and most of the streams on the site seem to be based in European countries.
Spy Stats
There are a total of 26 apartments or homes available for viewing on RealLifeCam, with a total of around 330 cams in total available. Some of the apartments feature single females, others female roommates, and others male/female couples. Standard members can access a total of 7 of the apartments and their cams, while premium members can access everything. The more X-rated rooms, like the bedroom, bathrooms, and so on are restricted to premium members.
All of the "models" on the site in the streams are real people living their lives. There is no editing, no censorship, and no script. They are allowed to live in the apartments rent free in exchange for their participation, per the company's information.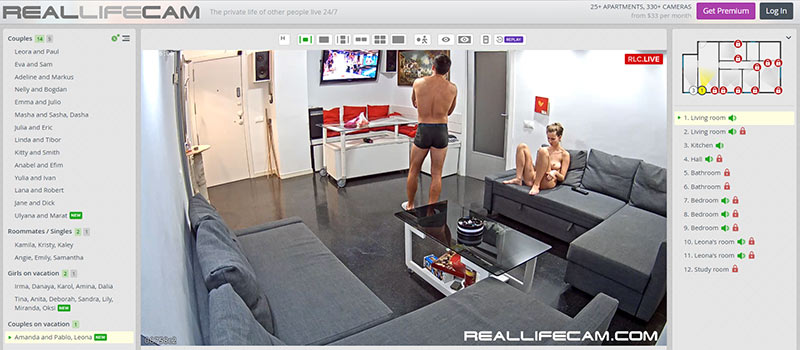 RealLifeCam's Cost of Watching
There are two tiers of subscription on RealLifeCam – standard and premium, in addition to a pay-as-you-go element, RLC Replay, which costs tokens. We'll explain all about the costs and what the different membership levels offer below.
While free users can watch some apartments in their public rooms (living rooms, kitchens, and so on), you can't go to full screen mode (though you can full screen a single stream), and there are lots of other restrictions. It's best to get a subscription if you want to see any real action.
Standard membership offers access to 7 apartments, with all of their cameras, and up to 3 simultaneous streams to monitor. Premium membership, by contrast, offers all 26 apartments and cams, up to 5 simultaneous streams, previews, full screen viewing, and other features, including RLC Replay (though it still requires a separate payment/service purchase to use, but you cannot even use it at all if you are not a premium member).
Memberships/subscriptions can be purchased with a credit card, with costs and terms as per the table below.
| | | |
| --- | --- | --- |
| Standard | | |
| 30 Days | $29.99 | $1.00 |
| Premium | | |
| 30 Days | $44.95 | $1.50 |
| 90 Days | $114.95 | $1.27 |
| 180 Days | $199.95 | $1.11 |
To access the RLC Replay feature, to be able to scan through and watch all feeds from the past 24 hours, you need to purchase tokens. The amount of tokens you need per day of access depends on how many days of access you buy at any one time from your token balance. Both pieces of information are summarized in the below chart.
| | | |
| --- | --- | --- |
| 100 Tokens | $10.00 | $0.10 |
| 200 Tokens | $20.00 | $0.10 |
| 300 Tokens | $30.00 | $0.10 |
| 600 Tokens | $55.00 | $0.091 |
| 900 Tokens | $80.00 | $0.088 |
| 1800 Tokens | $150.00 | $0.083 |
| 100 Tokens | 1 | 100 |
| 200 Tokens | 10 | 20 |
| 300 Tokens | 30 | $10 |
RealLifeCam's Site Features
The site has a number of different options and features for users. The full premium user feature set includes:
Over 330 cameras in 26 apartments at present, online 24/7
Motion detection to highlight and switch to cameras that have activity going on
The ability to watch multiple streams within the same interface/browser window
Full live preview of all active cams
The ability to automatically follow and switch to the most popular cam based on viewers
The ability to view streams in full screen mode, with integrated controls
RLC Remote, which allows you to use a smart phone to remotely control what streams you follow on the site
RLC Replay, to replay all streams from all cams in the last 24 hours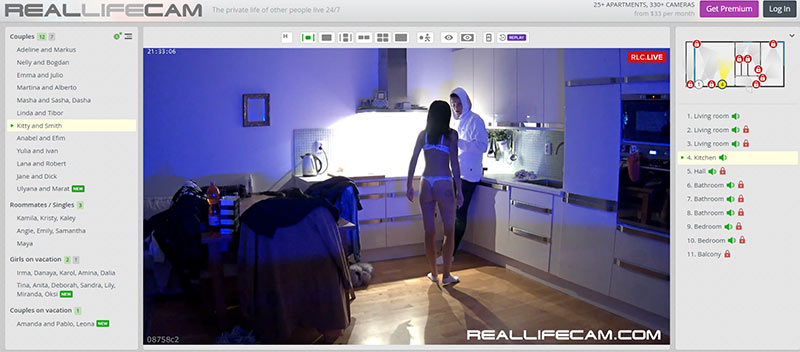 Performance
The interface on the site is quite easy to use and intuitive. A floor plan layout of each apartment, along with the associated cams and their locations is shown, along with a list of cam locations. The main center of the screen is the video interface, with all the standard options, in addition to allowing multiple streams (depending on membership levels), motion tracking, and so on. The model list is at the left, and preview of the streams and popular replays are below the video interface.
In terms of performance, the video streams are very solid, with no lag, hiccups, jittering, or other issues observed during lengthy periods of test viewing. Quality is excellent, and the cams automatically adjust to low-light/night-vision style mode when the lights are out. You can also use your mobile phone as a remote for the site, to switch cams and feeds remotely (great for streaming to a TV or large monitor away from your computer).
Voyeur Verdict
Pros:
Attractive couples and girls with a growing home/apartment base all the time
Easy-to-use interface with intuitive and straightforward layout
High quality streams, with no lag or streaming playback issues
Very appealing for voyeur fans
Cons:
Content can be somewhat boring for non-voyeur fans
Prices are fairly expensive compared to traditional porn sites or cam sites
The cost of tokens on top of a premium membership, while some competitors offer the same type of feature for free/as part of the membership, means you pay a bit more on RealLifeCam
Limited payment options (credit/debit card only)
Limited information disclosure on the site (no information about the company, blank Custodian of Records information, etc.)
RealLifeCam is a good entry in the voyeur cam site genre. The interface and site quality means things work well without issue. A large base of operating apartments and cams mean there's quite a bit of variety present. RLC has a good set of features comparable to other voyeur cam sites, too. The biggest downside is really the cost, with an expensive membership price and the token requirement on top of that to be able to replay action you may have missed. But if you like voyeur cams, and you want high quality streaming and multiple cam options, then check out RealLifeCam. Just keep your eye on something else, too – your wallet!
Visit RealLifeCam