MFC Share - share.myfreecams.com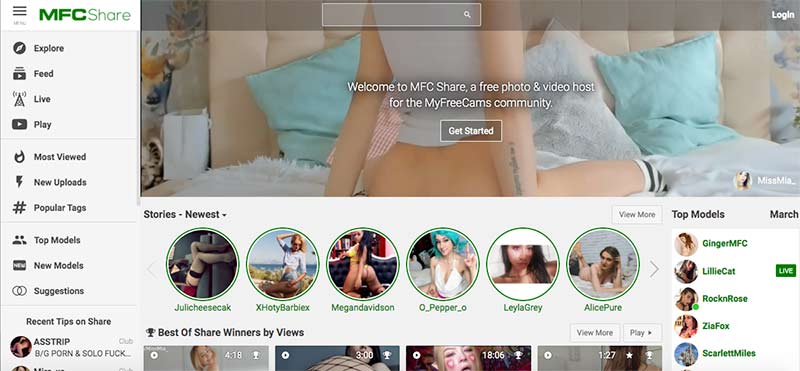 If you're an active cam site user, you're probably familiar with MyFreeCams. Founded in 2004, it's currently the 36th-highest ranking adult site on the web, and one of the most popular live cam sites. You can watch girls jerk off live on camera, tip them for their services, and even take them into a private show for a more personalized experience. But what do you do when your favorite model isn't online?
In that case, you can visit MFC Share! This is the part of MFC where models share pre-recorded video, photos, albums, and daily updates. If you missed your favorite girl's show, you can catch up with her here. But how does it actually work, and is it worth the cost of tokens? Here, we'll discuss:
The site design and features
How to create an account
Token pricing
The mobile site
Free content
Paid content
The model selection
Features
MFC Share offers a mix of free and paid content. When you first visit the site, you'll see free shows at the top of the list. These are generally short clips less than three minutes long, but there are a handful of full show, some as long as 20 minutes to an hour.
That said, by its very nature, most of MFC Share's content is paid. These girls need to make money somehow! Like with the main MyFreeCams site, you pay for the paid shows with tokens. The nice part is that you can simply log in with your standard MyFreeCams account. If you don't already have one, it takes just a few minutes and an email confirmation to sign up. Buy yourself some tokens, and here's what you'll have access to:
Full-length videos
Daily model updates
Pictures
Private messaging with models
The ability to follow individual models
Keep in mind that these are the exact same tokens you use on the main MyFreeCams site. Everything is interchangeable, so you can also use them to pay for live shows.
User Interface
MFC Share looks different depending on whether or not you're a member. For non-members, you see content displayed in several rows, based on the category. Free videos and photos will be at the top, with paid content underneath. It looks more or less like a traditional porn site, although there are a few hints of its full functions. There's a column on the left for you to search for hashtags and livestreams, and there's a list of popular models across the bottom of the screen.
When you sign in with your account, you get a completely different layout. MFC Share actually works like a social media site. The main body of the page is a news feed, with the most recent model posts towards the top. By default, you'll see free posts only, but you can see all posts by unchecking the "free" check box at the top of the page. Of course, when you first start out, you'll be seeing a generalized feed based on the most popular posts. But as you start following models, their posts will show up first in your feed instead.
There are a few different ways to follow a model. First, if you see something in the news feed you like, just click the "Follow" button on the top of the post. Then, you'll see that model whenever she posts something new. The next way is to use the search function on the top of the page. This is probably the method you'll want to use first, since you'll be able to immediately follow your own favorite models. Keep in mind that not every MyFreeCams model is active on MFC Share. But those that are generally offer a lot of content, so it's definitely worth searching for your favorites.
The last way to add a model is directly from her albums. To find albums, click the "Albums" link at the top of the page. This will open a separate feed with whole albums, as well as the most popular models at the top of the screen. From this page, you can either buy access to individual albums, or open up a popular model's profile and follow her from there.
In addition to being able to follow models, you can also send them private messages from their profiles. A model's profile page looks like a profile page on a social media site, but with significantly more nudity. Not only can you send messages from there, you can also see where to find them on Twitter, Instagram, Snapchat, Onlyfans, and other platforms. You can even send them offline tips!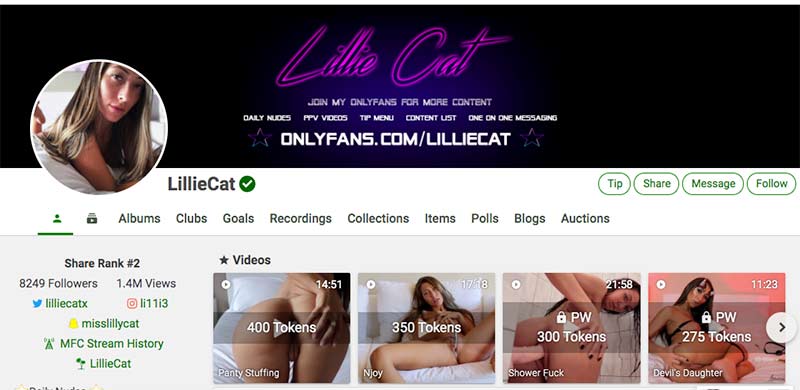 Accounts & Pricing
So, what do all these features cost you? It depends on the model. Models set their own pricing, so there's quite a bit of variation. Most models charge only a small fee for short videos — about 100 tokens — while others will charge as much as 500 tokens. On the flipside, some models even offer shorter videos for as little as 50 tokens. For longer cuts, 20 minutes and more, you can expect to pay anywhere from 500 to 10,000 tokens.
Albums — collections of videos — will run you anywhere from 1,000 to 10,000 tokens. If that sounds too rich for your blood, some models offer significant discounts for VIPs. VIPs are people who already spend a lot of money on the main MyFreeCams site. If you're one of those people, you can get album access for as little as 100 tokens, depending on the model.
Some girls also post photo albums. If you're down for some old-school porn, you can get access to photo albums for 100 to 200 tokens. Individual photos go for as little as 2 tokens. And if you're a fan of a particular model, you can join her "club". Generally, a club membership means you get lifetime Snapchat Premium membership, along with a video package. However, some models offer additional benefits, up to and including lifetime access to all of their content. Because of this variation, you're looking at anywhere from 1,000 to 10,000 tokens for a membership.
The cost of the tokens themselves starts at $0.10 apiece, and can be as little as $0.08 if you buy them in bulk. You can pay with most major credit cards, or use PayPal through Epoch. As you can see, this works out to about $0.20 for a single photo, or as much as $1,000 for a club membership. How much you want to pay is entirely up to you.
Models
When it comes to models, MyFreeCams has one simple rule: girls only. The same applies to MFC Share. Straight men and lesbians will have plenty to enjoy here. That said, if you're interested in dudes or trans models, you'll want to look elsewhere. At the time of this writing, there are over 34,000 girls on MFC Share, with new models joining every day.
At first, you might be confused by the lack of a category search. Don't worry! In keeping with its social media-style vibe, MFC Share uses hashtags instead of categories, with models setting their own hashtags for themselves, their videos, and their albums. To search for different categories, click the "# Popular Tags" link on the left side of the page. There, you'll see the 200 most popular categories of girl on the site. If for some reason this smorgasbord of sexiness isn't enough, just use the search bar, and put a hashtag before your search term. For example, if fat bottomed girls make your rockin' world go round, just search for "#ass", and you'll see all the models, albums, and videos that use that hashtag.
Mobile Site
The MFC Share mobile site is a simplified version of the main desktop site. It features the same social media-style feed, but live models appear at the top of the screen instead of on the right. In addition, the left-hand menu is collapsed into a hamburger menu at the top of the screen. Other than that, it's pretty much the same. All in all, the mobile site is very well designed, with a cleaner look but without any loss of functionality.
Cam Climax
Pros:
Thousands of hot girls
Free and paid content
Works like a social media site
Wide variety of prices
Well-designed mobile site
Cons:
Not all MFC models are active on MFC Share
Some videos are expensive
MFC Share is one of the more innovative porn sites we've looked at. Its social media interface is truly unique, and the ability to follow and message models is a nice plus. The pricing is a bit touch and go. Depending on the model, you can get videos for a very reasonable price, or you can pay a premium for some of the more popular girls. The mobile site is well-designed, and, best of all, everything is tied to your regular MyFreeCams account. This makes MFC Share a natural, seamless extension of the main site, with a lot of value added.
Visit MFC Share