Cam4 Site Review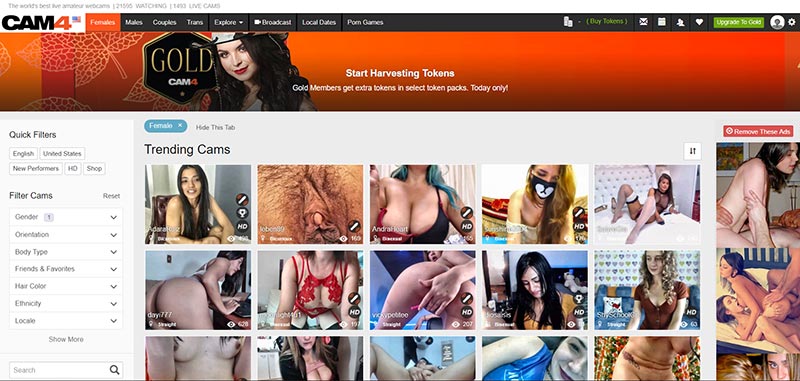 Cam4 is a popular and well-rounded webcam site with one of the larger libraries of models available. They cater to all interests and model types. Over more than a decade of operation, Cam4 has adopted or pioneered many cam site innovations, and won dozens of awards from AVN and XBIZ for quality, including Best Adult Site – Cam Category for 2017 from XBIZ. They have also made a name for themselves with a big push for Cam4VR, an effort to have models broadcast VR shows compatible with major VR headsets. Pornstar Ela Darling serves as the ambassador for this program.
Cam4 is owned by Granity Entertainment DAC, based in Ireland. They aren't a white label, but a stand-alone site. They also run some related sites like Cam4Bucks.com, that are related to the main Cam4 website. It is the 9th-most heavily trafficked site globally in the adult category, according to Amazon's Alexa analytics service, making it one of the most visited cam sites around.
Cam4 Chat Costs
Chat costs are variable on Cam4. They're selected by the models (from a selection of pre-set choices). The ranges for each chat type are listed below.
Private Chat costs range from 12 to 120 tokens per minute

Average shows tend to be 12-36 tokens per minute
Group Shows

The ticket price and length of time of the show are both noted in advance and set by the host
Costs can be set to 10, 25, 50, or 100 tokens in advance as a single ticket price (not per minute)
Spy Shows let you spy on otherwise private shows, with a public chat, but no direct interaction with the model or private chat payer

Spy prices are pre-set at either 6 or 12 tokens per minute, as chosen by the model
Below, you'll find a listing of the token packages and payment options. The options available for gift cards are NOT listed, as this is variable based on the PayGarden marketplace, in terms of how your outstanding gift card balance will be valued. In general, it's less than face value of what's left on the card, but can vary a great deal by type of retailer card. Credit card and PayPal packages both have different rates, but are fixed, as per the below chart.
As always, the best option and/or package is highlighted in the green, while the most expensive is highlighted in red.
| | | |
| --- | --- | --- |
| Credit Card | | |
| 50 Credits | $9.95 | $0.1990 |
| 100 Tokens | $18.99 | $0.1899 |
| 250 Tokens | $44.95 | $0.1798 |
| 500 Tokens | $84.95 | $0.1699 |
| PayPal | | |
| 45 | $9.95 | $0.2212 |
| 90 | $18.99 | $0.2110 |
| 225 | $44.95 | $0.1998 |
| 450 | $84.95 | $0.1888 |
The cost of the three main chat types of Cam4 can vary a lot, because the models are allowed to set their prices anywhere within the pre-defined ranges. For the below, we've used 50 credits for a 10 minute show for the Group Show calculation, and the full range of options for the other two show types.
| | | | |
| --- | --- | --- | --- |
| Private Chat | 12-120 | $2.40-$24.00 | $12.00-$120.00 |
| Group Show | 50/10 minutes | $1.00 | $5.00 |
| Spy Show | 6-12 | $1.20-$2.40 | $6.00-$12.00 |
The rates here for private shows and spy shows are a bit more expensive than some other cam sites. However, despite the large range, the average Private Chat tends to be about 24 credits per minute, or $4.80 per minute. Group Shows are the best value, but of course are less intimate or direct than private shows. Spy Shows can be a good middle ground, if you don't care about directing the model's actions or making requests.
Premium membership (Gold) is the only type of paid membership option, which provides extra tokens with higher value purchase packages (10% boost to both top-tier packages), a one-time bonus of 100 tokens, access to personal messaging, anonymous tipping, hiding your username in chat, full screen viewing, picture-in-picture/watch multiple shows at once, and removes banner ads on the site. This costs between $9.99/month (when you pay for a full year subscription) to as much as $19.99/month (if you pay per month).
Auto-Enrollment Warning: When you make a token purchase, it is pre-checked to enroll you in a 14-day free trial of Gold membership, after which it renews at $14.95/month. Be sure to uncheck this if you are not interested BEFORE completing your token package purchase.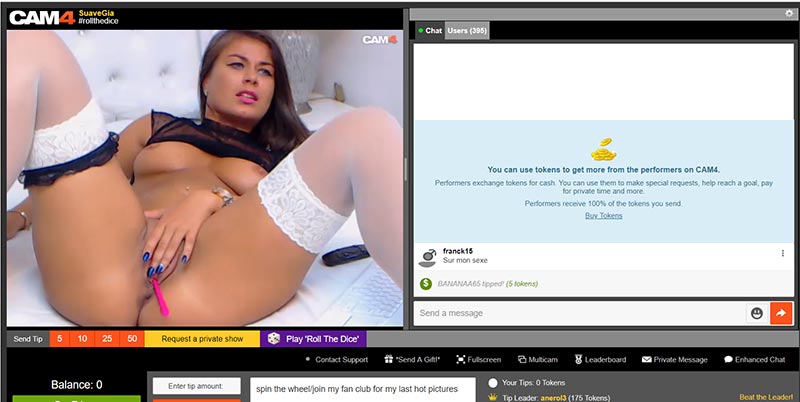 Model Manifest
Cam4 features models of all genders, orientations, ethnicities, ages, shapes, sizes, etc. Unlike many other sites, it has a large catalog of male models and male couples – often outnumbering the females, hetero couples, or transsexual models. Top-level categories include Female, Male, Couples, and Trans. The models on this site are largely amateurs, though there's no question that many of them are incredibly attractive, from classy beauties to pornstar-like sluts to girl-next-door types; average-looking guys to fit and muscular studs, twinks to bears and everything in between; highly-passable transsexual girls; and all sorts of mixed couples and groups are available.
The model catalog is not fully disclosed, though it is estimated that 150,000 or more models are registered on the site. At any given time, there is an average of 1,750 models logged in and broadcasting, roughly 30% solo female, <1% lesbian, 1% hetero couples, <1% group, 60% solo male, <1% gay couples, around 5% solo transsexuals, and <1% transsexual couples.
Pornstars occasionally are featured in special events and chats, though there is no category for pornstars among the regular cam model catalog. Occasionally you will find a well-known porn star online, however, outside of a featured show – you just have to keep an eye out and browse or search by name.
Cam4's Fucking Features
Cam4 offers many of the webcam site features that fans have come to expect. They are also pioneering VR tech aimed at cam site users and cam models, which sets them apart from many other sites. In terms of core features, the site includes:
Free chats that are tip-based, with fully explicit nudity, masturbation, oral, vaginal, anal, and group sex
Private Chats, with prices negotiated between the user and model in advance
Cam2Cam feature available in all private chats per model preferences
Group Shows, that provide a show of a set duration for a set up-front ticket price, for as many people as wish to join
Spy Show, where you can pay a smaller price and monitor a private chat, without any interactivity from your end and only access to the public chat stream
Fully-functional mobile version of the site
Interactive toys, usually dildos and the like from OhMiBod, Lovense, and others
Multi-View option to monitor several streams (Gold members only)
Model tipping (all users) and anonymous tipping (Gold members only)
Top models and contents for largest tips, highest earnings per period, etc.
Model profile pages with details and information
Model fan clubs, which offer a set monthly subscription price (in tokens), and provide access to model image galleries, discounts on their private store items (pre-recorded shows), private messaging with priority, special chat badges, and unlimited spy show access to all of the model's private shows
Recorded videos are available for token purchase
Private messaging with models (Gold members only)
Favorites, show schedules calendar, and similar elements
Gambling games offering model's actions as prizes, or tickets for a post-show prize, all of which have token-based entry fees
Extensive performer training resources available for those who wish to be models
Sexy Systems
In most cases, the site loads well, with very good quality video streams. There are occasional loading hiccups when browsing or looking through tags, but this is preferable to hiccups with video streaming. The company seems to prioritize the video streaming traffic on their servers, which makes total sense. For anyone with a decent connection, there's no real issue here – just know that browsing video streams or using search, filter, or tag features may sometimes take a few seconds to fully load.
The site interface is pretty straightforward, with a nav bar on the top, filter and search options on the left, and the main content body in the remainder – offering tiled pages of models to browse, that can be sorted and filtered in various ways. This includes a quick filter for cam resolution/ HD cams only (around 30% of cam models use HD cams here).
Interactive toys are supported, and usually tip-triggered. Just shy of 20% of models use interactive toys. The site's Live Touch feature works with many popular interactive toys, including Lovense and OhMiBod – the most common brands – as well as certain models of Fleshlight, Imtoy, Kiiroo, Vorze, and We-Vibe.
In terms of sorting and finding models to suit your tastes, it's pretty easy. You can directly search by model name. You can browse by top-level categories – Female, Male, Couples, and Trans. There are 10 different filter categories, letting you refine results by gender, orientation, body type, friends and favorites, hair color, ethnicity, location, show type, body hair, and vices. You can also browse via tiled pages of cam thumbnails, like most sites, and can sort these in order by most active viewers, least active viewers, youngest, oldest, recent/new models, ratings, and best quality stream. You can also bookmark your favorites to easily find them again in the future. Further, there's a tag system, allowing models to tag their chat, meaning there really is an unlimited number of tags – though the most common are shown on the main search and filter bar on the left, and in practice, most shows are tagged with one or more of the top 20 or so tags, including #livetouch, #ass, #pussy, #anal, #tits, and similar. There's really no excuse for not being able to find a model or models that you like, with all of these options at your disposal.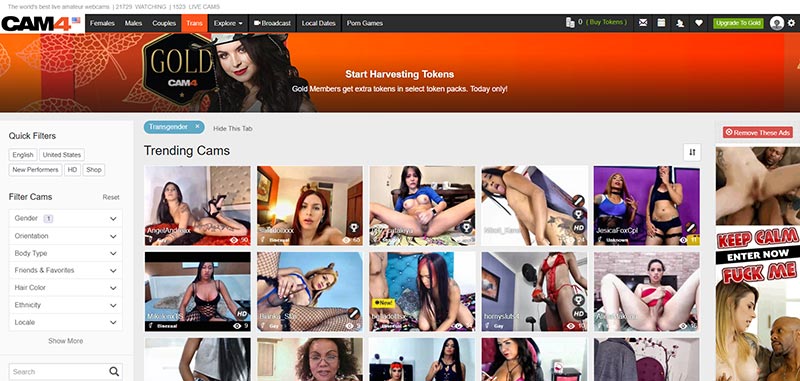 Cam Climax
Pros:
Large quantity of models online at any time, with a large male catalog too (something many sites lack)
All the typical cam site features, as well as pioneering options in VR
3 different types of shows
Good portion of HD cams (30%), and lots of sort, search, and filtering options
Streaming is very reliable, though browsing/searching/non-chat features can sometimes be a bit slow to load (a few seconds)
Cons:
Private show costs can add up quickly
Private show pricing is variable per model
Show costs tend to work out a bit higher than some other less-popular sites (quality has a cost)
There's no denying that Cam4 has one of the largest catalogs of cam models on at any given time. We're quite impressed with the quantity of male models, too – meeting or exceeding the number of female models on at any given time. Many sites lack this feature, and it's nice to know that women and gay or bisexual men have a good cam site that offers them plenty of choices, in addition to the usual hetero men and lesbian/bisexual women audiences. The site works well, the streaming quality is good, and there are a ton of ways to filter and search for the kind of models you're looking for. Costs are slightly higher than some other sites, but well worth it – the larger selection of models, high ratio of HD streams, interactive toys, Cam2Cam and CamVR features, and reliable streaming help explain why Cam4 is the #9 adult site globally by traffic, and in the top 1,000 by traffic across all categories. They've won a ton of awards, too. If you're going to check out a cam site for free, check out Cam4. There's a promotional token offer for new users, too, on your first-time token purchase (50 tokens, worth $10), so grab $10 or an unused gift card, top off your token balance, and check out some tip-based shows as a good place to start!
Visit Cam4