Supermen Site Review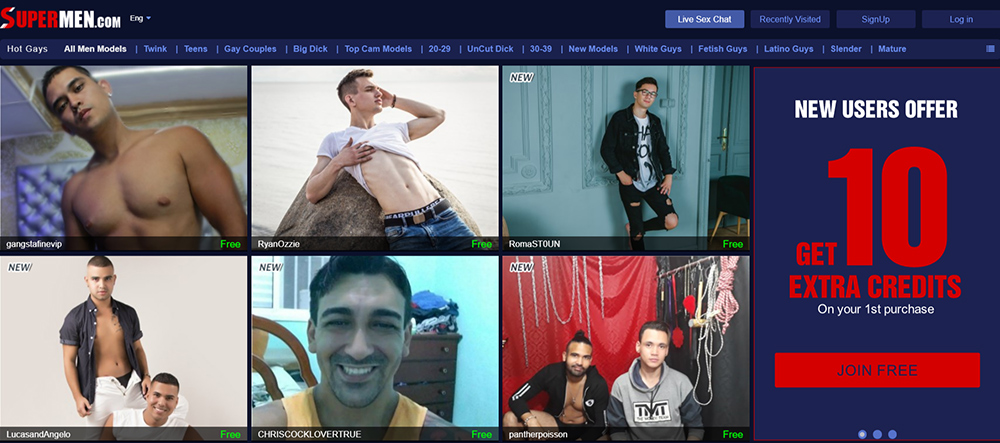 Supermen is a white label of ImLive, encompassing the straight and gay male hosts from that platform. As always, we remind you that though the model catalog, technology, and features for white labels are the same as the main site, the accounts, credits, customer service, and related elements are not shared between them.
Cost of Cock at Supermen.com
If you want to see some sweet cock cumming action, you'll need to pay the price. Costs for intimate private chat experiences on Supermen are set by the models themselves, but we've listed the range and averages for your convenience below.
Private Chat costs range from 0.98 credits to 5.80 credits per minute.

The vast majority are around 3 credits or less per minute.
Hosts are filterable based on price.
Group Chats, known as Candy Shows, are a fixed ticket entry price for a set period of time.

The ticket price and length of time of the show are both noted in advance and set by the host.
Typically, these work out to around 1 credit per minute on average.
Below, you'll find a listing of the credit packages and payment options. Note that none of these take into account the initial, 10 free credit offer (a $10 value), which is only redeemable once. There are 2 categories of payment options – PumaPay (cryptocurrencies) and everything else. All options other than PumaPay use a simple $1 = 1 credit conversion. This may decrease somewhat at higher reward membership levels as there are discounts, but we base our data on new member prices.
PumaPay uses PumaPay tokens (PMA cryptocurrency), purchased with either Bitcoin or Ethereum. There is also a 15% additional credit program for PumaPay purchases, meaning in most cases, they are the cheapest option since you're getting additional credits. The conversion price for each package, in PMA, updates every 2 minutes, but the cost per credit is the same no matter how much you spend.
As always, the best option and/or package is highlighted in the green, while the most expensive is highlighted in red.
| | | |
| --- | --- | --- |
| All Except PumaPay | | |
| 25 Tokens | $25.00 | $1.00 |
| 50 Tokens | $50.00 | $1.00 |
| 100 Tokens | $100.00 | $1.00 |
| PumaPay | | |
| 25 (28.75) Credits | $25.10 (approx.) | $0.87 |
| 50 (57.5) Credits | $50.22 (approx.) | $0.87 |
| 100 (115) Credits | $100.44 (approx.) | $0.87 |
At Supermen, both private chats and the group chats, known as candy shows, have variable pricing, which is set by the model or host. Since candy shows don't have a pre-set price range the way private chats do, we've used the data we observed on the site in order to provide an average and range below.
| | | | |
| --- | --- | --- | --- |
| Private Chat | 0.98-5.80 | $0.98-$5.80 | $4.90-$29.00 |
| Candy Show (Group)* | 0.25-1.00 | $0.25-$1.00 | $1.25-$5.00 |
*We used average prices of 5 credits/20 minutes on the low end, and 10 credits/10 minutes on the high end for these calculations.
This is pretty much in line with the average costs on many other cam sites, working out to around $2-3 per minute for the average private chat with most models. Those are really the only costs on the site, unless you wish to purchase pre-recorded shows/videos. Otherwise, there is no membership fee or special membership options for a price. There's a rewards program, however, which gives you different perks and bonuses depending on your level. You level up by making credit purchases (but it doesn't tell you how much you need for each level anywhere on the site). The rewards levels are Bronze, Silver, Gold, and VIP.

Dude Directory
The catalog of hosts on Supermen is made up of around 6,400 models, roughly broken out into about 4,500 gay solo performers, 1,600 straight solo performers, and about 300 gay couples. Very occasionally you will find groups or threesomes with two or more guys, paired with a girl or transsexual, though that's the exception rather than the rule. At any given time, there are usually around 25 solo performers on, roughly 10% straight and 90% gay, and 1 or 2 gay couples.
Most of the guys on the site are pretty fit jock types, but there are some bears, twinks, and others mixed in. With the large directory of dudes on the site, it's pretty easy to find someone you like watching – even if they are not online at the time. Various ethnicities, body types, ages, and similar are represented.
Occasionally, the site features a special chat session with a featured, well-known and verified industry pornstar. These often have higher costs associated with them, of course. In the past, around 3 dozen different male stars have been featured on the site at one time or another. Big name performers who have been featured include Cesar Xes, Tony D., Ashley Ryder, Pierre Fitch, Cameron Diggs, Trenton Ducati, Brandon Long, Alan Stafford, and many others.
Supermen's Erect Elements
The site's main elements are comparable to most other webcam sites of this size and quality. However, we should point out that one of the nice things here is that there are no spy modes for private chats. Private is truly private, between you and the model. The full list of site features includes:
Teaser chats that may have some nudity (usually only tits), and little or no explicit sexual content
Teaser chats that may have some nudity (only occasionally cock or ass), and little or no explicit sexual content
Private chats, which are truly private
Cam2Cam feature available in all private chats
Group chats, called Candy Shows, where many viewers can watch at the same time
Fully-functional mobile version of the site
Interactive toys (though few guys use them)
Virtual gifting to the models (basically digital swag)
Top cam models area, where the highest rated models are featured
Pornstar shows, with about 3 dozen male pornstars who occasionally make featured appearances
Recorded videos are available for credit purchase, including past live shows
Pulsating Performance and Dick Discovery
The site loads pretty quickly, and searches and entering chats are likewise pretty standard. One complaint stems from video quality, however. The site doesn't list HD vs. SD cams, and there's no option to filter by that, either. So, video quality can vary from model to model, based on whatever setup/quality they have on their end with their cam. However, from the site side of things, there's really no noticeable lag or hiccups in the video streams at all.
Regarding the interface of the site, it's a bit simple and straight-forward, but everything is pretty easy to find and it works fine, so no real negatives. Plus, it helps keep the site loading quickly, and keeps the focus on the hot studs and their videos, rather than on flashy graphics.
It's pretty easy to browse and sort through the models and find someone you like. First, you can choose gay or straight performers from a pull down menu at the top, which is not the last thing you'll see being pulled down on your visit. Next, there are 15+ top-level categories along the main nav bar at the top for you to choose from, including All Male Models, Twinks, Teens, Couples, and similar. You can also directly search by name via a search box. Then, there are additional filters, with options based on age, ethnicity, cock size, hair color, body type, and sexual role. And if that's not enough, you can use the advanced search option. This lets you sort by several additional categories, including price, kinks and fetishes, language spoken, rating, and chat features.
When you do find a model you like, be sure to add them to your favorites, so that they'll appear in the "My Models" tab next time, and be easy for you to find! ething like your cat stepping on your keyboard…yea, we'll go with that, it was the pussy's fault!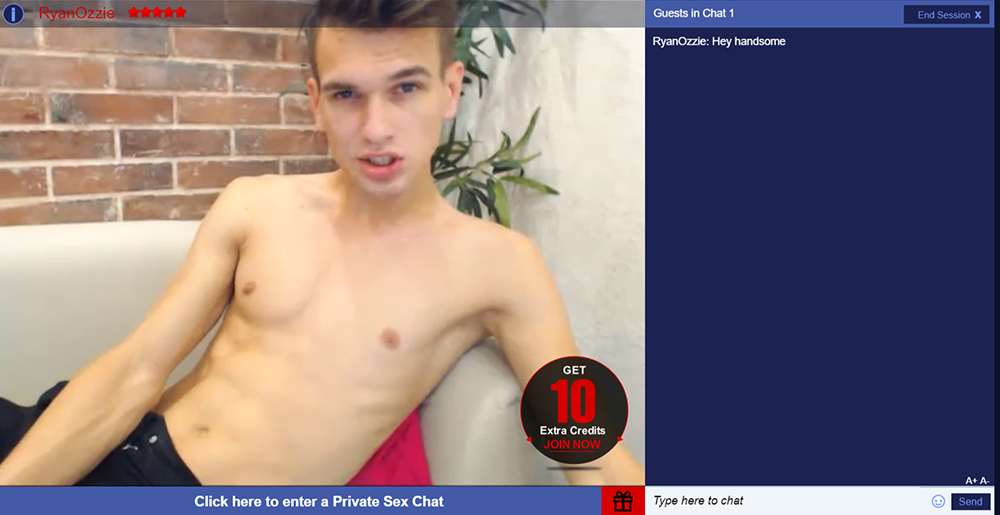 Rock-Hard Results
Pros:
Decently endowed catalog of performers
Typical cam site elements are present, with some additional features and perks
Simple interface, but loads quickly and site performs well
Lots of ways to find the models you're interested in watching/chatting with
Credit costs are about average to a little below average
Cons:
Private show costs can add up quickly
Private show pricing is variable per model
Chat interface could be updated and offer more options/features
No discounts for buying larger packages of credits
Limited number of models on at any given time
Supermen has a lot going for it, with lots of hot guys in their model catalog, average to above average site features, good performance and navigation, and reasonable costs that are competitive with most other cam sites. There are extra perks, like the rewards program and occasional pornstar shows, which definitely make it worth checking out. At the same time, the chat interface is a bit limited in terms of features, and there aren't a ton of models on most of the time (only around 2 dozen), so your selection may be somewhat limited. However, accounts are free to create and browse, so there's no harm in registering and taking a look at the free teaser chats…you just might enjoy what you see enough to pay for more.
Visit supermen