Chaturbate Mobile - chaturbate.com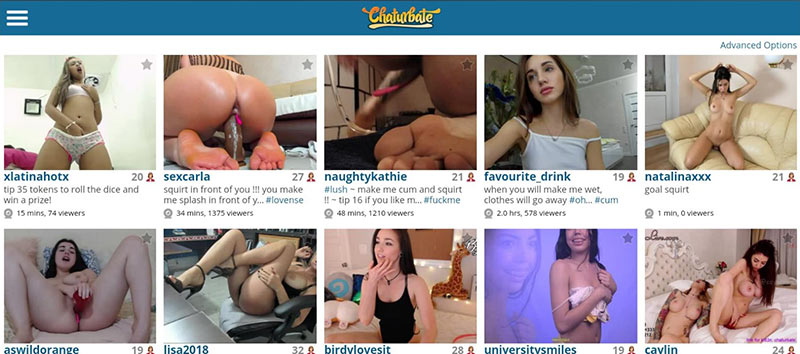 Chaturbate has one of the most extensive model catalogs on the planet, with upwards of 3,700 streams available at any given time. At peak times, that number can exceed 5,000. The site offers a ton of free content, in the form of tip-based shows, and you can see a lot more action here than on almost any other cam site. So, naturally, if you want some cam action on the go, Chaturbate seems like a great choice. They have a fully functional mobile version of the site available, and we want to know how it stacks up to the desktop version, and if it delivers on the promise of watching naked people from anywhere with a cell signal.
We just focus on the mobile site and aspects of the mobile site in this review, rather than on the features, systems, models, and costs of the site. For that information, check out of comprehensive review of Chaturbate.
Interface
The mobile interface for Chaturbate is fairly similar to the desktop interface, in that it's largely minimalist, with the main focus being the different models' streams. All the basic information for each stream is present, just like on the desktop version. Through the main menu (upper left), you can navigate to the main category pages – featured shows, females, males, couples, transsexuals, or spy shows, log in to your account, or load the desktop version of the site. You can access your profile and account balance, add tokens, and so on with just a few taps.
Much like the desktop version, you can search for streams using the advanced options, where you can restrict streams to certain geographic regions, search for models by name, prioritize HD streams, and so on. And much like the desktop version of the site, we feel the search and filter options here are a bit weak compared to all other aspects of the site, and the level of precision available on some other platforms. Notably, tags seem to not be supported as part of the mobile site – they're still present in the chat descriptions, but there are no links to an overall tag list or the ability to sort of filter by any of the various descriptive tags that are normally used. You can search for them via the text search field, though, and that works well – you just have to know what tags you are looking for and what terms are typically used, which is a bit more work on your part than on the desktop site.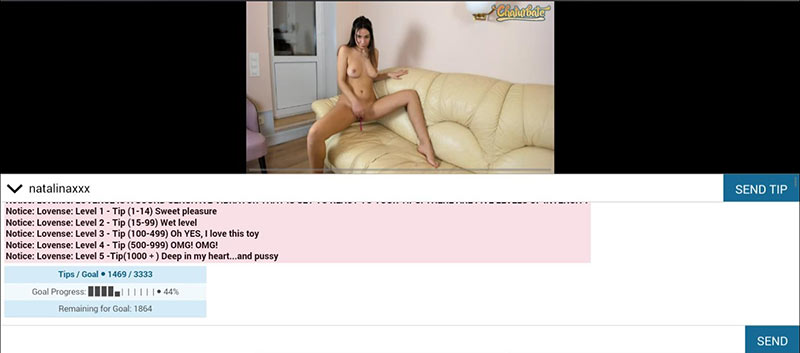 Quality
The mobile quality depends a lot on your connection, of course. In general, it's lower quality than the video streaming on a desktop connection, though the exact frame rate can vary depending on your phone's capabilities, connection speed, and the model's camera. HD streams that run well with no hiccups or lag on desktop run well on mobile, too. It's not HD streaming, and it's not 30 fps, but it's also not bad at all for a mobile cam site product.
Compatibility
We tested the mobile site on desktop, iOS, and Android devices. On iOS, the default Safari browser was used, and then Google's Chrome browser on Android. There were no loading or rendering issues on Android or Safari, and the site seemed to be just as responsive as the desktop version on both smart phone platforms, as well as on an emulated Android system. Even on our older-generation test smart phone, an iPhone 4S, the site loaded and ran well, with streaming on a 3G connection or wi-fi working just fine.
Chaturbate Mobile User Experience
You do lose some features from within the chat itself, and it's a bit harder to navigate if you actually want to tip, talk, or similar. But like most mobile versions of full-fledged sites, it's a game of compromises, and Chaturbate mobile seems to focus on the video streams themselves first and foremost – which is, after all, why most of us are there in the first place. It's not as easy to find models, either, with the tags being absent in the mobile interface. Still, overall, it's a reasonable, on-the-go cam site option, with high marks in most aspects relative to the desktop version of the site.
Conclusion
Pros:
Clean browsing interface, similar to their desktop site, that is easy to navigate.
Good quality streaming on most connections and streams.
Works well on iOS, Android, and desktop, including emulators.
Most features from the desktop site are present, including the massive catalog of models.
Very fast to load, even on 3G connections.
Cons:
Some options are missing from the desktop site, including tag browsing, with condensed chat options within the rooms themselves.
Video quality is not full HD or as high a frame rate as you'll get on the desktop site experience.
Not as easy to access performer bios, fan clubs, and so on. The options are present in the chat room, just not as clear and intuitive as finding them on desktop.
Visit Chaturbate