Royalcams - royalcams.com
RoyalCams is a full-featured webcam site, with a good catalog of models representing all genders and orientations. Four different types of private chat are available, in addition to fully explicit, tip-based free chats. At the same time, they offer a number of useful features for finding, sorting, and filtering the model catalog, so it's easy to find the models that turn you on. Another plus is that the paid chats are all a fixed price – it doesn't vary based on the model – so it's a bit easier to manage your spending here. It's Alexa ranking puts it in the top 10,000 sites globally by traffic across all categories.
RoyalCams is a white label of BongaCams, operated by Proweb Progressive Development Ltd., out of Cyprus. The company behind the site is believed to be based in the Netherlands. Their sister sites include CamFuze, Bimbolive, Ruscams, and several other white labels. As with most white label sites, the interface, model catalog, and so on are shared, but user accounts and token balances usually are not.
Royalcams Chat Costs
RoyalCams is one of a few cam sites that offers essentially free content. Free shows, where the models perform to earn tips from users, can have full nudity, masturbation, interactive toy use, and even hardcore or group fucking. And you don't need to pay a thing to sit in the chat and watch the action. However, if you enjoy it and stick around for awhile, it's only polite to throw some tokens at the model in the form of a tip. If you want to direct the action, or get a more intimate experience, then the paid private chats are the best choice. They require the site's currency, tokens, usually on a per-minute basis.
Tokens can be purchased using credit card, bank ACH, or over 40 different cryptocurrencies. Different rates and packages are available for each option. The current options and their conversion rates are listed below. The best option is highlighted in green, and the worst in red.
| | | |
| --- | --- | --- |
| Credit Card | | |
| 17 Tokens | $2.99 | $0.176 |
| 54 Tokens | $7.99 | $0.148 |
| 139 Tokens | $19.99 | $0.144 |
| 247 Tokens | $29.99 | $0.121 |
| 439 Tokens | $49.99 | $0.114 |
| 660 Tokens | $74.99 | $0.114 |
| PayPal | | |
| 17 Tokens | $2.99 | $0.176 |
| 49 Tokens | $7.99 | $0.163 |
| 104 Tokens | $19.99 | $0.192 |
| 193 Tokens | $29.99 | $0.155 |
| 343 Tokens | $49.99 | $0.146 |
| 513 Tokens | $74.99 | $0.146 |
| Cryptocurrencies | | |
| Bitcoin (100 Tokens) | 0.0019 BTC ($12.26) | $0.123 |
| Ethereum (100 Tokens) | 0.0420 ETH ($12.51) | $0.125 |
| And 40+ Other Options | Varies | Varies |
We also like how RoyalCams uses set prices for each of their 4 private chat types, rather than leaving it up to the models. This can help level the playing field between models, and avoid some of the catty, personality-driven conflicts that have plagued some other well-known cam sites in the past. For users, it also makes things easier, since you always know the rate (in tokens) for the different services, and can focus less on value for your dollars, and more on finding a model you want to spend private time with.
Below, we highlight the prices for the four main types of paid show services, both in the site's token currency, as well as in dollars. Dollar amounts are based on the average token cost.
| | | | |
| --- | --- | --- | --- |
| Spy/Voyeur Chat | 7 | $1.02 | $5.10 |
| Group Chat | 15 | $2.19 | $10.95 |
| Private Chat | 30 | $4.38 | $21.90 |
| Full Private Chat | 45 | $6.57 | $32.85 |
Basic user accounts for the site are entirely free (though you do have some restrictions as a free user. Free accounts gain Gold membership status on a single token purchase of any size. The membership statuses offer various perks, and increase from Gold to Platinum, Unlimited, Diamond, and Exclusive over time, based on cumulative token purchases. Most of the core features unlock at Gold level, but higher rewards/membership levels offer additional perks, discounts on token purchases, better chat controls, higher model visibility, and so on.
You can also sign up for a VIP membership, separate and apart from your account status level. The VIP membership offers access to special daily VIP shows, a VIP shield icon displayed in the chats, special avatars, VIP support, invisible mode, and more, but it comes at a cost. The base fee is $20/month, but they've just revamped their program. Now, you receive $5 gift card credits towards token purchases every 10 days when you are a VIP member, effectively making the monthly fee $5 or less in practice.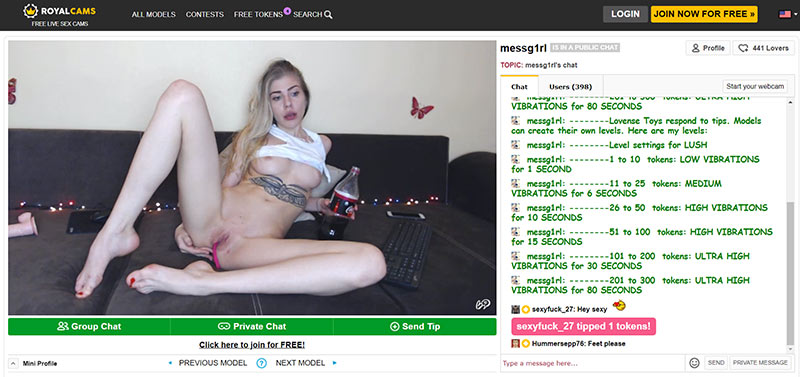 Model Manifest
Like most cam sites, the vast majority of models in the catalog (around 75%) are women. Still, that leaves the other 25% to include couples of all types (guy/girl, girl/girl, guy/guy), solo men, and solo and mixed couple transsexual performers, too. The main site of which RoyalCams is a white label, BongaCams, has acquired several amateur cam sites in recent years, and added their model database to their overall catalog. So, there's quite an excellent mix of amateur models, studio affiliates, and professional/pornstar-type models. Likewise, there's quite a good mix of diversity in age, ethnicity, body type, and other traits of the models within the RoyalCams catalog.
Typically, no matter what time of day or day of the week, you'll find at least 800 models on cam, nominally 600 solo women, 100 men, 50 or so mixed couples and groups, and 50 solo transsexuals. The catalog as a whole features over 110,000 registered models, so there's quite a good deal of variety from day to day and hour to hour.
Royalcams' Fucking Features
RoyalCams includes pretty much all the standard cam site features, four different private chat types, and a progressive membership rewards program based on cumulative token purchases. Key features include:
Fully nude and explicit free chats
Model tipping
Private chats
Full private chats (where no one can spy on your chat)
Spy/voyeur mode, where you can hear the model and see the chat, but not interact
Group chat, where two or more users can be in a private chat with a model at the same time
Mobile version of the site for fun on the go
Interactive toys, usually used in tip-based activation mode by most models
For Gold accounts or better, Cam2Cam functionality is available, which lets you show the model your webcam feed, for an interesting two-way sexual experience
For Platinum accounts or better, private messaging to any model is available
Additionally, Gold accounts or better can be in multiple chats at once, and have access to full-screen video
The site also offers contests and the escalating account rewards based on total purchases
Model profiles include the model's info, approximate working schedule, exclusive clips or pre-recorded shows available for token purchase, free videos for Gold members or better, and much more
Sexy Systems
Parent site BongaCams is one of the top webcam services companies in Europe and the US. Therefore, all their white label sites also run on the same high-quality technology, and utilize the same responsive and easy-to-use site interface as well. Whether you are browsing or searching for a model, or in one of more video chats at the same time, the stream quality is excellent, with no lag or hiccups present. The quality of the video varies by model, with about a 50/50 split on the site between 1080p HD cam users, and those with lesser quality video. Full screen video is available following any token purchase, but free members are limited to a video size that's around 1/3 of a standard HD screen size.
Both the site navigation and chat interfaces are quite easy to use and understand, with all the important features present and easy to locate. When it comes to finding your ideal models to chat with or watch, there are a number of different ways to go about that. You can direct search by name, browse by top-level gender divisions, or choose from the 3 dozen or so pre-made categories found on the left-side nav bar. You can also use the advanced search feature, accessible from the top nav bar, which lets you specify your ideal model in much greater detail. These criteria include age, height, hair color, eye color, language spoken, and so on. It also provides access to a list of over 80 pre-made tags that models can use to tag their chat stream with, so you can really get detailed in terms of what sex acts you are looking for, and what they offer.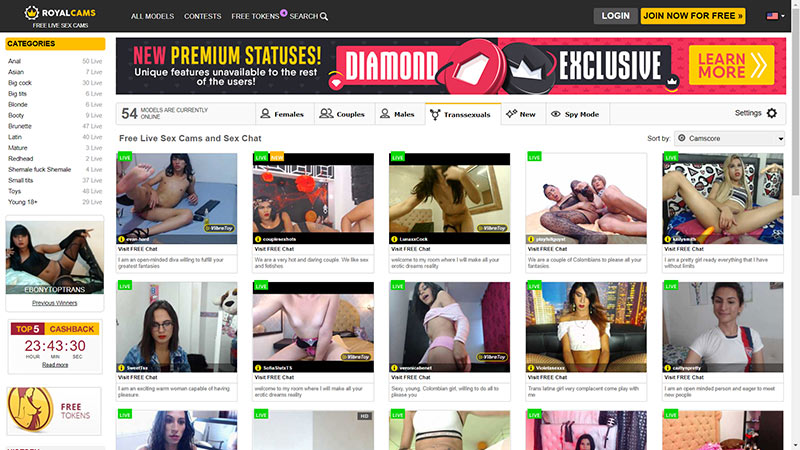 Cam Climax
Pros:
One of the larger cam catalogs around, with a good mix of diverse models on at any particular time of day or day of the week
A wide range of cam site features
Various show type options to fit different budgets
Fixed per-minute prices on shows so you can focus on pussy, not math
Multiple payment options and packages to purchase tokens
Rewards program
Fully explicit free/tip-based shows
Cons:
Private show costs can add up quickly
Only around half of the models use HD cams (but it is a filtering option)
RoyalCams may not be as heavily visited as some other cam sites, but quantity is not always a sign of quality. Here, you have a great mix of cam site features, reliable high-quality technology for smooth streaming, and a simple interface to help find the models who get you hard or wet. Add to that the fixed-price shows, reasonable token prices, and a variety of chat types and token purchase options, and the user experience is hard to beat. And then, you've got a large catalog of sexy models of all different types, styles, genders, and orientations – what's not to love?!
Visit RoyalCams