XLoveCam - xlove.com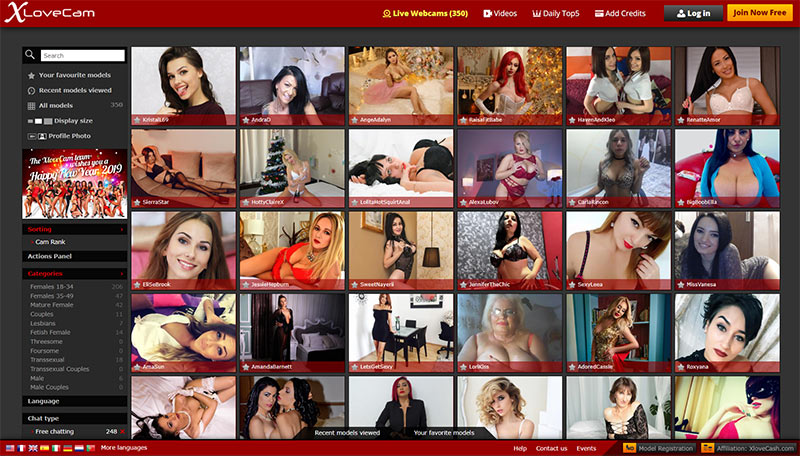 XLoveCam is a general adult audience webcam site, with the full range of standard webcam site features. While the majority of models are female, the site doesn't discriminate – lesbian, gay, solo male, group sex, couples of all types, transsexuals, and so on are all included and represented to varying degrees. It has a good reputation in the industry, and has been around since 2006, steadily gaining performers and members. At present, they have around 80,000 registered performers on the site.
The site is run by Shoshoro NV, based in the Netherlands Antilles, and appears to be a standalone site – that is, not affiliated with any other adult sites, and not a white label site. While it may not rank as high in the popularity charts as some of the more well-known players, it's still in the top 20,000 or so sites globally by traffic across all categories. And it's much more popular in certain countries, ranking in the top 2,000 or better in France, Belgium, Qatar, Ireland, and Oman. France accounts for the largest portion of site traffic, with around 40% of members coming from France.
XLoveCam Chat Costs
The chat costs on XLoveCam are variable, and set by the performers themselves. There is only one type of direct, pay-per-minute chat, and that's the Private Chat option. Public/free chat doesn't require credits. And VIP shows are based on VIP subscriptions, which we'll touch on a bit later. Whether a model's private chat features Cam2Cam functionality, interactive toys, or anything else is up to the model, and is typically reflected in their chat price. Tipping is also possible, via the "Bonus" feature, in any chat mode.
One thing we do love about XLoveCam, though, is that the credits aren't "tokens" or even "credits" like other sites. It's a real-world currency electronic wallet. This makes it really easy and transparent to know how much you're buying, how much you have in your balance, and how much you're spending on a show. No complex mental mathematics to obscure the cost. That's because the costs are fairly competitive compared to other sites – there's no need to hide them behind arbitrary credits or tokens.
Below, you'll find the various methods and packages available to purchase credits on XLoveCam. As stated above, credit balances are maintained in terms of real-world currency (dollars), so it's pretty standard of around $1 in purchase equals $1 in credits. The exceptions are methods that have higher overhead and fees, where you get slightly less than face value for your purchase. As always, we've highlighted the cheapest method/packages in green, and the most expensive in red.
| | | |
| --- | --- | --- |
| Credit Card | | |
| $10 | $10 | $1 |
| $25 | $25 | $1 |
| $50 | $50 | $1 |
| $100 | $100 | $1 |
| PaySafe Card | | |
| $4.40 | $5 | $1.14 |
| $8.90 | $10 | $1.13 |
| $22.20 | $25 | $1.13 |
| $44.50 | $50 | $1.12 |
| $89.00 | $100 | $1.12 |
| Bank Transfer | | |
| $8 | $10 | $1.25 |
| $21 | $25 | $1.19 |
| $42 | $50 | $1.19 |
| $85 | $100 | $1.18 |
As stated above, there is really only one private, paid chat type – private chat. There is also a Sneak Peek feature, that models can enable, but it just provides a quick few seconds Sneak Peek on a private show – it's not a paid chat mode. There's also Xclusive, which is like a full private (that can't be peeked on), but it doesn't offer any additional features, or any premium costs – there's just the base private chat that you can enter, and choosing Xclusive from there is between you and the model. Private chat pricing varies, and is set by each individual model/performer. Below we give a broad range based on the current cost of shows. Following that is a table giving an example of the typical distribution of show costs vs. number of models on with costs in that range.
| | | | |
| --- | --- | --- | --- |
| Private Chat | <$1 to $4+ | <$1 to $4+ | <$5 to $20+ |
| | | |
| --- | --- | --- |
| <$1 | 68 | 18.6% |
| $1 - $2 | 145 | 39.7% |
| $2 - $3 | 73 | 20.0% |
| $3 - $4 | 30 | 8.2% |
| >$4 | 49 | 13.4% |
So, the average price tends to be between <$1 and $3 per minute for a private chat. That's generally less expensive than many other big-name cam sites, and is a real point in XLoveCam's favor. And of course, since it's variable by model, you can find really good discounted deals in some cases, or pay more for super stunning knock-out girls with the full Cam2Cam, interactive sex toys, etc. setups.
In terms of membership, accounts are free. Without registering and logging in, you only have access to free chats, for 1 minute at a time. Free chats are typically teasers, like many sites, though explicit full nudity is allowed – it's just not common. Registering for a free account, which just requires an e-mail address, removes the 1 minute limitation. For tipping, private chats, and other related features, you need to buy credits. But there's no paid membership to the site.
The caveat to that is the VIP program. VIP subscriptions are available on a per-model basis, for models who have chosen to participate. These are recurring, monthly costs – akin to the "fan club" type offerings at other sites. Not all models offer VIP subscriptions, and they are entirely optional. They do provide some benefits, though, including access to special VIP shows (at no additional cost), access to recorded videos, and more. The cost for VIP subscriptions vary per model, and are set by the models themselves. They're essentially an add-on purchase, that can be managed separately from your credit purchases and balance.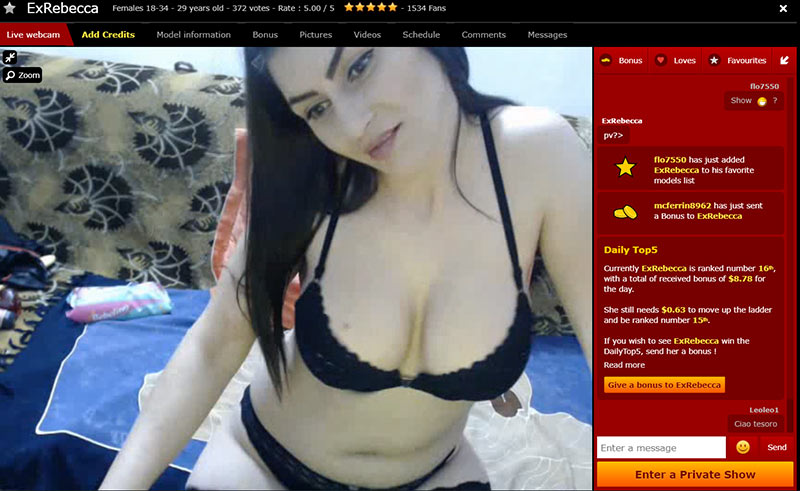 Model Manifest
XLoveCam boasts over 80,000 registered performers – that skews about 85-90% female. At any given time, there are around 375 performers online. The vast majority are female, with a handful of lesbian, mixed couples, solo male, gay male, and transsexual performers on as well. Usually, it's 90% solo female, with all other categories making up 10% of the models online.
The site offers both studio-affiliated performers from cam-heavy mega locations like Eastern Europe and South America, as well as a lot of independent performers from all over the world. As a result, there's a good mix of ages, ethnicities, and looks for the performers on the site. It tends to skew about 75% European (which also includes Americans in terms of ethnicity filters), 15% South American, and the rest varied between Asian, Arabic, and African. The majority of performers are 18 to 30 years of age, but MILFs and GILFs are also present, in various numbers. Essentially, you can find a little bit of everything, at least in terms of solo female appearances, physical traits, personalities, and backgrounds at XLoveCam.
XLoveCam's Fucking Features
XLoveCam offers most of the features of other cam sites – though with only the one base private chat mode. Still, there's a ton more here than just the free and private chats. The site includes a lot of the model-focused features and tech features that are common to other veteran cam sites. The site's list of features includes:
Free teaser chats, that can be fully explicit (but often aren't)
Private shows, which may involve more than one person or be Sneak Peeked on, though can also allow microphone and/or webcam Cam2Cam two-way experiences
Truly private shows, called Xclusive
Sneak Peek, which lets you get a few seconds glimpse inside a private show (rather than a full fledged, pay spy or voyeur mode)
Free image galleries in performer bios
Free videos from some performer bios
VIP membership from some models, offering exclusive access to special shows and videos
Free email messaging on the site with all performers
Competitive rankings and feedback systems for performers
Interactive, controllable sex toys in (usage varies by model)
Tipping via a feature called "Bonuses" from 1 to 10 credits
Fully-functional mobile version of the site
A lot of quality of life features that enhance the chat experience
Sexy Systems
In terms of systems and performance, XLoveCam works really well. Most of the models stream in HD (though there's no filter for SD vs. HD streams). The site loads quickly, even when browsing and filtering a ton of models' streams at once. There's no noticeable delays, loading issues, or other hiccups in the connection. The same holds true within the streams themselves. Multiple test runs show no lag or connection issues within even the free chat streams, meaning the company has some good quality hosting and networking running behind the scenes.
Finding a model or (models) to suit your tastes isn't hard at all. There are 12 top-level categories of model streams to browse, along with 15 distinct filter sections to further refine your search. You can also search for models by name, add them to your personal favorites for quick access, or see the top rated/top trending/etc. Filters include common things like age, ethnicity, language spoken, bust, hair color, and so on. They also include useful categories such as the type of chat features available and private show rates – both extremely handy (pardon the pun).
In short, both the interface and behind-the-scenes systems work well and are reliable. There are no exotic tech requirements to get the most out of XLoveCam, either. You can access the site on any platform and browser – there's even a fully-functional mobile version of the site.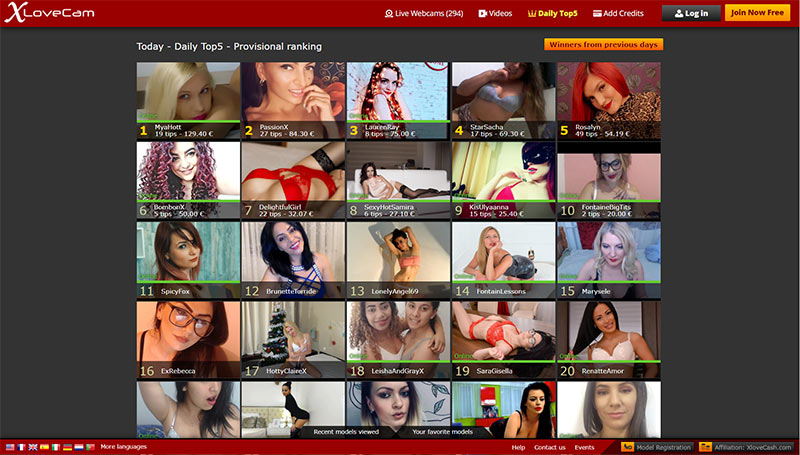 Cam Climax
Pros:
Medium sized model catalog with a respectable number of models online at any given time
Large number of solo female performers, and a good smattering of all other orientations and genders
Standard cam site features are all present and work well
Credit costs are easy to follow with transparency in real-world currency
Show costs are generally low compared to many other major cam sites
Membership is totally free, with no paid/subscription membership levels
Cons:
Private show costs can be high depending on model, features, and time spent in a private chat
Private show pricing is variable per model, so models who are more in demand can end up charging a good deal more than average
VIP subscriptions, on a per-model basis, are also set by the models, meaning you can gain a lot of add-on subscription charges easily if you're very active
If you're after something other than solo female performers, the selection is not as large as you'll find on some of the other mega cam sites
There are very few fully explicit free shows (tip-based) compared to other sites – most are just topless teases to entice you to pay for a private show
XLoveCam benefits from having been in the business of online webcam shows for a comparatively long time. Their tech is smooth, and interface is easy-to-use. The model catalog is quite robust, though does skew heavily to solo females compared to some other major sites. For many of us, though, that's not a problem at all! Pretty much all standard cam site features – model profiles, photos, videos, tipping, interactive toys, etc. – are present. We really love that your credit balance is stated and managed in real-world currency, too. It makes tracking and managing your spending much more transparent and easy. Most importantly, the costs for private shows are very competitive here – well below the cost per minute in dollars than what it works out to on many of the other major cam sites. It may not be as well-known as sites like MFC, Chaturbate, or LiveJasmin – but it's worth giving a spin. Sexy girls, private shows, for less money? What's not to like?!?!?
Visit XLoveCam