Webcamrips - webcamrips.com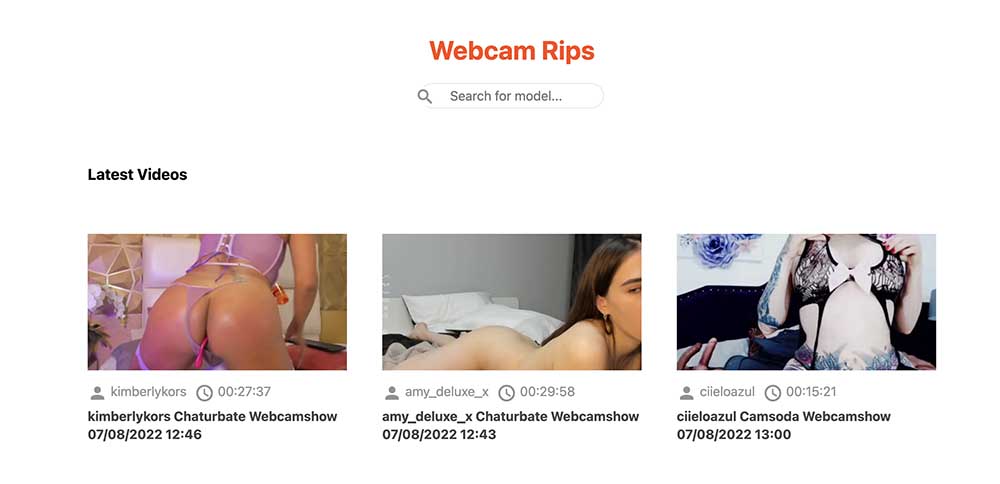 There are many sites on the internet where you can find webcam content, but Webcamrips.com is under the microscope. Founded in 2018, it brings in a large number of views per month, so what is it all about? What does webcamrips.com offer that other sites can't? Is it legit, or is it a virus?
All these questions and more will be answered, so take a break from looking at the cam models to learn about webcamrips.com and whether or not you should give it a visit.
A First Glance at Webcamrips.com
When you first land on the homepage of webcamrips, it looks like your generic, cheaply put-together porn site. It has a minimalist design, no overly distracting flashy homepage with ads assaulting you from every angle or many categories. You came to this site for rips from webcams, and that is what you will see.
While this can be seen as a pro of this website, it shows the lack of effort to make it a proper website. This is further shown when you begin clicking on the website's videos. While every video can eventually be played, it is a difficult task to get them to do so. Your first two to three clicks will each open a new tab leading to random websites, many of which could harbor viruses.
Even with an adblocker present, which I tried, the website will still open these new tabs. This is extremely sketchy and is often a sign of a website with malicious content. Even if the website itself is clean, I did run the URL through several URL virus checkers, and they came back clean; it still opens links to potentially malicious websites.
Main Features of Webcamrips.com
Taking a step away from the potential viruses, you are probably wondering, what are the website's main features? What does it offer that makes it stand out against its competitors? And the truth is, not much makes it stand out, nor does it have many features. The website lacks nearly any feature other than to play webcam videos.
This is a huge turn-off for this type of website because even if you are coming here simply to jerk one off, user experience and features are a huge part. That is what makes websites like PornHub and Xvideos so popular. They have a great user experience and offer dozens of features such as video downloads, varied content, accounts, playlists, saved videos, and more.
Even though it only offers the ability to play and download webcam videos, it does allow you to watch shows from your favorite webcam models that you may have missed. It can be difficult to catch your favorite models for a quick jerkoff when you work all day, so having their shows on one site is a great feature of the website.
However, just because it gathers all of these webcam videos together and you can download them does not mean it is worth your time. As mentioned before, this website is kind of sketchy, so download these videos at your own risk.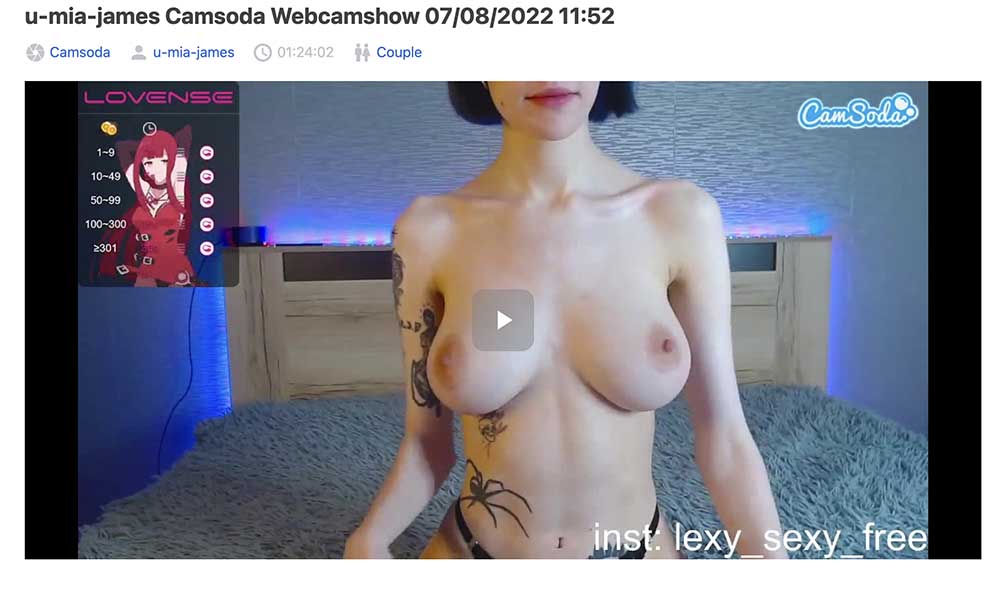 The Pros of Webcamrips.com
Even though I have been bashing Webcamrips.com a bit, let's take a look at some of the website's pros. While there are not many pros to this website, it is important to at least acknowledge what this website does right.
A Large Number of Videos
The main selling point of webcamrips.com is that it offers many videos. While it is difficult to ascertain the exact number of videos on the site because of how it is organized, a quick estimate is about 10 million. With over 300,000 pages of content and an average of 36 videos per page, there is a huge amount of content to watch.
Another great thing about so many videos is that most of them are all longer videos, 20+ mins of cam content. Some videos can run even longer, showing entire shows, including premium shows you would normally have to pay to watch. So if you do not want to pay to watch your favorite cam stars, this site may be the place for you.
Video Quality
Another thing that is good about Webcamrips.com is the video quality. Now, this is a problem that exists across most porn sites, including the large ones like PornHub or Xvideos. You find a video you want to watch, only to learn it is terrible quality and almost impossible to watch. This does not happen on Webcamrips.com, which offers only the highest quality of videos.
Can Download Videos
The final pro of Webcamrips.com is the ability to download videos, which actually took me a little time to find as it is not necessarily the most intuitive. When you get the video to play, you have to right-click on the video and then click "Save as." This will allow you to download your favorite videos, but as I stated earlier, download at your own risk.
The Flaws of Webcamrips.com
Now that I have shared the pros of Webcamrips.com with you, I will share the flaws, many of which are flaws. In fact, the site is almost made up entirely of flaws that heavily outweigh the few pros it provides.
Potential Virus Site
Though I touched upon this above, this cannot be overstated enough. Webcamrips.com, while not showing ads and popups on its site, still has a strong chance of placing a virus on your computer. Let's be honest. When they are horny and looking to jerk off, most people do not think straight.
All their brains can think about is jerking off and the pleasure from it. This makes them much more susceptible to accidentally clicking a malicious link or website, which is why webcamrips.com can be so dangerous. Sure, the website is technically clean and secured, but what about the hundreds of random links and websites it sends you when you click on the videos?
All in all, Webcamrips.com is a potential virus site, so keep that in mind if you choose to visit and use the site. Use common sense, and close any tabs it opens instantly to minimize the chance of your computer being infected. You should also always run an adblocker and the latest anti-virus on your computer to help keep your data safe.
Can't Sign Up
Another major downfall of Webcamrips.com is it does not allow you to sign up for an account. I scoured the entire website and found no way to sign up for an account. Without the ability to sign up for an account, it makes the website less appealing unless you are trying to hide the fact you are using porn websites.
Porn websites that offer accounts are more appealing because you can often create playlists to save videos. Webcamrips.com does not do this, making for a poor user experience. It also shows your video history so you can find the videos you have enjoyed in the past, and it allows you to connect with other horny people on the internet.
Videos May Not be Available
When you are getting ready to settle in to watch a webcam video and jerk off, there is nothing more annoying than it not being available anymore. While this is not super prevalent on the site, there are still enough unavailable videos for this to be considered a con. Plus, you have no way of knowing it is unavailable until you click on the video, all excited to watch it, only to be told it is no longer available.
No Easy Way to Browse
The final con on this list, though by no means the final con of the website in general, is the lack of organization on the website. Videos on the website are separated into 11 categories: Webcam Rips (Home page), Female Videos, Male Videos, Transgender Videos, Couple Videos, Chaturbate, Cam4Videos, Bongacams Videos, Camsoda Videos, Stripchat Videos, and MyFreeCams Videos (No videos currently).
On average, each of these categories has at least 10,000 pages of content you have to shift through. If you thought that was bad enough, there is no way to jump between pages, so you must scroll through, page by page, to find something worth watching. That makes it incredibly time-consuming and does not narrow down genres at all.
It should be noted that you can search models on Webcamrips.com and keywords, but it is hit or miss if you find something you want to watch. Overall, it is incredibly clunky and hard to use as a user.
Conclusion
Now for my final thoughts on Webcamrips.com and whether or not it is a worthwhile site to visit when you are horny and looking to jerk off. Overall, the answer is no. This site is not worth the risk regarding the content it delivers. Any good porn site with an established userbase will not send you to potential virus-ridden websites and will have better UI systems.
Yes, it offers a ton of high-quality content, but that content is very poorly organized. It does not tell you if a video is unavailable or not, you have to wait for it to send you to three random websites before you can load the video. Finally, it has no signup option. It is an extremely poorly done website with potential but failed to deliver.
Visit Webcamrips