Voyeur Villa - voyeur-villa.com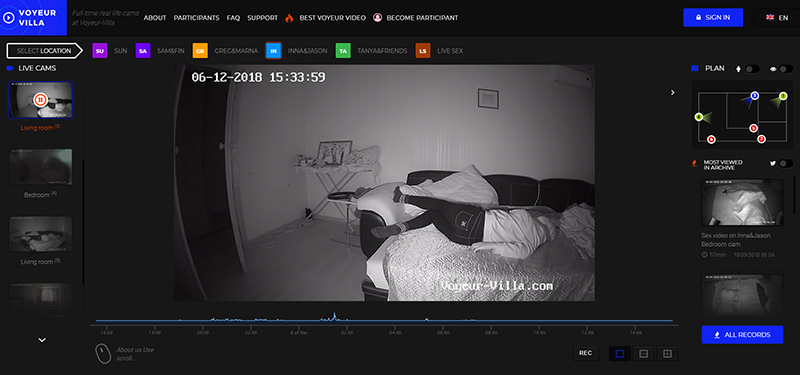 UPDATE: SITE IS CURRENTLY OFFLINE
Voyeur Villa features wired apartments with hot, willing participants broadcasting their every activity 24/7. The site is based in the UK, and hosted in the Netherlands, but all of the participants are in Russia and of Russian origin. Voyeur Villa has features and functions similar to other voyeur-style cam sites, though has a limited number of participants at present (5 apartments only).
The site is owned by Kinetik Data Solutions, Ltd. of the UK. They also link to their own cam site, voyeur-villacams.com, which is a traditional cam site, and is actually a white label version of Proweb Progressive Development, Ltd. (the same company behind cam sites BongaCams and CamFuze). Voyeur Villa itself is currently ranked in the top 50,000 websites globally across all categories by traffic, according to Amazon's Alexa service. It's much more popular in Europe specifically, rating in the top 20,000 in the UK, Germany, and Italy.
Spy Stats
Currently, there are 5 apartments that are part of Voyeur Villa, with just over 60 cams in total between them. Participants include hetero and gay couples, singles, and roommates/friends. With the apartments based in Russia, they are generally around UTC +3 in terms of time zone, putting them 11 hours ahead of the US west coast, and 8 hours ahead of the US east coast.
Participants come and go from participating in the program, just as with similar sites, with new apartments and participants being added and others leaving periodically. Those who choose to participate are compensated, like similar sites, presumably from the membership/subscriptions from users. The participants of voyeur villa are effectively amateurs – real people living their lives – and therefore vary in attractiveness, style, age, and so on.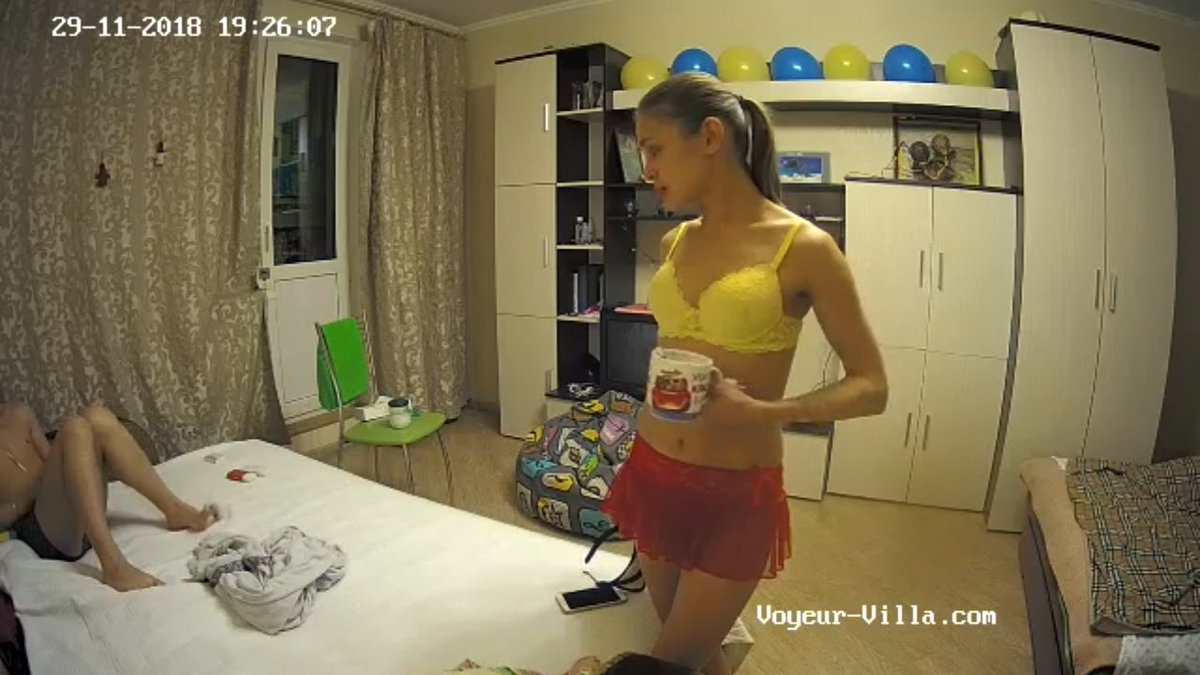 Voyeur Villa's Cost of Watching
There are two levels of membership/subscriptions on Voyeur Villa – standard and premium.
Free users/guests of the site can access a few cameras in each apartment, though they are usually places like the kitchen, hallway, etc. where there's minimal sexy time activities. Full cam access requires membership.
Standard membership offers access to all cameras, in HD. Premium, on the other hand, provides all the standard membership features, in addition to a 24 hour replay on all cam streams, motion detection, auto-follow top cam, and unlimited archive access, where some of the hottest videos from the past streams are stored, and record your own favorites to store in the archive as well.
You can pay for a subscription membership of either type via credit or debit card only. There is a trial of the premium version available, as well as direct sign-up for the standard or premium subscription options.
| | | |
| --- | --- | --- |
| Standard | | |
| 30 Days | $29.95 | $0.67 |
| 90 Days | $74.95 | $0.83 |
| Premium | | |
| 3 Days (Trial)* | $3.95 | $1.32 |
| 30 Days | $29.90 | $1.00 |
| 90 Days | $99.95 | $1.11 |
* After the 3 day trial, membership automatically renews as a monthly premium subscription at the full, undiscounted $39.95 price.
Adult cam review Advice: Don't waste your time with the trial membership. After 3 days, it automatically turns into a full premium subscription but at an undiscounted $39.95/month rate. You're better off signing up at the $29.95 monthly rate or the 90 day plan (the monthly plan is actually cheaper on a cost-per-day basis, as a special promotional offer).
Voyeur Villa's Site Features
Voyeur Villa has a full range of features, comparable to the best voyeur cam sites available. These features include:
Quick access to each of the apartments/participants via navigation at the top of the screen
A floor plan layout of the home or apartment, and the locations of each of the cameras that are present, showing both free and premium cameras, as well as the one you are currently accessing
A visual preview of all of the cameras for a given apartment, and what they are currently showing or seeing, as a navigational element on the left side of the screen
Full screen video streams available in HD
Timeline access to replay action from the past 24 hours (for premium members)
Top picks in the archive for the given apartment you're currently viewing (for premium members)
Access to the archive with all of the hottest recorded videos from streams in the past (for premium members)
Ability to watch 1, 2, or 4 streams on screen at once (depending on your connection speed)
Record functionality, to record anything live or from the past 24 hours and save it to the archive (for premium members)
Twitter updates and forum information about the participants
Links to an external traditional cam site, Voyer-Villacams, which is a white label of Proweb Progressive Development (BongaCams, CamFuze)
Performance
Considering the site is hosted in the Netherlands, it loads fairly quickly, with streams also loading quickly, even from the US. There may be a few seconds' delay when switching streams, but once they are active, there is no noticeable lag, freezing, buffering, or other technical issues that would detract from the viewing experience. Video quality is HD, and audio is quite good as well.
Navigating around the site is quite easy, with an intuitive and sleek interface that is not dissimilar from other voyeur cam sites. The integration of both the floor plan-style camera navigation as well as the preview thumbnails for each cam in a given apartment is a nice touch. Bonus points for the multi-stream viewer option and the convenient placement of the timeline under the video stream.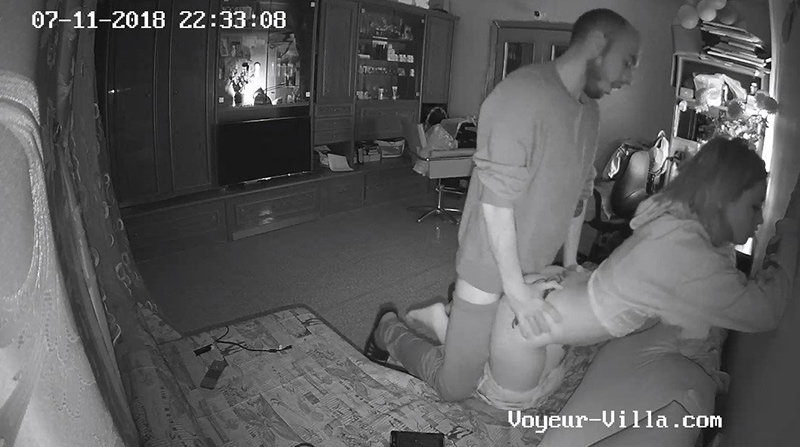 Voyeur Verdict
Pros:
Good design and layout that makes navigation easy
All basic features of comparable sites, plus some nice extra touches
HD quality video streams that work well and lag-free, even from a great distance from the server location
Participants are fairly attractive, though quite varied in looks like most amateur and voyeur sites
Cons:
Russia-based participants so there is little to no English in streams, and time zone issues can make it hard to watch in real-time in the US
Limited number of participants/apartments currently
Information on the participants requires accessing social media or a third-party forum site, rather than being integrated into the site itself
Though the overall pricing is comparable to or better than the most expensive voyeur cam sites, the catalog of participants here is fairly limited
Voyeur Villa is an interesting site with a lot of potential. The interface is one of the better ones among voyeur cam sites, and the feature-rich access for premium members to the 24-hour replay and archive of hottest videos, plus the ability to record and add your own favorite moments to the archive, is quite nice. All of the other voyeur cam site features are present, and perform well, including HD video and good quality audio, floor play layouts, and similar. With all that said, the elephant in the room here is the lack of participating apartments. With only 5, there's not a ton of choice or variety compared to other leading voyeur sites, that often have 15-30 apartments or couples participating. Like most similar sites, the time zone issues and nationalities/language issues are also present here, with participants all being in Russia, so it's not easy to always watch things live or know what is being said. The cost is reasonable, similar to other sites (and below the cost of some of the top sites), but with the limited catalog, you may not be getting as good a deal here. Keep an eye on this site, check out the free cams, and see if the list of participants increases in the near future – then the value of that membership may be higher.