VoyeurHouse - voyeur-house.tv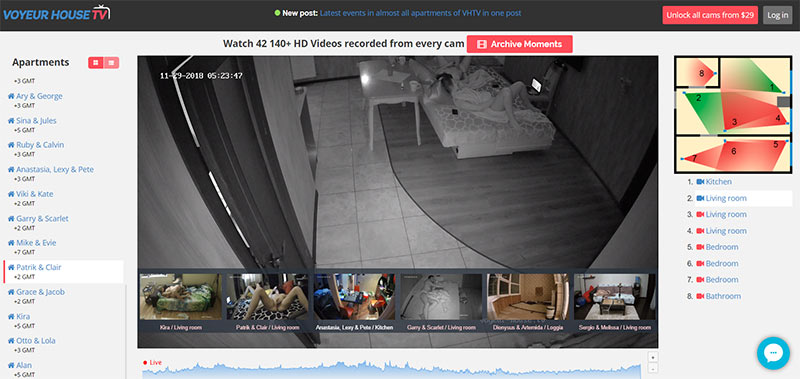 Voyeur House offers real, 24/7 streaming access to over 3 dozen apartments, featuring guys, girls, couples, and the real day-to-day activities of their lives. This voyeur style adult site is increasing in popularity among users, breaking the long-standing tradition of scripted or professionally-produced porn for something much more authentic and real – along with the mundane aspects of everyday life, too. There's often hot action going on somewhere, however, especially as the apartments and homes featured on Voyeur House are spread across about 5 different time zones in Europe.
The site is ranked in the top 7,000 globally by traffic across all categories, according to Amazon's Alexa service, and is in the top 2,500 in Germany, top 2,200 in France, and top 1,600 in Spain. This makes sense, as the majority of the "models" are spread throughout Europe, and speak various European languages in their streams. The company appears to be based in the UK, or at least their lawyer is, though the server has been hosted in both France and the Netherlands since the site's inception about 2 years ago, and the custodian of records is listed in the Seychelles, so the exact ownership and management is unclear.
VoyeurHouse's Spy Stats
At present, there are 36 separate homes/apartments available on Voyeur House, each with between 8 and a dozen or so cameras. The models (what the site calls participants) include girl/girl, single girl, and hetero couples, as well as some threesome groups of roommates, and one or two single guys in the mix as well. These are all normal people, who have chosen to participate and know they are on camera. Some are quite average looking, while others could easily be professional models or adult actresses. They are reimbursed for participating in the site with 50% of the site's subscription fees being split among the participant community.
Cost of Watching
There are two levels of membership/subscriptions on Voyeur House – standard and premium.
Free users/guests of the site can view 1 or 2 rooms in most houses, though they are usually low on sexy action – the living room and kitchen, in most cases, and usually wide shots, lower resolution or black and white, etc. The good stuff requires a subscription.
Standard membership provides access to all cameras on all houses/apartments on the site, with no addition frills or features. Premium membership, on the other hand, offers all streams in HD, playback via the timeline on each stream, and access to Archive Moments, the archive of the hottest action in each stream that's kept available forever as long as you were a premium member when it happened.
Memberships/subscriptions can be purchased with a credit card, Paypal, or Bitcoin/other cryptocurrency options, though the prices are the same regardless of payment method. Availability of payment options varies based on geographic region and other restrictions.
| | | |
| --- | --- | --- |
| Standard | | |
| 30 Days | $29.95 | $1.00 |
| Premium | | |
| 30 Days | $39.95 | $1.33 |
| 90 Days | $95.95 | $1.07 |
| 180 Days | $169.95 | $0.94 |
| 365 Days | $299.95 | $0.82 |
VoyeurHouse's Site Features
The site features on Voyeur House are quite comparable to other top voyeur-style cam sites. These include:
A listing of models/participants/homes/apartments (and a helpful notation as to the time zone of each)
A floor plan layout of the home or apartment, and the locations of each of the cameras that are present
A list of the cameras that are present and what room they are in, to allow for easy switching and toggling
Fullscreen video streams, which are in HD and have timeline playback options for premium members
Preview filmstrip of what's going on across all of the cams/feeds on the site so you never miss any hot action
Archive Moments playback (premium members), where you can watch the archived streams of some of the hottest action on the site (though you must be an active premium member at the time the stream took place or you will not have access to it)
Blog/article updates on what's going on every month, new models, models who have left, and so on
Integration of social media with live updates of some of the more active streams, providing convenient and followable notice as to when sex is going on
You can also buy gifts for the participants/models through the site if you so choose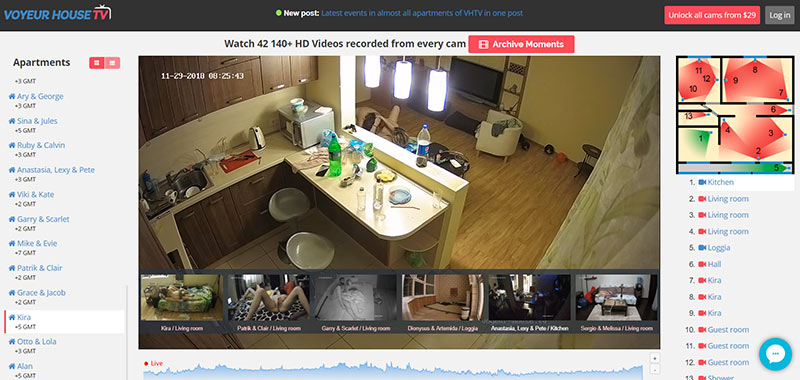 Performance
The site works fairly well, with streams loading quickly and displaying in high quality without noticeable lag, jittering, stuttering, or other issues. You can switch cameras or streams with ease, and it takes no more than a second or two for the new stream to load. Sound quality can vary based on cam placement, but this is true on all of the voyeur sites that are around today. Most cameras convert to low-light/night-vision style black and white semi-infrared when the lights are out or nearly out, also pretty standard for most of these kinds of sites.
The interface is pretty simple and easy to use – pick a house/set of models on the left side, the screen is in the middle and can be maximized, controls are below it, along with the timeline and filmstrip previews of other feeds, and the camera chooser and floor plan are on the right side of the screen. You can also access the Archive Moments feature from the main screen, or navigate to the Blog, FAQ, Support, or other pages. Social media is integrated lower down on the main page with the latest Tweets coming up in real time. There is also a link to sister site Gay Voyeur House available as well.
Voyeur Verdict
Pros:
Large number of homes/apartments and models available compared to many similar sites
All the standard navigation features of most voyeur cam stream sites
Cam quality, especially for premium members, is quite good
People on the streams are numerous and varied, though most are very attractive to the average person
Reasonable pricing compared to other voyeur cam sites
Cons:
No participants in North or South America, Africa, Asia, or Oceania at present
Most streams do not speak English, so it's not always easy to know what's going on (if you care about more than the sex part of things)
Access to the Archive Moments depends on premium membership – if your membership lapses, you lose access to any moments added while you were not a premium member
There could be more features, biographical information, and other things of that nature to round out the experience
Voyeur House is a middle-of-the-road entry in the voyeur cam site space. There's a good mix of models/streams available, and it has all of the basic features that you see on most of these kind of sites. The pricing is good as well, standing at average or better than average compared to most other voyeur sites – an annual subscription is less than a dollar a day in US currency terms. At the same time, like most voyeur stream sites, there's no guarantee of sexy action at any given time – in fact, a lot of streams are often empty as their participants are out, at work, or wherever. The lack of English-speaking cam models, or North America time-zone friendly streams is a bit of a turn-off. Still, on the whole, the site holds up well compared to its competition, and provides more value for your money than many other voyeur sites. Now, if you'll excuse me, there are two cute girls going down on each other in their living room…
Visit Voyeur House