Tsmate - Tsmate.com
Tsmate.com is a US-based cam site that was first registered in 2009. They're part of the Streamate network of cam sites, and most of their features are similar to Streamate. The only significant difference is that their models are transsexual, rather than vanilla females. The entire network is owned by ICF Technologies of Seattle, Washington.
Tsmate Chat Costs
Some tsmate shows are open to the public. However, you typically won't find any explicit action in public chat. To access their steamier features, you'll need to enter a paid chat. As with most paid cam sites, this requires you to create an account first. Account creation requires a payment method, which can be either a credit card or PayPal account. This is required for age verification. When you create your account, tsmate will charge a small fee of $2.00 to validate your payment method. That said, if you don't make any further purchases, there aren't any extra monthly fees or anything like that, so your payment info is safe.
Show charges are paid in real-world currency, which is a nice feature, since you won't have to keep track of token costs or anything of that nature. The one exception to this is GOLD, an on-site currency which can be used to tip models or buy access to GOLD shows. Thankfully, keeping track of GOLD costs is also easy; one GOLD costs $1 US. In a gold show, the model sets a goal in advance. Users tip together and contribute to the pot. If the model's goal is met, anyone who tipped gets to enjoy the show. The show type and length are set in advance, so you know what you're paying for. Best of all, if the model's goal isn't met, you get your GOLD back.
For cash shows, tsmate models set their own rates. Newer models and more affordable models can charge as little as $0.99 per minute. Some of the top models charge as much as $7.99 per minute. These are the rates for "private" shows. But "private" shows on tsmate aren't actually private. Other members can join, so they're more like what other sites would call "group shows".
To get a truly private experience, you'll need to pony up a few more bucks for an "exclusive show". In an exclusive show, it's just you and the model, so you can get as freaky as you like. Exclusive shows start at as little as $4.95 per minute, and can go as high as $19.95 per minute. Prices tend to run towards the lower end, but some of the hottest models charge a premium.
| | | |
| --- | --- | --- |
| GOLD show | Any (minimum set by model) | Any (minimum set by model) |
| Private show | $0.99-$7.99 | $4.95-$39.95 |
| Exclusive show | $4.95-$19.95 | $24.75-$99.75 |
One way to save money on tsmate is to negotiate a discounted block session. With a block session, you agree to pay for a longer chat in exchange for a discount. For a 15-minute block session, you get a 5 percent discount. For a 30-minute block session, you get a 10 percent discount. For a 45-minute block session, you get a 15 percent discount. And for a 60-minute session, you get a 20 percent discount. Not bad!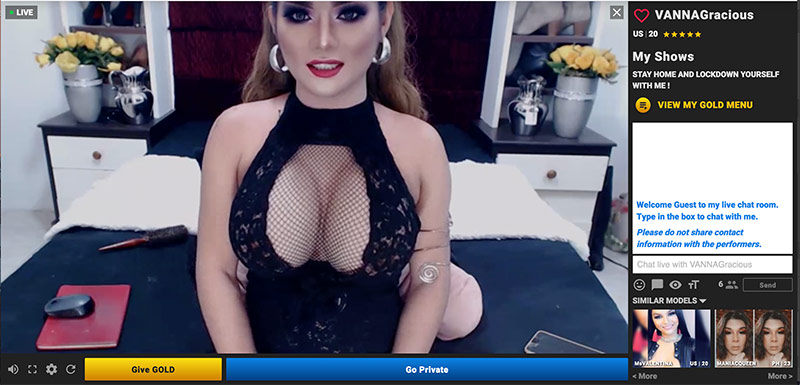 Tsmate Models
At the time of this writing, tsmate features just under 2,400 total models. At first glance, this might not seem like a lot, but we're talking about a trans site here. Considering that all these girls are rocking she-cocks, the total number is actually pretty impressive. Similarly, because all the models are trans, you don't have as many sorting options as you will on some other sites. But there are still some useful filters available. You can select girls by region, to make sure they speak your language. You can also filter by age. Finally, there are some other options, such as cut/uncut, tit size, dick size, and ethnicity. You can even filter for trans guys, although there aren't very many of them.
Tsmate's Features
So, what else does tsmate have to offer? Let's take a quick overview of the site's features.
Free, non-explicit public chat
Prepaid GOLD shows
Affordable group chats
Private, exclusive shows
Ability to tip models
Ability to save models as favorites
Pre-recorded shows available for a fee
Ability to rate models, with user ratings displayed for all models
Sexy Systems
Tsmate has a tiled layout that should be familiar to any cam site user. It's actually identical to the layout of Streamate.com, and has all of the same features. One of the most impressive features is the ability to rate models. Once you've viewed a model's cam, you can rate her from one to five stars. Best of all, these star ratings are displayed on a model's preview tile, so you know what other users think before you log into her show.
In addition, all models have a profile page, where you can see their information. These pages let you know when the model is typically online, what fetishes they're into, and any other information they care to share. Some models even share pre-recorded videos on their profiles. These are available for a fee, which is set by the individual model. So if your favorite T-girl isn't online, you can still watch her beat her meat.
Conclusion
Pros:
Wide variety of hot trans models
Plenty of show options, from group to private
Familiar, easy-to-use interface
Full-featured mobile site
Transactions are in real-world currency
Cons:
No free explicit content
Some models are very expensive
Tsmate is one of the better trans cam sites on the web. Many of these sites are fly-by-night operations with shoddy user interfaces and low cam quality. With tsmate, you get the same well-designed, polished interface you'd get from a mainstream site, and the ability to pay in real currency is a nice plus. Oh, and you also get thousands of gorgeous T-girls to jerk off to.
Visit Tsmate