SpyGasm - spygasm.com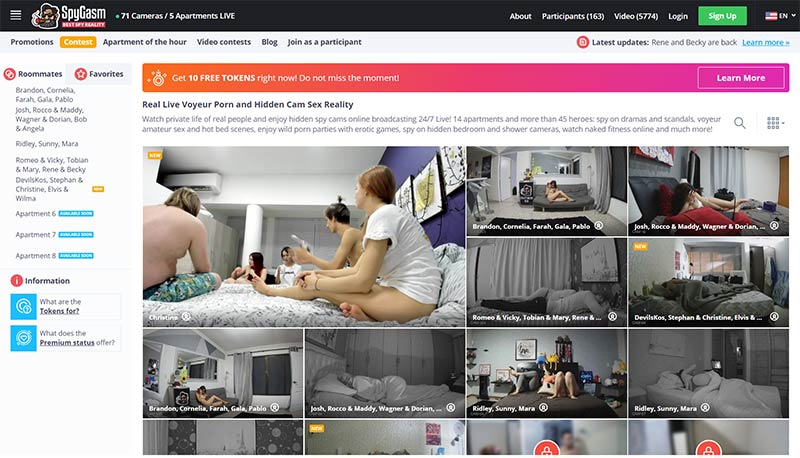 UPDATE: SITE IS CURRENTLY OFFLINE
SpyGasm is a brand new reality and voyeur cam site, where you can watch the real, uncensored lives of actual people in apartments spread around the world. They know they're on camera, but it becomes a fact of life, blending into the background. So you get a real sense that you're watching what these attractive young couples and singles are doing in their real lives. There's a ton of hot sexy action, and if you're into voyeur content, then you're going to love SpyGasm!
The site was created by Proweb Progressive Development, the same company behind major European-based cam sites like BongaCams and CamFuze. It's accessible directly at spygasm.com, or through links promoted on both of those traditional cam sites. The site only went live in late 2018, and started being marketed heavily at the beginning of this year, but already it's grown significantly, reaching an Alexa rank of 4,526 globally and 12,833 in the US as of May 2019. This puts it well ahead of most of the other voyeur sites we've reviewed.
Spy Stats
As of this writing, there are 71 different cameras spread across 5 apartments, with a total of 26 participants involved. There are actually more than this, but not everyone is home and available at all times, and they are constantly recruiting new members, so the totals can vary somewhat. There are several additional apartments and participants, along with associated cameras, that are coming soon. This creates a good number of streams, comparable to much more established voyeur sites that have been around a lot longer. The participants are regular people, not pornstars or models, but many of them are very attractive. There's an excellent mix of body types, looks, ethnicities, and other demographics among the participants. Most of the participants are European or Latin American, and as such don't generally speak English as their first language in the streams (typically Russian and Spanish, depending on their location), but when you're watching naked millenials have sex, language doesn't matter so much. They CAN often speak English, and may in private chats – it's just not the language they're speaking most of the time with each other.
SpyGasm's Cost of Watching
Like most voyeur sites, SpyGasm offers a few different ways to watch. You can sign up for free and watch some of the streams (though in less-than-HD quality and with somewhat janky, broken streaming/low FPS. There are also locked cameras that are for premium only – especially in high-action areas.
You can buy a subscription, which gives you full HD access to all cameras. It also provides the ability to play back content from up to 24 hours from all cameras, so you never have to miss anything, even while you sleep. For example, while writing this review, we saw a girl lovingly caressing the slice of pizza she was eating…which was definitely unexpected. Of course she was naked, her gorgeous tits on full display with rock-hard nipples, too, so that was something to see for sure.
You can also buy tokens, which you can use to tip, engage in votes, send private messages to the participants, as well as other interactive features – quite similar to what you see on an ordinary, non-voyeur cam site. Tokens are also used if you want to engage in a private video chat with any of the participants on the site, just like a normal private chat on a cam site. The cost of subscriptions and tokens are fairly complex depending on how many/how long you buy for. To keep things simple, we've provided a screenshot of their rates page for your reference.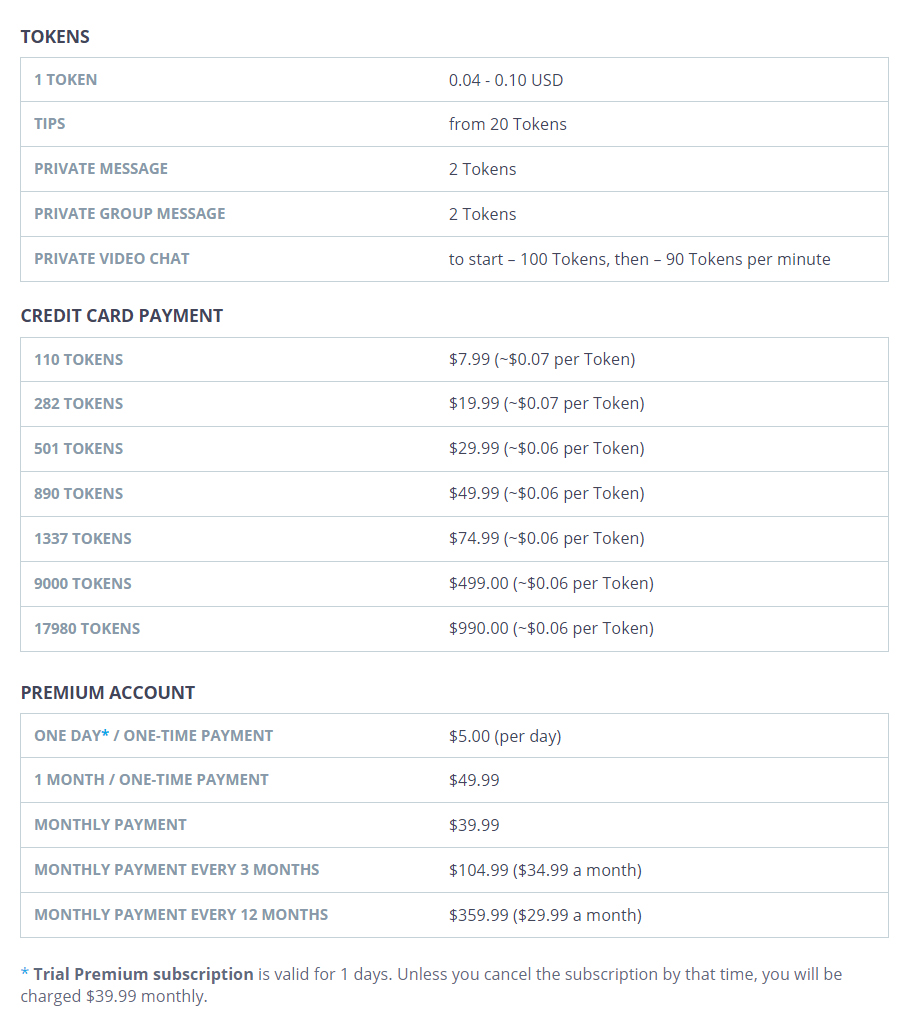 Bonus points for SpyGasm for offering shorter-term subscriptions, so that you can try out the full features of premium before you commit to a month or several months of membership. We also like that they offer a wide range of token packages to suit many different budgets. As always, if you know you want to sign up for the site membership, then go with the longest term possible, as it saves you the most money. Tokens, likewise, are cheaper the more you buy. But don't hesitate to try things out with a small token and short-term membership purchase – you may be pleasantly surprised at how much fun the site can be.
SpyGasm's Site Features
There are a lot of neat features on SpyGasm. Some are comparable to other major voyeur cam sites, whereas others are kind of unique. SpyGasm participants are, in theory, competing to win the right to live in an luxury apartment in either Spain or Miami. This is accomplished through tips, votes, and other activities and contests on the site – so they are motivated to engage in lots of sexy action to try to win over viewers. Some of the features the site offers include:
Multiple apartments with several roommates in each, wired with multiple cameras running 24/7.
Full HD video and high-quality sound (for subscription members).
Profiles of the participants, and the ability to private message them (for tokens).
The ability to request private shows like a normal cam site, which is really not something we've seen on other voyeur sites.
Tips, gifts, and other ways to show your appreciation to the participants.
Online votes, contests, and video contests that help the participants earn points and standing in their quest to win an apartment.
Regular recap videos of drama and updates on major events that have taken place in each apartment, sort of like a reality show, only you can see all the "in between action" that normally you don't see on shows like Big Brother, for example.
Watch archived videos (subscription members), totaling nearly 6,000 at the moment, of all the hot and sexy action from days/weeks/months past.
A blog that keeps you up to date on both site events and things taking place in the participant apartments.
Performance
The site loads quickly and works well. Streaming for free members is a bit weak, with low FPS, sub-HD in most cases, and some lag or freezes in the streams. This is understandable, however, as it's really just a sampling, trying to get you to sign up for a subscription membership. With that said, it runs as well or better than most of the other voyeur sites that we've reviewed, so there are no real issues there.
The interface is also fairly easy to use and standard to most similar sites. You can browse all the currently active cameras in a sort of tiled array of feeds. Or, you can select a particular model or apartment, and see a floor plan, choose a camera, and start watching. The hottest cameras with the most action always rise to the top of the feeds list, so it's pretty easy to find what's going on and get right into it as soon as you log on. For members, there are lots of additional options including the video library, replay of action from the last 24 hours, and more. Everything is fairly easy to use, and we encountered no issues.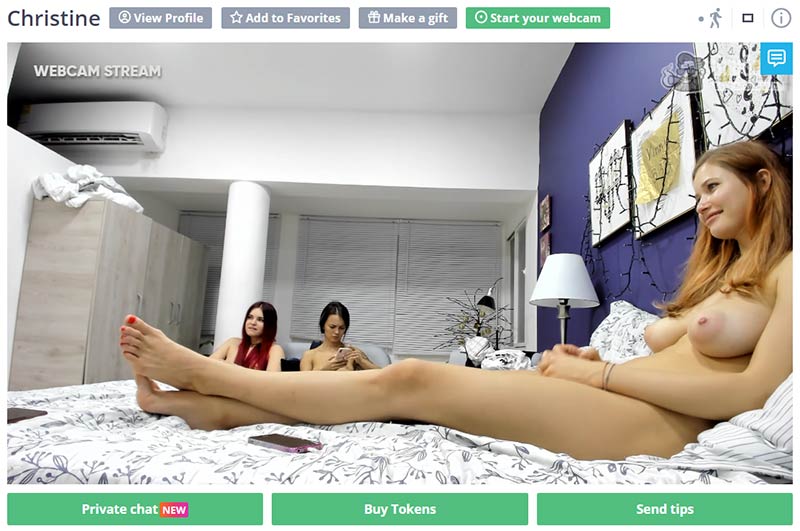 Voyeur Verdict
Pros:
Easy to navigate and find the cams that have the most action.
Good mix of participants and locations.
For subscribing members, cams are all HD and sound quality is good to excellent.
No performance issues with the site.
Attractive participants who are quite active.
Lots of options for purchasing tokens or subscriptions to the site.
Many features, including private shows, that we haven't seen on other voyeur sites.
Cons:
As with a lot of voyeur sites, it's mostly European-based, though with some Latin American participants, too, so there's not much English on any of the streams (mostly Russian and Spanish), which can make things a bit hard to follow if you're more interested in the drama than the sex. Many of the participants can speak English, though, and if requested in a private chat will often do so.
Subscription memberships and token purchases cost money. While they are fairly reasonably priced, comparable to or better than most other voyeur sites, they can still add up over time.
Participants can come and go as they please from the project, meaning the total number of participants, apartments, and cams can vary over time.
Like most voyeur sites, there's a lot of tedium in between action, as people just go about their lives. For a lot of people, that's part of the appeal. But if you're not into it, you can find yourself wondering when they're all going to get to fucking.
For a relatively new voyeur site, there's a lot to love here at SpyGasm. The participants are attractive, and there's plenty of people, cams, and apartments to choose from. We really like that they give you a lot of different options and lengths for subscriptions and token purchases. It's also worth noting that they have many more features and more of a community/user interaction here than we've seen on most other voyeur sites we've reviewed. While free content is somewhat limited, and the stream quality for free members isn't great, even free streams have better video quality and sound quality than we've seen on a lot of similar sites. It's also nice that your subscription basically enables everything – you don't have to pay a separate fee for the archive videos or 24 hour playback, which is something other sites often charge you extra for. So, we definitely suggest you check out SpyGasm if you are into voyeur cams. It's new, somewhat different, and seems to be pretty high-quality. Now, if you'll excuse us, we're going to get back to watching this naked chick eat pizza…
Visit SpyGasm