Soulcams Review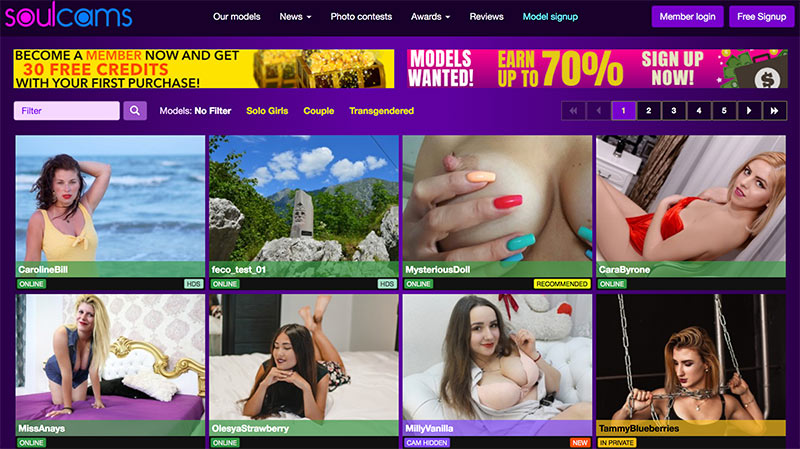 Soulcams.com is a free, small cam site that attempts to find your perfect cam soulmate. It has standard cam site features and sortings that seasoned connoisseurs with cam site tases will appreciate. It is owned by Fluffy Stone Media GmbH, which appears to be a relatively new media company based out of Germany.
Soulcams Chat Costs
Exactly how much is it going to cost for your dick to find its perfect soulmate? Soulcams.com operates on its own virtual currency (simply called credits), which can be used for tipping, buying private shows, entering different viewing options, as well as buying VIP status. Soulcams.com is refreshingly upfront about their pricing and offers two categories of costs: costs for non-members and costs for VIP members. The costs below break down how much packages are, how much non-members pay per credit, and how much VIP members pay per credit.
| | | | |
| --- | --- | --- | --- |
| 29.99 euros/dollars | 24 credits | 2 credit bonus (1.15 euros/dollars per credit) | 2 credit bonus (1.15 euros/dollars per credit) |
| 59.99 euros/dollars | 48 credits | 6 credit bonus (1.11 euros/dollars per credit) | 7 credit bonus (1.09 euros/dollars per credit) |
| 79.99 euros/dollars | 64 credits | 8 credit bonus (1.11 euros/dollars per credit) | 10 credit bonus (1.08 euros/dollars per credit) |
| 99.99 euros/dollars | 80 credits | 12 credit bonus (1.08 euros/dollars per credit) | 15 credit bonus (1.05 euros/dollars per credit) |
| 159.99 euros/dollars | 128 credits | 20 credit bonus (1.08 euros/dollars per credit) | 24 credit bonus (1.05 euros/dollars per credit) |
| 299.99 euros/dollars | 240 credits | 45 credit bonus (1.05 euros/dollars per credit) | 52 credit bonus (1.03 euros/dollars per credit) |
VIP status will cost you 30 credits (not dollars or euros) a month, which is split into two payments every two weeks. If your account doesn't have enough credits at the time of the draft, you simply lose your VIP status until you have enough credits.
What else does VIP status get you besides a credit bonus? Your name is highlighted in yellow so models will know your status, you can buy unlimited credits per day (what a benefit), and you can be invited to private chat by models an unlimited amount of times per day.
In addition to credit costs, you can ask models to go into private shows, as well as "spy" shows where you view the model but can't interact directly. The price per minute varies depending on the model.
Model Manifest
Soulcams.com offers a great variety of categories you can choose models from, but you'll quickly notice a problem as soon as you get to the homepage: there are almost never any models online. During our review, the most models we saw online at once was five, and, depending on the time of day, it could be as few as one or even none.
Aside from the extremely limited amount of models online at any given time, the site offers pretty decent sorting and selection type of models. You can select solo girls, couples, or trans models, or you can search for something more specific. You aren't given a selection of categories to search from, but most common categories are searchable (ebony, teen, granny, etc).
However, and this is worth repeating, there are hardly any models on. We have yet to see couples of trans models online at all. Seems like a pretty important component for a cam site, if you ask us.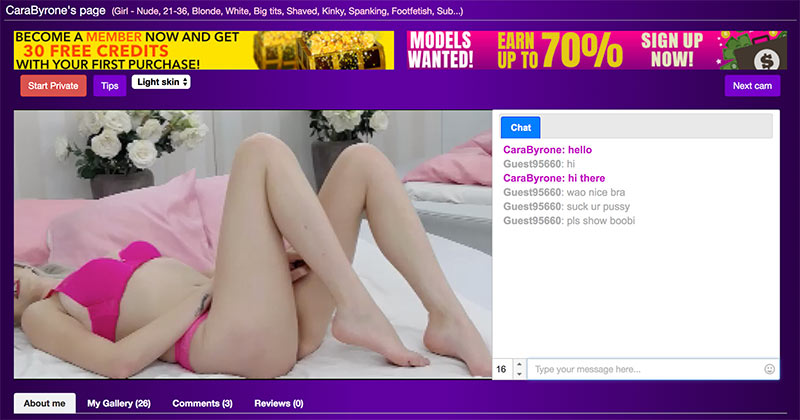 Soulcams' Fucking Features
The features on soulcams.com are pretty standard for a cam site:
Free public chats, paid private chats
Ability to tip models with credits
Private Shows
Spy mode
VIP membership offering a couple of benefits
The ability to search for models by keyword or category
Solid model biographies, including name, age, race, sexual orientation, languages in chat, measurements, reviews from other members, and a typically non-nude picture gallery for guests and a private gallery for paid members.
Models tend to not have a schedule of performance available, so you'll have to keep an eye out for when your favorite model pops online.
Sexy Systems
The site seems to run really well. We're assuming it's able to easily run smoothly because there's hardly any models streaming. But still, credit where credit is due. Cams load quickly and stream smoothly. Costs are very upfront (we were able to quickly find all costs without having to buy any or even create an account).
Something lacking is the inability to search by camera quality type, so if you're looking for models in HD, you probably want to look elsewhere.
Cam Climax
Pros:
Upfront costs
Easily navigable site
Model sorting works well
Cons:
There are barely any models online at any given time
No free nude/sexual content
Very expensive site (smallest increments of tipping are more than $1)
Models not sortable by cam quality
Mobile site is wildly different than the desktop site
Soulcams.com is a promising, decently designed site that appears to be very, very new. So new that there aren't any models available. We started reviewing the site on mobile, which only shows models that are online, and we thought the mobile site was broken because we could only find five models. It was only after we looked at the desktop version (which shows offline models as well) that we realized the issue was a desert of models. And to add insult to injury, the models that are online are just sitting, staring at the cam, waiting to be invited to a private showing.
Even if more models become available, there isn't really anything that would inevitably set this site apart if you're looking for something free or low-cost. The categories are pretty standard, there's no free nude content, and the site seems to only reward "whales" (people who spend an absolutely huge amount of money on the site).
There are far better cam sites that not only offer decent free content but also offer a far larger variety of content and better bang for your buck. You can do better, your penis deserves it.
Visit Soulcams