ShemaleCams.xxx - shemalecams.xxx
This site is one of many white label sites produced by ICF Technology, Inc. of Seattle, Washington, USA. They have literally thousands of white label sites with a similar interface and the same base of models, features, etc. Like most white labels, however, accounts, credits, and similar do not transfer between one site and the others.
Please note, when a particular site is focused on only one gender or niche, despite having a larger catalog behind the scenes, we may review it in several categories. Since this is one of our transsexual reviews, we're just focused on ladyboys, dickgirls, and trans couples here (though you can still access all other gender combinations through the advanced search menu, it's just not the focus of this site or our review).
ShemaleCams' Fees for Femmes
ShemaleCams uses a variable range for private chat costs, and models can choose how much on that range they want to charge for shows. Both private and exclusive shows cost between $0.99 and $8.99 per minute, with exclusive shows (truly private, 1-on-1 experiences) usually being more than the private shows, which support multiple paying viewers. There are also Gold Shows, which are usually a cheaper option, where the model sets a donation amount and a countdown in the free, party chat, and interested viewers need to contribute that much before the countdown ends, in order to enter a group private show, or the donations are refunded and no show occurs.
There is no spy mode on this site – private can have multiple viewers, and truly private chats require exclusive mode. The Gold Shows are also group and not private, but are very popular, because for only a few dollars, you can gain access to an explicit show lasting 10, 15, 20 minutes or more depending on the model's choices.
You'll notice we haven't mentioned tokens or credits yet – this wasn't an oversight. Like all ICF-run sites, ShemaleCams uses real currency for all their prices. There's no need to try to do math or calculations in your head to convert tokens or credits to dollars – it's just simple and straightforward! While there is a site currency, "gold", that is used for tipping and Gold Shows, it's equal to $1, always, and draws from your single pool of deposited funds, so there's no mess (at least, not until you finish). All private and exclusive show costs are expressed in dollars per minute rates.
| | | |
| --- | --- | --- |
| Private Chat | $0.99-$8.99 | $1.00 |
| Exclusive Chat | $4.95-$44.95 | $4.95-$44.95 |
| Gold Show | See Discussion Above | See Discussion Above |
Basically, depending on the model and what they charge, the prices here can be somewhat below other sites, the majority about average or on par with the competition, and higher-end prices being notably higher than other sites (though most are in the low to average range – even the most passable and gorgeous trans girls).
What's more, there are no paid membership/subscription fees here, either. All accounts are either free (unregistered guest), free premium (registered with credit card on file, but no fees charged), or premium (registered and deposited $25 at least once). There's an automatic rewards program, too, based on how much you spend over time, but there's no way to influence it (and it's mostly for models to know who the big spenders are), so it's all passive from the standpoint of site users.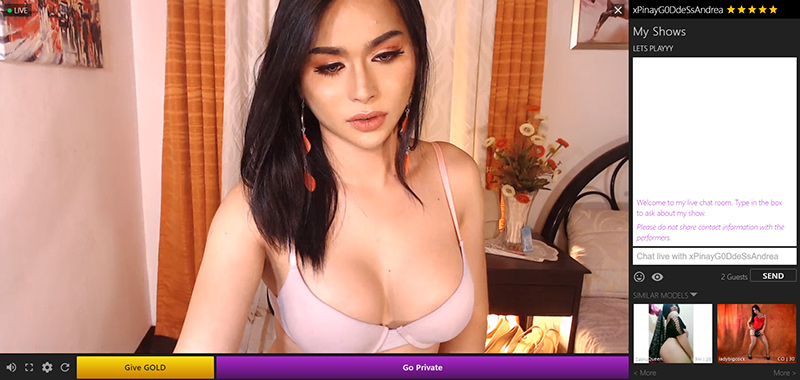 Transtastic Talent
There are some truly gorgeous Tgirls on ShemaleCams, that's unquestionable. With a catalog of over 2,100 transsexual performers, there's a little something for everyone – different looks, ages, body types, ethnicities, etc. You'll usually find a few mixed transsexual couples online, along with 50-60 solo transsexual performers at any given time, too. There are only a few other webcam providers that get anywhere close to this kind of presence on a regular basis, but the ICF-run sites have a diverse and deep catalog of performers registered. The majority of performers are from the Philippines or Columbia, but most countries and regions are represented well, with several North American and European models on most of the time as well.
ShemaleCams' Fully Functional Features
ShemaleCams offers up most of the typical, mainstream camsite features, so there's no shortage of things to do and see here, including:
Free teaser chats, without explicit sexual content
Private Chats, fully explicit, with 1 or more viewers paying a set per minute price
Exclusive Chats, which are truly private, 1 on 1 experiences with the model for a set per minute price
Cam2Cam feature available in all exclusive chats
Gold Shows, which are group shows where all members in the chat pitch in to reach a set dollar goal, then the model performs a private show for all who contributed
Fully-functional mobile version of the site
Interactive toys supported, though few trans models use them (most often in tip-activated mode)
Model tipping is available in all chats
Confidential phone-based audio service is also offered by some models
Model profile pages for each model, offering basic information, turn-ons, kinks, cam schedule, and pre-recorded videos for purchase
Models can be bookmarked/added to your favorites, and also messaged privately through the site's e-mail messaging system
Occasional events and contents, listed on the Calendar section of the site
Passing Performance and Naughty Navigation
When it cums to performance, ShemaleCams delivers with rock-hard results. The site runs smooth and silky like a Tgirl's shapely ass. Browsing, filtering, and searching are responsive, with no noticeable delays in page loading. At the same time, the chats/shows themselves are also lag-free, with no buffering or hiccups, even when models stream in full HD. ICF definitely has the technology figured out for a great video chat experience.
Navigating the site is easy, with direct search options, browsing, a sidebar of category filters, an advanced search with 10 or so categories to refine by age, cock size, pubic hair, and more, some additional sorting criteria at the top (such as HD only cams, sort by region, sort by language, etc.). The main sidebar filter categories include things like Asian, Big Cock, Big Tits, Latino, Mature, Teen, Uncut, etc. Taken as a whole, all of these navigation, filter, and sorting features offer users a tremendous number of ways to drill down, deep down, into…uh…sorry, what? Oh yea, finding the models that suit their tastes.
Rock-Hard Results
Pros:
Over 2,100 registered models with 60 or so on most hours and most days, and more at peak times
Most typical cam site features are available
Multiple show types to suit different budgets
Site and chat performance is very high-quality
A wealth of options for filtering, sorting, and browsing the models
Straightforward real world currency system for chat and video purchase pricing
Cons:
Private show costs can add up quickly
Private show pricing is variable per model
No real free explicit content, all behind a pay wall
ShemaleCams is definitely worth taking a look, then another look, then another look. While there's not much free explicit content, you get what you pay for – and there's definitely quality fun available here for those willing to pay for any of the 3 types of shows. There's a great variety of Tgirls to admire, along with a full range of site features and great performance characteristics. Add to that the real currency model that keeps prices super-simple, and you can totally focus on enjoying your time with an exotic shemale performer, or two, or three, or four…
Visit Shemalecams.xxx