Sexier - sexier.com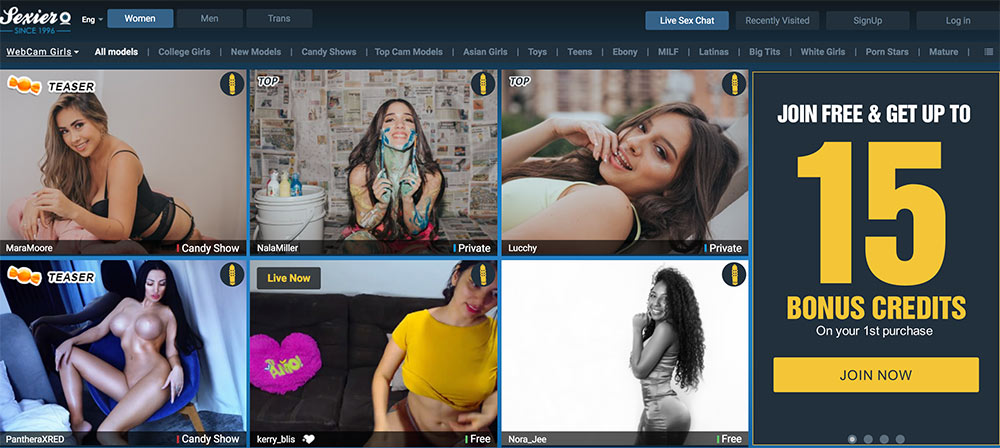 Sexier.com has been online since 1996, and is part of the PussyCash network that includes affiliates ImLive.com and CamsCreative.com, as well as their affiliated gay and fetish sites.
As of December, 2018, Sexier is the 170,278th most-visited website worldwide, the 9,001th most-visited adult site, and the 53,331st most-visited site in Germany, the country in which it is most popular. Its Alexa ranking is 194,659, and its US Alexa ranking is 167,175. 23% of the site's users are from the Germany, 14% are from the UK and 13% are from the US.
Sexier Chat Costs
Chat costs on Sexier are set by individual models, so there is variation, but all in all their prices are lower than the average cam site.
Group shows (Sexier calls them Candy Shows) are among the cheapest we've seen. These shows require a minimum tip to buy a set amount of time, but with prices as low as $1.00 for a 10-minute show, there's plenty of spicy action for any budget.
Private shows run a little higher, but we've still seen rates as low as $0.98 a minute. These shows offer Cam2Cam access, and some models will offer a discount for longer sessions.
Sexier models accept payments in credits, which are tied to the US Dollar. 1 credit is equivalent to $1 US, so users with non-US currency will need to do some math. Sexier.com also accepts PumaPay cryptocurrency for payment, and offers 15% bonus credits for these transactions.
We've toured Sexier.com's models, and looked at the price range you'll find there. Some of the top models will charge up to $6 per minute for a private show, but $2 is about average.
| | | |
| --- | --- | --- |
| Private Show | $0.98-6.00 | $4.90-$30.00 |
| Group Show | $0.10-$1.00 | $0.50-$5.00 |
There is no membership required to join in public chats, and this is probably one of the best sites we've seen if you're looking for free content. Many of the models use Ohmibod or similar interactive toys in public chat, although you'll need to buy credits if you want to play along.
Sexier.com does not charge for a free membership, but there is a minimum purchase size of 25 credits, so you'll need to drop at least $25 if you want access to any private shows or group shows. There is no monthly fee, and no automatic billing.
Model Manifest
Sexier's model selection goes deeper than most cam sites. At the time of this writing, there were 1,277 models streaming. 1147 of these were solo females, 46 were couples or groups, 17 were gay solo males, 9 were straight solo males, and 58 were transsexual. There's something here for everybody, but the site definitely emphasizes female models.
A small number of models, currently 178, are in separate "shy girls" and "friends and romance girls" sections. These models are on the site for flirting and conversation, and are not typically willing to do anything sexual.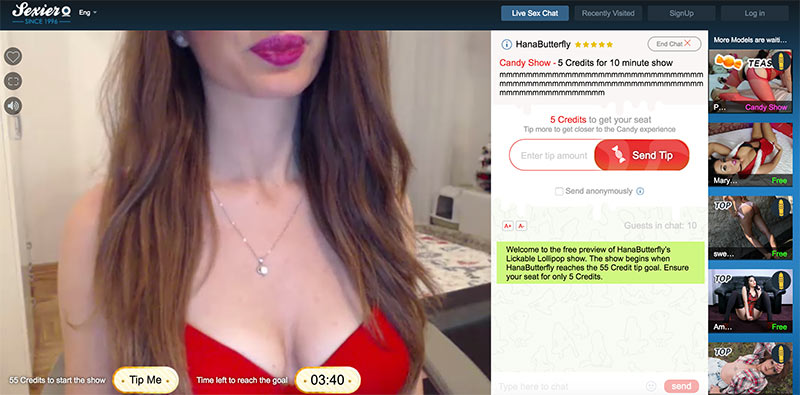 Sexier's Fucking Features
Sexier offers a wide variety of features available in group, private and public chats including masturbation, interactive sex toys, anal, dildo shows, group shows, simulated blowjobs and a wide variety of fetish activity.
Free public shows with interactive toys and optional tipping.
Group shows or "candy shows", where models set a goal and a minimum tip. Those who tip the minimum are guaranteed access to the show, and the show is typically described in advance so you know what you're paying for.
Private shows charged on a per-minute basis, with rates set by the models. Activities can be worked out in advance via group chat or private message.
Cam2Cam enabled by default for private shows.
Mobile site is clean and has all the same functions as the desktop site.
Camera quality is generally high.
Ability to view pre-recorded shows for $1.99 to $20.99 per show. Shows are not purchased, only "rented" for 72 hours.
Model profile pages with details, preview pictures, pre-recorded video and the ability to add models to a favorites list.
Many models speak English as a second language, with a wide variety of primary languages.
Private messaging with models and other users.
Monthly model awards, with a special search category for award-winning models.
Separate categories for "shy girls" and "friends and romance girls".
No popup ads, and banner ads are unobtrusive. The only ads are for Sexier.com's own features.
Sexy Systems
Sexier.com's homepage features a thumbnail gallery of model images that should be familiar to any cam site user. Mousing over these thumbnails will give a preview of the current live stream, as well as display icons indicating if the model is working towards a candy show or has an interactive sex toy. By default, the site displays only female models, but male and transsexual models are easy to find by selecting those specific categories.
The site's advanced search feature is one of the sleekest around, with a tab-and-tile based interface that allows you to mix and match between 79 different categories, in addition to filtering by age range, price range, cam rating and language. For example, a search for busty Italian models with a curvy physique who are into fisting and leather, have tattoos and piercings, with black or auburn hair and shaved pussies, who are under 39 years old brought up two results. Impressive!
Video quality is generally good, with fast load times and minimal latency, although some cams did have relatively low framerates. Audio quality varies by model, but is also generally good. Sexier.com loads well on mobile, and has a stripped-down interface that emphasizes model thumbnails, with all menus collapsed into a single hamburger menu on the top of the page.
The site's pre-recorded video option is probably its weakest feature, with no ability to download, or even permanently purchase the videos. Advertising is minimal, with only a single banner ad that promotes Sexier's paid features.
Cam Climax
Pros:
Thousands of models to choose from
Mobile site works well on virtually any phone
Ads are unobtrusive
No autopay system
Lots of steamy content in free shows
Low prices for group and private shows
Cons:
No purchase option for model videos
Sexier.com may have been around since 1996, but they've aged much better than *NSYNC. Their page loads quickly, scrolls smoothly even on a cheap Chromebook, and the model streams are mostly high quality. If you're looking for quality paid content, look no further. And if you want to get your rocks off for free, Sexier has some of the steamiest public chats out there. This site's tissue rating? Five out of five.
Visit Sexier.com