PornoRoulette - pornoroulette.com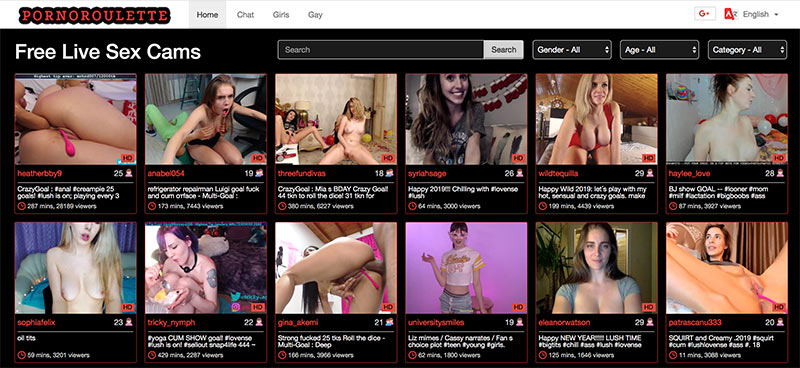 PornoRoulette.com is a free cam site with what you love to see from a cam: lots and lots of girls and guys fucking themselves and others. It's owned by Chaturbate.com, the more widely known and enormous cam site. So how does it stack up against the horde of cam sites?
PornoRoulette Chat Costs
PornoRoulette.com doesn't deviate from the traditional means of costs or interacting with models. You can tip a model, request a model go into a private show, as well as enter into "spy" mode, which is viewing a private show but not being able to interact. You're able to engage in these activities by using the site's online currency (tokens). The cost is as follows:
The pricing packages are described a little differently on the payment page, but we're talking less than a cent difference per token among the available packages. This means that you can always buy a smaller package of tokens to see if it's something you'll use, and you're not missing out on the "bonus" tokens of higher packages.
There are also a couple of different "private" chat options that you can choose from. They have certain models categorized into different pricing rankings for a private chat, ranging from:
100 tokens for $10.99 ($0.11 per token)
200 tokens for $20.99 ($0.105 per token)
400 tokens for $39.99 ($0.10 per token)
550 tokens for $49.99 ($0.09 per token)
750 tokens for $62.99 ($0.83 per token)
1000 tokens for $79.99 ($0.8 per token)
In order to buy tokens, you need to first create an account, which is a relatively painless process. You can pay via credit card or cryptocurrency if you happen to have a pile of Bitcoin burning a hole in your pocket. You can tip as low as 1 token, which means if you really want to interact with models, the cost is pretty low. Private shows and spy mode vary depending on the model. During our review, we saw as low as 6 tokens per minutes, to 30 tokens per minute and more. Beyond that, there doesn't seem to be any hidden costs or undue fees.
There also aren't novel ways to interact with the model. It's relatively inexpensive (depending on what you want), but if you're looking for something different than what you would normally find, you better start looking elsewhere.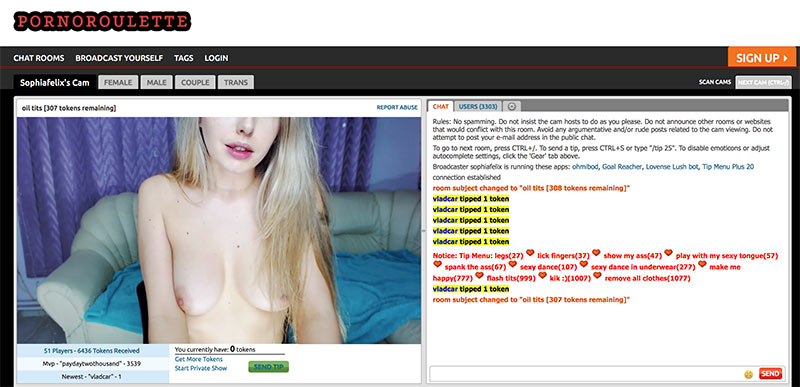 Model Manifest
There are a lot of models to choose from, and you'll be able to search by relatively traditional means. The models are categorized into male, female, couple, trans, and models that are already in private shows (so you can have the option to go into spy mode).
The activity that you'll find is...pleasing. Most models are in "free" mode, where anyone can view them, and you'll find them engaged in various levels of self-pleasing (or just good ole fashion fucking if you're looking at the couples category). It's easy to find something you like and to enjoy yourself even if you're not looking to spend money.
You can't search by hashtag, so trying to find a specific niche cam performer (like ebony, BDSM, gilf) will be challenging. You can search by age range, and as well as the location of the performer, which might help you find your fancy. But actual searching is pretty limited. You can search by performer name if you happen to be looking for someone in particular.
PornoRoulette's Fucking Features
You'll find the features on PornoRoulette.com to be acceptable and what you'd expect from a cam site:
Free chats, both public and private
Ability to tip models
Private Shows
Spy Mode
Limited search filtering options
Model Biographies, including location, sexual orientation, age, and public/private videos
It also has a "broadcast beta" option, where users can broadcast straight from their phone. The feature seems to be in progress. There's nothing that's really different than what you would usually find on a free cam site.
Sexy Systems
The site is well designed and functions very smoothly, as one would expect from a Chaturbate site. The cams we tested all loaded quickly and streamed easily. The cam thumbnails are fantastic, in that the thumbnail actually shows what the model is doing at the time. There's no guessing whether or not the model is actually online, actually clothed or not, or what salacious activities they may be engaged in.
The model categories work accurately, and it appears that filtering by geo-location also works well. Even though the site is relatively simple, everything on the site seems to work very well.
Cam Climax
Pros:
Lots of models available for viewing
Ability to interact with models at an extremely low price point (a single token)
Very large availability of free nude content (most models viewed were either nude or engaged in sexual activity)
Cons:
Literally Chaturbate.com, just reskinned
No hashtag or category searches
No features or niches that make it stand out from other sites
PornoRoulette.com is a great free-cam site. You've got loads of free nude content, plenty of girls/guys fucking themselves for free public viewing, and it's like a dime to tip models if you want to interact. It's really what we love when you're looking at a cam site. What you get for your money is pretty decent, too. You can essentially throw dimes and quarters worth of tokens at the models, and a low barrier of model interaction beyond a free chat that they may or may not respond to is always a welcome surprise.
However, it really lacks in terms of originality, namely that it is very nearly the exact same site as Chaturbate. The menu selections and format is the same, the filtering options are the same, categories are the same, even the token pricing structure is the same. There may be some model variation between the two (some hosted by Chaturbate, some not), but other than that it's the same site. So it is worth a visit? Sure, who among us doesn't want to see a girl pretending to orgasm as you give her sub-dollar tips? But if you're already a fan of Chaturbate, you might not want to waste your time, as it is nearly the exact same site, down to where the damn graphics and icons are (even the same "beta broadcast" feature).
Even though it's kinda cheating when you're literally another site altogether, PornoRoulette.com is still a good time, full of free content, and affordable ways to play. Give it a good ole fashion wank.
Visit PornoRoulette