PornHubLive - pornhublive.com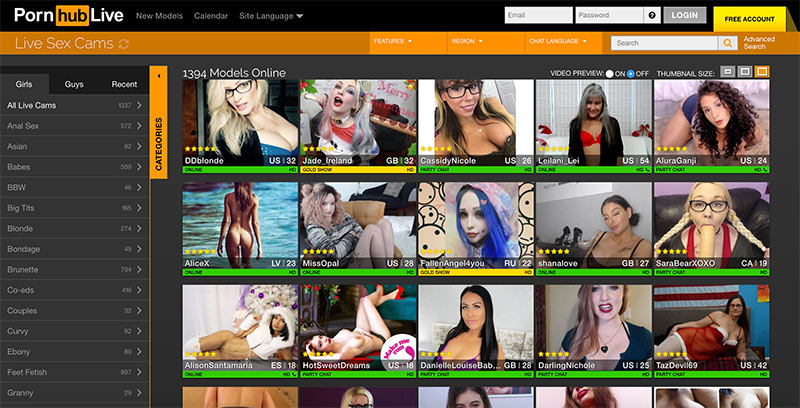 Pornhublive.com is a white label of Streamate.com, we suggest that you go there first.
PornHubLive.com was created in May, 2008 as the live sister site of PornHub. It's owned by MindGeek, owners and operators of the PornHub network, the Babes.com network, Brazzers.com, and their affiliated gay and fetish sites.
As of December, 2018, PornHubLive is the 15,091st most-visited website worldwide, the 5,086th most-visited website in the US, and the 1,144th most-visited adult site. Its Alexa ranking is 21,413, and its US Alexa ranking is 5,100. A whopping 51% of the site's users are from the US, with an additional 6% from Canada and 4% from the United Kingdom. The largest group of non-English-speaking visitors is from Brazil, with about 5% of users.

PornHubLive Chat Costs
On PornHubLive, individual models set their own prices for their own shows, so you will see some significant variations. There are three main types of shows.
Open sessions are similar to group chats on other sites.
Group shows allow performers to set a minimum donation amount to reserve a spot for the show, as well as a total donation goal to get the show started. The length of the show and activity are usually specified in advance, for example "$5 for 8 minutes of pussy play".
Private shows allow you to have private access to a model's cam, with Cam2Cam access enabled by default. Other users can still chat with the model, but will have to pay for private access to do so.
Exclusive shows are true one-on-one experiences with the model. No other users can join the show or chat with the model.
PornHubLive models accept payments in real-world money, with per-minute prices based on US currency. There is no token system, but users do have the option to tip models in "gold", which costs one unit of the user's local currency. For example a US user would pay $1 US for 1 gold, but a Canadian would pay $1 Canadian, while a British user would pay a hefty £1 for the same gold.
Prices on this site vary widely. Some top models will bill upwards of $10 per minute for a private show, or over $15 for an exclusive. For most models, prices are far lower, in the $4-$6 range for private shows, or about $5-$7 for an exclusive. Group shows are considerably cheaper, and some are even free. You'll need to create a free account and tip $0 to reserve your spot, though.
| | | |
| --- | --- | --- |
| Group Show | $0.00-$1.25 | $0.00-$6.25 |
| Private Show | $2.29-$11.99 | $11.45-$59.95 |
| Exclusive Show | $4.99-$19.99 | $24.95-$99.95 |
Public chats are free. These can be worth checking out if you're looking for an interactive toy show. That said, you'll need to create an account if you want to tip and play along.
PornHubLive.com charges no monthly membership fees, and all paid features display a prominent warning popup that requires you to specifically agree to the charges.
Model Manifest
PornHubLive's biggest strength is its array of hot models. We're browsing this site two days before Christmas, on a Sunday, at 7 AM Eastern time. This has to be one of the worst times for browsing a cam site, and there are still 1,185 models live-streaming. Of these, 1,040 are solo females, 60 are transsexual, 5 are couples and 80 are solo male. If you're a human being with a pulse, there's something for you here.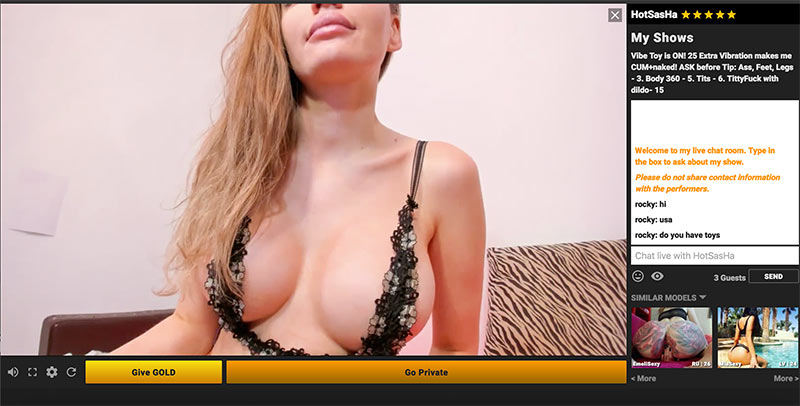 PornHubLive's Fucking Features
PornHubLive offers group shows, private shows and exclusive shows. Prices range from free to fairly expensive, but most shows are reasonably priced.
Public chats that sometimes involve interactive sex toys.
Group shows range from free to very cheap.
Private shows, across a broad price range.
Exclusive shows, a bit more expensive than private shows.
Cam2Cam is available for most private shows and exclusives.
Video quality is generally high.
Model profiles include fetishes, preview pictures, free and premium videos, and the ability to add models as favorites.
Users can purchase premium videos. Prices are set by individual models, and range from $10-$15 for shorter clips, up to $59.99 for a longer video by one of the site's top models.
Private messaging with models and other users.
Users can set a daily spending limit to keep themselves from going overboard.
No ads.
Sexy Systems
PornHubLive's thumbnail-based homepage should be familiar to any cam site user. Thumbnails display model profile pictures only, and do not show a preview of the cam. They do, however, display a prominent banner over models who are in a private or group show. On the mobile site, the thumbnails collapse to a minimalist, tile-based layout, and the search menu on the side of the screen is collapsed.
Female, group, trans and male models all display together by default, and are sorted by individual cam score. Menus can be quickly filtered by gender using the sidebar, or users can take advantage of the advanced search feature. PornHubLive's advanced search allows users to filter models by 64 different tags including body type, fetishes, language, hair color, gender, ethnicity, and so on.
Because PornHubLive doubles as a dating site, it has more emphasis on conversation and getting to know the model, so expect to spend more time here than you will on other, "wham, bam, thank you ma'am" cam sites. On the other hand, the per-minute rates are lower than most sites, so your bank account should come out about the same in the end.
Because the site's models are independent contractors, there is some variation in video quality. That said, even the lowest quality streams were better than a lot of sites. A majority were in HD, and all the models seemed to have good internet connections without any latency or lag. PornHubLive is a paid site, and there are no ads of any kind. The only popups are payment confirmations, which we appreciate.
Cam Climax
Pros:
Over 230,000 models
Mobile site is modern and minimalistic
No ads
No autopay system
Models grouped by interest
Male/female/trans models listed separately by default
Cons:
No download option for model videos
No way to preview model streams
No free content whatsoever
The most important thing you should know is Pornhublive is a white label of Streamate. With that said, PornHubLive is one of the best-looking cam sites we've seen. The community is active, the pricing is transparent, and the models are hot. Whether you're looking for an exclusive, VIP chat with a top model, or whether you're just looking to lurk during an Ohmibod show, this site has you covered. PornHubLive.com earns a five on the tissue scale.
Visit Site