MyTrannyCams - MyTrannyCams.com
MyTrannyCams isn't just your typical, vanilla cam site. Sure, there are plenty of hot models. But as the site's name implies, all the models are trans girls, ready to beat their meat for your enjoyment.
The site is owned by Docler Holding, a cam site operator that has run MyTrannyCams since 2006. Oddly, the country where it's most popular is the Czech Republic, but no worries. The vast majority of the girls speak English.
So, is MyTrannyCams worth your time and money? Let's find out!
MyTrannyCams Chat Costs
MyTrannyCams offers three types of shows: public, private, and VIP shows. Here's a quick rundown on what you can expect to pay for each of them.
In a public show, the model's chat is open to the public. Anyone can watch and participate in the chat. The good news is that you can enjoy one of these shows for free. That said, there are a couple of limitations.
First off, these girls don't beat their she-cocks for free. Somebody's gotta throw them some tips. And if nobody's tipping, you can end up wasting your time.
Second, if someone else is doing the tipping, they're controlling the action. So even if you do get to see some spicy action, you're not in control.
In a private show, you're in control. You also don't have to worry about other users cluttering up the chat. It's just you and the model.
That said, you pay a price per minute for this type of show. The prices are uniform across the site, at 1.99 credits per minute. You don't pay extra for their hottest models, but you also don't get a discount for newer models or niche models.
Finally, in a VIP show, multiple users participate. The model will set a goal in advance, for a pre-agreed show type. For example, she may set a goal of 200 credits for a 10-minute show.
Users pledge a certain amount of credits to get access. If the model meets her goal, the credits are deducted from your account, and anyone who pledged gets access to the show. If she doesn't, you pay nothing, and there is no show.
So, how much do credits cost? It depends on your payment method. If you pay with a credit card, credits will cost $1.10 apiece. Otherwise, they will cost $1.20 apiece. There is no discount for buying larger credit packages.
| | | |
| --- | --- | --- |
| Private Chat | $2.20-$2.40 | $11.00-$12.00 |
You can buy MyTrannyCams credits with a credit card, PayPal, Skrill, or cryptocurrency. You can also use retail gift cards from over 100 stores via Paygarden.
In addition, there are a couple of ways to get free credits. First, you can validate your credit card. This costs nothing, and will net you a one-time package of 9.99 credits. Admittedly, it's not much, but it's enough for five minutes of private chat.
You can also play MyTrannyCams' "spin the wheel" game to get free bonus credits on your first purchase. The result is totally random, and can range from a 5% bonus to a 100% bonus. Keep in mind, this offer is good on your first purchase only.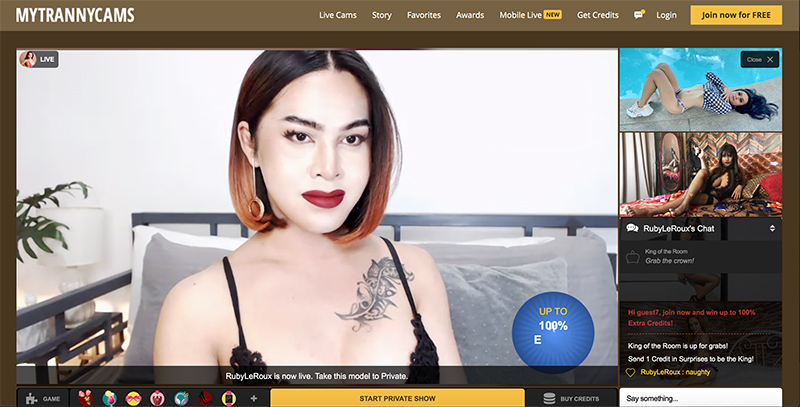 MyTrannyCams Models
MyTrannyCams does not provide a listing of all their models. Only online models are visible. As a result, it's impossible to say exactly how many models they have in total.
That said, there are plenty of options to choose from. At any given time, there are between 50 and 100 models online. Needless to say, all of them are trans girls. You won't find any vanilla female models, dudes, or couples on this site.
Suppose you want to know more than just what you see in their profile picture? In that case, there are plenty of filtering options.
Using the menu on the left side of the page, you can sort models by tit size, dick size, and various fetishes. So if you want to find models who will perform a live cumshow, a couple of clicks will get you there.
MyTrannyCams Features
So, besides a bevy of busty T-girls, what else does MyTrannyCams have to offer? Here's a quick overview.
Free public shows
Private shows at a reasonable price
VIP shows for groups
Thumbnail display with previews
Model profiles with pre-recorded videos and pictures
Plenty of sorting options to choose from
MyTrannyCams Sexy Systems
MyTrannyCams has a tile-based layout that should be familiar to any cam site user. By default, each thumbnail shows the model's profile picture. However, if you mouse over a thumbnail, you'll see a preview of the current cam session.
Search options are available from a menu on the left-hand side of the screen. There, you can easily sort models by a variety of criteria.
On the mobile site, the search menu is collapsed into a hamburger menu at the top of the page. The mobile site has a very clean look overall. As a bonus, models who are already in a private chat will be listed at the bottom of the page, with a "private chat" banner over their image. On the other hand, there are no live previews on the mobile site.
Each model has her own profile page. On these pages, you can see what hours she's regularly online, as well as any fetishes she's into. You can also spend credits to buy access to pre-recorded videos and pictures. So if your favorite model isn't online at the moment, you can still enjoy her content.
Conclusion
Pros:
Plenty of hot models
Easy-to-use interface
Well-designed mobile site
Affordable pricing
Can buy tokens with cryptocurrency and retail gift cards
Cons:
Not a lot of explicit content in free chat
No discounts for large token purchases
MyTrannyCams is a reasonably-priced cam site with plenty of smoking hot trans models. They have a modern interface, with previews on the thumbnails and complete model profiles. The mobile site is well designed and easy to use. Not only that, but the girls are hotter than you'll find on most other trans sites. If you like trans girls, it's well worth your money.
Visit MyTrannyCams