MyFetishLIVE - myfetishlive.com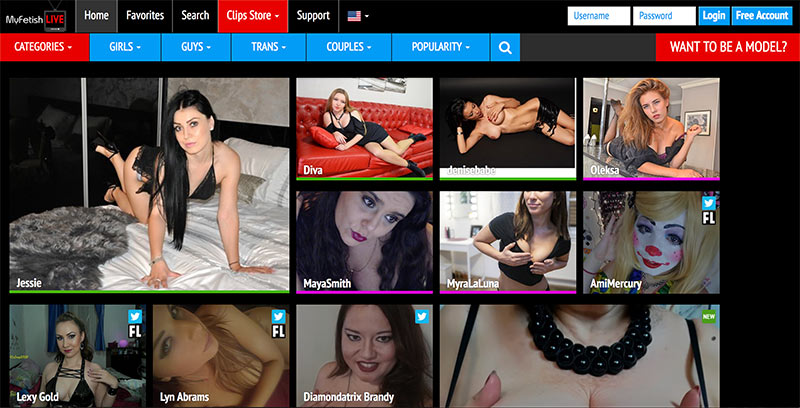 MyFetishLIVE.com is a relatively new cam site, registered in September, 2015. It is the flagship site of the MyFetishMoney.com network. Affiliates include popular fetish site Wasteland.com, although other affiliates are not visible at this time.
As of December, 2018, MyFetishLIVE is the 1,075,046th most-visited website worldwide, and the 1,005,755th most-visited website in the US. Its global Alexa ranking is 1,298,615. There's not enough traffic data on this site to determine country-specific rankings or traffic breakdowns.
MyFetishLIVE Chat Costs
MyFetishLIVE's models set their own prices for shows, so there's some variation in pricing. Shows come in three types:
Group shows allow multiple users to participate in the show, with all users paying the same price.
Private shows allow you to have private access to the model's chat, and to be the "director" of the show — or let the model be the director, if you're into that kind of thing.
Voyeur shows allow you to spy on someone else's private show. You will be able to view the model's cam, but not participate in the chat.
All shows require the user to specifically approve charges, which are paid in tokens. MyFetishLIVE.com's tokens are available in a variety of packages, but cost $0.10 per token regardless of how many you buy. At this time, this site accepts payment by credit card only.
| | | |
| --- | --- | --- |
| 100 Tokens | $10.00 | $0.10 |
| 200 Tokens | $20.00 | $0.10 |
| 250 Tokens | $25.00 | $0.10 |
| 500 Tokens | $50.00 | $0.10 |
| 1000 Tokens | $100.00 | $0.10 |
| 1500 Tokens | $150.00 | $0.10 |
| 2500 Tokens | $250.00 | $0.10 |
| 3000 Tokens | $300.00 | $0.10 |
| 5000 Tokens | $500.00 | $0.10 |
We browsed the site for a bit, and kept track of the rates models were charging. The price range we found was fairly broad, but only a couple of top models charged more than 50 tokens a minute for private shows, or more than 20 per minute for group shows.
| | | | |
| --- | --- | --- | --- |
| Private Show | 10-40 | $1.00-$4.00 | $5.00-$20.00 |
| Group Show | 30-100 | $3.00-$10.00 | $15.00-$50.00 |
| Voyeur Show | 7.5-50 | $0.75-$5.00 | $3.75-$25.00 |
Public chats are free, and do not require an account. Some models offer interactive public shows with Ohmibod or LoveSense toys, which are the best opportunity lurkers to find free content. Model preview images and preview videos are also free.
Users can purchase videos from MyFetishLIVE, but not download them. Prices range from 20 tokens ($2.00) all the way up to 500 tokens ($50.00) per video. There are no monthly or recurring charges of any kind, which is nice.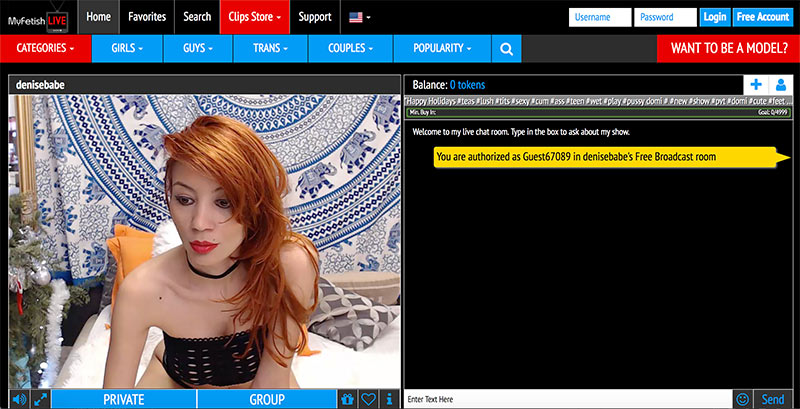 Model Manifest
Are you looking for a large selection of models? You won't find them on MyFetishLIVE. At the time of this writing, there were 8 models online, all of whom were solo females. The main page shows all models by default, with the ability to filter female, male, trans and couples models via the top search bar.
MyFetishLIVE's Fucking Features
MyFetishLIVE is a fairly minimalist site, but it does have enough features to keep things interesting. These include:
Free public chats, with the ability for users or the model to trigger a group show.
Group shows, with rates set by the individual models.
Private shows.
Voyeur mode for users to spy on private shows.
Public interactive sex toy shows.
Users can purchase videos, with prices set by the models.
Users can add models to a favorites list for easy access.
Model profile pages with preview images and videos, as well as videos for purchase.
Minimal advertising.
Sexy Systems
Navigating MyFetishLIVE is like a nostalgic trip to the days of 56K dialup modems. The site loads slowly, and there's no noticeable reason why. The main page is a simple, tile-based layout with a search bar and a single, unobtrusive banner ad. Featured models have larger tiles, and online models are shown at the top. There is no preview feature when you mouse over a model's image, but the tile will display their rates after a few seconds.
MyFetishLIVE's search bar allows you to filter models by sex, or to quickly filter by specific categories, although this feature is currently broken and does nothing but bring up a blank search bar. Thankfully, the advanced search feature allows users to search by categories including age, sex, ethnicity, hair color, and so on. This feature was unnecessary, since there were only 8 models online to begin with.
The videos themselves are mostly low-resolution, with frequent lags and high latency. This was made worse by the fact that MyFetishLIVE's chat rooms seem to prioritize literally everything else over video traffic. The chat interface, the model's profile, and the recommendations for other models all load before the video. This makes no sense, particularly since the site already loads so slowly to begin with. Audio quality was also hit-or-miss, with a lot of variation in volume.
The mobile version scales well and works the same way as the desktop site. This site's best feature is its video section. From the top of the page, you can access all premium videos from all models. There are 320 videos to choose from, with a variety of niche fetishes represented. If you've ever wanted to watch a guy insert a butt plug, put on a diaper, and jerk off, you're in luck. Girls in leather, bondage, submission, sexy torture sessions, it's all here.
Cam Climax
Pros:
Solid premium video collection
Unobtrusive ads
Cons:
Small selection of models
Poor video quality
Site loads slowly
Categories search bar feature does not work
MyFetishLIVE seems to know what their users are looking for, but is not able to deliver. The site feels unfinished, and after three years, there's simply no excuse for a broken feature on the main search bar. Between the long load times, the 20th-century video quality, and the small selection of models, there's not much to like about this site. Don't blow your wad here, because you won't blow your load.
Visit MyFetishLIVE.com