Morbocams - morbocams.com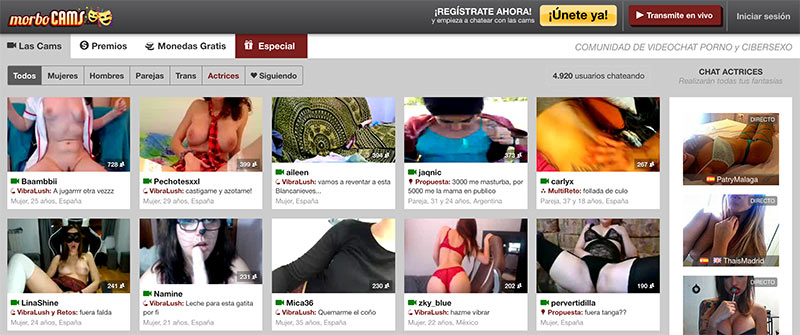 Morbocams.com is a Spanish cam site that was registered in March of 2014. There is no publicly available information on the owners, and a site traffic search shows that data is only shared internally or with ad networks. It's safe to say that this is an independent, standalone site.
As of March, 2019, Morbocams is the 139,198th most-visited website worldwide and the 4,620th most-visited website in Russia. Its Alexa ranking is 157,001. 78% of the site's users are from Spain, 4.3% are from Colombia, and 2.5% are from the US.

Morbocams Chat Costs
Public chats on Morbocams.com can be viewed by anyone, and some of these chats are pretty spicy. It only took us three clicks to find a girl with a dildo up her ass, which is better than you'll find for free on most cam sites. Of course, if you want to tip the models or participate in a private chat, you'll want tokens, and that requires a membership.
Initial signup is free, and you'll get 400 free tokens if you confirm your email address. After that, you can buy tokens in several packages. There's also a premium membership that costs €4.95 (currently $5.63) per month, and gives you 2,500 free tokens for the first month. Premium members can expand model videos to fullscreen mode, and get placed at the top of chat room lists.
Autobill warning: The monthly membership will automatically renew every 30 days until you cancel it. If you're outside the Eurozone, the price will fluctuate based on current exchange rates.
Of course, other prices will float with exchange rates, too. We've listed the prices in Euros and dollars, but just keep in mind that the dollar exchange rate was calculated in March, 2019, and will probably be different when you're reading this. As always, the best deal is highlighted.
| | | |
| --- | --- | --- |
| Credit Card | | |
| 1,000 tokens | €1.99 ($2.27) | €0.002 ($0.00228) |
| 5,000 tokens | €4.99 ($5.69) | €0.001 ($0.0011) |
| 20,000 tokens | €20.99 ($23.93) | €0.001 ($0.0012) |
| 40,000 tokens | €38.99 ($44.45) | €0.001 ($0.0011) |
In addition to public shows, there are two types of paid shows:
Group shows, where the model sets a tip goal. Anyone who contributes towards the goal will get access to the group show, provided the goal is met. If it's not, though, you're out however many tokens you tipped..
Private chat gives you one-on-one time with the model at a per-minute price that's set by individual models.
We would have liked to give you an average rate, but the pricing isn't very transparent. Morbocams kept telling us we needed more tokens, but it didn't say how many or what the cost was per-minute.
This site seems to be more interested in getting people to pay than it is in providing any kind of value. Another example is the fact that the entire site is in Castilian Spanish and has no translate option — except for the billing page, which can be translated into Russian, Polish, Czech, French, English, German or Hungarian. Look, make a Spanish site if you want. Make a Russian site if you want. And don't provide a translate option if you don't want to — Google Chrome can do that for us — but don't insult us by translating the billing page and nothing else.
We understand that this is a business, and they exist to make money. All porn sites do. But they should at least tell their customers what they're paying for and what the price will be.
Model Manifest
If the opaque pricing isn't enough to turn you off, consider this: at the time of this writing, there were only 60 models online. 32 of these were female, 21 were male, 6 were couples, and one model was trans. Most of the models speak only Spanish, which is to be expected on a Spanish-language site. Google translate will handle the live chat for you if you like, and we were impressed with its ability to translate words like "cumshot" and "suck my cock".
While there's no model total available, Morbocams will allow you to see a list of all models who have been online in the past 24 hours. This brought the model total up to 410, which still a small number.
If you speak Spanish, this is a very inclusive site with about the same amount of content for gay people and straight people alike. Which is to say, gay people and straight people will both find an equally limited selection.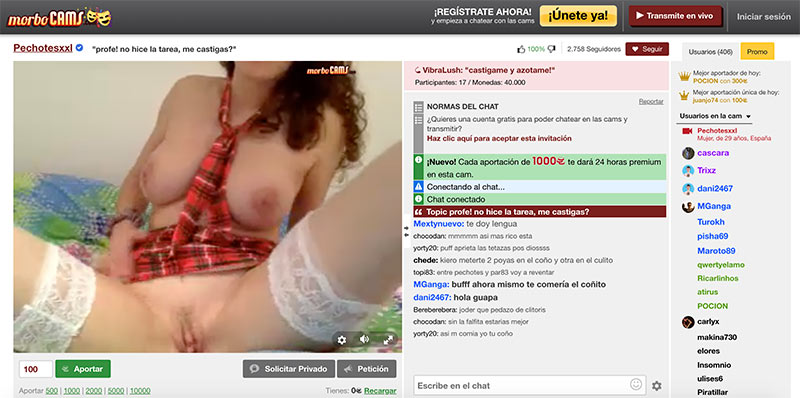 Fucking Features
In addition to paid chats, Morbocams has some other features that are worth mentioning:
Public, interactive sex toy shows where tips cause the toy to vibrate.
Premium videos available at rates set by individual models.
Cam2Cam enabled by default for private chats.
Model profile pages with user reviews, likes and dislikes, social media links and Amazon wishlists.
Ability for paid users to leave reviews.
Video and image downloads from some models, at a low price.
Ability to filter male, female and trans models.
Minimal advertising.
Ability to follow models and add them to a favorites list.
Morbocams's Sexy Systems
As we've already mentioned, Morbocams is in Spanish. Unless you're a Spanish speaker, the first thing you'll want to do is make sure you're using Google Chrome so you can take advantage of their translate option.
The main page displays the profile pictures of active models as thumbnails. Mousing over a thumbnail will display a preview of their current livestream, and clicking on it will get you into their room. Inside their room, you can chat with the model and other users, send tips, contribute towards a group show, or send a request to take the model private.
The model's profile will display just under the chat room, and will show you their age, sex, kinks, social media links, and Amazon wish list. If they have any videos available for download, you'll find links for those here as well, along with the price.
The mobile site's main page is just a slimmed-down version of the desktop site. Chat rooms load quickly on mobile, and the interface is as easy to use as most messaging apps.
Most models have good video quality, at least 480p, and the sound is better than you'll find on most cam sites. We're not sure how this works, because the models record themselves, but we're guessing there's something in their app that lets them know when they're clipping.
Advertising on Morbocams is minimal. New users will get popups urging them to sign up, but once you've created an account the only ad you'll see is a large banner at the top of the page advertising their current promotions.
Cam Climax
Pros:
More free content than most cam sites
Good video and sound quality
Minimal advertising
Well-designed mobile site
Cons:
Most models don't speak English
Extremely small selection of models
Pricing is opaque to the point where you don't know what you're paying for until after you buy it
Morbocams is a well-designed site, but that's about all it has going for it. The selection of models is pitifully small, and the rates for private shows are hidden behind a paywall. Even if you're a Spanish speaker who's looking specifically for Spanish-speaking models, you'll find more of them by using the language filter on a more mainstream site. There's just no reason to use Morbocams.
Visit Morbocams.com