Meetcammodels.porn - meetcammodels.porn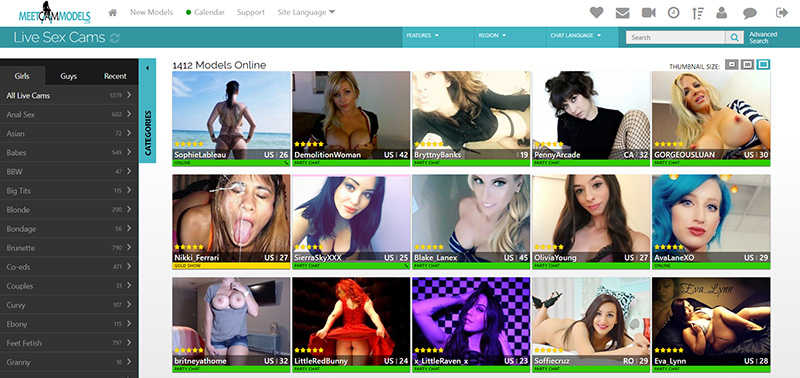 Meetcammodels is a cam site running on the ICF platform, which has developed a number of cam sites over the past 12 years. They have a large selection of models of all types, a straightforward interface, and use real-world funds for currency, rather than tokens or credits. Most common cam site features are present, including several types of shows, tip-activated interactive toys, Cam2Cam, videos for purchase, etc. The site can also be found via meetcammodels.com.
This site is one of many white label sites produced by ICF Technology, Inc. of Seattle, Washington, USA. They have literally thousands of white label sites with a similar interface and the same base of models, features, etc. Like most white labels, however, accounts, credits, and similar do not transfer between one site and the others.
Meetcammodels Chat Costs
Chat costs are variable and set by the models, ranging from $0.99 per minute to $8.99 per minute for private or exclusive chats. The Gold Show option, which is a group show, has a set goal, that viewers contribute towards in the public chat, by the time a certain countdown is reached. Then, the model can choose to go ahead with the show if they have received enough funds, or cancel, and the funds are refunded.
It's important to note that both private and Gold shows will have multiple viewers. The only truly private option is exclusive, which most models charge a good deal more for per minute. Most private shows seem to average around $3/minute, with exclusives typically double that. The Gold Show price is very variable based on the number of people in the public chat, and the goal the model has set – usually a few dollars from each viewer is sufficient, though.
Unlike many cam sites, Meetcammodels does not use a token or credit system. While the site does have a currency, "gold", that is used for tipping/Gold Shows, it's really just equal to $1. All costs for private, exclusive, or pre-recorded videos are listed in $/minute, which makes it quite clear and easy to know what you are going to pay.
As discussed above, the costs for the chats are variable and set by the models. Below, the ranges for both private and exclusive chats are listed. As discussed, Gold Shows use a different way of collecting the funds, up-front prior to the show, then the model will perform for usually 10 minutes or more based on the number of viewers and donated funds.
| | | |
| --- | --- | --- |
| Private Chat | $0.99-$8.99 | $1.00 |
| Exclusive Chat | $4.95-$44.95 | $4.95-$44.95 |
| Gold Show | See Discussion Above | See Discussion Above |
Depending on the model, show type, and their popularity, rates can be significantly less than many other sites on the low end, about average on average, and well above other sites on the high end. Gold Shows are often the preferred way for many people to enjoy the site, since a few dollars up-front for a group show is quite reasonable.
There are no paid memberships – accounts are either free (unregistered), free premium (meaning a credit card is on file for age verification only, with no charges being made), or premium (where you've made at least 1 deposit into your account, a minimum of $25). There is a rewards program that bumps up your user level (visible to the models) the more you deposit and spend, with some reward credits given, but there is no concrete data about the amounts provided on the site.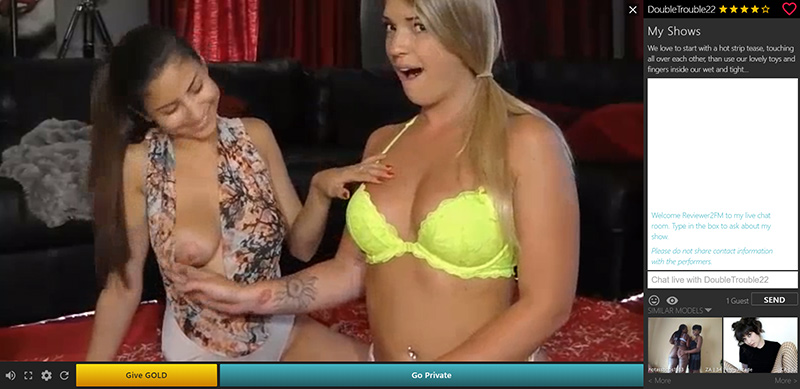 Model Manifest
Meetcammodels may only list girls and boys as the two main divisions on the home page, but in fact they offer the full range of solo and couples – female, male, transgender, and all combinations. As with most cam sites, the lion's share of the catalog are amateurs, though there are some studios affiliated with the site – especially in countries where camming is a common and viable career, such as Romania, Columbia, and other Baltic states. This translates into a wide range of looks for the predominately female model catalog, with amateur girls, MILFs, teens, stunningly gorgeous beauties, alternative, BBW, and anything else you can think of. At the same time, there is a reasonable selection of male models and transsexual models as well, also representing a good cross-section of age, ethnicity, and looks.
The full count of the model catalog is not disclosed on the site, though it is estimated that 130,000 or more models are registered. Usually you'll find at least 1,250 models on (and as many as 1,600 or more at peak times). This is usually broken out to around 90% solo female, 3-4% solo male, 2-3% straight, lesbian, gay, or trans couples, and 4-6% solo transsexual performers.
ICF's white label sites also feature one of the largest catalogs of active pornstar performers of almost any cam site around. There are over 290 registered and verified adult stars listed, and you'll usually find between 4 and 6 online at any given time. As we were writing this review, celebrity star Amy Fisher was just one of 7 adult stars and celebrities camming on the site. Other highly active stars include Morgan Reigns, Nora Noir, Renna Ryann, Bibi Noel, Amber Lynn, Akira May, Mia Little, Addison Lee, and lots of others.
Meetcammodels' Fucking Features
Meetcammodels, and all of the ICF sites, offer most of the typical webcam site features. There are a few things that are present, but not easy to quantify – for example, there's no handy sort by interactive toys as there are on some other sites. But the feature is still there, with many models offering tip-activated interactive toys in their chats. The full range of features the site offers include:
Free teaser chats, that are mostly clothed, with some nudity but very little explicit sexual content
Private Chats, prices set per minute by the model in advance, that can accommodate 1 or more viewers
Exclusive chats, where you can get one-on-one with the model with no one else in the room
Cam2Cam feature available in all exclusive chats
Gold Shows, which are group shows where all members in the chat pitch in to reach a set dollar
goal, then the model performs a private show for all who contributed
Fully-functional mobile version of the site
Interactive toys supported, though not a filter or sort criteria
Model tipping in all chats
Some models offer confidential phone-based audio chats as well
Model profile pages with details and information
Model recorded videos available for purchase
Private messaging with models
Favorites and feature show calendars and events almost daily, sometimes multiple events per day
Sexy Systems
ICF knows what they are doing. Meetcammodels and all of their other white label sites are very responsive, load quickly, and offer extremely reliable, high-quality streaming experiences. Searching, browsing, or participating in a video chat are all trouble-free and run smoothly.
Site navigation is pretty easy, with navigation at the top, then the main divisions – girls and guys – listed on the sidebar, along with over 35 categories on which to drill down through your selections. There are also other category filters at the top, such as region, cam quality, chat language, etc. Note however that some of these features will only work once you are a premium member (e.g. made a deposit). The filters, however, work fine for all user levels.
There's also a direct search box to search by name, and an advanced search, offering up the full range of 4 main divisions – girls, guys, trans, and couples – as well as 10 different filtering options for each, with criteria like ethnicity, body type, hair color, public hair, age, and so forth.
As mentioned above, while interactive toys are supported and used by many of the models, usually in tip-activated mode, there is no sort or filter criteria for that, so we can't tell you what percentage of models are using them. But the site definitely supports them (no word on which models/types, though it's clear the most common – Lovense and OhMiBod – are definitely in use).
Cam Climax
Pros:
Great catalog with a lot of female models on most of the time, of all body types and looks
Reasonable number of couples, guys, and transsexual models on as well
Most typical cam site features are present
3 different types of shows – private, exclusive, and Gold Shows
Site interface is easy-to-use, lots of options to find your chosen models
Streaming and site experience is very high quality with no technical issues
Real currency used on the site, making it much easier to translate costs per minute into actual costs per minute than on sites that use tokens or credit systems
Cons:
Private show costs can add up quickly
Private show pricing is variable per model
Not much available for free, and tip-based explicit shows are not the norm here like they are on many other sites – almost all real action requires payment
Meetcammodels and the other ICF-run sites are quite good from a technical standpoint. While we wish there were a few more sorting/filtering options, for things like interactive toys and so on, that's relatively minor in the grand scheme of things. There are plenty of options to find your desired models, and the different range of show types means there's something for every budget. We're really impressed with the real world currency use rather than tokens or credits, which makes it a bit easier for customers to manage their funds and expenses, and shows a real commitment to customer service. Plenty of hot girls grace the model catalog, and this is one of the few cam sites that has several genuine porn stars and celebrities on almost all the time. Prices are quite reasonable and even below market rate for private shows and Gold Shows in most cases, with only the exclusive (full private/one-on-one) option being slightly higher than some other sites. So we've got plenty of features, a large number of hot models, affordable prices, and a site that works well – that hits all of our buttons, for sure!
Visit Meetcammodels