Liveprivates - liveprivates.com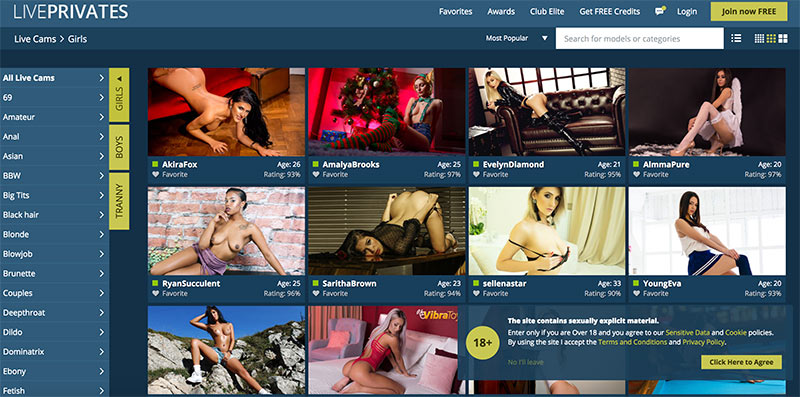 Liveprivates.com is your traditional, free cam site catering to your more traditional sexual needs. It is owned by Duodecad IT Services, a subsidiary of Docler Holding, which seems to be an umbrella corporation for numerous different kinds of sites and services. Liveprivates.com appears to be the only adult site publicly affiliated with Docler Holding.
Liveprivates Chat Costs
Liveprivates is a free cam site in name only. If you want to see any real action, you're gonna have to pay.
Fortunately, the costs of the site are pretty upfront. In order to buy credits, you have to create a free account, which is a simple task to complete. From there, you simply click "get credits" and you're given a menu of different packaging options. Like many sites, the more credits you buy at a time, the better deal you get. With Liveprivates, you get bonus credits. The tier structure is as follows:
27.99 +1.99 bonus credits; $33.99 ($1.13 a credit, including bonus)
67.99 + 5.99 bonus credits; $75.99 ($1.02 a credit, including bonus)
97.99 + 7.99 bonus credits; $106.99 ($1 a credit, including bonus)
157.99+9.99 bonus credits; $169.99 ($1.01 a credit, including bonus)
Why the third tier of credits is a better deal than the fourth tier must just be a tax on those not willing to do the math. And why they offer ".99" credits is beyond me as well.
It's also important to note that the "bonus credits" are a one time offer for your first purchase. After that, you no longer get a bonus, but you still get a better deal buying more credits. The pricing looks like this:
27.99 package; $1.20 per credit
67.99 package; $1.12 per credit
97.99 package; $1.09 per credit
157.99 package; $1.07 per credit
There's also a "ranking" system based on how many credits you spend. You accumulate points for any credits that are spent on anything on the site. The only benefit this appears to give is that models can see your rank, and can determine how easily they'll be able to take your money.
You do have the option to pay with several other payment methods, including several kinds of cryptocurrency, PayPal, and even gift cards you don't want. Careful, though, the alternative payments don't afford you the bonus tokens of your first purchase.
And that's pretty much it. The site is pretty closed lipped about private show costs (it prompts you to buy credits to start a private show as opposed to telling you the price), though it's a safe bet that it varies from model to model. You're able to tip models credits, and if you're the top tipper you're recognized in her room. Beyond the standard free chat of a cam site, there are no other novel ways to interact with models.
Model Manifest
Liveprivates offers a pretty good variety of models to choose from, though the niches they satisfy will be very limited. Models are separated by male, female, and transgender categories (nearly exclusively male-to-female), as well as a standard list of categories that models have categorized themselves into. You can look for physical features (like big tits or black hair) as well as certain sex acts that models have tagged themselves as willing to perform (solo, anal, etc).
It's important to note that this is simply what models are willing to do. The likelihood of you seeing any nudity or sexual content outside of a paid private show is practically zero (during the writing of this review, no nudity was seen). The site doesn't list how many models are available, though we ran into very few dead cams while writing this review. The models are waiting, completely clothes, hoping to suck your long, hard wallet dry.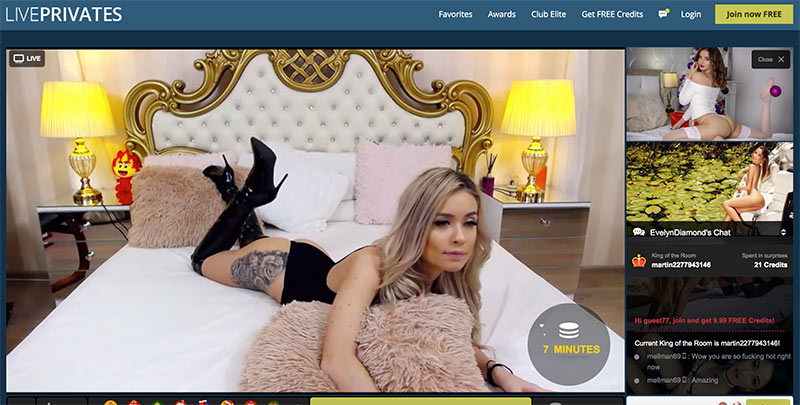 Liveprivates' Fucking Features
Liveprivates.com has the normal features you would expect from a small, basic cam site, including:
Free chats
Ability to tip models
Private chats
Very clean mobile site
Model profiles that include just the most basic information, including name, age, and sex acts willing to perform. Age and Rating are also available on cam thumbnails.
As with many "free "sites, this site is lacking in free content. Unless you are prepared to drop the big bucks, you'll likely find yourself bored, scrolling through poorly written, basic biographies.
Sexy Systems
Though content on the site is disappointing, the construction of the site is a welcomed surprise. Both the desktop and mobile versions of the site run incredibly smoothly, cam load time is very quick, and cams are in great definition. The model categorization appears to be accurate, and account creation was quick, easy, and not frustrating in the slightest. Cams never stuttered or froze. Honestly, one of the smoothest running cam sites you'll find.
The only con we experienced was that cam thumbnails only show the profile picture of the model and not a recent cam snapshot. It makes it hard to tell who is or is not actually online as well as making it difficult to see what the models are doing on cam.
Cam Climax
Pros:
Reasonable model pool to choose from
It appears many models on at any given time
Decently organized site. If they have what you want, it's easy to find
Very clean, well-run site. No technical issues experienced.
Cons:
There is essentially no free nude/sexual content
Tokens are extremely expensive
Very limited in actual different ways model can be interacted with
Model biographies are bare bones
Liveprivates is nothing special, and it's not particularly bad. They don't cater to a specific niche, but they have a reasonable amount of models for the general cam crowd. Account creation is simple and credit purchasing is straightforward, but if you aren't already planning on spending money, there's practically no real way to interact with models. Unlike other sites, the site currency is extremely expensive, making even tipping a model somewhat of a major financial decision.
Honestly, the site is just boring, which is a shame because it's so well designed. If they had decent content or weren't so incredibly expensive, we would be recommending this site strongly. Hopefully, in the future, they can revamp their platform because as of right now it appears they're hoping to nab a few whales with more money than sense. Don't make your dick bored. Go somewhere else.
Visit Liveprivates