LiveJasmin Gay Review
LiveJasmin Gay really just encompasses the male model and male couple offerings of LiveJasmin's main site. Their site is pretty clearly divided between girls and transgirls on the one hand, and guys on the other, so it's easy to bypass the clutter and go straight to the guys if that's what you're after. LiveJasmin itself it one of the most well-known webcam sites around, with basic cam site features, reasonable pricing, and an upscale catalog of models, many of whom come from the studio partners that work with LiveJasmin. Their overall catalog includes over 200,000 models, which we estimate puts the male model population at around 25,000.
LiveJasmin as a whole site has 35 million users, and over 2 million unique visits a day. It's the 4th most-visited site by traffic in the adult category, according to Amazon's Alexa web analytics service, and the 62nd globally across all website categories.
LiveJasmin is currently owned by Docler Holding Group, and run by Duodecad IT Services of Luxembourg. They also maintain a transsexual-focused site directly (not as a white label), mytrannycams.com.
Cost of Cock on LiveJasmin
Models on the LiveJasmin platform set their own show costs, ranging from 0.98 credits to 9.99 credits per minute for private chats (the main form of chat available). There may be additional fees for two-way audio chat and Cam2Cam functions – they are listed before you commit to that service, and are enabled based on model preference and not a default feature. There are also VIP shows, which are essentially group chats, with a set credit entry price for a certain duration of private show. Anyone paying the entry price can join.
You can sort and filter the models based on the cost of chats, with most being in the 1.99 to 2.99 credits per minute range on average. There is also model tipping available, via virtual swag/digital gifts that show up in chat, but are effectively different tiers of credit tips (tips like gratuities, not tips like…well, you know).
Below, you'll find a listing of the credit packages and payment options. There are several ways to pay, including credit/debit card, PayPal, Bitcoin, Litecoin, and over 50 other types of cryptocurrencies, as well as gift card trade-in options. Each of these payment options has a different redemption rate on average, and different packages offered within each method. In general, credit/debit card options are the least expensive, with cryptocurrencies being the most expensive. Gift card redemptions are variable based on the third-party processor (PayGarden) and their market rates, but usually represent the worst conversion of dollar value to credits. Of course, if you have unused gift cards sitting around, and nothing to do with them, it's a great deal, putting them to work to enjoy some private penis playtime.
As always, the best option and/or package is highlighted in the green, while the most expensive is highlighted in red.
| | | |
| --- | --- | --- |
| Credit Card | | |
| 27.99 Credits | $33.99 | $1.214 |
| 67.99 Credits | $75.99 | $1.118 |
| 97.99 Credits | $106.99 | $1.092 |
| 157.99 Credits | $169.99 | $1.076 |
| PayPal | | |
| 17.99 Credits | $23.99 | $1.334 |
| 27.99 Credits | $35.99 | $1.286 |
| 67.99 Credits | $79.99 | $1.176 |
| 97.99 Credits | $112.99 | $1.153 |
| 157.99 Credits | $178.99 | $1.133 |
| Bitcoin/Litecoin/Altcoins | | |
| 17.99 Credits | $24.99 | $1.389 |
| 27.99 Credits | $37.99 | $1.357 |
| 67.99 Credits | $83.99 | $1.235 |
| 97.99 Credits | $118.99 | $1.214 |
| 157.99 Credits | $187.99 | $1.190 |
| Gift Cards | | |
| Variable | Variable | Variable |
Since the range of costs for private chats can vary, we've provided a reference below for what these costs work out to on a per minute basis.
| | | | |
| --- | --- | --- | --- |
| Private Chat | 0.98 - 9.99 | $1.19 - $12.11 | $5.95 - $60.55 |
| Group Chat (VIP) | Variable | Variable | Variable |
Since most of the male models run shows in the 1.99-2.99 credits per minute price range, this works out to between $2.42-$3.62 per minute, or about $12.10-$18.10 for the average 5 minute private show.
Unlike some sites, there are no paid memberships or subscriptions here. Accounts are either unregistered and free, registered and free (called "Basic" membership), or registered with at least one credit purchase made (called "Premium" membership).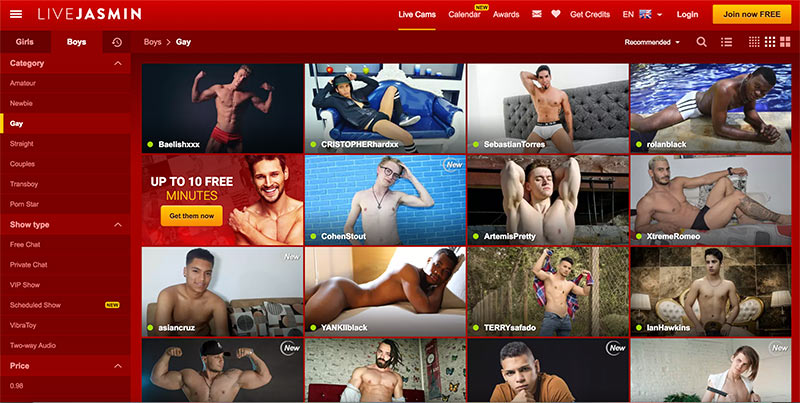 Dude Directory
Based on the current figures, we estimate there are over 25,000 registered male models on LiveJasmin Gay. Many of them are high-end, fit, young, and attractive. This is partially because LiveJasmin sources a lot of their models from studio partners, that have a large professional presence in Eastern Europe and South America, so you'll find a lot of men from those locales on the site. There are generally fewer amateurs here who do this as a hobby than you'll find on other cam sites. However, that's not to imply everyone is a gym rat or jock type. There's still a pretty good mix of diversity in the models that are present, in body type, orientation, age, ethnicity, sexual role, and so forth, with around 100 solo males and 10 or so gay or bi couples on at any given time.
LiveJasmin's Erect Elements
LiveJasmin Gay has fairly straightforward, basic cam site features. It's not as packed as some other cam sites – they've eschewed complexity and embraced doing what they do well, private video chats and group shows. With that said, there's still a good deal that you can do here, including:
Teaser chats with no explicit content
Private chats, with pay-per-minute pricing and semi-privacy (viewers can pay 1 credit to peek on a private show, but only see the model, not the private chat, Cam2Cam, or audio)
Cam2Cam feature available in some private chats (model discrection)
Two-way audio feature available in some private chats (model discretion)
Group chats, called VIP Shows, where a group private show lasting a set period of time, with a set credit fee up-front, is offered
Mobile version of the site with a free app for iOS and Android to enhance the mobile experience
Interactive toys are supported, though not used by very many male performers
Awards section, where the most popular models can be voted on
Virtual gifting to the models in chats (effectively a digital icon of varying types that has a credit fee associated with it)
Private messaging with models
Favorite models/bookmarking section
Pulsating Performance and Dick Discovery
LiveJasmin as a platform sees so much traffic, that it's not a surprise that they have responsive servers with good bandwidth and technology behind the scenes. While shooting your load too quickly isn't a great thing, the site loads very fast, even when you are browsing dozens of video streams at once. You can mouse over each model's stream to get a preview of their current live chat (the default is just their chosen glamour shot). You can also peek in on their current private chat for 1 credit (which offers a limited quick peek, without access to the private chat, viewer cam feeds, or two-way audio).
The chat interface itself is similar to many other cam sites, with the video on the left, chat on the right, a few buttons and options down below, and so on. You can access most of the advanced features from the left of the video screen (they appear when you mouse over the video screen itself), or scroll down below the chat feed to see the model's information, pay credits to access exclusive photo sets and other content, and so on. The video feeds are fairly high-quality, with no real lag or buffering. The site doesn't have an option to filter only by HD vs. SD, so it's impossible to tell what percentage of models are using HD cams, but it seems to be a majority based on our reviews.
Going about finding your perfect guy, or two, or three, is also pretty easy. The interface lets you search by username, browse by gender, and a lot more. There are several category options, such as straight, gay, couples, and so forth. At the same time, several filter options are available to further refine your search. You can filter based on show type, show price, the model's age, ethnicity, appearance, or what they're willing to do in a private chat session. There are also some sorting options up top, that let you sort the results based on alphabetical order, overall user rating, newbies first, your own personal rating, and similar criteria. With LiveJasmin Gay's interface, it's easy to find models that suit your personal taste in boy toys.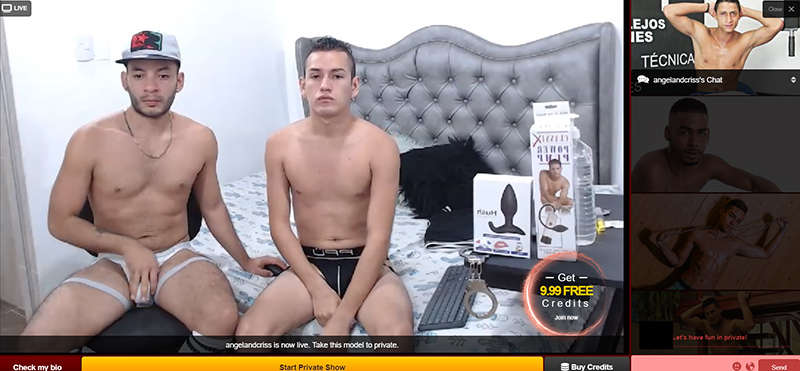 Rock-Hard Results
Pros:
Large catalog of male models and male couples
Basic cam site features that work well
Two different show types (private and group/VIP)
Easy-to-use, straightforward interface with rich searching and filtering options
Credit costs and show costs are on par with most major cam sites
Cons:
Private show costs can add up quickly
Private show pricing is variable per model
Variable pricing on credits and show costs make it hard to budget and keep a handle on your expenses
LiveJasmin Gay, just like the LiveJasmin platform as a whole, is popular for a reason. All the basic features are covered, and the site's interface and technology performs well. The stars, of course, are the models, with a generous catalog and many higher-end, professional-looking studio affiliate models, with some amateurs mixed in. What's more, there are multiple payment options that not every site offers, including cryptocurrency and gift cards, so it's fairly easy to find a cost-effective way for you to get some credits on your account. The only real downside is the credit system, which, like most sites, obscures your costs a bit and makes it harder to keep track of what things will cost, and how much you spend. As long as you don't buy more credits than you can afford, though, it's well worth spending a little time pressing the flesh at LiveJasmin Gay.
Visit LiveJasmin Gay