JizzRoulette Review
JizzRoulette is the male-only version of SlutRoulette. Both sites present you with a ChatRoulette-like interface at first, but that's really just a tease. Beyond that starting point, it's a fairly straightforward cam site. JizzRoulette features straight, gay, and bisexual guys and couples, along with a large range of typical webcam site features, including several types of chats, tipping, model favorites, and more. While other genders of performers can be accessed via the advanced search feature, that's not really the focus of the site, which is all about men, their fit bodies, hot assess, and erect cocks.
This site is one of many white label sites produced by ICF Technology, Inc. of Seattle, Washington, USA. They have literally thousands of white label sites with a similar interface and the same base of models, features, etc. Some are limited to male-only, female-only, transsexual-only, or more specific niches, though almost all offer a full model catalog "behind the scenes" through advanced search features. Like most white labels, however, accounts, credits, and similar do not transfer between one site and the others.
Please note, when a particular site is focused on only one gender or niche, despite having a larger catalog behind the scenes, we may review it in several categories. Since this is one of our all-male reviews, and a male-oriented site, we're just focusing on the guys here.
Cost of Cock on JizzRoulette
JizzRoulette allows all performers to set their own chat costs to whatever they'd like, along the range of $0.99 to $8.99 per minute, for all private and exclusive chats. There are also Gold Shows, which allow performers to set a donation amount and a countdown clock, and if they collect that total by the time the countdown runs down, all donators get a private show, otherwise, the donations are refunded.
Unlike some other sites, private shows on JizzRoulette can have multiple viewers. There is no spy or voyeur mode. True private chats, one-on-one with you and the performer, are only possible in exclusive mode, which typically cost at least double a private show in most cases.
We're fans of the fact that JizzRoulette, like all sites run by ICF, uses a real world currency system, rather than an arbitrary token or credit system. This means it's very easy to keep track of what a show costs, and what you're planning to spend. The last thing anyone wants to do is mental math when they're enjoying hard cock and sexy butts. While a currency called "gold" is mentioned, and used for tipping or donations for Gold Shows, it's really just real world funds, equal to $1 always. All the private and exclusive shows list their rates in $ per minute, and pre-recorded videos for purchase are also stated in US dollar costs.
Private and exclusive chat costs along the range available are shown below.
| | | |
| --- | --- | --- |
| Private Chat | $0.99-$8.99 | $1.00 |
| Exclusive Chat | $4.95-$44.95 | $4.95-$44.95 |
| Gold Show | See Discussion Above | See Discussion Above |
Performers who offer shows on the lower end of this price range are more affordable than many other cam sites. The majority, however, charge somewhere in the middle, which is comparable to most other popular cam sites. And some of the hottest, most popular performers charge on the higher end of the range, which can be somewhat more than other cam sites may charge – quality cums at a cost. Gold Shows are usually the most cost-effective option, where only a few dollars can get you a 10 or 15 minute private show – just remember you won't be alone with the performer, so you can't direct the action or necessarily put in requests.
Another convenient aspect of JizzRoulette is there are no paid or VIP memberships. Accounts are free as guests, free for registered accounts (free premium, with a valid credit card on file), and free for premium accounts, the top tier – just deposit $25 in your account at least once. There's also a rewards program that can rank up your premium account based on how much you spend, but this is more about vanity and performer's prioritizing you in chat – you can't influence your rank in any way other than by spending more money.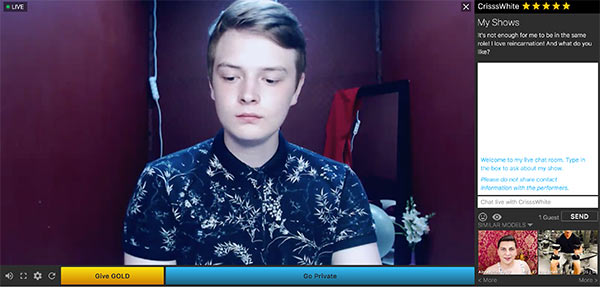 Dude Directory
There are currently over 7,500 male and male couple performers registered in the JizzRoulette catalog. These run the gamut from skinny to fit and muscular guys, to larger bear types. Most body types, ages, sexual roles, and so forth are represented, giving everyone a good selection to suit their tastes. While the catalog is quite generous, the online population is not always as large as some other sites, with only around 40 solo males and 5 gay couples on at any given time, on average.
As mentioned earlier, you can also access female, hetero couples, and transsexual performers through the advanced search, but that's really not what JizzRoulette is all about – as if you couldn't tell from the name…
JizzRoulette's Erect Elements
JizzRoulette offers many standard cam site features for users. The different elements are quite comparable to other high-end cam sites, and are executed fairly well. There are a few bits here and there that could be improved, but in general, everything you need for a good time can be found here. Features include:
Free teaser chats, where you'll get some shirtless and ass views, and covered cock teases, but fully explicit nudity and sex acts aren't allowed
Private Chats, fully explicit, with 1 or more viewers paying a set per minute price
Exclusive Chats, the only true private 1 on 1 option between a user and performer
Cam2Cam feature available in all exclusive chats
Gold Shows, which are group shows where all members in the chat pitch in to reach a set dollar goal, then the performer starts a private show for all who contributed
Fully-functional mobile version of the site
Interactive toys are supported, though not a filter/sort criteria, but are used in tip mode by some performers
Performer tipping is available in all chats
Confidential phone-based audio service is also offered by some performers
Performer profile pages offer basic biographical information, pre-recorded videos for sale, performer schedules for when they are online, lists of kinks, fetishes, turn-ons, and more
Performers can be added to your favorites list, and also messaged through the integrated e-mail system
There are sometimes featured events or shows, which are listed on the calendar section of the site
Pulsating Performance and Dick Discovery
The company behind JizzRoulette, ICF, is one of the top webcam site companies around, operating thousands of white label sites. They have tremendous experience in running video streaming sites, like adult cam sites, and it shows. The site runs reliably, quickly, and easily, with few issues. There are no excessive load times, and browsing, filtering, and searching for models is a breeze. At the same time, video chats themselves are smooth, with no noticeable lag, buffering, hiccups, or other problems – even when models are broadcasting in full HD.
In terms of finding your ideal guy or guys for a show, it's pretty easy. You can browse from the main home page, or search by name. You can use one of the pre-defined dozen and a half category filters at the top. There are also additional refinements that can be made by premium users, to things like features (HD cams only, chat type, etc.), region, and chat language. There's also the advanced search, which includes 4 main divisions – male, female, couple, and transsexual – and about 10 different filter sections for each division, with multiple options in each section. These allow you to specify things like body type, cock size, age, and so forth to further refine your performer search.
Rock-Hard Results
Pros:
Large catalog of performers, with a fair amount online at any particular time of day
Most typical cam site features are present
Multiple show types for different levels of intimacy and budgets
Lots of filtering and sorting options to find your ideal male performer(s)
Site performance is as solid as the many rock-hard cocks you can see
Real world currency instead of tokens or credits makes budgeting and spending super easy
Cons:
Private show costs can add up quickly
Private show pricing is variable per performer
No real free explicit content, all behind a pay wall
JizzRoulette is a good all-around male cam site. While the catalog of performers is large, we could do with some more guys online at once – 40 to 50 is not the most robust offering compared to several other top sites. At the same time, the site performance is great, and filtering and browsing options are also pretty decent. We can't stress enough how awesome it is to have real world currency pricing instead of tokens or credits – it just makes everything easier. Video quality is good, and pricing is fair. This site is definitely worth taking for a spin the next time you're looking to jack it to hard-bodied webcam studs, just be prepared to pay the price for penis.
Visit Jizz Roulette