iSexyChat - isexychat.com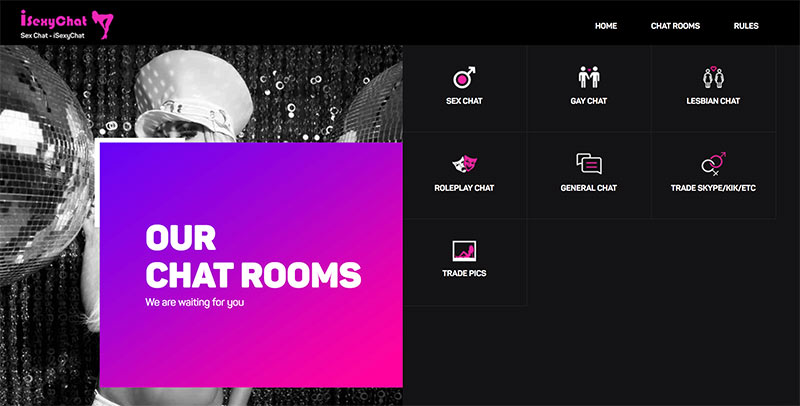 It's sexy. It's sleek. It's pink. It's . . . iSexyChat! Really, it's everything you ever wanted in an adult sex chat website. I mean, just staring at this site's layout makes your hormones pulse and rage as if you were eighteen again. By the time you start chatting or swapping scandalous pictures, you've already got a raging you-know-what.
But don't just take my word for it. Try it out for yourself.
As soon as you hit the main page of iSexyChat, you see some cool features popping right out at you like a set of wet tits just waiting to be squeezed. In fact, you have seven different types of avenues to explore, such as: Sex Chat, Gay Chat, Roleplay Chat, even an option to Trade Pics! Who doesn't like swapping pics of their genitalia with complete strangers?
A bit of warning upfront: Be sure to read up on their Rules. Because you may just find yourself kicked from the chat server quicker than you can get your hardened soldier at attention. While they do want everyone to have fun on their site, they want it all to be safe and free of bigotry. For example, you cannot use abusive behavior, no hate speech, no incest, and you must be 18 or older; however, nothing pops up and asks for you to verify your age. In fact, they have 15 huge rules. Just remember to keep it clean and simple, stupid. Or risk being kicked/banned. And these channel moderators are extremely quick to crack the whip on you. So be warned.
If you can adhere to these pretty self-explanatory rules, then you should have a great time. Aside from that, feel free to boast to the world about how incredibly massive and throbbing your cock is, or about how much you've fantasized Eva Longoria showing up at your front door step wearing nothing but edible lingerie and wanting to munch on your dick like a churro.
Once you've understood all of the rules, and have found the type of chat room that fits your fetish, you're prompted to pick which gender you want to interact with; but don't fret, they have a selection for Transgender and other genders, too. You're then asked to choose which gender you identify with.
After you've chosen a sexy username, you are in the chat channel! I think it's a great idea that they only have a handful of chatrooms, because then there's a lot more people to interact with. Even on a Monday night there's at least a hundred people to talk to and show dick pics to. You can even PM on a separate tab within the chat rooms!
Chat Networking
Besides other reviews and rankings compared to various adult sex chatrooms, there's not much that can be found letting us know how old this site is, etc. The only thing I've found is their Twitter, which hasn't been used since 2013 when the Baltimore Ravens won the Super Bowl.
iSexyChat Chat Costs
Chat costs are non-existent, just like my social life! Feel free to use this site's many features, or get off watching some lonely housewife pour lube all over her mammary glands. Either way, this site is free, baby. So put your wallets away, get out there, and start talking dirty to hundreds of sexy savants just like you!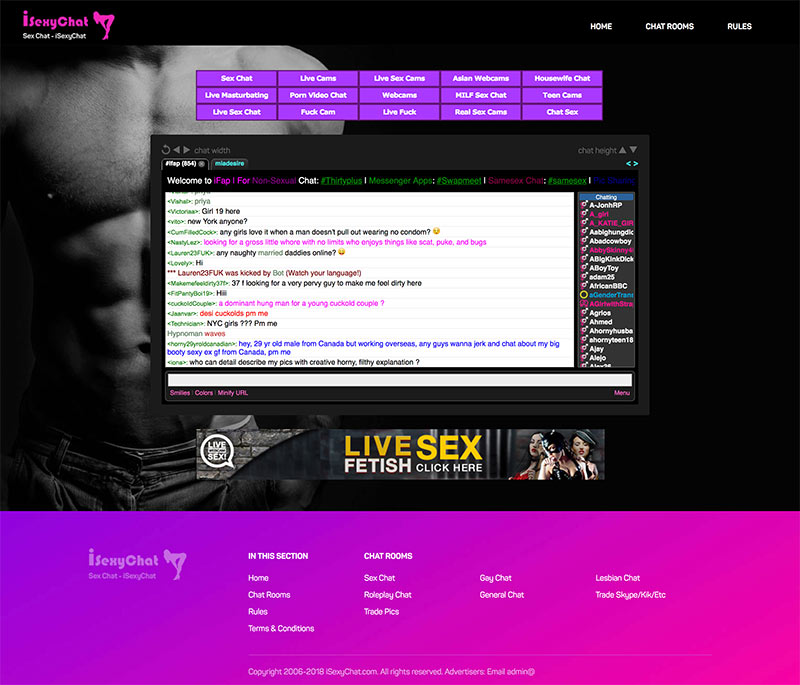 iSexyChat's Fucking Features
What's really cool and unique about iSexyChat is that they have generated their own version of tiny URLs that allow users to post videos and pictures of themselves and then send them to other users. Coined "Mibbits," this is a way for people to safely send and receive images from others. You don't have to worry about clicking on someone's URL that shows a kinky girl playing with herself.
I also love the fact that you can join the chat servers without having to create any sort of account! That's right, my friends. Feel free to explore your darkest sexual desires without having to worry about your information being spread across the internet.
You're able to alter the font color and even add in a fun emoji or two to your chat texts; if you're into that sort of thing. Think Instant Messenger, but with girls confessing how horny they are and guys wanting you to watch them jack off. There's a lot going on at any given time. So don't feel like you're missing out when you're still at work and waiting for that final hour to go by before you can rush home and pull out Mr. Willy.
Even if you start to get bored with the chat rooms, above them are options to view Live Cam shows. This is completely separate from iSexyChat and will take you away from the website. But there is that option.
Whether you're a hetero male or female who just wants to rub one out quick, or a transgender looking to meet others like yourself, be assured that iSexyChat has made great strides in making sure all peoples get included on their website. We're all humans after all. And sometimes humans like to fantasize about fornicating with strangers across the map.
Conclusion
Pros:
Completely FREE to use
Good variety of chat rooms
Mobile-friendly on smartphones and other devices
Lots of users at any given time
Cons:
Advertisements abound here. Be warned
A new browser tab opens when you click on things
Strict Chat Room Rules. So don't be that guy
Guy-to-Girl Ratio is sometimes too much
Good luck getting somebody to talk to you privately
If you enjoy getting wet and slippery typing on an adult sex chatroom, then you'll really like this site. A lot of great features from iSexyChat help to enhance the experience. From PMing horny people, to swapping nudies, this site has a lot to offer. And remember, it's completely free to use. That being said, after a while I can see this site getting a bit boring. After all, you can only go so far with a chatroom. If you really want to see some big tits or an innocent teenager getting rammed up the ass then you might want to check out an actual porn site.
The advertisements are also a bit of a turnoff, but at least they're easy to ignore. Especially when you're balls-deep in a conversation involving how many licks it would take to get to the center of a cum Lolli pop.
You might also have some difficulty actually getting someone to PM you back on this site. Sometimes someone will message you first, but they usually don't even talk to you from there. These may just be draw-ins for users to want to stay on the site. So don't be surprised if it takes you a while to get a real reply from someone. Which makes you wonder who all is actually a user on that site and not just some bot. It begs the question the same way your favorite Latina Milf begs for that money-shot all over her face after giving head. But I think you should at least try out iSexyChat and see for yourself!
Visit iSexyChat