HotRoulette - hotroulette.com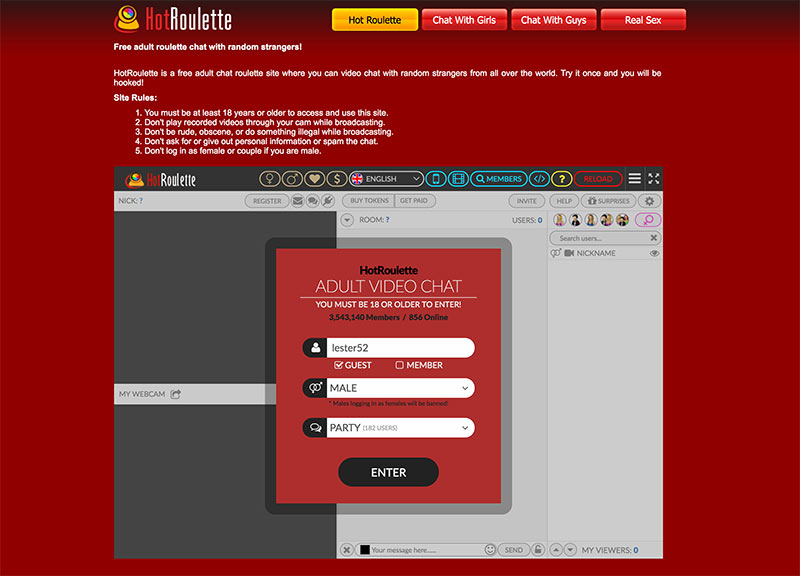 HotRoulette.com is a free cam site with a bit of a twist on what you might expect from a traditional cam site. It tries to emulate the random nature of Omegle or Chat Roulette while incorporating an adult feel. HotRoulette appears to be owned by Cam Media Sites, which owns several other sites in the adult arena.
HotRoulette Chat Costs
HotRoulette.com is definitely a cam site, but it also provides an interesting option to chat and view cams of other users. It appears that all users are "models" of the site, in that everyone can tip everyone, as the option appears on any cam that we tested, male or female. Tips use the website's currency of "tokens," which are $.09 a token flat, with a minimum purchase of 300 tokens (a $27 purchase).
Another cost we saw was when attempting to join already full chat rooms (you could do so for 270 tokens, or $24.30). Aside from that, the site really attempts to give a vibe of "there aren't any models here, only actually users," so there's no other paid way to interact. You can publicly chat for free, or you can private chat for free, depending on whether or not the user is accepting them (we saw most were not).
Model Manifest
As we've mentioned, this site doesn't have official "models" on the site. Now don't get us wrong, there are absolutely models on this site hoping that you will watch and tip them and become regular viewers. They just aren't officially that. What you'll find is mostly one of two things. You'll either see attractive women fully dressed trying to milk tips out of users, or you'll see dicks. So many dicks. Jesus why.
There are no hashtags or category tags on the site, so unless you have the exact name of a model, don't expect to immediately pinpoint a model or user that happens to satisfy your carnal desires. Some of the rooms are themed, but there doesn't appear to be much variation between them.
Fucking Features
Since HotRoulette isn't a traditional cam site, you for sure need to double check and see if the features are going to be something that you want. You have:
Free chats, both public and private
Ability to tip models
Member only chat rooms
Model profiles that include just the most basic information, including name, sex, and potentially a schedule and "turn-ons" if the user plans on being a regular broadcaster
It doesn't have much else. Most links and options for category browsing directs you to a different website.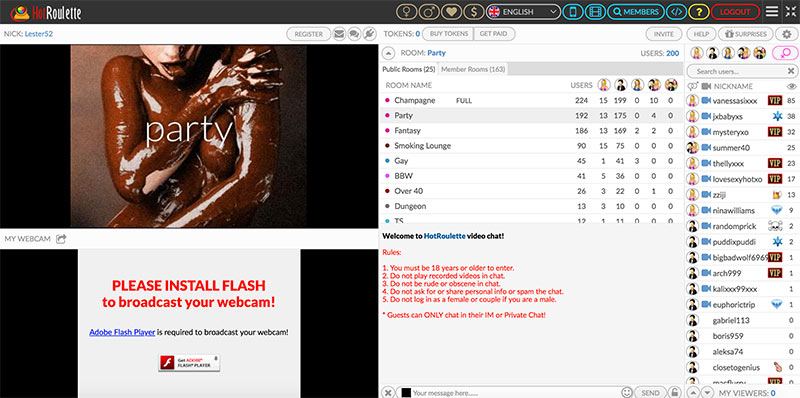 Sexy Systems
The site is not great. In order to even view a site, you have to register a nickname. If you decide to register an official account (you'll want to if you plan on buying tokens), you can't use the nickname you initially used to enter the site. Frustrating, especially if you're bad at picking out usernames (points to self in shame).
Whatever they're using to keep you logged in is completely broken. If you reload a page, go back a page, or even click the home logo, you'll be prompted to either browse as a guest or login. Every. Single. Time. Want to look at a new model? login. Want to look at your account settings? When you're done, get ready to login. It gets old quickly, especially if you're trying to browse models.
Cams seem to load pretty quickly if the user is online, and there didn't seem to be a lot of stuttering in streaming. But goodness gracious, what a frustrating navigating experience. The only thing that functions on the site as advertised is the literal streaming of cams, which is nice but doesn't solve the overall issues plagued by the site.
Cam Climax
Pros:
Novel approach to cam sites if you're looking for something a bit different
At least some users broadcasting at any given time
Relatively low token/tipping costs, and pricing structure is upfront
A bounty of male nudity (if you like dicks)
Cons:
No female nudity
Unbelievably poor website architecture
User biographies are bare bones
Very difficult to find something specific
Basically impossible to have a real 1 on 1 chatting experience, unless you find someone willing to private chat.
HotRoulette.com has somewhat of a novel premise to help you get past the dredge of boring nudity. A retro call back to what traditional chatrooms at first looks promising, but quickly devolves into the problem that any given dating/adult platform has: tons of guys, hardly any women, and most of the women are models looking for tips, not what most would consider "genuine" users. And though it's fun for a second to go through different chat rooms and look at users' cams, it quickly gets old as everyone is just sitting around looking at their cam (unless you like dicks. My god. So...many dicks). What you end up with is one to two female users in any given chatroom, with 4x-5x the number of men in the same room, most of which are just faceless dicks beating into the wind. Even for those of us with pardickular taste, we don't need to see that many cocks all the time.
The technical issues alone should be a deal breaker for the user. It's practically impossible to browse the site. Even when going to a page to purchase tokens, you still have to shittily re-login every time you try to return to anything. Why so many cam sites make it so damn hard and frustrating to buy tokens is completely beyond us.
You honestly have a better chance of a good time just using a traditional dating app or a traditional cam site. The hybrid of the two fails to do either side well, resulting in a flat, boring as shit experience. And since any of the buttons that would help make the experience better (a male/female categorization, becoming a model, etc) direct you to a different site, just do yourself a favor and start somewhere else first.
Visit HotRoulette