FreeChatNow - freechatnow.com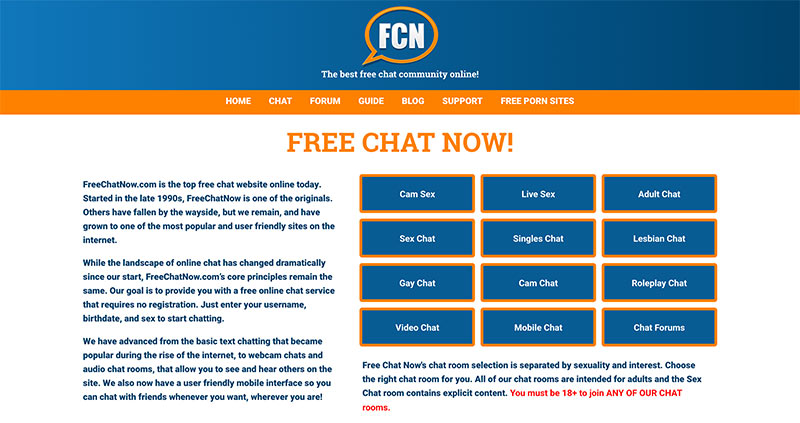 FreeChatNow.com is a free chat site that's been online since October, 1999. It's owned by Wired Reality, LLC, creators of ChatSpace 4.1, the popular chat and forum suite.
As of February, 2019, FreeChatNow is the 20,557th most-visited website worldwide, the 7,316th most-visited website in the US, and the 170th most-visited chat site. Its Alexa ranking is 34,586. 34% of the site's users are from the US, and 13% are from the UK.

FreeChatNow Costs
There is no charge for using FreeChatNow.com. Users can participate in any chat, with or without an account, although all users will have to make up a username and agree that they're over 18. Creating a free account allows you to keep the same username permanently, add other users as friends, and participate in the forums. Be careful, though; many links on this site lead to third-party premium sites.
Model Manifest
Since FreeChatNow is a chat site, not a cam site, there are no professional models. The site does allow users to video chat with each other, though, so ultimately the quality of the "models" depends on who you're chatting with.

At the time of this writing, there were over 3,300 people currently active on FreeChatNow. While there's no easy way to count up males versus females, well over 90 percent of users are guys. Expect to see a lot of links to dick pics. Most of the females aren't interested in chatting. They just use FreeChatNow to send out links to their own paid cams.
There are two groups of people who will like this site: people who like older women, and gay men. Most of the real women on the site are over 50, and there are a lot of gay guys looking to swap pics. Straight women might also find someone to jerk off with, if only because of the huge number of men. Straight men won't find much that's worth their time.
Fucking Features
FreeChatNow has 14 different chat rooms for people with a variety of interests, from sexting to camming to gay, lesbian and fetish rooms. Other features include:
100% free text and video chat.
Free membership lets you add users to a friends list.
Free members can also participate in discussion forums.
User interface is easy to use and will be familiar to chat site users.
Mobile site is well designed and loads quickly.
Users can send each-other private messages.
The site includes an online dating blog.
Users can create temporary usernames to chat anonymously.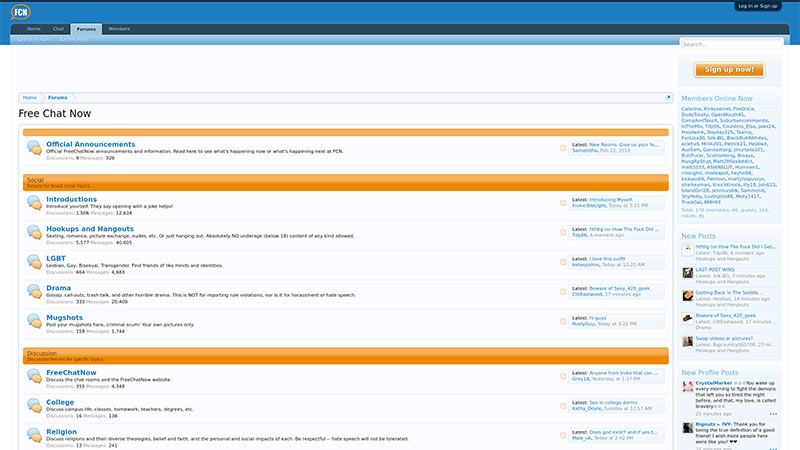 Sexy Systems
To start chatting, acknowledge that you're over 18, and create either or a temporary username or a permanent account. After that, select which chat room you want to join. Be careful here. The first two links are Cam Sex and Live Sex. As attractive as these look, they lead to third-party paid cam sites.
If you're familiar with old-school AOL chat rooms, you'll recognize the interface immediately. You can type to other users, send emojis, or attach images. For the sake of everyone's sanity, pictures won't appear directly in the chat window. Instead, an image link will be displayed. Click them at your own risk.

Users are displayed on the right side of the screen. There's a symbol next to each name indicating whether they're male, female or other. People who are currently streaming will have a camera icon displayed next to their name. Clicking this icon will open the video stream in a Java overlay. When these appear, they're extremely small, but they can be resized. Video quality is limited, though. It doesn't seem to matter what kind of camera the person is using; their video will look grainy when you blow it up too large.
One puzzling feature about this site is the absence of any one-on-one chat option. The only way to chat directly with one person is by using the private messaging system, which is only available for registered members. This is the equivalent of sexting via email, and doesn't make much sense.
If you've added someone to your friends list, they're very easy to locate. They'll appear in a separate list on the far right side of the screen, no matter what room you're in.
The mobile site has a simplified layout, with the chat users collapsed into a dropdown button on the bottom of the page. The mobile page still looks cluttered, though, mostly due to the small text.
One thing we didn't like was the advertising. The site is full of popups, popunders and javascript overlays urging you to visit other sites, usually imlive. This is especially irritating on mobile, since it's easy to accidentally close the wrong tab, leaving only ads.
Conclusion
Pros:
Familiar chat layout
100% free
Ability to add users as friends and send private messages
Thousands of active users
Cons:
Lots of spam from users
Low-quality video
Ads, ads and more ads
FreeChatNow is well-designed, as far as free chat sites go, but it suffers from some of the same limitations. For example, the vast majority of users are men, which makes it hard to meet girls. The video quality is also poor, and the ads are pretty intrusive. The community does seem to be active, though, and the ability to add friends is nice to have. If you're into chat sites, this one is worth checking out.
Visit FreeChatNow