Flingster - flingster.com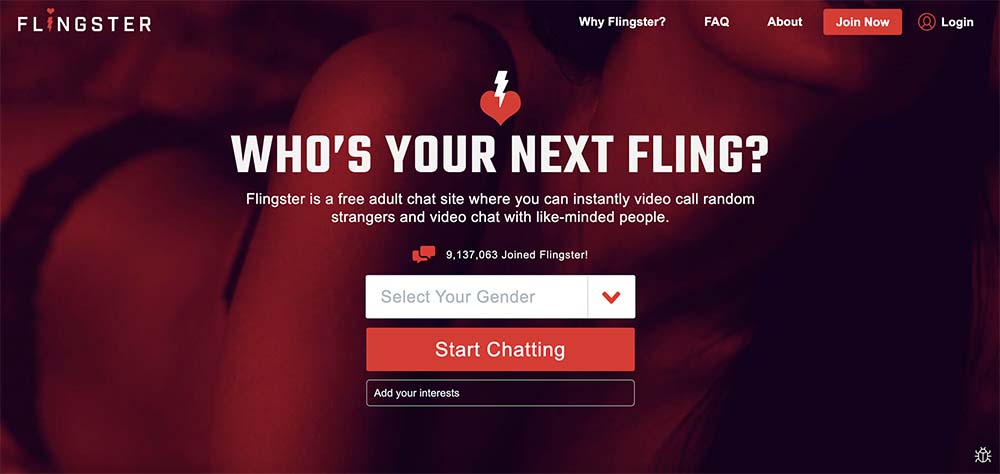 In this day and age, who has the time to wait in long lines to find a partner. Well, at least that's what Flingster promises to prevent you from doing. This relatively new dating website randomly connects you with a stranger. It's very unlikely that you'll find the 'one' on Flingster but if you're looking for some online fun, this app seems quite promising. It also comes with some interesting features to keep you hooked. Here's everything you need to know about Flingtser.
Flingster Pros and Cons
Pros
Digital masks for anonymity and excellent privacy features
Tons of users from all across the globe
Unlimited chatting time
Instantaneous chatting
Cons
Dominated by men
A Large number of scammers, bots, and fakes
Doesn't have a mobile application
Flingster: What Is It?
Flingster is a new video dating app that presents an element of randomness and fun to users. The site's copy states that it's tailored for people who don't want to fill out long questionnaires to find a match. Randomized video chatting is a relatively new concept but the site will remind users of other sites such as Omegle and Chat Roulette.
Flingster is all about making random connections and having fun and at a moment's notice, there are thousands of users active from all across the globe. The site is inclusive and welcomes people of all gender identities and couples as well, but it's mostly dominated by heterosexual males and females.
Keeping in line with its random nature, the site doesn't allow you to make your preferences very specific or revisit your matches. This might be a problem for some users but it goes very well with what the site is aiming for. The free version is perfectly usable and allows you to chat endlessly but the premium version also offers some nifty features. In short, Flingster is a promising addition to the overcrowded online dating industry.
User Interface
It can be a hit or a miss but we love the minimalistic and easy-to-use interface of Flingster.com. The text chat appears on the right side of the screen and on the left side, you'll see the webcam of the person you're interacting with. In the top right corner of the screen, you can choose the gender you want to be paired with.
The user interface is quite modern and we were impressed by how quickly the algorithm matched us with another user as soon as we disconnected from the previous one. The video streaming was smooth but, in our experience, most users weren't comfortable turning on video streaming. There's no dedicated mobile app but the site works perfectly fine on mobile as well. In all, we have not much to complain about the Flinsgter.com user interface.
Signing Up On Flingster.com
You'll be delighted to know that Flingster.com registration is free during the free trial period. You can take your time exploring the site before deciding on whether you want to purchase or not. You only need to furnish your gender and email for registration and you can connect with a user immediately.
The registration period is very straightforward and entails no verification email allowing you to get to business right away. Flingster doesn't allow you to connect any of your social media but we don't find this a major con as it can be risky to associate your social media accounts on such sites.
However, due to the easy registration process, we noticed that the site had a considerably large number of scams, bots, and fakes and we recommend you to be highly vigilant.
Profile Quality
Flingster does an excellent job at protecting the anonymity of users. On the site, you won't be able to see much information about the users other than their gender and location. You can only get more information from users while conversing with them via chat.
The site doesn't allow profile browsing and you'll only get to see the current randomly selected match. You'll need to purchase the premium membership if you want to see a previous chatmate again. If you're connected with someone that piques your interest instantaneously and you want to prevent them from moving on; we will suggest you send a personalized message to catch their attention.
Very similar to Tinder and some other dating sites, Flingster provides a verification badge for users who want to prove their legitimacy. As noted above, the site does have a large number of bots and fakes and if you want to get the most out of Flingster, it's highly recommended that you verify yourself.
Finding A Match On Flingster
Flingster is dominated by males and most of the users are from the US but there is still a large number of users from all across the globe. Flingster claims that there are more than 100,000 users on the site at a time and in our experience, we noticed that there were a lot of users at once.
The site welcomes people of all genders and their no restriction chat policy makes them ideal whether you want a simple chat, a date, or some NSA fun but in our experience, most of the people are looking for a hot online session or a one night stand.
Matching and messaging on Flingster are free of cost. After you've logged in, select "start chatting" and you can chat with your matches for as long as you want. If you aren't comfortable with turning on your microphone or video camera at first, you can try text chatting until you're ready.
In our testing, we found that most users that have their cameras turned on during chats, tend to be nude or wear revealing clothes. If you aren't comfortable with that, you can start with your camera off until you can trust the user on the other side.
The premium membership allows you to adjust the location and gender. The matching will still be random but you'll at least have control over your preferred gender and nationality. If you want to protect your anonymity, Flingster offers you a wide range of kinky mask filters to mask your face.
Flingster Premium Membership
You'll need your credit card if you want to get the premium version of Flingster. The site uses a third party, Segpay, for processing payments and they will also handle your billing and cancellation concerns. For 1-week premium membership, it costs 6.99USD, 19.99USD for one month, and 14.99 USD per month for the 6 months version. Prices are only available in USD.
Flingster doesn't provide any refunds if cancellations are made during an active billing cycle so it's better that you use up all your remaining days before making a cancellation. With the premium version, you'll receive certain features such as the AR face filters, the ability to get reconnected, no ads, I-chat verified badge, location, and gender filters.
Flingster is too overcrowded with men jerking off on their webcams that it might be unbearable for some users. If you don't want to be bombarded by nude men, you should consider purchasing the premium membership.
Conclusion
If you're looking for some online anonymous fun or desire hot hook-up, Flingster is an excellent site to try out and comes with excellent privacy features, thousands of users, a user-friendly interface and you can do pretty much everything you would want to from an online dating site without spending a dime. On the other hand, if you're looking for a long-term relationship, we would suggest you look elsewhere. Despite being relatively new to the game, Flingster offers an exciting online video dating experience and is certainly worth giving a try.
Visit Flingster