Firecams - firecams.com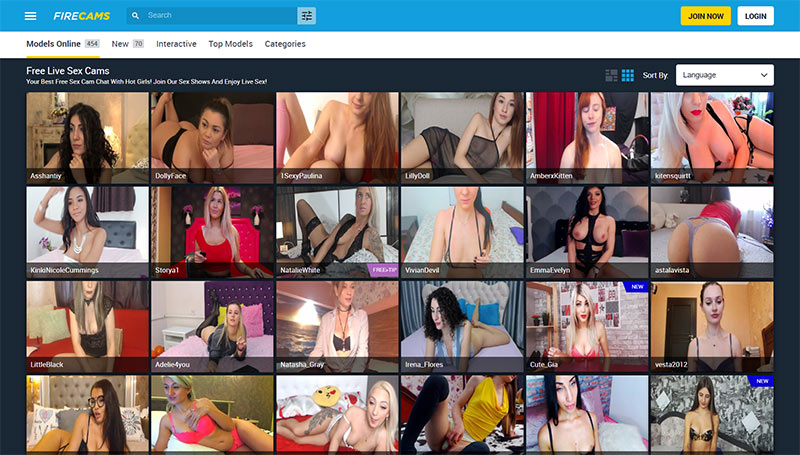 FireCams is a webcam site offering various live show types and features. Like most webcam sites, it supports interactive toys, has a good catalog of models, pre-recorded shows, and private chats that can be paid for in tokens. There are also several additional features that some leaner sites don't have. The model catalog is quite appealing as well, with over 20,000 models that span the range of ages, races, body types, and so on. Its Alexa ranking is in the top 40,000 globally by traffic across all categories.
The site is operated by Bulova Invest Ltd. of the British Virgin Islands, formerly of Cyprus. They own several other adult-themed sites, though none appear to be white labels or other cam sites, at least not under that holding company name. Their most popular sites other than FireCams all are dating, hookup, and singles-style sites aimed at various countries around the world, including GetNaughty.com and IAmNaughty.com in the US.
Firecams Chat Costs
All chats on FireCams, other than non-nude free chats, cost tokens, the site's chosen currency. Models set their own rates on a per-minute basis for the different types of chats they offer, meaning there can be quite a good deal of variability across the 4 premium (pay) chat types available. Pre-recorded shows are also available, at a fixed price of 63 tokens per view.
The only payment method for tokens on FireCams is a credit or debit card (though pre-paid cards are fine, so long as they are issued by Visa or MasterCard). The best option is highlighted in green, and the worst in red.
| | | |
| --- | --- | --- |
| Credit Card | | |
| 75 Tokens | $10.00 | $0.13 |
| 225 Tokens | $24.99 | $0.11 |
| 400 Tokens | $39.99 | $0.10 |
| 550 Tokens | $49.99 | $0.09 |
| 1000 Tokens | $79.99 | $0.08 |
Free chats on FireCams are non-nude, or may show breasts but not genitals. This doesn't mean the models aren't getting off, as masturbation through panties, inserted interactive toys, and other similar activities seem to be totally allowed. Free chats for tips are present, though less prevalent than sites that allow fully explicit and nude free shows for tips. Typically when tips reach a certain level the model will take the chat into party chat mode. There are four primary types of paid chats available. Cam2Cam features are available in all but the spy/voyeur chat mode – don't worry, only the model can see it in all modes. The chat modes include:
Private chat, in which you are one-on-one with the model and direct the action. These are not true private chats, in that others may spy via spy/voyeur mode. However, they don't get audio, or see your text chat with the model.
Nude chat, which is like a group private chat, where you and others can engage in intimate action with a model. This is similar to a party chat, but branches off from a private chat rather than a free chat. Party chat, which starts from a free chat, where the model then invites anyone who is willing to pay into a group private chat.
Spy/voyeur chat, where you can get the video stream from a private chat, without audio or text chat options.
These options all come with different prices, and the prices are set by each model, so there's a lot of variation. We've included our observed typical ranges, in tokens per minute, and what that equates to in the chart below. However, there may be some models offering much lower prices, and others with much higher prices, so you'll have to check for yourself to find the best deals.
| | | | |
| --- | --- | --- | --- |
| Private Chat | 30-50 | $3.00-$5.00 | $15.00-$25.00 |
| Nude Chat | 30-50 | $3.00-$5.00 | $15.00-$25.00 |
| Party Chat | 25-45 | $2.50-$4.50 | $12.50-$22.50 |
| Spy/Voyeur Chat | 10-20 | $1.00-$2.00 | $5.00-$10.00 |
You can also join a model's fan club for $19.99/month or $18.99/month for 3 months. These fees recur, and offer benefits such as reduced cost private chats, access to pre-recorded shows, photos, and so on. There is allegedly a premiere membership available to the site overall for a subscription price, but there is no option we could find anywhere to sign up for it, or that provides the specific benefits of that option.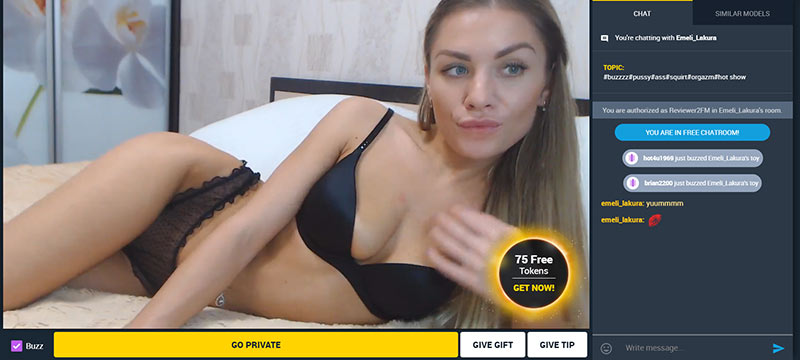 Model Manifest
The model catalog at FireCams is about 50% women, 35% men, and 15% transsexuals. While many seem to be studio models from eastern Europe, there is a good mix of true amateurs and independent models as well. Like most cam sites, there are models of various ethnicities, ages, body types, and so on. There is certainly no shortage of variety here!
At any given time, there are usually around 500 models on cam, roughly 425 women, 5 men, 15 couples of various types, and 55 transsexuals. As you can see, the major model base here is female, typically solo female (though some lesbian groupings do appear under the couples heading most of the time). Couples include all combinations of girls, guys, and transsexuals, along with threesomes and groups. The total registered model catalog holds over 20,000 models.
Firecams' Fucking Features
FireCams has most of the typical cam site features, and a few extras for variety that you don't find on every site. Specifically:
Free chats with limited nudity and no explicit sex acts
Model tipping in any chat mode
Private chats
Group private chats (nude chats)
Party chats, fully nude group chats started in free chats first with tips
Spy/voyeur mode, where you can see the model's private chat feed, but not the audio or text chat
Fully-functional mobile version of the site
Interactive toys are fully supported and used by approximately 80% of models
Cam2Cam broadcasting is available in all chat modes (other than spy/voyeur, of course)
Fan clubs offer subscription-based discounts on private shows, and free access to pre-recorded shows from that model, among other perks
Pre-recorded shows are also available to purchase from any model for 63 tokens per view ($6.30)
Model profiles provide basic biographical information, free photo galleries, approximate work schedule, and other information
Fan club members can engage in private messaging emails with the models
A "Top Models" area makes it easy to find the top performing models on the sites
Sexy Systems
FireCams performs well in our testing. The interface is fairly basic and straightforward, with navigation at the top, more options from a toggle menu in the upper left, a search box and advanced filters at the top as well, and the lion's share of screen space given over to the model chat stream thumbnails/search results. One minor point of contention here is that the thumbnails do not show a live preview of the stream, but rather are somewhat static or periodically-updated glamour shots (similar to the interface on LiveJasmin in this regard).
The site loads quickly, and accessing model streams is also fast. Video streaming quality varies by model, but doesn't seem to lag or have hiccups or any other troubles from a networking standpoint. Some models are using HD cams, and others are in lower quality. Unfortunately, there is not a filter or sort feature to only choose models using HD, so you'll have to explore that for yourself.
There are several options to find models and shows. For a start, you can simply browse from the main page, looking at the models online, models who are new, models you have previously visited or favorited (which get saved to "My Models"), models with interactive toys, top models, or pre-recorded shows. Then, there's a direct search by name feature, along with a filter consisting of 11 different sections, including typical things like gender, orientation, age, hair color, body type, and so on. Alternatively, you can access a category list from the toggle menu, which features 18 different categories based around gender, ethnicity, age, hair color, nudity status, and so on.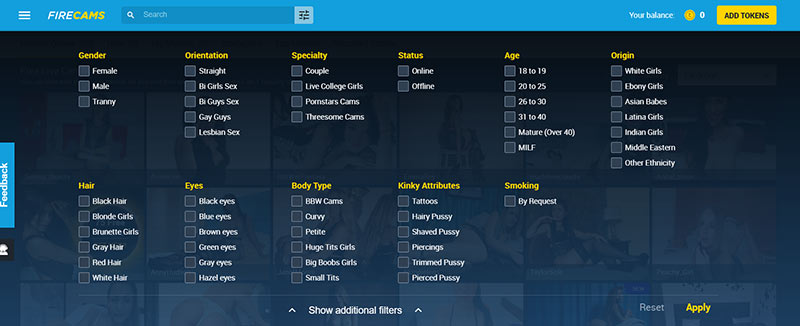 Cam Climax
Pros:
Moderately sized model catalog, with a reasonable number on most of the time
Typical cam site features, plus fan clubs, galleries, messaging, and pre-recorded shows
Token costs average out to around $0.10, making the mental math fairly easy
4 different paid show types, and prices varied by model, mean there's a lot of variety to fit different budgets
5,000+ hours of recorded shows available for viewing
Membership to the site is entirely free
Cons:
Private show costs can add up quickly
Not a lot of solo male or male couples compared to some cam sites
Would like to see live previews of model streams in their thumbnails
No fully nude and explicit free chat options
No PayPal, gift card, or cryptocurrency options for token purchases
One of the best aspects of FireCams is the fact that there are so many different chat types, and variable prices set by the models. While it seems like the most traditionally gorgeous models have the higher prices, you can definitely find some good deals. Party chats and newer models often offer excellent value for your money. The interface and systems behind the site work well, though we really would like to see an HD filter option, and live previews of streams in the model thumbnails. Though quibbles aside, the site loads and runs smoothly, and chat streams are good quality with no connection issues. There are plenty of models online at any given time to suit any particular taste or look you have in mind. If you're into guys, this might not be the best site for you, as the male model population online is fairly low. But for solo girls and transsexuals, there are a ton of options to choose from. Token prices are reasonable compared to most other sites, though your only payment options are credit or debit card. All in all, FireCams is a pretty mainstream cam site with solid features, and that runs well with a good catalog of models to choose from. It's definitely worth a look – accounts are free – and if you want to buy some tokens, new users can get 75 bonus tokens for free on their initial token purchase. So go check it out, and start a fire in your pants! (Metaphorically, not literally! Our lawyers made us add that bit.)
Visit Firecams