DirtyRoulette - dirtyroulette.com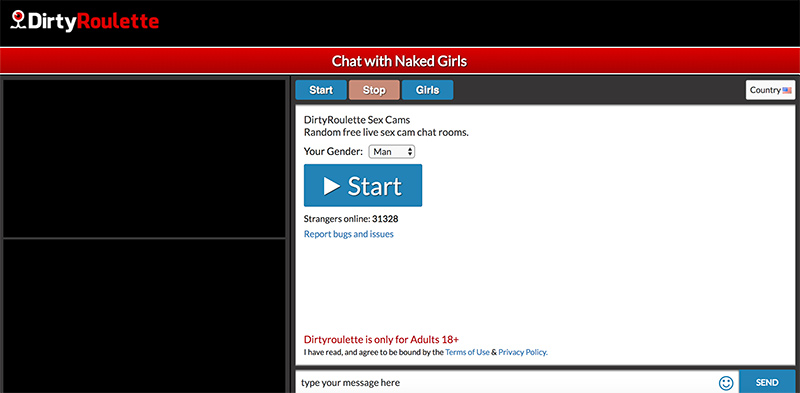 DirtyRoulette.com has been on the radar for porn review sites on the web, but the hype is far better than the reality. DirtyRoulette is very much ChatRoulette, except the site designers actually tell you that it's supposed to be "dirty" as opposed to ChatRoulette (where it's implied). However, you can't chat with chicks without clicking the "girls" button, which immediately sends you to a paid cam site with girls only. That definitely made my soldier duck and cover.
DirtyRoulette Chat Costs
DirtyRoulette.com doesn't cost a penny. You don't need to enter any credit card information or create a username. In fact, you don't even have to give them your email address. Additionally, no need to verify that you're actually 18 because the site doesn't even ask you (a bit shady, and maybe a legal mistake?). I don't mind paying money for a high-quality erotic service, but I loathe a terrible experience even when it's free. I'd rather pay good money to see hot girls than search for an anonymous chat partner at the cost of my own sanity.
Model Manifest
You won't find any famous porn stars or cam girls here. It's not that type of site. What you will find on Dirtyroulette is a plethora of rather unattractive dudes beating their meat, which is great if that's your thing. Every now and then you can find a fully clothed stranger on the other end, probably on the hopeless search for connecting with a hot babe. As mentioned before, the only way to find a girl on the other end is to click the 'girls' button. What that does is connects you with a myfreecams model. You will then see a link asking you to verify your age. That link sends you straight to Myfreecams.com. So go ahead and skip that and just go straight to Myfreecams if chatting with a girl is your goal.
DirtyRoulette's Fucking Features
The interface looks like a seventh grader designed it. It is 1995 AOL chat. It's terrible. It looks like a pop-up ad at first, but it's actually a chat site. The second that you click "start", your computer asks whether or not you want to allow or block your mic and camera. If you do allow them to access your mic and webcam, be ready to click through tons of dudes jacking off. I hit the 'next' button hundreds of time and was greeted with dongs of all shapes and sizes. Not one single girl. So after all of that I figured I would try the chat option.
On the bottom right, you will notice a button that says "text chat only". Once you click that, you can start chatting it up. If anyone acknowledges your existence. In the upper right corner you can chose your country. However, you can't choose any specific categories of chicks. There is no option. You are automatically connected to random people around the world. If you allow DirtyRoulette.com to access your camera and mic, the site will post the state that you're in and country. Otherwise, for international people, your text box will show the city that you're in and the country.
See…here's the thing. I'm okay turning my cam on, but I don't want to let sites access my computer. When that feature is on, the site has access to my system, and I'm just not comfortable with that. I'm here to chat with perverts who I can pretend are hot chicks, not relinquish my computer to a site with "dirty" in the URL.
No one chatted with me. They ignored my messages and kept spinning toward the next person. At one point, I thought that there weren't any other people online. I was right. There isn't anyone on this site, well…there aren't any real people on this site. Not a single person responded to me…ever.
I noticed on the top of the interact that it said, "Chat with Girls". I thought that was strange since the site doesn't offer girls as an option unless you click "Girls". As I said before, you are immediately sent to Myfreecams, a paid cam site that only features women. It's understandable that there would be no girls on a free adult chat site, but there aren't attractive guys either. It's either ugly dongs, barren chatrooms, or a cam site. Those are the possible outcomes in the game of DirtyRoulette.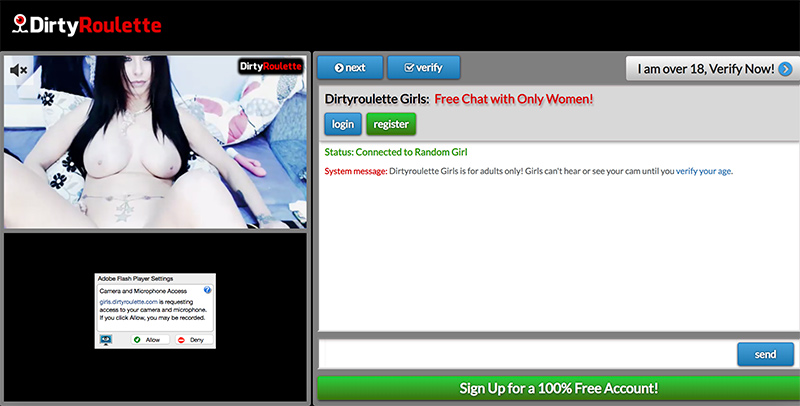 Conclusion
Pros:
It's totally free
You don't have to go through the bullshit of creating a username and verifying your email address
Cons:
If you are bi or straight, there's no point in using DirtyRoulette.com. You are automatically redirected to a paid cam site the second that you click "girls"
Text chat sucks. No one interacts with one another.
This site kind of blows, and not in a good way. Straight guys—you can only get off if you click "Girls" and go to the paid cam site. Gay dudes…don't even bother. There aren't any real guys on this site. Bi and other... Don't waste your time, guys. Check out another site.
Visit Dirty Roulette