DaGFsCams Review
DaGFsCams represents the cam site offerings of well-known teen porn site DaGFs. They have a large selection of models, a common interface (it is run by ICF who operates many similar sites, see more below), and use real-world funds rather than confusing tokens or credits with arbitrary values. The site has pretty much the typical cam site features you would expect, with a couple of different types of chats/shows depending on your budget and desires.
This site is one of many white label sites produced by ICF Technology, Inc. of Seattle, Washington, USA. They have literally thousands of white label sites with a similar interface and the same base of models, features, etc. Like most white labels, however, accounts, credits, and similar do not transfer between one site and the others.
DaGFsCams Chat Costs
On DaGFsCams, private chat costs are variable and set by the models. These can range from $0.99 per minute to $8.99 per minute in either private or exclusive chats (and possibly more – we've not seen chats charging higher than this though). The Gold Show is a type of group show that's handled a bit differently. The model sets a goal and a time to reach that goal. Viewers in the public chat (called a party chat) then contribute toward that goal. When the countdown is over, if the target has been hit, or the model is satisfied with the funds, she can initiate a private group show for contributors. Or, if not, the donated funds are refunded.
Unlike some sites, private shows can have multiple viewers (and we don't mean via a spy mode). Gold Shows and private shows are open to multiple people who pay. For a true one-on-one experience, just you and the model, you need to choose the Exclusive show option, a sub-type of private that is truly private. This usually costs a bit more, again, set by the models. Private shows are usually around $3/minute on average, with exclusive shows costing around double that or more. Gold Shows are quite popular, since the price is very variable based on what the model thinks she can get from the people in her chat at the time.
Unlike many cam sites, DaGFsCams does not use a token or credit system. We really like that, since it means prices are shown in real world currency, and you don't need to be doing any kind of mental math between real world currency and token or credit costs to know how much you're paying. They do have a sort-of credit currency called "gold" which is used for tipping and for donations for Gold Shows, but really that is just a name – it is always equal to $1 in value. All private and exclusive chats, pre-recorded videos, and other features are clearly listed in their actual USD/minute rates, which is really nice.
Since the chat costs are variable, we can only look at pricing in terms of the ranges for private and exclusive shows. The Gold Show rates have already been discussed above.
| | | |
| --- | --- | --- |
| Private Chat | $0.99-$8.99 | $1.00 |
| Exclusive Chat | $4.95-$44.95 | $4.95-$44.95 |
| Gold Show | See Discussion Above | See Discussion Above |
So, how does all this stack up against other cam sites? Well, depending on the model, show type, and their hotness or popularity, rates can be notably lower than many other sites on the low end, about average for most models, or way higher than other sites on the top end. In a nutshell, it's about average in cost with the majority of models. Gold Shows are really a steal, though, since you can get a good, semi-private show with a few other people for just a few bucks.
At DaGFsCams, there are no paid membership options. All accounts start out free, either as unregistered guests, freemium with no cost but a credit card on file for age verification (pre-paid/gift cards are fine for this), or premium, where you've made at least a $25 deposit at least once. There are some account tiers in the rewards program, though, where you get bumped up based on how much you deposit and spend. This supposedly gives you higher priority in getting replies and such from models, but since it's a passive reward, there's no real reason to worry about it, and no way to gain a higher level other than spending more.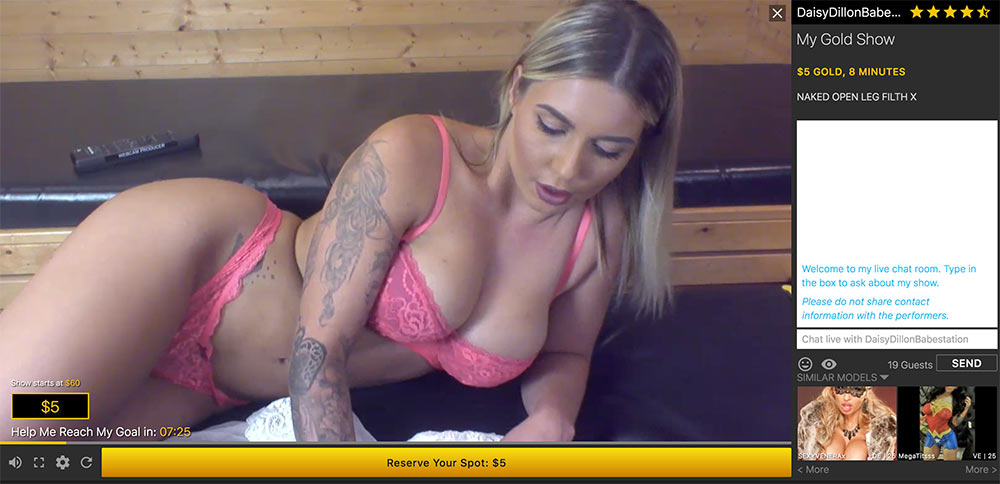 Model Manifest
DaGFsCams, like all of the ICF-based sites, has a rich catalog of models available. The full range of options are featured, including solo female, solo male, hetero couples, threesomes/groups, lesbian couples, gay couples, solo transsexuals, and transsexuals in mixed couples or together. The vast majority of models are female, of course, as is the case with many sites – let's be honest, the main consumers of webcam private chats are straight men, after all. Still, there's a good representation of straight, bisexual, and gay guys and couples and transsexuals here, along with decent fetish content and categories, so there's definitely a little something for everyone.
Like many cam sites, there's a good mix of body types, ages, countries, ethnicities, and similar represented. While the total count of models registered on the site is not disclosed, it's estimated to be around 130,000 or more. There are typically at least 1,250 models on at any particular time, with 1,600 or more during peak days/hours. About 90% of that number is female, with the rest made up of couples of all types, solo male, and solo transsexual performers.
Because ICF has such an extensive network of cam sites/white labels, they also offer one of the more extensive catalogs of pornstars who cam regularly on their sites – and we don't mean as featured, one-off, high-priced performances, but regular, daily or semi-daily availability. There are over 290 verified pornstars and celebrities registered on the site, and most days you'll find between 4 and 6 online at peak times. Almost all of these models, like the site's models in general, are female stars.
DaGFsCam's Fucking Features
The vast majority of regular cam site features are present on DaGFsCams, along with all the other ICF white label sites. One thing that would be a nice addition would be a feature to identify models who use interactive toys. They are fully supported on the site, but there's no way to search or browse specially for this feature. But aside from that, the site features that are present and easy-to-use include:
Free teaser chats, mostly clothed (although you'll get some topless action from women), but there's very little explicit sexual content
Private Chats, which are fully explicit, where 1 or more viewers pay a per minute price set by the model
Exclusive Chats, where you can go one-on-one with the model in true privacy, for a set pay per minute price
Cam2Cam feature available in all exclusive chats for an intimate experience
Gold Shows, which are group shows where all members in the chat pitch in to reach a set dollar goal, then the model performs a private show for all who contributed
Fully-functional mobile version of the site
Interactive toys supported, though not a filter or sort criteria
Model tipping is available in all chats
Confidential phone-based audio service is also offered by some models
All models have a profile page with information, as well as some pictures, schedule, and recorded videos available for purchase
You can also send and receive private messages with the models of your choosing
Models can be bookmarked as your favorites
There are events and featured shows several times a day most days
Sexy Systems
The company behind DaGFsCams and many other sites, ICF, has top-quality technology in place, which is one of the reasons they have become one of the dominant players in webcam sites today. The sites are quite responsive, and load very quickly. The chats themselves are very reliable, with little stuttering, buffering, or other related problems – even when models are broadcasting in full HD. There are really no technical headaches here, everything runs smoothly.
In terms of getting around, navigation is pretty easy. There's a standard nav bar at the top, and a sidebar with top-level divisions between guy and girl models, as well as 3 dozen or so categories to choose from and really filter through to find what you want. There's also a section at the top with other filters for things like HD, region, chat language, etc. – though some of these only work for premium members. There's also a direct search box to search by name, which is pretty common on all sites. And, there's a much more powerful advanced search, offering up the full range of 4 main divisions – girls, guys, trans, and couples – as well as about 10 different filtering options for each, that include criteria like pubic hair style, body type, age, and so forth.
Interactive toys are supported, with many models using them in tip-activated mode, but there is no good filter or search option to select just those kinds of shows. At the same time, the chat interface itself is simple yet feature-rich, and all levels of account access can request initiating a private chat, go full-screen, talk in the public chat, and use the other features that are available.
Cam Climax
Pros:
Lots of models of all types, with a good variety, especially among female models, in looks, ages, ethnicities, and styles
A good mix of typical cam site features
Multiple show types to fit different budgets
Easy-to-use interface with a lot of filtering and sorting options
No technical issues, with high-quality video streaming experiences
We really love that real world currency is used for payment – it keeps things simple and clear
Cons:
Private show costs can add up quickly
Private show pricing is variable per model
Compared to some other sites, there isn't much explicit content available for free here
DaGFsCams and the other ICF-run sites are solid on the interface and technology side of things. They're easy to use, and provide a lot of options for finding your ideal model(s) to chat with. The several different show types mean there's something to fit most people's budgets, and the prices here are about average, with lower-end prices being below average. Gold Shows in particular can be quite a good deal. This is also one of the few networks that feature genuine pornstars as regular cam models (rather than featured performers), which is a huge plus for many people. The real world currency for prices and payment is a really nice touch, too. This is a great cam site addition to the DaGFs network – a good complement to their high-quality teen porn videos, and a far more interactive experience that many users prefer.
Visit Dagfs