Chatzozo - chatzozo.com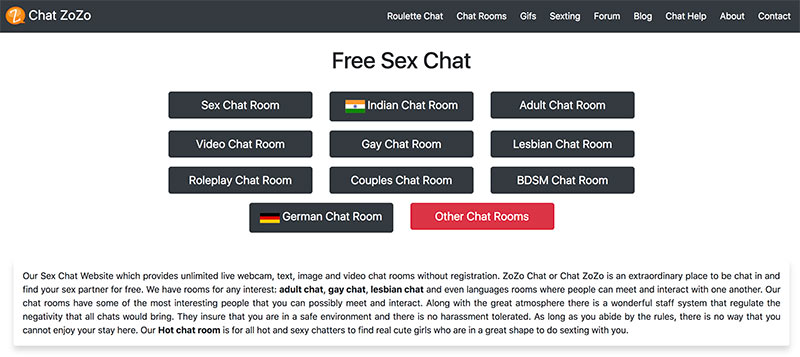 Chatzozo.com is a free chat and cam site that was registered in February, 2012. There is no publicly available information on its owners, and the site does not appear to be part of any network. As of December, 2018, Chatzozo is the 123,350th most-visited website worldwide, the 12,655th most-visited website in India, and the 1,095th most-visited chat site. Its Alexa ranking is 171,630, and its US Alexa ranking is 343,375. 24% of the site's users are from India, 17% are from Germany, 12% from the UK and 11% from the US.
Chatzozo Chat Costs
There are no costs to chat on Chatzozo. All chats are open to the public, but many contain links to paid content on other sites.
Group chat is sorted by language, although the main "sex chat room" is in English. These are text-based chat rooms, with the ability to send pictures, as well as to private message other users and request Cam2Cam access.
Roulette chat is similar to other random video chat sites like Chaturbate or Omegle.
GIF gallery of user-posted content, and free sexting directory.
Users can create free accounts to chat anonymously, and female members have the option to create free VIP accounts. VIP accounts require ID verification but provide additional security features such as enhanced anonymity tools and blocking unsolicited private messages.
Model Manifest
Chatzozo is a chat site, GIF aggregator and phone sex directory, not a cam site. The chat users are mostly male, and the female users seem to mostly be role-players, moderators, and professional Snapchat models. The only active chats at the time of this review were the main "sex chat room", the German-language room and the India chat room. The other regional chats, as well as the gay, lesbian and fetish chats were all empty.
The site's GIF gallery features a variety of sexy images from all over the world. These are user-submitted, while they're high-quality and have a search feature, there have only been 4 uploads in the past year, so you won't see fresh, new daily content like on more popular GIF sites. The roulette chat feature also suffers from the site's small user base. Over the course of three hours, we checked in every few minutes, and there was nobody in roulette chat at all.
Chatzozo's most active area is the sexting directory, which is basically a list of Snapchat, Kik and Skype models who are looking for action. This part of the site gives you up-to-the-minute updates on lots of hot girls, so if you're looking for some quality paid chats, this is where it's at. The models here are almost exclusively female, so gay users will not find this page helpful.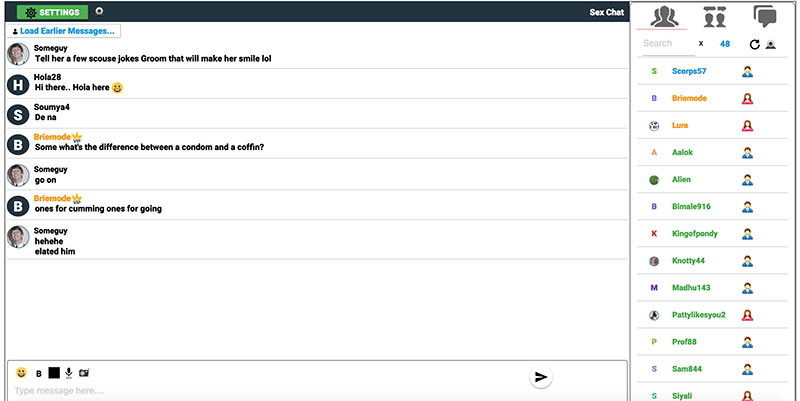 Chatzozo's Fucking Features
Chatzozo offers a variety of features you may be familiar with from other sites, including:
Free, public text chat with image sharing and private messaging.
Free VIP accounts with enhanced security for female users.
User-uploaded GIF gallery.
Up to date Skype, Kik and Snapchat directory.
Ads are unobtrusive.
Sexy Systems
Chatzozo.com has an old-school look that was retro back in 2012. It's not much to look at, but an upside of this simple design is that the site loads in about three nanoseconds. Clicking the "free sex chat" button will get you chatting in seconds.
Users can chat in the main chat room in English, or click on other buttons to hang out in the site's active German or Indian communities. The other regional sites did not appear to be active. The mobile chat works on Android, but not on iPhones, and trying to use the video feature caused our LG phone to hang on the permissions screen. Across the top of the page is a banner that links to Chatzozo's GIF gallery and sexting pages. The GIF page is high-quality, but the lack of regular updates makes it more of a "one and done" gallery than something you're likely to come back to.
The sexting page is probably the site's best feature, if only because it's up-to-date. However, it requires a separate membership, which is free, but irritating. Advertising is minimal throughout the site, with just a few banner ads and no cringe-inducing images.
Conclusion
Pros:
Free and easy to use
Large international user base
Unobtrusive ads
Cons:
Lots of guys, not a lot of girls
Not a lot of content
Limited mobile support
Chatzozo is not a cam site. It's a cam aggregator with limited chat features. While the active German and Indian communities are a nice plus, we doubt they're any more useful than the English-speaking "any girls want to jerk off on Skype" content you'll find in the main chat room. The GIF gallery is nice, with a well-implemented, clean design, but it depends on user generated content when there just aren't many users. That was more or less the problem with this entire site: no content. The only page that's worthwhile is the sexting directory, which leads to paid content on other sites. If you're looking for a Snapchat or Skype model, there are plenty to be found. If you're looking for a cam site, look elsewhere.
Visit Chat ZoZo