Chattino - chattino.com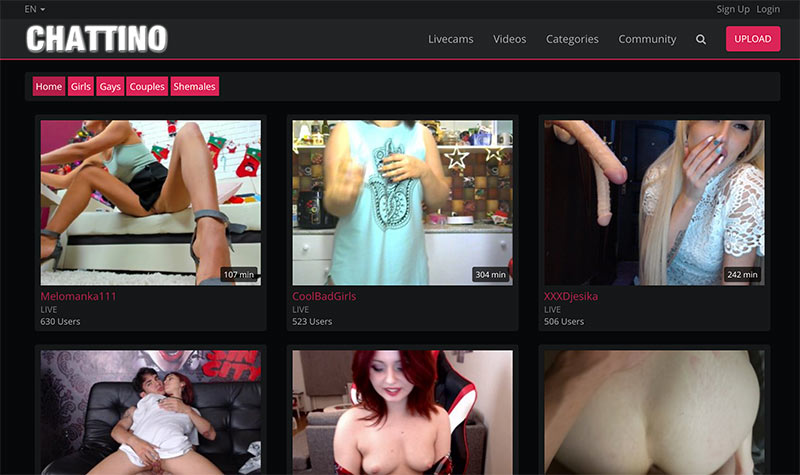 Chattino.com is a free cam site that offers a wide variety of selection for your fapping needs. It also tries to be a hybrid site of sorts, having a limited library of professional and amateur porn videos from which you can choose. It appears to be a part of the larger cam site Bonga Cams, which boasts a collection of several thousand models of various tastes and fetishes.
Chattino Chat Costs
As with many free cam sites, Chattino does indeed offer cams for free viewing. What does free get you? Quite a bit, anywhere from mostly nude to completely nude to fucking a buddy or fucking themselves. There doesn't appear to be a paywall blocking any content. It does offer a tipping feature, which will allow you to interact with models directly, as well as using tokens to get models into a private showing. There doesn't appear to be any other fee structure beyond this.
So the question is; how much are tokens? They certainly aren't upfront about the actual cost of tokens at all, and put enough barriers between you and purchasing tokens, it appears that you giving them money might in some way be a negative for them. Like money hurts their feelings. If you attempt to tip, you'll be instructed to create an account. Makes sense, of course. However, once you fill out the information, you're told a confirmation email will be sent, and once you've verified the account, you'll be up and running.
Surprise! You'll never get the email. You'll be waiting just like you waited for Dad as a kid, and will be equally distraught when you find that neither are coming. However, if you click the right tipping button (I'm not kidding), you'll be directed to a completely different site, Bonga Cams. From there, you'll be offered an incentive to register an account and get 100 free tokens. But you still won't be told how much tokens are. Only after registering again directly through Bonga Cams, and then attempting to tip a model, will you actually be shown how much tokens cost.
Here's the breakdown:
| | | |
| --- | --- | --- |
| All Payment Methods | | |
| 17 Tokens | $2.99 | $0.176 |
| 54 Tokens | $7.99 | $0.148 |
| 139 Tokens | $19.99 | $0.144 |
| 248 Tokens | $29.99 | $0.121 |
| 440 Tokens | $49.99 | $0.114 |
| 661 Tokens | $74.99 | $0.113 |
From there, you also have the option to ask models into private shows, which appear to have the following standard rates:
| | | |
| --- | --- | --- |
| Private Chat | $5.28/min | $26.40/5 minutes |
| Private Show | $6.66/min | $33.33/5 minutes |
| Group Show | $2.64/min | $13.20/5 minutes |
Aside from that, you really don't have a lot of options on how you can watch the models, or how you can interact with them. It's either the free show, a tip, private chat, private show, or "group." That's it.
Model Manifest
Chattino offers several different flavors of models to choose from, such as male, female, gay, trans, and couples, but the number of models within those categories is particularly limited. It isn't uncommon to click on a model that is categorized as being "live" only to be met with a message that she's offline (this happened numerous times throughout the writing of this review). The models do appear to at least be properly categorized, so it's easy to find the kind of model you're looking for, as long as they happen to be online.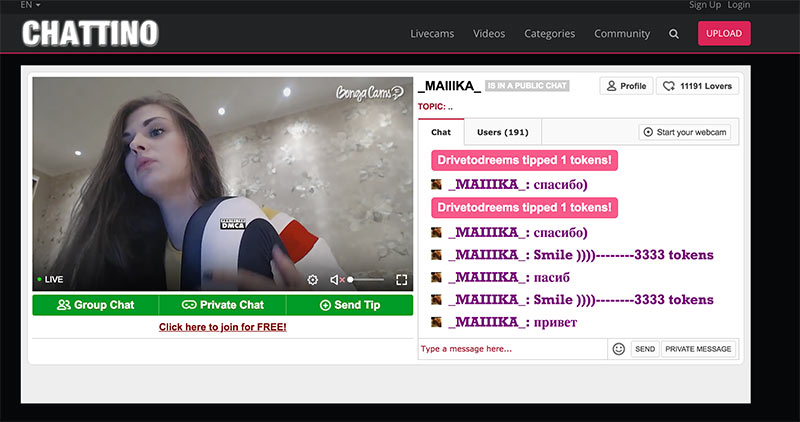 Chattino's Fucking Features
Chattino has the normal features you would expect from a small, basic cam site, including:
A reasonable number of free chats
Ability to tip models
Private chats
"Group: shows
Community shows
A somewhat functional mobile site
Model profiles that include basic background information
Sexy Systems
The site is, how you say, is not good. Even though the site has a simple design, we ran into regular problems with loading the homepage, loading options within the website, and stuttering during video was very common, depending on the model.
The categories of models are simple and clear, which makes it relatively easy to find a model in your niche of lust. However, outside of simply browsing the categories, there aren't any other ways to search for models (unless you happen to know their exact name).
Creating an account was a fucking feat. The details of token costs are hidden within two or three layers of absolute horseshit, and the site doesn't say that it's officially associated with Bonga Cams anywhere outside of the actual model cam. Not at all transparent, which is frustrating.
Cam Climax
Pros:
Varying niches of sexual interest (including trans) are represented, both in cam and video
There is a decent amount of free content, including full nude/sexual acts
Cons:
As with many cam sites, private shows are extremely expensive
Tokens are very expensive compared to other cam sites
Some categories of cams are not always populated or available
Site has serious technical issues in account creation and who is "live."
Number of overall models appears to be very low
It seems extremely clear that Chattino is a skeleton site designed only to drive people to Bonga Cams. Nearly all models available have a Bonga Cam watermark, tokens are purchased through Bonga Cams, and account registration can only be successfully done through Bonga Cams. At first glance, the site appears to offer a wide selection of models, but it seems very clear that selection is limited and many models are offline.
Chattino appears to try to compensate for lack of cam content by having a small video library of porn, which itself suffers from overall low video numbers and limited selection. The most viewed video has less than 5,000 views, so it appears that this section is present to simply look pretty, at which it fails miserably. Chattino is an overall disappointment. It's incredibly expensive, poorly designed, and since you'll have to spend most of my damn time fucking around with Bonga Cams to even get an account to begin with, it doesn't appear there's any real incentive to return to Chattino after I'm done burning my house down out of rage and frustration.
You can do better. Your dick deserves better. Leave Chattino alone and just head on over to Bongacams
Visit Chattino