Chatiw - chatiw.us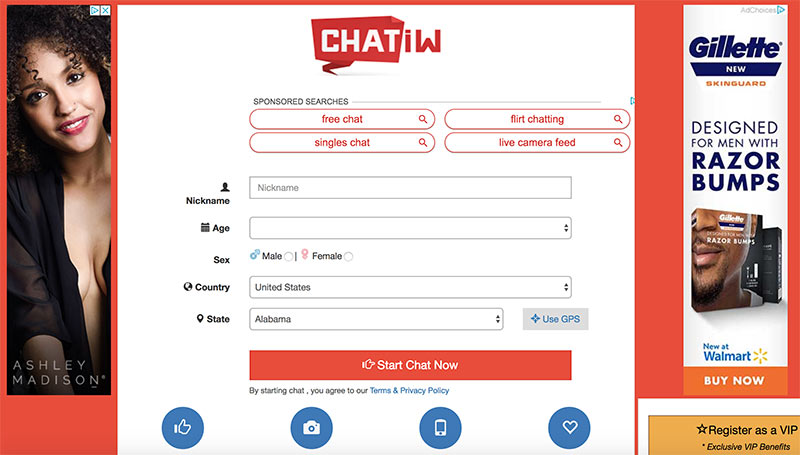 Chatiw.us is a relatively new, free chat site that was registered in March, 2016. There is no publicly available information on who owns the site, and it doesn't seem to be part of any network.
While a very user-friendly homepage, its layout sort of takes you back to the days of Instant Messenger. And maybe that's the idea. After all, this is a website devoted to chatrooms. To be honest, the site has a very basic layout, which allows for quick maneuverability when you simply want to jump into a BDSM chatroom and start jacking it.
As of February, 2019, Chatiw is the 29,474th most-visited website worldwide and the 5,374th most-visited website in the US. Its Alexa ranking is 52,107. 88% of the site's users are from the US, and 3.75% are from Ghana.

Chatiw Costs
Chatiw.us is is free for most users. It takes just a few seconds to create an account. Enter a username and some basic info like your age, sex and location and you're ready to go. Since there's no password and no email verification, your profile is only temporary. Once you've logged out, your information will be deleted.
Optionally, you can create a VIP account. This allows you to keep your username, and send links and phone numbers. Be careful. If you send a link or phone number as a regular member, your IP address will quickly get banned for 48 hours.
As a result of this, Chatiw has relatively little spam compared to most chat sites. Unfortunately, this also means that most of the spam is coming from paid accounts. If you're interested in a VIP membership, Chatiw offers several pricing options:
| | | |
| --- | --- | --- |
| 1-month subscription | $4.95 | $4.95 |
| 6-month subscription | $25.95 | $4.33 |
| 12-month subscription | $49.95 | $4.16 |
| Lifetime subscription | $99.95 | N/A |
Model Manifest
Because this is a chat site, the only "models" you're going to see are other users, and only then if you swap pictures. There's a Cam Chat link at the top of each chat room, but it doesn't let you video chat with the person you're talking to. Instead, it takes you to a third-party site called pepschat.com.
At the time of this writing, there were just over 1,800 users online. It's a terrible time of day for US residents — 7 AM Eastern time, 4 AM on the West Coast — and since US users make up almost 90 percent of Chatiw's membership it's safe to say that you'll find more people online during peak hours.
Unfortunately, even 10,000 users wouldn't fix this site's most fundamental problem: a lack of women. While the site doesn't provide an exact count, a quick look through the active users list shows that about 85% of users are men.
On the flip side, gay men may find some success here. There's no way to tell if another user is gay without asking them, but we got several messages from other men during this review, while the only messages from women were along the lines of "Click here to check out my sex cam on www.DefinitelyNotAScam.com/HornySlut6969".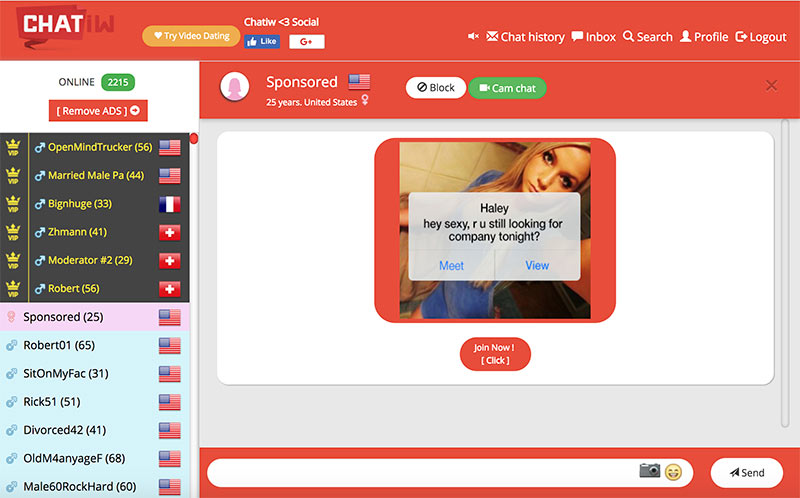 Fucking Features
In addition to a large user base, Chatiw has some other features that are worth mentioning:
100% free text chat allows you to instantly talk to people from around the world.
Chat interface is simple and easy to use.
Looks cleaner and more modern than most chat sites.
Mobile app for Android users.
Ability to block users or report spam.
Paid memberships available if you want to use the site to promote your cam.
Sexy Systems
The chat interface shows a list of active users on the left side of the screen. VIP members will show at the top, followed by users from your home country. Beneath that will be international users, listed by country. Clicking someone's username will open a chat window, where you can instantly start typing. You can also send and receive images, but there's a daily data cap for free users.
The site itself is colorful and modern-looking, with large, easy-to-click icons and usernames. There's a search button at the top of the page that lets you search for a particular person. You can also use this to filter users by gender, age or location. If you've chatted with someone you like in the past, this is the only way to reconnect; there's no friends or favorites list on this site.
The mobile experience is a mixed bag. Going to chatiw.com on your mobile device will let you create a username just as you would on desktop, but then it pulls a bait-and-switch, sending you to another chat site called ChatWS.com instead. Android users can get around this by downloading the Chatiw app. It's a bit clunky, and lags a lot for some reason, but it works. iPhone users have no mobile option whatsoever.
You might imagine that a service with this few features would be free. Once again, Chatiw serves up a big steaming plate of disappointment. There aren't a ton of ads, but the ones that display are very intrusive. They're either popups, popunders, or overlays that won't let you close them until a timer expires.
Conclusion
Pros:
Simple, intuitive interface
100% free text chat
Thousands of active users
Less spam than most chat sites
Cons:
No video chat
Some intrusive ads
Limited mobile support
No friends list or favorites list
Image swapping is capped for free users
At first glance, Chatiw looks more polished than some other chat sites. It's bright, colorful, and brings a modern appearance to an old-school layout. But under the hood, it has all the problems that will be familiar to chat site users: no video chat, no way to reconnect with people you've talked to before, and more sausage than a Wal Mart meat department.
Visit Chatiw