Chatib - chatib.us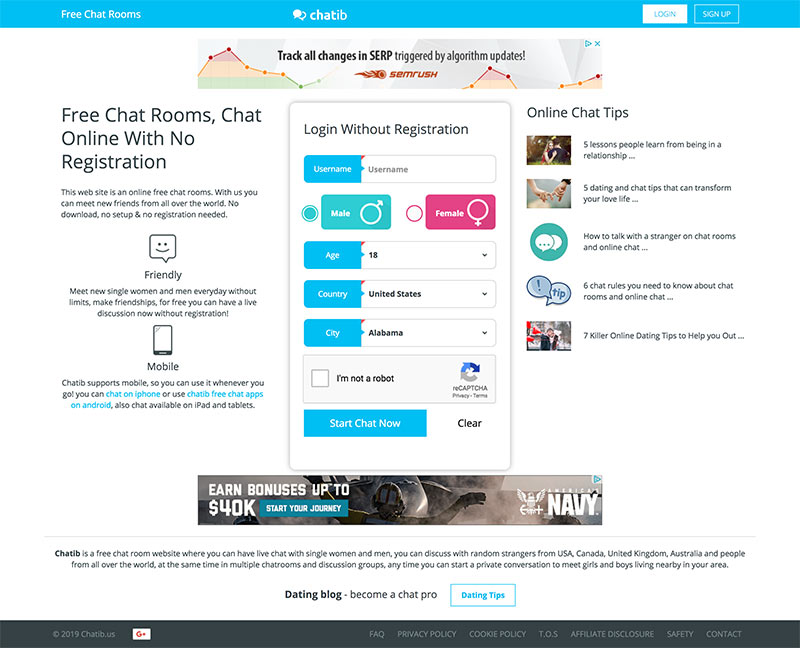 Chatib.us is a free chat site that was registered in April, 2016. There is no publicly available information on its owners, but the registered address is the same as the address for Clickbank, an affiliate marketing company.
As of February, 2019, Chatib is the 33,323rd most-visited website worldwide, the 19,675th most-visited website in the US, and the 279th most-visited chat site. Its Alexa ranking is 49,225. 25% of the site's users are from the US, and 12% are from India.

Chatib Costs
Chatib.us is 100 percent free. We literally could not find a way to pay them if we wanted to. If we had to guess, we'd say they make money by promoting products in their blog. The plus side? You pay nothing. The downside? You get what you pay for.
Chat Network
As far as networking goes, 321sexchat is a pretty popular chat site, since its conception in 2004. You can find it on social media platforms, such as Twitter and the all-encompassing Facebook. It also shows up on independent adult chatroom rankings.
Model Manifest
Strictly speaking, there are no models on this site. Why, you ask? This is a text chat site, similar to old-school AOL chat rooms. There are no cams, although you can send pictures through chat.
Finding someone to chat with is easy. There's a list of users on the left side of the screen, and you just have to click on their username to send a message. At the time of this review, there were 2,200 people online. Unfortunately, most of the users are guys or sex bots. If you're actually looking to jerk off, you'll have to click on one of the bots' links, which usually lead to sketchy third-party cam sites.
Sometimes, we ask website users about their experience, just to see if long-term users have found some value. Here's what one female user said about Chatib: "Lmao just a bunch of [racial slur]s and nasty old men ppl looking to arrange marriages to get into the US." And that's the only female who talked to us except for the sex bots. Harsh, and pretty racist. Ouch!

One group of people who may enjoy this site: gay men. We don't know why, but there are a lot of guys on here who want to swap pictures and jerk off together. Women and straight men will do much better on just about any site.
Fucking Features
Chatib has thousands of users online waiting to chat with strangers. Some of the site's features include:
100% free text chat connects you instantly with people around the world.
Chat rooms for specific interests like singles, gay, women-only, trans, and language-specific rooms.
Minimalist, easy-to-use interface.
Mobile site that works the same as the desktop site and is easy to use.
Ability to block users or report spam.
The site includes a sex and romance blog.
No advertising.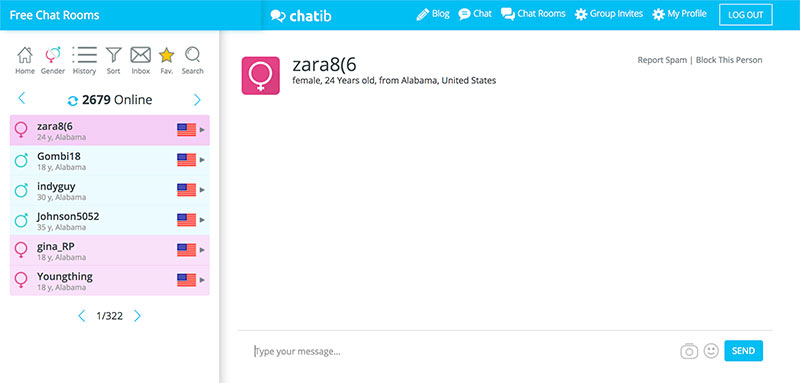 Sexy Systems
Chatib.us has a lightweight interface that loads quickly. To get started, just click through the Captcha and enter your username, age and location. You'll also have to agree not to post any adult content, which is hilarious.

From there, you'll end up on the homepage, where you'll see a list of active users. Just click on anyone's name to get started. If you're not happy with the person you're chatting with, you can click another username on the list without even needing to hit your browser's Back button.
If you're interested in a group chat, there's a Chat Rooms link on the top navigation bar. When you mouse over it, a list of chat rooms will display. Click on these to enter the room.
There's a search bar on the top of the page for finding specific users. If you've chatted with someone in the past, this is the only way to find them. There's no way to add people to a friends list. We hope you remembered their username, or you'll never find them again.
The mobile site is just as easy to use. The only difference from the desktop site is that the list of users disappears when you start chatting. This is a minor complaint, and it's a necessary design feature to avoid clutter on a small screen.
As we've mentioned, you won't find any live cams here. There's not even an option for using your webcam. You will, however, get bombarded with messages asking you to go to other websites to watch someone's cam. And that's if you're male. If you're female, expect a lot of unsolicited dick pics and creepy marriage proposals.
Conclusion
Pros:
Easy-to-use interface is lightweight and loads quickly
100% free
No ads
Thousands of active users.
Cons:
No live cams
No video chat whatsoever
Lots of spam
No friends list or favorites list
No porn of any kind
Chatib is a chat site straight out of the '90s. It's easy to use and it's free, but that's the only good thing about it. There's no video chat, no porn, and an endless stream of spam messages. If you're looking for a decent chat site, check out our other reviews to find one that's worth your time.
Visit Chatib