Camversity - camveristy.com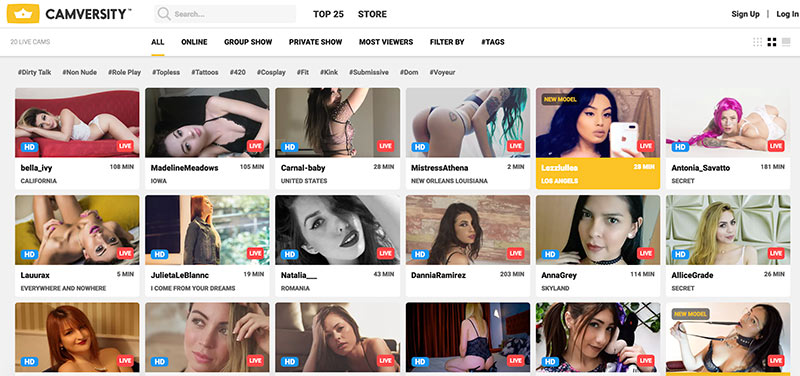 Camversity.com is a relatively new cam site, registered in August, 2016 via Proxy Protection LLC. There is no publicly available information on its owners, and it does not appear to be part of any network. As of December, 2018 Camversity is the 37,686th most-visited website worldwide, and the 13,824th most-visited website in the US. Its Alexa ranking is 73,840, and its US Alexa ranking is 25,641. 40% of the site's users are from the US, and 12% are from Brazil.

Camversity Chat Costs
Chat costs on Camversity are the same for all models. Their rates fall squarely in the middle range, so you won't find any fantastic deals. On the other hand, they also won't drain your wallet faster than they drain your balls.
Private Chat costs are 80 tokens per minute
Group Shows cost 10 tokens per minute
Spy Shows let you watch otherwise private shows, with a public chat, but no direct interaction with the model or private chat payer

Spy shows cost 20 tokens per minute

True Private shows let you enjoy a truly private experience with no "spies" welcome, so you can really let your freak flag fly.

True Private shows cost 80 tokens per minute.
Below, you'll find a listing of the token packages and payment options. Credit card prices are slightly less than PayPal prices due to the PayPal processing fee. As always, the best option and/or package is highlighted in the green, while the most expensive is highlighted in red.
As we are based in the US, we were only able to validate credit costs for US customers/payment methods, as we've outlined below. As always, the best option/package is highlighted in green, while the most expensive is highlighted in red.
| | | |
| --- | --- | --- |
| Credit Card | | |
| 180 Tokens | $20.00 | $0.1111 |
| 525 Tokens | $50.00 | $0.0952 |
| 1100 Tokens | $100.00 | $0.0909 |
| 3000 Tokens | $250.00 | $0.0833 |
| Pay Pal | | |
| 110 Tokens | $10.00 | $0.0909 |
| 160 Tokens | $20.00 | $0.125 |
| 475 Tokens | $50.00 | $0.1052 |
| 990 Tokens | $100.00 | $0.101 |
| 2700 Tokens | $250.00 | $0.0925 |
As mentioned before, all Camversity rates are set by the site. The only factor affecting your real-world price is what token package you purchased.
| | | | |
| --- | --- | --- | --- |
| Private Chat | 60 | $5.00-$7.50 | $24.99-$37.50 |
| Group Show | 10 | $0.83-$1.25 | $4.17-$6.25 |
| Spy Show | 20 | $1.66-$2.50 | $8.33-$12.50 |
| True Private | 80 | $6.66-$10.00 | $33.32-$50.00 |
There is no premium membership option. All members have the same ability to message other users, add models to a favorites list, and receive paid videos directly from models. The only reason to pay for this site is if you want to tip towards a model's goals or enjoy a private show.
One nice feature of Camversity is that there is no autopay option. You can save your payment information to order more tokens quickly, but each purchase requires your authorization, so you won't end up paying surprise charges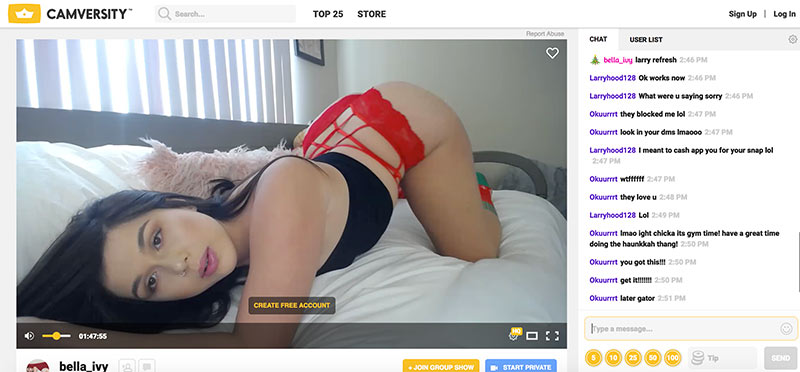 Model Manifest
Camversity features a relatively small number of models, and this is probably its most glaring weakness. While the site does not display the total number of models, at the time of this writing there are only 22 models streaming, which is a small number compared to other cam sites with larger numbers of total users.

The models are strictly female and, as per the site's guidelines, male models are strictly forbidden. This makes it a good choice for straight/bisexual men or lesbian/bisexual women, but straight women and gay men would be well-advised to look elsewhere for stimulation.
Camversity's Fucking Features
Camversity offers many of the standard features familiar to cam site users. One nice addition is a goal counter at the bottom of each model's stream, showing how many tokens must be paid to reach their next public goal. Features include:
Free, tip-based chat sessions where models set donation goals to unlock various sex acts including flashing, masturbation, dildo play, simulated blowjobs and cosplay
Private Shows, with prices determined by the site
Group Shows, charged on a per-minute basis. Users can join group chats in progress, or leave at any time
Spy Show, where you can watch a private chat, but not make any requests of the model
True Private shows, where you can have a private show with nobody able to access via Spy Show
Mobile version works well and loads quickly
Model tipping, where any user can contribute tokens towards the model's next goal
Monthly prizes for top models
Model profile pages with details and information, and the ability to add models as friends or favorites
Users can pay tokens directly to a model to unlock premium videos from that model
Private messaging with models and other users
Sexy Systems
The site loads quickly and has a stripped down interface that looks great on mobile and scales up well on a desktop. The main page features thumbnail images of all models, with currently-active models listed at the top. Mousing over an active model displays a thumbnail video of their current stream, and clicking on the thumbnail opens up their chat room. There are no pop-ups on the site or ads of any kind, which is a plus.
Models can be sorted by tag. There are 87 tags to choose from, and users can filter multiple tags to fine-tune their search results. While this feature is nice in theory, it's not useful when there are only 22 models active in the first place. Videos are high quality, stream well with minimal latency, and the user community, while small, seems to be active and engaged.
Cam Climax
Pros:
Minimalist design scales well on mobile or desktop
Streams are high-quality with minimum latency
No ads
Users can fine-tune search results by searching multiple tags
No autopay system
Cons:
Fixed rates mean there are no "cheap" shows from newer models
Very small selection of models
Camversity is a well-designed site with reasonable prices and an active community. Paid options are worth the money, and the tip tracker gives some transparency regarding the model's goals and progress. Unfortunately, the site is hobbled by its extremely small number of active models. If you're a fan of one of these models, it's a good option, but if variety is your thing then give this one a pass.
Visit Camversity