Camster - camster.com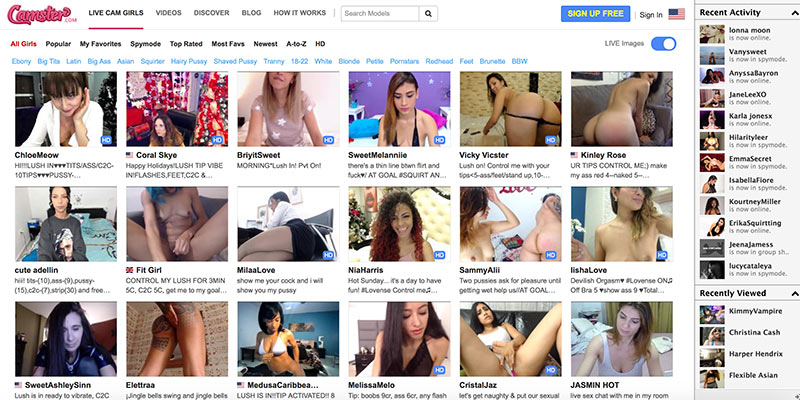 Camster is a fast-growing live cam site that markets itself like a sexual social networking site. It's designed to make users feel like the women on the cams are approachable and there for more than just the money. Fitting with this marketing strategy, the site advertises cam sessions with women of all different shapes and sizes. Many of the women on the site are very beautiful, but the typical Camster girl does not look like a professional, rather she looks more like someone who lives in your neighborhood. This makes the site great for users looking for an amateur, girl-next-door experience, but not great for users who are looking for a more polished, professional-looking encounter. Camster may not be one of the original live cam sites, but they've been making some noise recently with increased advertising and their recent cam sessions with Stormy Daniels, alleged mistress to Donald Trump. Beyond this publicity stunt, however, the women on the site are meant to look normal, approachable, and genuinely interested in the user.
Camster.com is owned and operated Donamis & Donamis Group, LLC, which is housed in Miami, Florida. In terms of other cam sites, the traffic to Camster is low. Current analytics provided by Amazon Alexa ranked the site in the tens of thousands, whereas other comparable sites fall into the top 100. That being said, the site has seen a large increase in traffic recently, whether as a result of more ubiquitous marketing or the exclusive appearances by Stormy Daniels.
Camster Chat Costs
Camster is a dream site for someone looking to spend no money. Users can view the cams of all of Camster's girls without so much as signing in. Shows, private chats, and tipping require money, but users can get a pretty good show for free if they know where to look on this site. Because users don't have to spend money until they sign in to a show or a private cam chat, prices for this site vary wildly from model-to-model. According to the sites Frequently Asked Questions page, the average price to participate in a private show is $1.99/minute, and the average price to get a live 1-on-1 chat with a model is $3.99/minute. Additionally, users can use credits to tip models even when they are viewing the model's public cam feed. Credits cost approximately $1 each.
| | | |
| --- | --- | --- |
| 1 on 1 Show | $3.99 | $19.95 |
| Group Show | $1.99 | $9.95 |
Camster does require users to pay a $19.95/month fee to use the pay portions of their site, and that membership comes with 20 "free" credits. Many users could be turned off by the prospect of paying a monthly fee to be able to pay for things on the site, but the 20 "free" credits make it sort of a wash. Essentially, if a user spends 20 credits each month on the site, then the membership is worth it. The other thing that might turn off some users is the site's payment restrictions. Camster caps purchases by regular users at $200 each day. According to the site, users can increase this by becoming premium members, but the site is unclear about what that means.
Model Manifest
While Camster only provides live cams of women (and transvestites), it provides a fairly diverse roster of women. Users can find the right cam girl by browsing through the site's front page, which seems to have an endless list of models on at any given time, or they can search for girls using categorized sections, like ebony, Asian, shaved pussy, etc. The women on this site are presented as "real" women, which means users will be more likely to find a woman with a realistic body type than someone who has perfect features. For users who are looking for an experience that at least feels more realistic, this can be a benefit of Camster. Others might want to look elsewhere for women with a more professional look.
Because of Camster's presentation as a site with real women, they don't usually have porn stars or celebrities featured on their site, although that could be a direction they are moving towards in the future considering the success of Stormy Daniels' cam.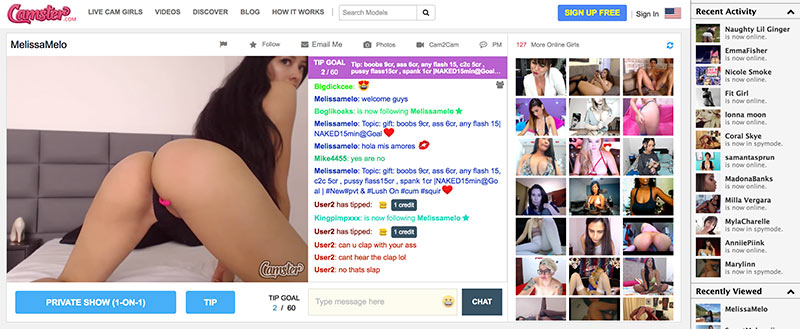 Camster's Fucking Features
Camster is a typical cam site in terms of what it offers users, though it does provide some features that can't be found on every site. In particular, Camster offers users:
The ability to join live cam feeds for free that, depending on the model, portray women who are fully nude, masturbating, and/or participating in oral, anal, and vaginal sex. Users don't even need to sign in to the site to view these feeds
1-on-1 private cam chats with models (prices are set individually by the models).
The ability to provide a video feed of themselves for a more reciprocal experience (this function is at the discretion of each model).
Private shows, or cam shows open to several users at once.
The ability to send and receive private messages with models, once the user has subscribed and paid the monthly fee.
The ability to tip models even in the free cam shows, with prices set individually by the models.
Sexy Systems
Camster follows a pretty typical set up with a browsable front page full of girls. There are several categories on the top toolbar so users can easily check out women within specific categories (BBW, squirters, redheads, etc.). There is a category for porn stars, but as we mentioned before, the site doesn't seem to employ traditional porn stars. Searching, filtering, and browsing is very user-friendly and responsive. According to Amazon Alexa Analytics, the site itself runs at a slower speed than you would really want for a cam site. This could cause problems with users running into buffering, cams that won't load, and a slower site experience during times of high traffic.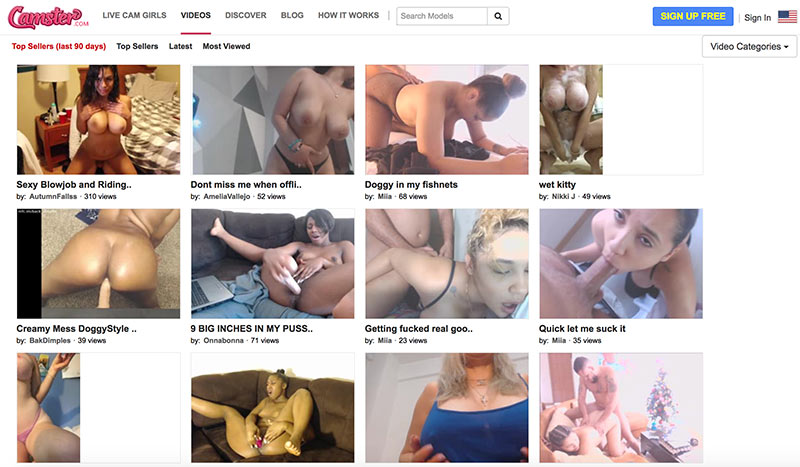 Cam Climax
Pros:
Lots of model choices online at any given time
Users can get a great experience before having to spend any money
Realistic girls make experience seem more intimate
User-friendly site navigation
Cons:
Realistic girls could be a turn off for users looking for perfection
Models are all female (or transvestite), which limits the user's selection
Users must buy a membership to be able to spend money on the site
Slower than average speeds on website
The site may be a bit slower than desired, but it's a good place for users who are looking for a more realistic cam experience. Prices are fairly comparable to other cam sites, but this site gives users the opportunity to view a lot for free (without even signing up).
Visit Camster