Camiplay - camiplay.com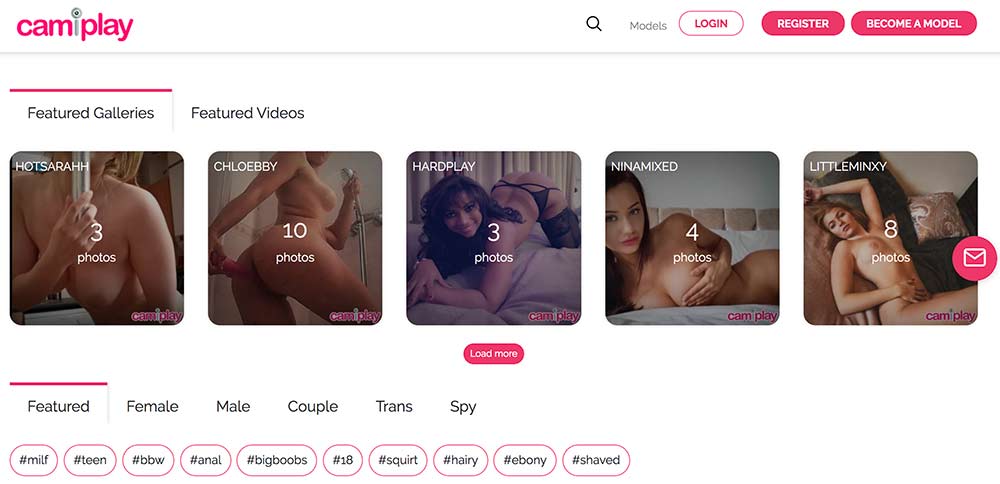 The web is full of adult cam sites. Some of these are high-quality, and others are… less so. Similarly, there are plenty of free porn sites. If you want to find a video of your favorite porn star acting out your favorite kink, your fantasy is just a few clicks away. But what if we told you you could find both of those features in the same place? Camiplay is an innovative new site that provides the best of both worlds: the live, interactive fun of a cam site, and the instant satisfaction of a more traditional porn site.
When you first visit Camiplay, the first thing you'll notice is just how inclusive they are. On the front page, you'll see female models, male models, and trans models. This makes it easy to see their most popular performers, without any additional searching. If you want to see more personalized results, their categories are listed in a banner over the top of their listings. Simply click the relevant link to see female, male, or trans models, as well as couples. There's also a dedicated link for spy shows. This makes it easy to pop in on a spy show, to see models who are performing a private show right now. Spy shows let you watch a private show at a discounted rate, so you don't have to fork over half your paycheck just to watch their spiciest action.
A lot of cam sites hide their videos and photo galleries on individual models' profiles. This makes it tough to find their most popular content unless you're already a fan. Camiplay puts this content front and center. Across the top of the page, you'll see preview thumbnails and links to their most popular photo galleries. With a click of your mouse, you can see links to their videos instead.

While some of the content is free, other galleries and videos require a payment in tokens. Pricing on Camiplay is transparent. The cost for unlocking a gallery or video is displayed over the preview image. To gain access, simply buy a token package. The base package offers 50 tokens for $5.99, with discounts for buying a larger package. As with most cam sites, the larger packages offer the best value; 1,000 tokens costs just $79.99, a considerable discount when compared to smaller packages. You also get 25 tokens for free, just by signing up.
Camiplay's live shows feature a variety of content. As a basic member, you can enjoy the action in a public show. But if you're willing to spend a few bucks, you get more options. To begin with, you can tip models and make requests, which makes it an interactive experience. If you want to enjoy a bespoke show, simply ask the model to go private. In a private show, you pay a per-minute token fee to have private access to the model. Negotiate what you want in advance, and they'll act out your latest fantasy.
At the time of this writing, Camiplay is a relatively new site, with a relatively small selection of models. But with their easy-to-use interface and transparent pricing, they're growing at a steady pace. We look forward to seeing them in the top rank of cam sites in the near future.
Visit Camiplay