CamHub Review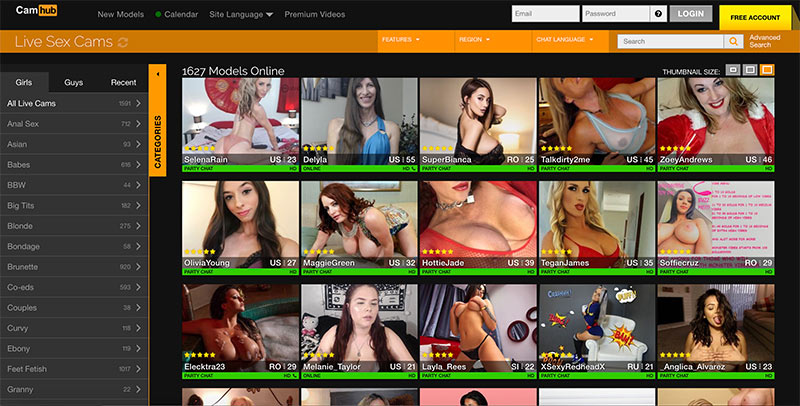 Camonster is a clone of streamate. We recommend visiting streamate instead. CamHub.com is an older, established site, registered in 2006. It's owned by MindGeek, the owners of PornHub, XTube, and their affiliated gay sites. As of December, 2018 CamHub is the 127,536th most-visited website worldwide, the 7,145th most-visited adult site worldwide, and the 32,123rd most-visited website in the US. Its Alexa ranking is 526,357, and its US Alexa ranking is 264,069. A whopping 67% of the site's users are from the United States, with the next-highest country being Australia at 6.77% of site traffic.
CamHub Chat Costs
One nice feature of CamHub is that billing is in real currency. There's no token system, so you won't be messing with your calculator with one hand while the other hand is occupied. Chat costs on CamHub vary depending on the model, but are prominently displayed in the model's chat window.
Lurkers beware! CamHub's pricing is transparent, and seems to run lower than many other cam sites, but they compensate by placing a heavy emphasis on group shows. Models will set a total goal, for example $200 for a 10-minute show. Users can then give "pledges" in order to gain access to that show. There is a minimum tip (usually in the $5 range for a 10-minute show), and anyone who pledges at least that amount gains access to the group show if and when the model's goal is met. Once the show starts, the amount you pledged is deducted from your account. Users can back out before the show starts, and pledges will not be charged to your account if the model's goal is not met. You can also join a group chat in session. In that case, the per-minute price is prominently displayed before you join the chat, and you must opt-in in order to be charged.
Below is a list of CamHub's chat options and price ranges. Since prices vary by model, this list should serve as a general guideline.
| | | |
| --- | --- | --- |
| Public Chat | Free | Free |
| Group Show | $0.16-$9.99 | $0.80-$49.95 |
| Private Show | Negotiated at time of purchase | Negotiated at time of purchase |
In addition, users are able to tip models in "gold", which is tied to the user's own currency. One unit of gold costs $1 US in the USA, $1 Australian in Australia, €1 in the EU, £1 in the UK, and so on. These tips do not count towards group show access.
Models also offer private chats, although these rates are not displayed. Private chat rates are negotiated between the user and the model when the user sends a private chat request.
No membership is required to access model photo galleries and public chats, but due to the site's emphasis on group shows, a membership is recommended to get the most out of CamHub. There is no monthly fee or autobill, so you only pay for group shows, tips and private chats.
Finally, CamHub features premium videos, which can be accessed for $2.99 for a single video or $14.99. These videos are not hosted directly on CamHub, but through their affiliate PornHub Premium, so a PornHub Premium account will be required to view them.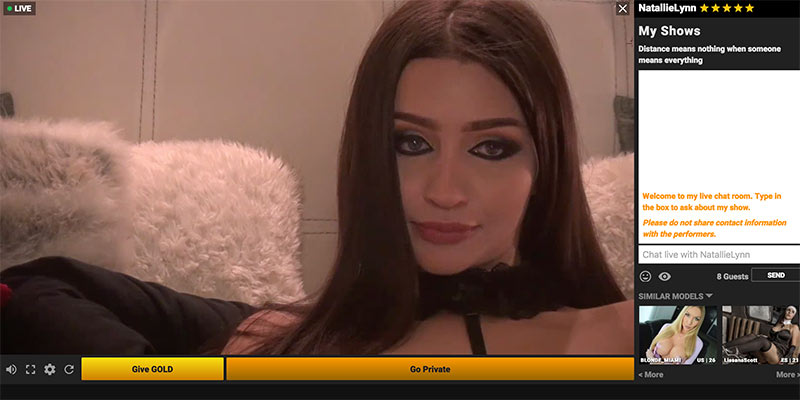 Model Manifest
CamHub features a truly impressive array of models. At the time of this review, there are 1,984 models currently streaming, and tens of thousands of total models. Most models appear to be from the US, although there are a small number of Eastern European models as well.
Models are about 90% solo female, with the remainder being mostly solo male. There are some trans and couple cams available, but the selection is more limited. Regardless, there's something here for everybody, regardless of your orientation or kink. The site defaults to showing only solo female performers. Other performers can be found by selecting their respective categories.
CamHub's Fucking Features
CamHub offers many of the standard features familiar to cam site users. The one that stands out the most is the fact that they bill in real-world currency, and prices are transparent. Features include:
Free access to public chats without the need to sign up
No autopay feature for paid accounts
No monthly fee
Transparent pricing for paid features
Group shows work on a pledge-based system. You only pay if the show actually happens
Private shows available
Model image galleries with free sample photos
Over 60 search categories for models
Members can save models to a favorites list for ease of navigation
Site scales well on mobile
$5 free credit for new members
Users can set daily spending limits, so you won't spend more than you meant to
Cam2Cam option available during private chats
Sexy Systems
The site has an intuitive interface that should be familiar to anyone who has used other cam sites. The main page features thumbnail images of currently active models. The thumbnail displays the model's main profile picture, along with a banner that shows what kind of show they're doing (public or group). The mobile interface is more stripped-down, and scales well. It's obvious this site was built with both desktop and mobile users in mind. CamHub has no ads or popups of any kind.
Models can be sorted by tag, based on body type, fetishes, hair color, ethnicity, etc. There are over either 64 or 68 tags to choose from, depending on whether you're searching female or male models, and users can filter multiple tags to fine-tune their search results. With such a large number of models, this feature is a must if you want to find that one perfect model to get off to.
Video quality is generally good, but some of the models seem to have latency issues with audio/video desynchronization being an occasional issue.
Cam Climax
Pros:
Huge selection of models
Transparent pricing
No ads
Users can fine-tune search results by searching multiple tags
No autopay system
Options for people of any gender or orientation
Cons:
Free content is provided as a "teaser" to paid shows
Some streams have high latency or poor video quality
CamHub is an established site with a large selection of models. The site works equally well on desktop or mobile, and has something for just about any kink. Their focus on group shows means you won't likely be getting much for free, but the free features are enough to give you a good idea of whether or not you'd like to watch a particular show. Their price transparency is also a plus. You know what you're getting, you know how much it costs, and the variety is second-to-none.
Visit CamHub